Major Drone Manufacturer DJI Expands Autonomous Driving Business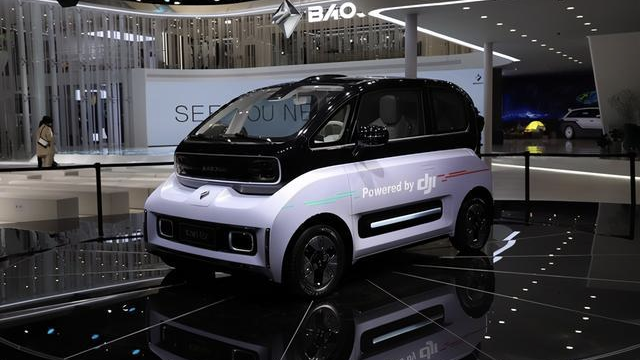 Chinese drone giant DJI began developing autonomous driving- related technology in 2016, and had more than 1,000 patents in the autonomous driving-related field as of the end of 2020. Utilizing the experience of vision systems and algorithms cultivated in the drone field, DJI aims to become a Tier 1 supplier in the autonomous driving field. DJI is developing technologies related to autonomous driving through Livox, whose launch was supported by DJI, and Dajiang Zhuojian, a wholly-owned subsidiary of DJI. Livox develops and produces LiDAR systems. In JRead more...
Huawei Enters Automobile Market: Selling Cars, Supplying Technology and Parts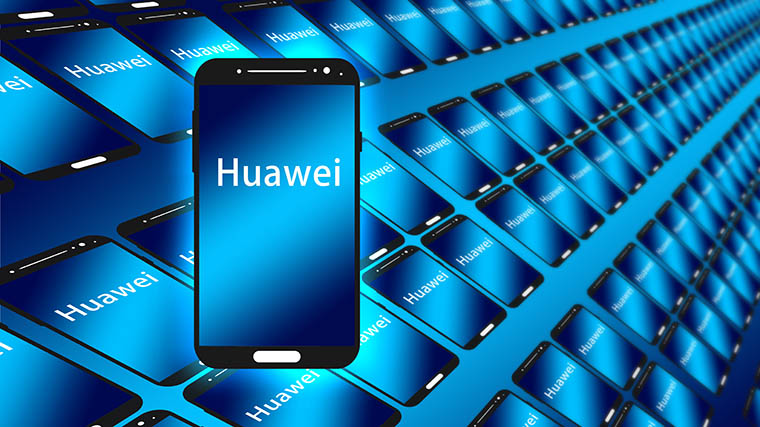 Huawei Technologies, a major Chinese telecommunications equipment company, is accelerating its automobile-related business. Huawei, whose smartphone business has been severely damaged by sanctions by the United States, has newly entered the automobile sales business in order to mitigate the effects of the slowdown in the smartphone business. Chief Executive Officer of Huawei Consumer Business Group, Mr. Chengdong (Richard) Yu said, "Electric vehicles have high selling prices, so they are good products that can compensate for the decrease in sales of the Read more...
Date
Country
Category
Report Title

2021.05.31

China

ADAS / AI

China's Unmanned Delivery Market: Demand Surged Due to the Pandemic

2021.05.31

China

Import

China's Imported Passenger Vehicle Market: Volume Dropped 10.6% to 1 Million Units

2021.05.10

China

Sales

Industry Trends

Automobile Sales in Post-corona China: The Rise of Online Sales with Live Commerce Increasing Its Presence

2021.05.03

China

Sales

Nissan Motor's Automobile Sales in China Decline 6% in 2020 to 1.45 Million Units

2021.04.26

China

Sales

Honda Motor's Automobile Sales in China Reach Record High Level in 2020 Driven by HEVs and SUVs
Honda Motor's Electric Motorcycle Strategy: Creating Battery Standards in Japan, Europe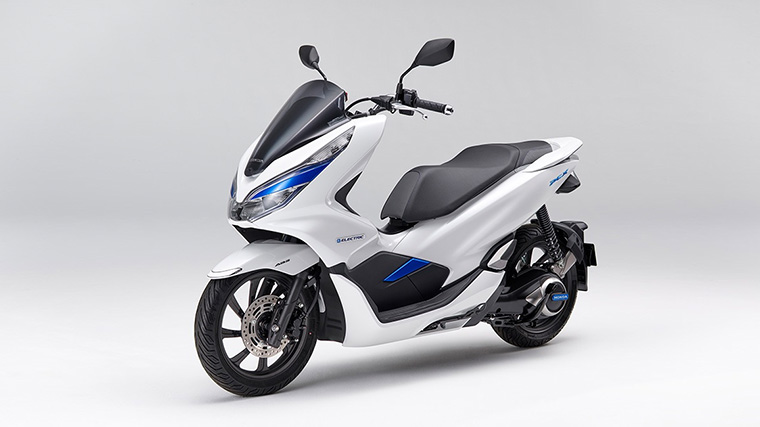 Honda is actively working on motorcycle electrification. Honda is promoting the introduction of electric motorcycles equipped with swappable batteries. The company is expanding its product lineup and strengthening cooperation with other companies in Japan and overseas to promote standardization of swappable batteries and battery replacement systems. In recent years, the company has expanded its lineup of electric motorcycles, mainly for business use in Japan. In addition to the PCX ELECTRIC, whose lease sales to businesses began in November 2018, the Read more...
Date
Country
Category
Report Title

2021.05.24

Japan

BMW / MINI's Sales in Japan Dropped 21% in 2020 Due to the Pandemic

2021.05.24

Japan

Audi's Sales in Japan Declined 7.9% in 2020, But Double-digit Rise Is Expected in 2021

2021.04.26

Japan

New Models

Electric Vehicles

Japan: Recycling and Sharing, Supported by SDGs, Are the Keys to Reducing Battery Costs
Honda Motor in India: Production Capacity Was Reduced 35% in 2020 to Raise Operating Rate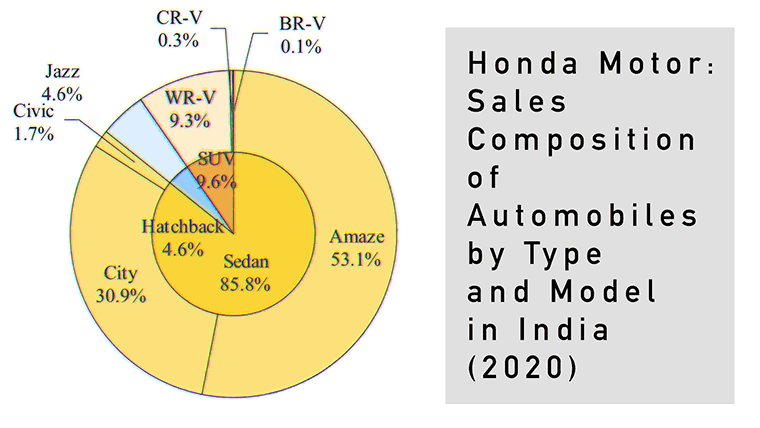 Honda's automobile sales in India in 2020 fell 47.6% from the previous year to 71,000 units. Honda's share of the Indian passenger vehicle market (passenger cars and utility vehicles) fell 1.8pp to 3.0%. The main factors behind the decline in market share are the reduction of the number of products on the market (four models exited the market in 2020) and the contraction of the diesel vehicle market, which has been a special focus of Honda in India, due to the tightening of emission regulations (introduction of BS6 in April 2020). Looking at sales by Read more...
Date
Country
Category
Report Title

2021.06.07

India

Sales

India's Automobile Sales by State in 2020: Demand Dropped Over 20% in All Regions

2021.06.07

India

Japan

Nissan Motor in India: Production and Export Declined Some 50%, Sales Nosedived Nearly 60% in 2020

2021.06.07

India

Sales

Production

Export

Toyota Motor in India: Production, Sales and Export Dropped Double Digits in 2020

2021.05.31

India

Japan

Sales

Suzuki Motor in India: Sales Declined 18.2% to 1.23 Million Units in 2020

2021.05.17

India

Export

India: Automobile Exports Declined in 2020 by 39.1% to 473,000 Units Due to the Pandemic

2021.04.26

India

Production

India's Automobile Production Declines 25 Percent to 3.39 Million Units in 2020, the Lowest Level Since 2009
Asia: International Trade of Motor Vehicles and Components in 2020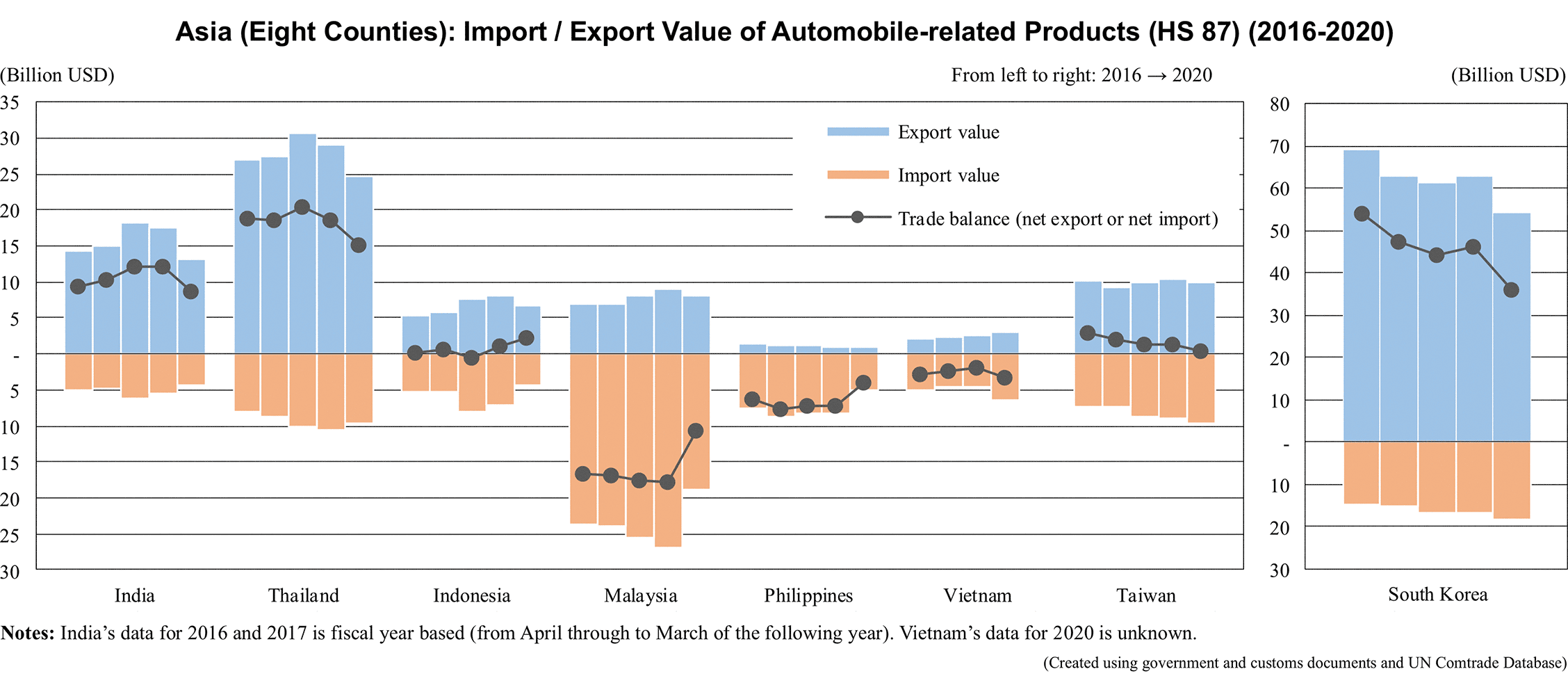 This report provides a summary on the international trade of motor vehicles and related parts of eight Asian countries (India, Indonesia, Malaysia, Philippines, South Korea, Taiwan, Thailand, Vietnam). In Asia, the degree of industrial agglomeration varies from country to country. The automobile industry is generating a stable trade surplus in countries which have a well-developed CBU export capability such as South Korea, Thailand and India. On the other hand, Malaysia, the Philippines and Vietnam is facing chronic excess of imports due to low exportRead more...
Date
Country
Category
Report Title

2021.05.17

Indonesia

Export

Indonesia: Automobile Exports Fell 30.1% to 230,000 Units in 2020

2021.05.17

Thailand

Thailand: Automobile Exports Decreased 30.2% to 740,000 Units in 2020

2021.05.17

S. Korea

South Korea: Automobile Exports Dropped Below 2 Million Units in 2020; Demand Shifting to SUVs, EVs

2021.05.10

Asia (General)

Industry Trends

Global Automakers Maintain or Expand R&D Investment in 2020 Despite the Pandemic

2021.05.10

Taiwan

Production

Industry Trends

Taiwan's Automobile Production Drops 2% to 250,000 Units in 2020, Domestic Demand Rises Despite the Pandemic

2021.05.10

S. Korea

Production

Industry Trends

South Korea's Automobile Production Declines 11% to 3.51 Million Units in 2020, Dropping to 2009's Level

2021.05.03

S. Korea

Sales

South Korea's Automobile Sales Reach Record High Level in 2020 Despite the Pandemic

2021.04.26

Thailand

Sales

Motorcycles

Thailand's Motorcycle Sales Drop 12% to 1.52 Million Units in 2020