About AAA

About this online publication and who we are
Asian Automotive Analysis (AAA) is an online publication that focuses on Asia's automotive industry and market as well as on Asian automobile and components makers around the world. Reports are published weekly on China, Japan, India, ASEAN and other Asian countries.
AAA is owned and operated by FOURIN, Inc., a privately-owned research and publishing company, which specializes in the automotive industry and market with over 40 years of business experience. The company is based in Nagoya, Japan with a branch office in Beijing, China. FOURIN is the leading automotive research report publishing company in Japan and China.
FOURIN supplies reports to most automotive enterprises, including not only automakers and auto parts suppliers, but also material suppliers, machinery makers, trading and financial companies, and other entities which have business relation with the automotive industry. Our reports are used as an informative reference for business planning and decision making. Our statistical data are gathered from automotive associations around the world and presented in a well-organized format for business use.
In the fast-paced and rapidly evolving automotive industry, the ability to stay in-the-know and adapt quickly is paramount. With an emphasis on Asia, the most rapidly developing region in the automotive world, we strive to provide data that highlights today's trends, and offers insight into where the industry is likely to be tomorrow.
Why Asia?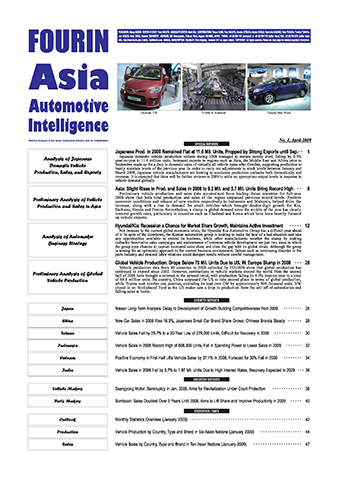 According to the IMF's World Economic Outlook Databases,* Asia has the world's largest population, accounting for about 4 billion people, or 53.7% of the world's population. Along with the recent high economic growth in this region, the upper and middle classes are expanding, rapidly driving up demand for automobiles in China, India and ASEAN. In the medium to long term, the potential growth of major Asian economies is immeasurable.
Meanwhile, global vehicle sales in 2019 stood at 88.1 million units.** Three out of the top 5 vehicle markets are right here in Asia. China ranked first with 25.76 million units, followed by the US (17.49M), Japan (5.28M), Germany (4.97M) and India (3.81M).
Although we previously printed a publication called Asia Automotive Intelligence, FOURIN has until now largely focused on the Japanese domestic market. We have close ties with various Asian governments and organizations, and a wealth of experience researching the Asian automotive industry. Our desire to expand to reach a wider global audience, as well as our expertise in the field of automotive industry analysis, makes AAA a logical next step both for us and for you, our valued subscribers.
*

= published in October 2019

**

= preliminary report
Navigating through and beyond COVID-19
The entire global community was shaken in 2020, with the impact of the novel coronavirus hitting virtually every industry. In response, we've witnessed the automotive industry transform in many ways and rise to meet unique new challenges. We've been there every step of the way, releasing reports and statistics that reflect the state of the automotive industry, spanning across countries and companies. You can count on us to bring you reports and statistics that provide an informed view inside a rapidly evolving industry.
Our reports cover a wide range of topics on Asia
Business trends and market forecast in China, Japan, India and ASEAN
Exclusive interviews with automakers, suppliers, policy makers and associations
Laws and regulations that impact the automotive industry.
Market trends and infrastructure development of electric vehicles (HEV, BEV, PHEV, FCEV)
Introduction of Chinese NEV, ADAS and autonomous driving suppliers
Safety and environmental trends
Business trends and market strategies of Japanese automakers and suppliers around the world
Introduction of new companies, products and services
M&As, tie-ups and new startups
CAFE regulations in China, Japan, India and ASEAN
Introduction of new mobility services by startups and major players
Statistical data and market trends of specific vehicle types such as cars, SUVs, MPVs, commercial vehicles and motorcycles
Statistical data
We also provide monthly automobile production and sales data on China, Japan, India and a number of other Asian countries.
Getting started with AAA
AAA releases at least four new reports weekly, some of which are free to read for a limited time without requiring a subscription. Also, a free trial subscription is available for 30 days that makes our entire archive of reports accessible during the 30-day trial period.
For a year of full access to all of AAA's reports and statistical data, please see our subscription pricing options.