AAA weekly
2020-04-06
Copyright FOURIN, Inc. 2023
EVE Energy Received Orders for LIB from Daimler, Kia, Increasing Production Capacity to 52GWh
EVE Energy is a Chinese lithium-ion battery maker based in Huizhou, Guangdong Province. In the field of drive batteries, it mainly focuses on lithium-iron phosphate (LFP) batteries and ternary lithium-ion batteries. In 2018, sales of lithium-ion batteries increased 45.9% year-on-year to 4.35 billion Chinese yuan thanks to increased demand for lithium-ion batteries, while operating profit rose 25.0% to 600 million Chinese yuan. In 2019, sales and profits continued to increase in the first nine months due to increasing orders and production capacity. In anticipation of rising demand for lithium-ion batteries in the NEV market, the company is promoting investment and capacity expansion with a focus on one of its subsidiaries Huizhou EVE Jineng.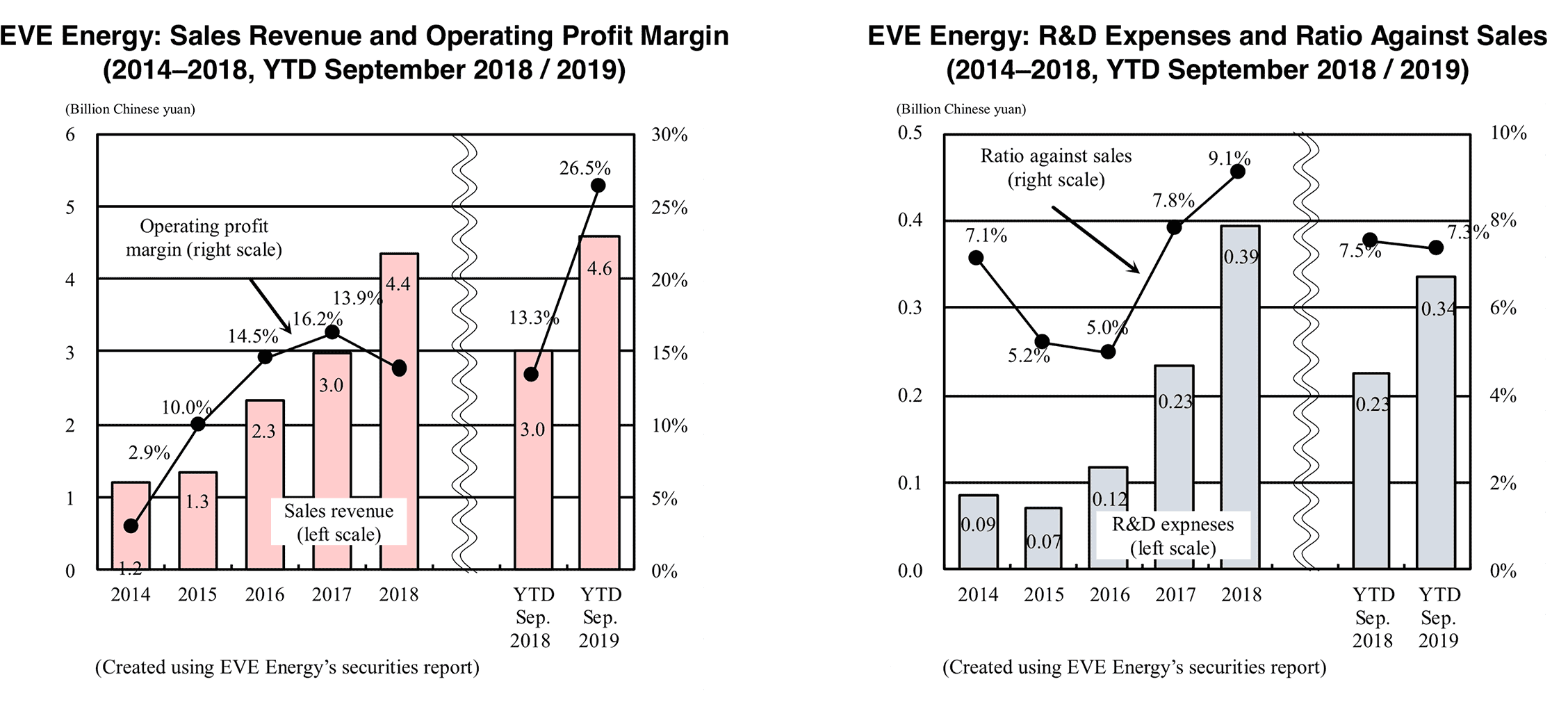 According to a PR report released in October 2019, the company was the third largest supplier of drive batteries in the Chinese new-energy bus market in 2018 and in the first nine months of 2019. EVE Energy's main customers are Nanjing Golden Dragon Bus, Geely Automobile, Dongfeng Motor and Yutong Bus. The company's main products for NEV passenger vehicles are laminated batteries. In August 2018, the company signed a contract with Daimler to supply ternary laminated lithium-ion batteries for passenger vehicles until the end of 2027. In March 2019, Huizhou EVE Jineng was selected by Kia Motors as a supplier of drive batteries for passenger vehicles. The supply scale is planned to be 13.48GWh until 2025.

With the increase in orders, the company is increasing production capacity. EVE Enegy's drive battery production capacity stood at 14GWh / year as of December 2019. It is planned to be increased to 26GWh / year by the end of 2020 and to 52GWh / year by the end of 2021. In March 2019, Huizhou EVE Jineng began the second phase of production capacity expansion. After going into full operation, production capacity will reach 6GWh / year. In April 2019, Jingmen EVE Chuangneng Lithium-ion Battery, a subsidiary of EVE Energy, announced to increase production capacity of batteries by 5GWh / year. Operation is scheduled to start in December 2020. In September 2019, EVE Energy announced that it would establish a battery production base as a joint venture with South Korea's SK Innovation. Annual production capacity is planned to be 20–25GWh. The company will supply both Chinese and foreign automakers.