AAA weekly
2020-06-01
Copyright FOURIN, Inc. 2023
Chuo Spring Plans to Launch Chassis Spring Production in Thailand, US
Japanese automobile spring supplier Chuo Spring, an affiliate of Toyota Motor, mainly manufactures and sells chassis springs, precision springs and cables. In order to achieve its consolidated sales target of 100 billion Japanese yen by FY 2023, Chuo Sping is working to expand sales of existing products, develop new products and cultivate new markets. As for existing products, the company plans to start production of chassis springs in Thailand in July 2020 and in the US in 2021 with the aim of expanding sales of these products. Until now, chassis springs have not been produced in North America and Southeast Asia, but Chuo Spring's aim is to follow the overseas shifts of Japanese automobile manufacturers, establishing a globally balanced production system.
While automobile parts account for 80% of sales, there is concern that demand for springs and other components used to stabilize engines will decrease as BEVs become more popular due to electrification of automobiles. For this reason, Chuo Spring started mass production of the pressure reducing valves for battery packs in June 2018, becoming the company's first product which is exclusively made for BEVs. In addition, as a measure to support autonomous driving technology, in the summer of 2019 Chuo Spring began mass production of a camera bracket used for advanced safety technology that contributes to improving the accuracy of the camera's position.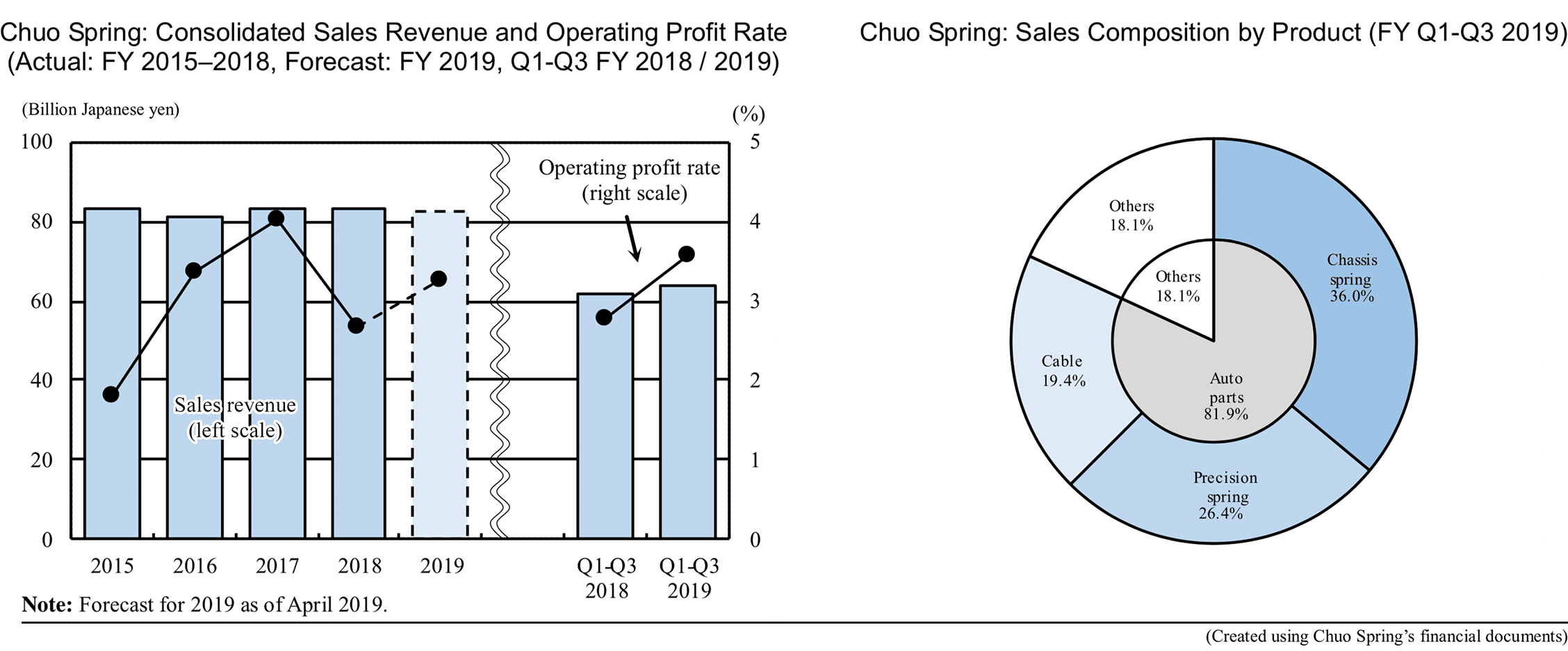 In fiscal 2018, Chuo Spring carried out a "manufacturing reform," remodeling the production process and equipment and strengthening the backup production system by domestic and overseas subsidiaries. In addition, Chuo Spring consolidated parts manufacturing into optimal bases such as concentrating the production of rubber parts for precision springs in Thailand, in an effort to establish a global supply system. In order to address the Sino-US trade friction, production of parts for North America has been transferred from China to Thailand, and parts procured locally in China have been adopted for products assembled in Japan, creating a supply chain tailored to the current global situation.
In 2020, due to the spread of new coronavirus, the operations were suspended temporarily in China in the first quarter of the year. Plants in Thailand, Indonesia and the United States continued to operate, but in the United States, production was adjusted due to revised orders from Toyota.
Bases in Japan, which launched backup production when the Chinese factories shut down, are also reducing operations in line with reduced orders (as of April 2020).
Chuo Spring: Growth Strategy Until 2023
Growth strategy for attaining 100 billion Japanese yen in sales revenue by FY 2023
・In May 2019, Chuo Spring announced "Chuhatsu Group Global Vision 2023" growth strategy, which sets a sales target of 100 billion Japanese yen by FY 2023. – Draw a growth scenario in four areas using a matrix with customers and markets as the vertical axis and products (technology) and services as the horizontal axis: ① Expanding existing products and markets, ② development of new products and technologies, ③ cultivating new customers and ④ cultivating new fields. – In Japan, while maintaining business for existing customers such as Toyota, Chuo Spring will strengthen sales in the mini vehicle and truck sectors. It will also expand sales to vehicles built on next-generation platforms such as TNGA. – In Asia, Chuo Spring will expand sales of chassis springs for small and medium-sized passenger cars. – In North America, Chuo Spring will expand sales of chassis springs for medium-sized passenger cars and SUVs. – In China, Chuo Spring will adjust supply to Toyota's production plan of 2 million automobiles. In addition to Toyota, Chuo Spring will expand sales to local Chinese manufacturers.
Product (Technology) / Service
Existing
New
Customer / Market
Existing
① Expand global share of existing products to existing markets and customers Products: Chassis springs, precision springs, cables, construction and housing-related products (Cablex) Customers: Toyota, Honda, Mazda, parts suppliers
② Sell new products and construction methods to existing markets and customers

Automotive Related

- Adoption of lightweight, high-strength material - Supports electrification and automated driving - Safe and environmentally friendly - TNGA compatible parts

Housing and Welfare Related

- Construction and housing-related products (Cablex)
New
③ Sell existing products to new markets and customers

Automotive Related

- Chinese companies
④ Sell new products to new markets and customers

Non-automotive Related

- Railway, aviation / aerospace, medical, nursing / welfare, industrial robots
| | Ordered / Under Development (As of May 2019) | Development Planned |
| --- | --- | --- |
| Safe and environmentally friendly | Retainer for exhaust gas after-treatment device | - |
| Supports electrification and automated driving | Electric fuel lid cable, BEV battery fastening module, BEV battery pressure reducing valve, camera bracket, DC-DC converter holding spring | BEV / HEV batteries, motor related parts, auxiliary parts for automatic driving |
| Supports weight reduction and high strength using material forming technology | - | Using plastic (camera brackets, etc.), titanium springs, rubber products |
| Focusing on new fields (non-automotive) | ・Railway sector (giant spiral springs, pantograph springs, etc.) ・Housing and construction sectors (shutter monitoring device, table lifting device, etc.) | ・Medical, nursing and welfare sectors ・Aviation and aerospace sectors ・Industrial robots |
| Increasing added value | Flocked PBD (power back door), cationic coating, stabilizer ON-OFF mechanism | Dynamic rubber |
(Created using Chuo Spring's financial documents and various media sources)