AAA weekly
2020-03-23
Copyright FOURIN, Inc. 2022
Toyota Motor Focuses on Capacity, Product Development to Accelerate Electrification in China
Toyota Motor Focuses on Capacity, Product Development to Accelerate Electrification in China
Toyota Motor's sales in China increased 9% year-on-year in 2019 to 1.62 million units (company announcement, including Lexus), reaching a record high. The strong performance of its flagship products, the Corolla and Levin, remained the biggest driving force of sales. In the medium term, the Chinese market is expected to grow significantly, and Toyota is looking to increase local production capacity to 2.8 million units by 2025 and to 3.5 million units by 2030. In January 2020, Toyota separated its Chinese business from its Asian business in an effort to allocate human and other resources and build a system that can quickly respond to major changes. Meanwhile, in order to better respond to the current electrification trend and clear China's NEV regulations, Toyota is expanding its HEV lineup, accelerating its electrification strategy by launching NEV products and strengthening alliances with joint venture partners. In addition, the company will cooperate with Chinese technology company Baidu in the autonomous driving business and with Chinese transportation company DiDi in the ride sharing business. Toyota's policy is to respond to the revolutionary changes in the automobile industry with the key phase "making friends." Toyota is expanding its factories and adjusting its capacity at all of its four automobile production bases in China in order to achieve the targets for increased production and local production of NEVs. Toyota's local subsidiary FAW Toyota plans to build an annual production system of 937,000 units by 2021. Of which Tianjin FAW Toyota will increase its annual production capacity by 120,000 units (NEVs), Sichuan FAW Toyota by 100,000 units (including 5,000 PHEVs) and Sichuan FAW Toyota Changchun Fengyue by 120,000 units (including 16,200 PHEVs). Toyota's other local subsidiary GAC Toyota plans to boost its annual production capacity of ICEVs by 120,000 units in 2020, and build a production system for BEVs with an annual production capacity of 200,000 units in 2021. Through the above-mentioned capacity enhancements, Toyota is expected to increase its annual production capacity in China to 1.737 million units by 2021 (including 340,000 NEVs).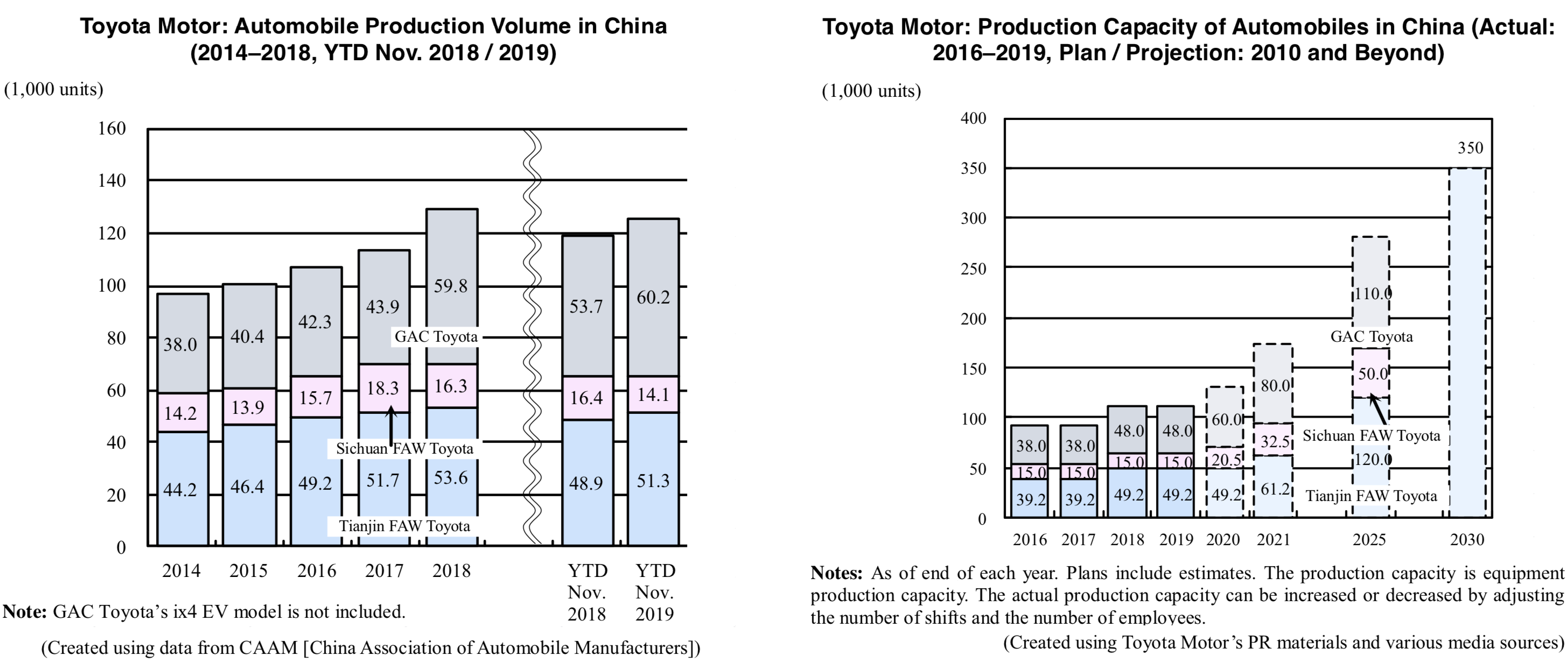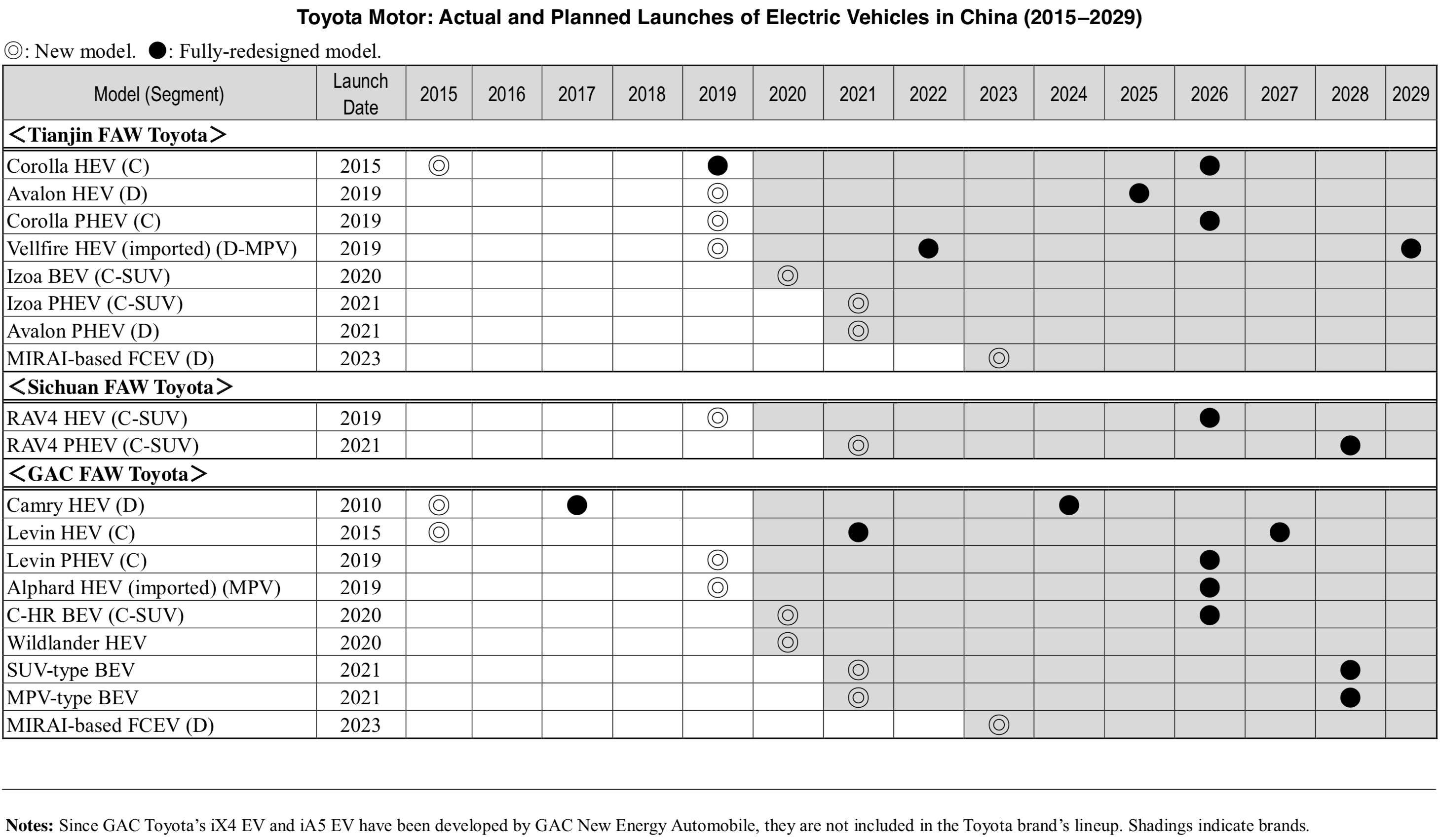 In order to promote electrification, Toyota announced in June 2019 that it will bring forward its global electric vehicle sales target of more than 5.5 million units from 2030 to 2025. The company regards China as a key market for achieving its goals, and is working on product development and launch through FAW Toyota and GAC Toyota. Regarding HEVs, FAW Toyota launched the HEV version of the Avalon in March 2019. In October of the same year, the new RAV4 was launched with HEV specifications. The introduction of NEV products has also started in earnest. In March 2019, the company launched the China's first NEV models, the Corolla PHEV and its sister model the Levin PHEV, under the Toyota brand. The C-HR EV and its sister model the Izoa EV will be launched in 2020, and the PHEV versions of these models are expected to be mass-produced starting from 2021. The company is jointly developing FCEVs with Chinese automaker BAIC Group and Tsinghua University, planning to launch a Mirai-based FCEV model in 2023.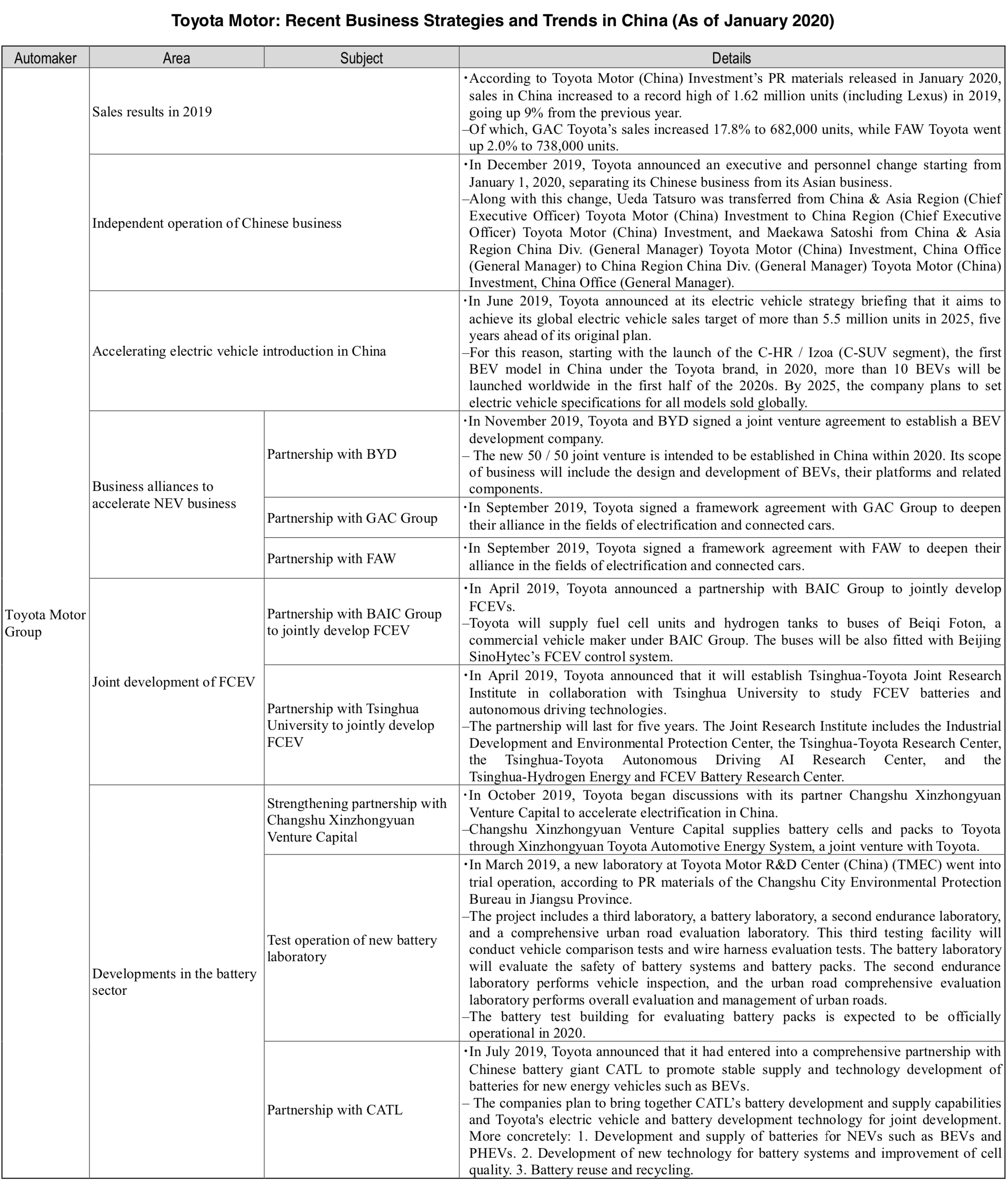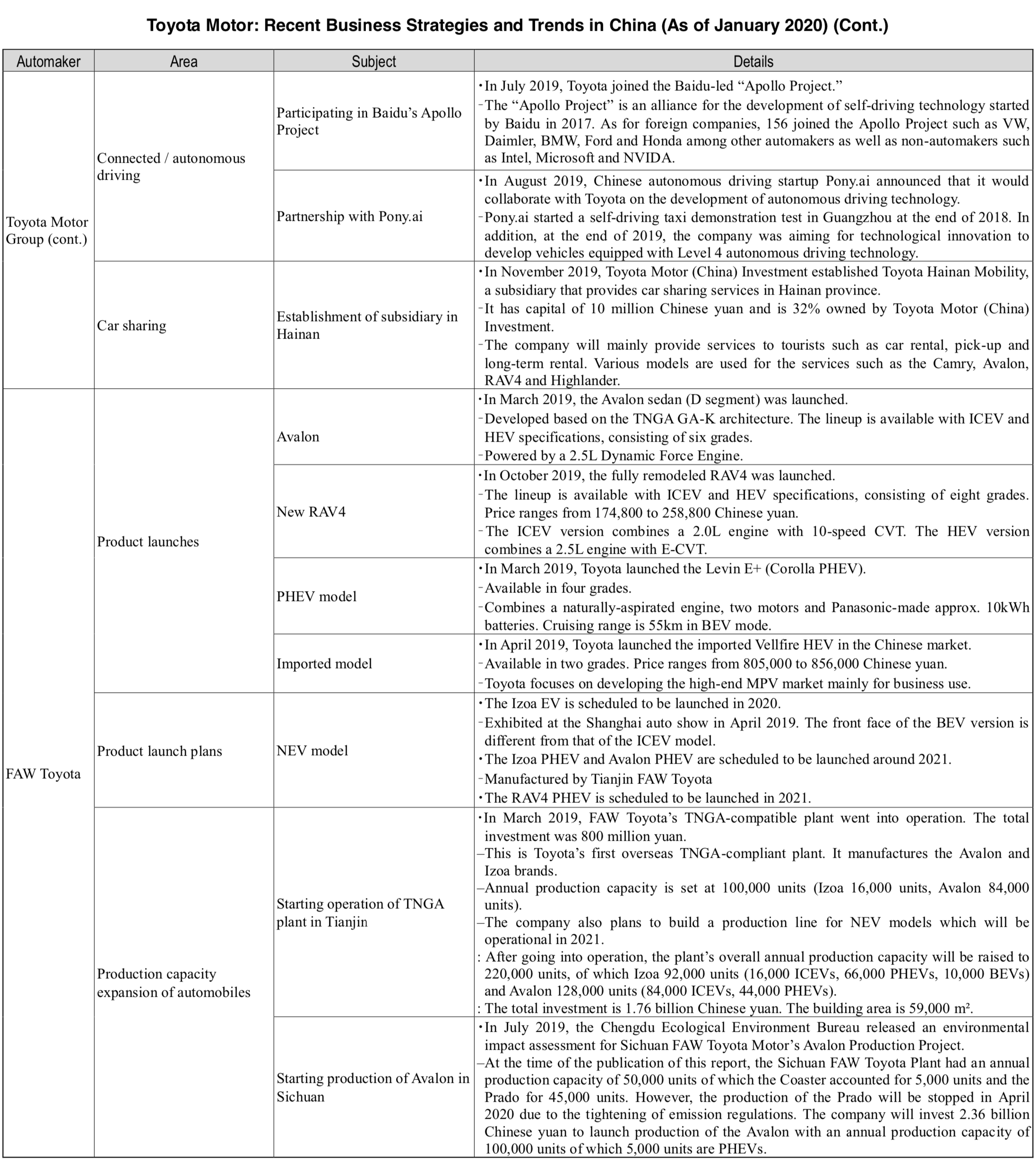 To improve product development and competitiveness, Toyota is strengthening alliances with joint venture partners and actively building new alliances. In September 2019, Toyota announced that it will strengthen its alliances with Chinese automakers GAC Group and FAW Group in the areas of electrification and connected cars. In November of the same year, Toyota concluded a joint venture agreement with BYD to establish a BEV development company. The new company is intended to be established in China in 2020. In July 2019, Toyota concluded a comprehensive partnership agreement with Chinese vehicle battery manufacturer CATL to ensure stable supply of NEV batteries and to promote technological development of vehicle batteries. In October of the same year, Toyota announced that it had started discussions with its partner Changshu Xinzhongyuan Venture Capital to strengthen their partnership. Changshu Xinzhongyuan Venture Capital supplies battery cells and packs Toyota.