AAA weekly
2020-08-17
Copyright FOURIN, Inc. 2023
China's Passenger Vehicle Sales Network Shrinks Due to Market Decline
FOURIN has compiled data on dealership networks of major locally-made and imported passenger vehicle brands in China using data from the "China Automobile Three Guarantees Network," a public website that shares information on passenger vehicle dealerships. Data show that there were 28,393 passenger vehicle dealerships in China as of June 2020, indicating a decrease of 2,376 dealerships compared to the same month of the previous year. Looking at data by region, the largest number of dealerships, namely 13,448 shops (47%), is located in east China, followed by 6,502 shops (23%) in west China, 6,470 shops (23%) in central China and 1,973 shops (7%) in northeast China.
Looking at the development status of sales networks by brand origin, three Japanese brands Toyota, Honda and Nissan each have over 1,000 dealerships in China. Thanks to brisk sales of Dongfeng Honda, Honda increased its sales network in China 9.0% year-on-year to 1,178 sales outlets in 2019. Similarly, strong sales of GAC Toyota enabled Toyota to expand its sales network by 6.4% to 1,150 sale shops. In contrast, other Japanese brands namely Mazda, Mitsubishi and Suzuki reduced their sales networks in 2019. The number of dealerships of EU brands remained virtually the same. While VW saw a drop of 1.1% to 1,907 sales shops, Volvo and JLR increased their networks by 1.5% to 404 shops and 0.9% to 344 shops respectively. The number of dealerships of US brands remained almost the same as well. The sales networks of GM's Buick, Chevrolet and Cadillac brands slightly declined in 2019. Ford saw a 6.5% decline to 216 shops due to a number of dealers dropping the brand which has been facing poor sales since 2018. Meanwhile, the Lincoln brand, which is in the process of exploring the Chinese luxury car market, expanded 20.8% to 64 stores. The two Korean brands Hyundai and Kia each saw a small decline in the size of their sales networks.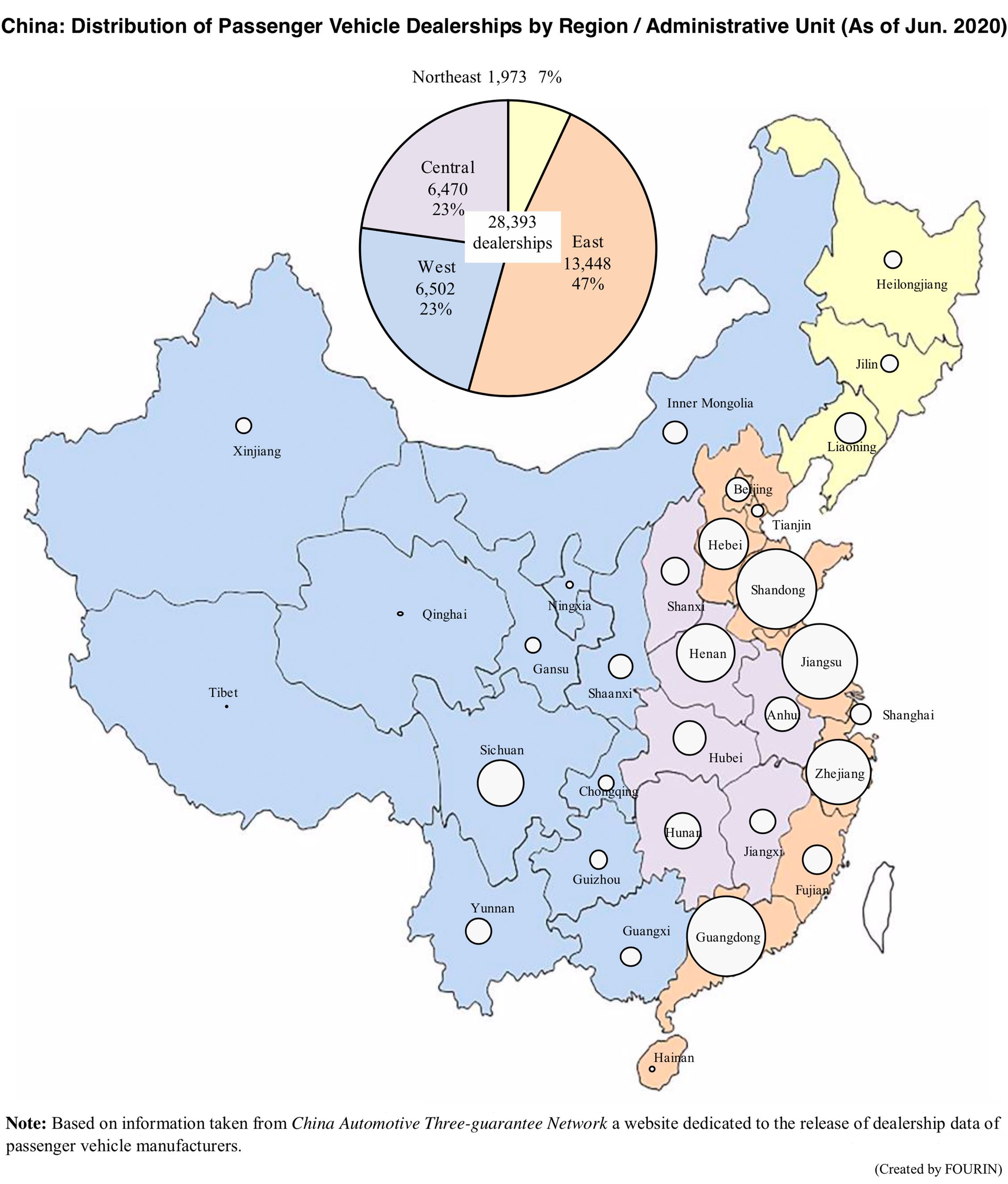 Looking at Chinese brands ranking among the top 15 in terms of sales network size, Changan's sales network shrank 6.5% year-on-year to 1,995 stores. Similarly, the sales network of Geely and GAC Motor's Trumpchi brand declined as well, going down 1.2% to 959 stores and 1.5% to 679 stores respectively. BAIC Motor's newly released Beijing brand, launched in 2019, increased its sales network 37.8% to 1,342 sales shops. The Beijing brand is intended to focus on expanding sales of new-energy vehicles. The number of Maxus brand stores under the SAIC Group also increased sharply, going up 3.5 times the number at 707 stores. The Maxus brand has a wide variety of model interiors and equipment, and has adopted a sales method that allows customers to freely customize and order vehicles online. The brand's sales volume doubled in 2019 compared to the previous year. To meet the increasing demand, Maxus is actively expanding its dealer network in small cities as well. BYD, which sells mainly new-energy vehicles, expanded its sales network 15.2% to 651 stores. However, this figure includes some "zombie dealers" as well (zombie dealers are bankrupt dealerships which survive on financial support from their parent company, local government or other entities). It is estimated that the number of dealers actually maintaining sound management is lower than the reported figure.