AAA weekly
2020-09-28
Copyright FOURIN, Inc. 2023
Taiwan's Automobile Sales in the First Half of 2020
In the first half of 2020, Taiwan's automobile sales volume went up 1.4% compared to the same period of the previous year to 210,000 units. The government's response was successful in avoiding the spread of the new coronavirus. As a result, automobile sales increased even during the ongoing pandemic. In terms of vehicle type, luxury cars, SUVs and light commercial vehicles (LCV) performed well, all increasing double digits. Sales ratio of imported vehicles continued to increase in the first half of 2020, going up 3.8pp to 51.4%. It exceeded 50% for the first time in the first six months of a year. Looking at sales data by vehicle type, although passenger cars dropped 8.2% to 74,000 units, recreational vehicles (RV) went up 6.4% to 107,000 units and commercial vehicles increased 12.1% to 28,000 units. In the RV sector, MPVs and stations wagons continued to decrease, but SUVs went up 10.6% to 87,000 units. In the commercial vehicle sector, LCVs increased 17.1% to 22,000 units. The sharp rise is due to rush demand for the Isuzu Elf and other light trucks prior to the implementation of revised road traffic safety regulations in July 2020.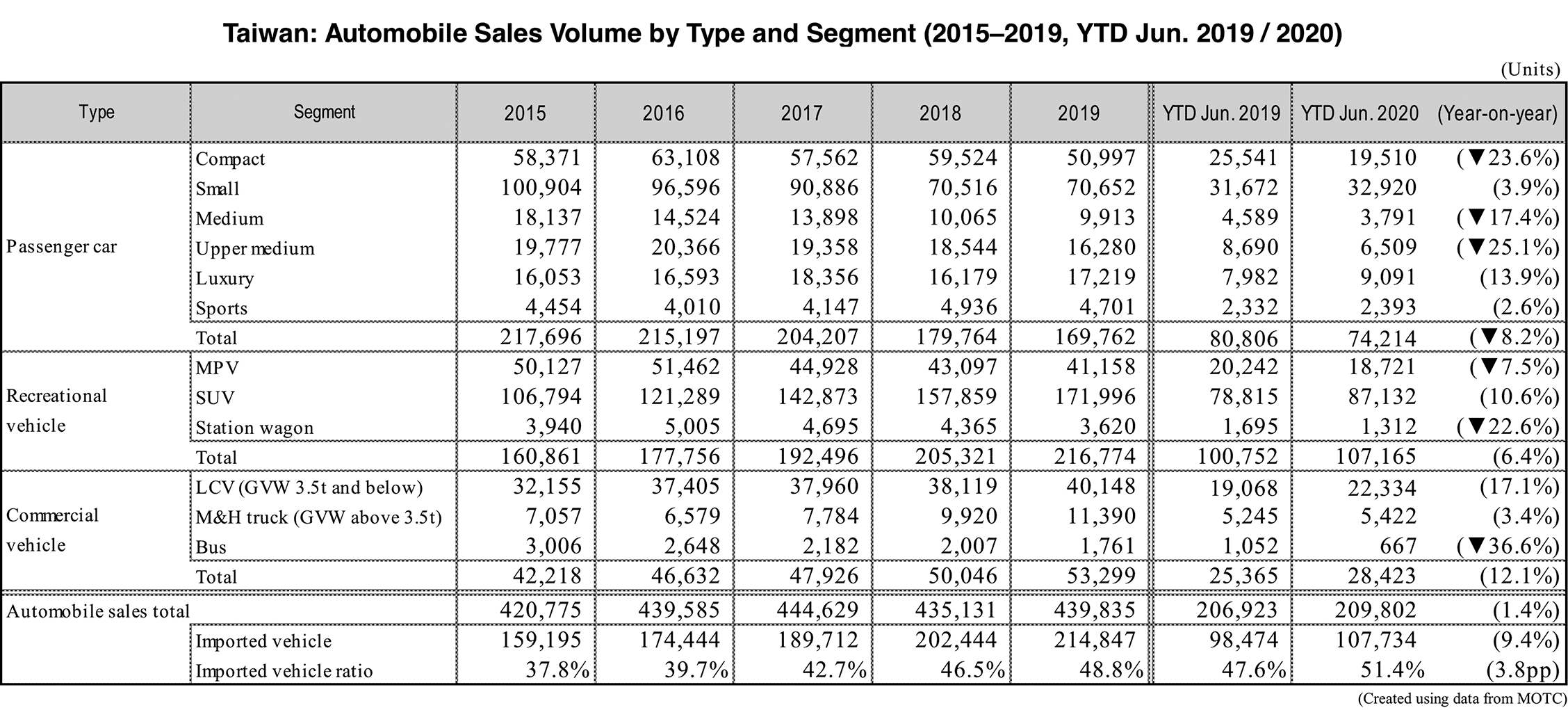 Looking at sales data by brand, out of the top 5 brands only Toyota, ranked first in the first half of 2020, increased sales while the other four declined across the board. Sales were driven by the fully-redesigned RAV4, launched in March 2019, which went up 38.6% to 18,000 units. It overtook the Corolla Altis (up 15.4% to 15,000 units), which was the most popular model in the past, taking the lead in the Taiwanese market in terms of unit sales by model. Nissan, ranked second, dropped 11.7% to 15,000 units. The Nissan Kicks, which performed well in the previous year, dropped 5.4%.
Commodity tax cut on automobiles, which was introduced in 2016, was scheduled to expire in January 2021. Although rush demand is expected to occur prior to its expiration at the end of 2020, the government extended the policy for another five years in July 2020. For this reason, demand is expected to remain even throughout the year.