AAA weekly
2019-12-09
Copyright FOURIN, Inc. 2022
Latest Trends in the FCEV Sector; Toyota, BMW, Fuso Announce New Concept Models
This report gives an overview of trends in hydrogen mobility policies of various countries and FCEV plans of major automakers. In the US and Germany, the governments have provided huge financial support for hydrogen-related projects. In Japan, a hydrogen and fuel cell technology development strategy was formulated in September 2019 with the goal of setting the price difference between FCEV and HEV models to 700,000 Japanese yen by 2025. China's hydrogen and fuel cell industry is highly influenced by industrial policies, while the central and local governments have subsidy systems in place. In addition to the rapid growth of technological capabilities, China is also highly cost competitive and market potential is expected. On the other hand, there are issues such as the lack of policy standardization, the difficulty of mass production and the possibility of not meeting quality standards.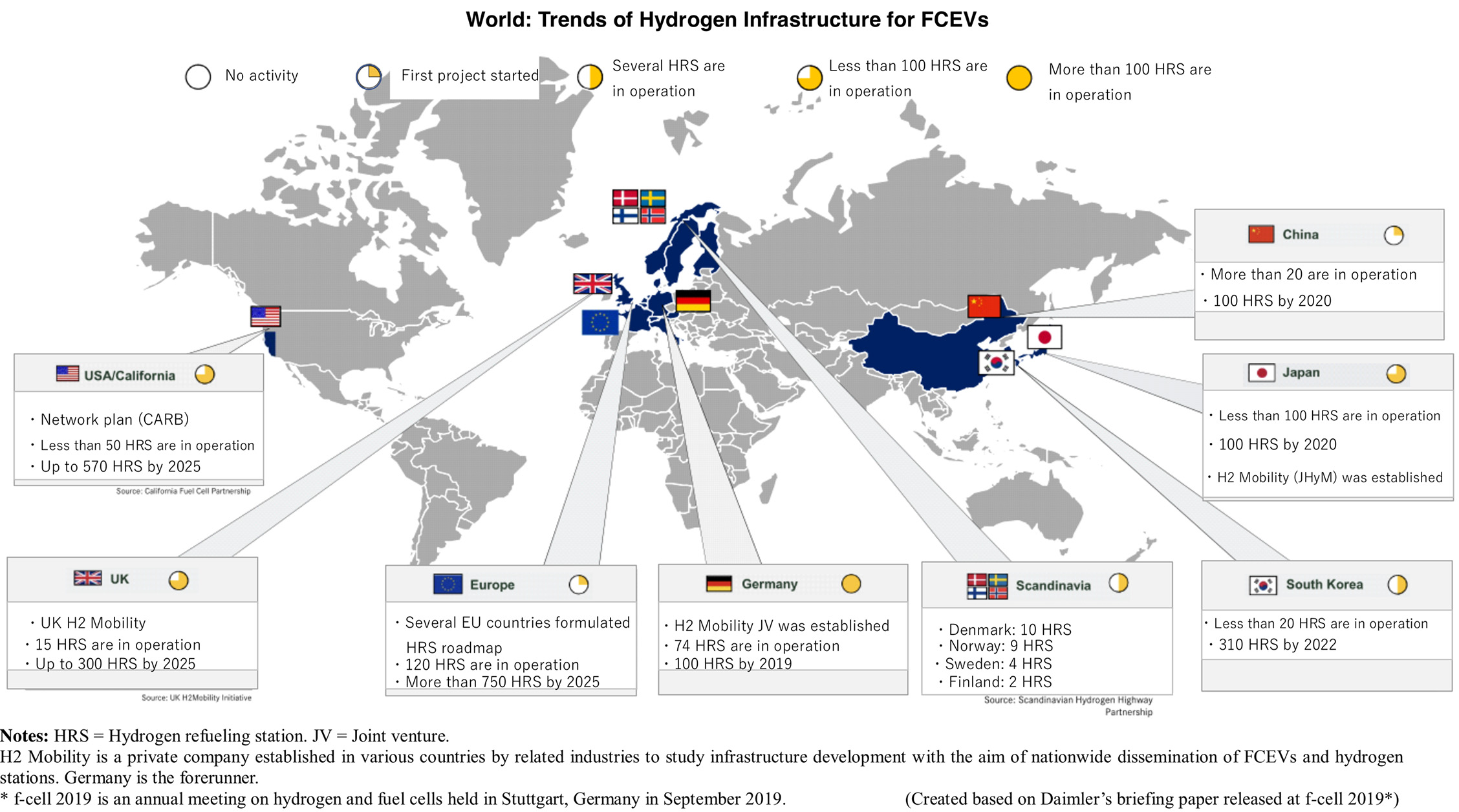 At motor shows, automakers are announcing FCEV concept cars one after the other. At the Frankfurt Motor Show (IAA) in 2019, BMW announced the FCEV concept of a midsize SUV that is scheduled to be launched in 2022. Toyota, which has partnered with BMW for fuel cell technology development, unveiled the new Mirai concept for the first time at the Tokyo Motor Show in 2019. Daimler's truck and bus division aims to mass-produce hydrogen-based vehicles by the end of the 2020s. Daimler's subsidiary Mitsubishi Fuso unveiled the world's first compact fuel-cell truck concept Vision F-CELL at the Tokyo Motor Show in 2019. Hyundai plans to lead the construction of a hydrogen mobility ecosystem in Europe, starting in Switzerland. In addition, as a new business model in the commercial development plan for fuel-cell trucks, Hyundai has proposed a pay-as-you-go revenue model including maintenance costs.
World: Recent Policy Trends on Hydrogen and Fuel Cell Technology
United States
・In August 2019, the US Department of Energy (DOE) announced that it will provide approximately 40 million US dollars in funding for 29 projects promoting the H2 @ Scale concept in FY2019. The H2 @ Scale concept is aiming at large-scale production, transportation and storage of hydrogen that is inexpensive and reliable for use in various sectors.
Germany
・In October 2019, the Federal Ministry of Transport and Digital Infrastructure (BMVI) announced that it will provide a total of 23.5 million euro for six hydrogen mobility projects in Germany. It is part of the federal government's National Innovation Programme Hydrogen and Fuel Cell Technology (NIP).
Japan
・In March 2019, the revised version of the "Hydrogen / Fuel Cell Strategy Roadmap" was announced to clarify the elemental technical specifications and cost breakdown necessary to realize the goals set forth in the "Basic Hydrogen Strategy" (formulated in December 2017). ・In September 2019, the "Hydrogen / Fuel Cell Technology Development Strategy" was formulated to establish specific technological development items to achieve the goals set forth in the roadmap.
(Created based on various media and other sources)
Hydrogen and Fuel Cell Policy and Industry Trends in China
Industrial Policy / Subsidy
・In the "Made in China 2025" strategic plan China issued a policy to switch from solar and wind energy to hydrogen and fuel cells. ・CATARC and SAE have announced a roadmap to guide how the hydrogen and fuel cell industry can evolve and what economic value can be created. ・By 2030, China has set goals for 1 million FCEVs and 1,000 HRS locations. ・Other goals include creating an industry of 1 trillion Chinese yuan (CNY) by 2030 and expanding the supply chain and hydrogen availability. ・The subsidy system by the central government is as follows. – Automakers: Passenger cars 200,000 CNY / unit. Light trucks 300,000 CNY / unit. Heavy trucks 500,000 CNY / unit. – Cities with HRS: 4 million CNY / station. ・The status of the subsidy system by local governments is as follows. – More than 10 provinces and cities such as Shanghai, Beijing, Wuhan and Guangdong have set subsidies and targets. – Local FCEV subsidies are equivalent to 30-100% of central government subsidies. – FCEV ownership target varies by region. The combined target number of each region exceeds the national target.
Market Potential
・Industrial policies have great influence in China. ・Technology development and manufacturing industry growth are fast. ・Ample opportunities for joint development and partnerships. ・Able to target global market opportunities. ・Cost competitive.
Challenges
・Policies are not unified. ・The development of hydrogen infrastructure is lagging behind compared to target numbers. ・At present, mass production is difficult. In addition, products may not meet standards. ・Insufficient performance leads to weakening of the industry and damages the supply chain even if costs are reduced.
(Created based on E4tech's briefing paper released at f-cell 2019)
New FCEV Models and Sales Plans of Major Automakers
Toyota
・Toyota plans to sell more than 30,000 vehicles globally, including buses, from 2020 onwards as a long-term FCEV sales plan.
New Mirai Concept
・Toyota unveiled the Mirai Concept at the Tokyo Motor Show 2019 as the final model of the new Mirai. It is scheduled to be released at the end of 2020. – Its cruising range is 30% higher than that of the current model. The efficiency of the fuel-cell stack was improved and the capacity of the hydrogen tank was increased.
BMW