AAA weekly
2020-08-03
Copyright FOURIN, Inc. 2023
Impact of the New Coronavirus in India: Automobile Production and Sales Were Suspended for Nearly Two Months
India is one of the countries in Asia where the spread of new coronavirus infections has had the greatest impact on automobile production and sales. In late March, the lockdown of the entire country, which has a population of 1.3 billion, was implemented. The production and sales of automobiles stopped almost completely for about a month and a half until the beginning of May. Despite the strict restrictions on activities, infections were still increasing as of July 10. Due to the economic slowdown caused by the prolonged lockdown, India's GDP growth rate in fiscal 2020 is expected to be negative for the first time in 41 years. The economic environment is also extremely bad and the effects of the new coronavirus are likely to continue.
In India, all automakers have shut down their plants following the lockdown announcement on March 25. Sales have also been banned nationwide. Following the partial relaxation of the lockdown in mid-April and the beginning of May, automakers restarted factory operations in mid-May. Sales outlets have also resumed operations in rural areas. However, production suspension at some factories such as those of Toyota and Honda lasted more than two months due to production adjustments triggered by decreasing demand.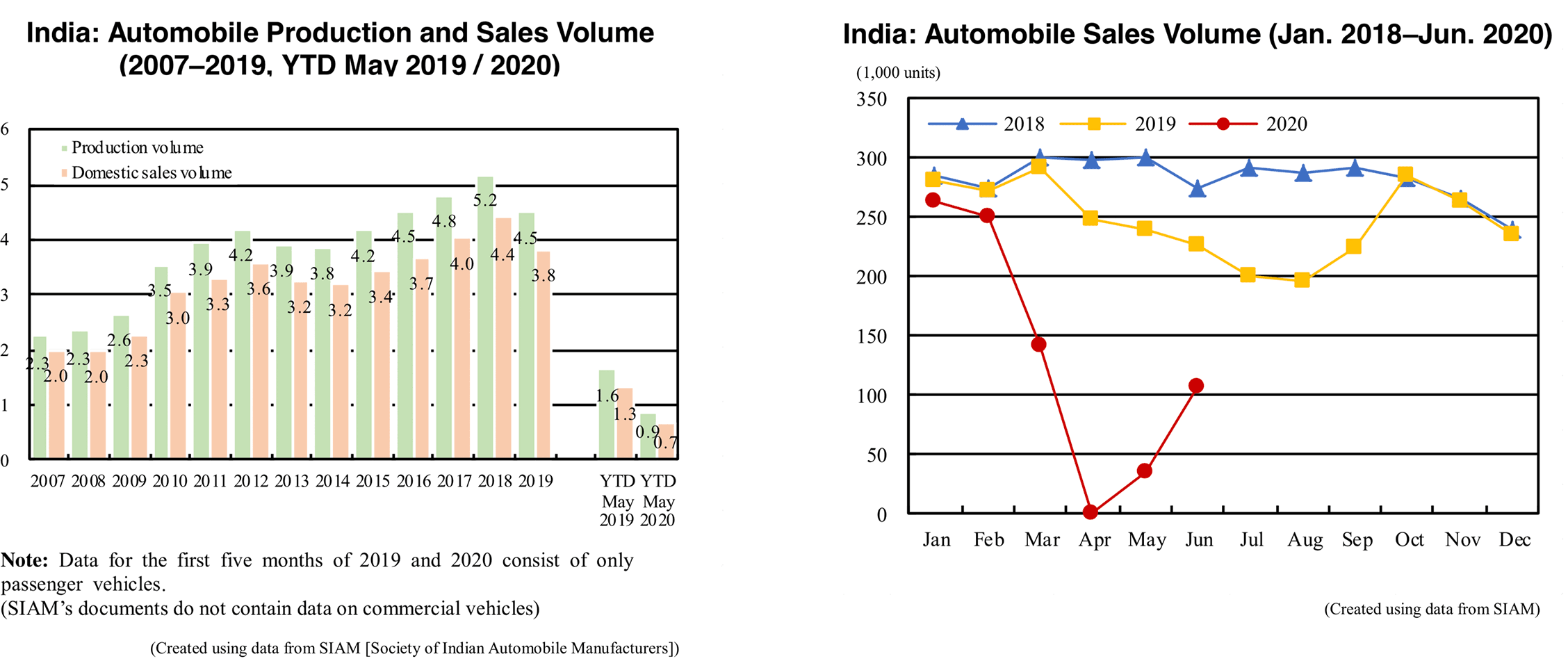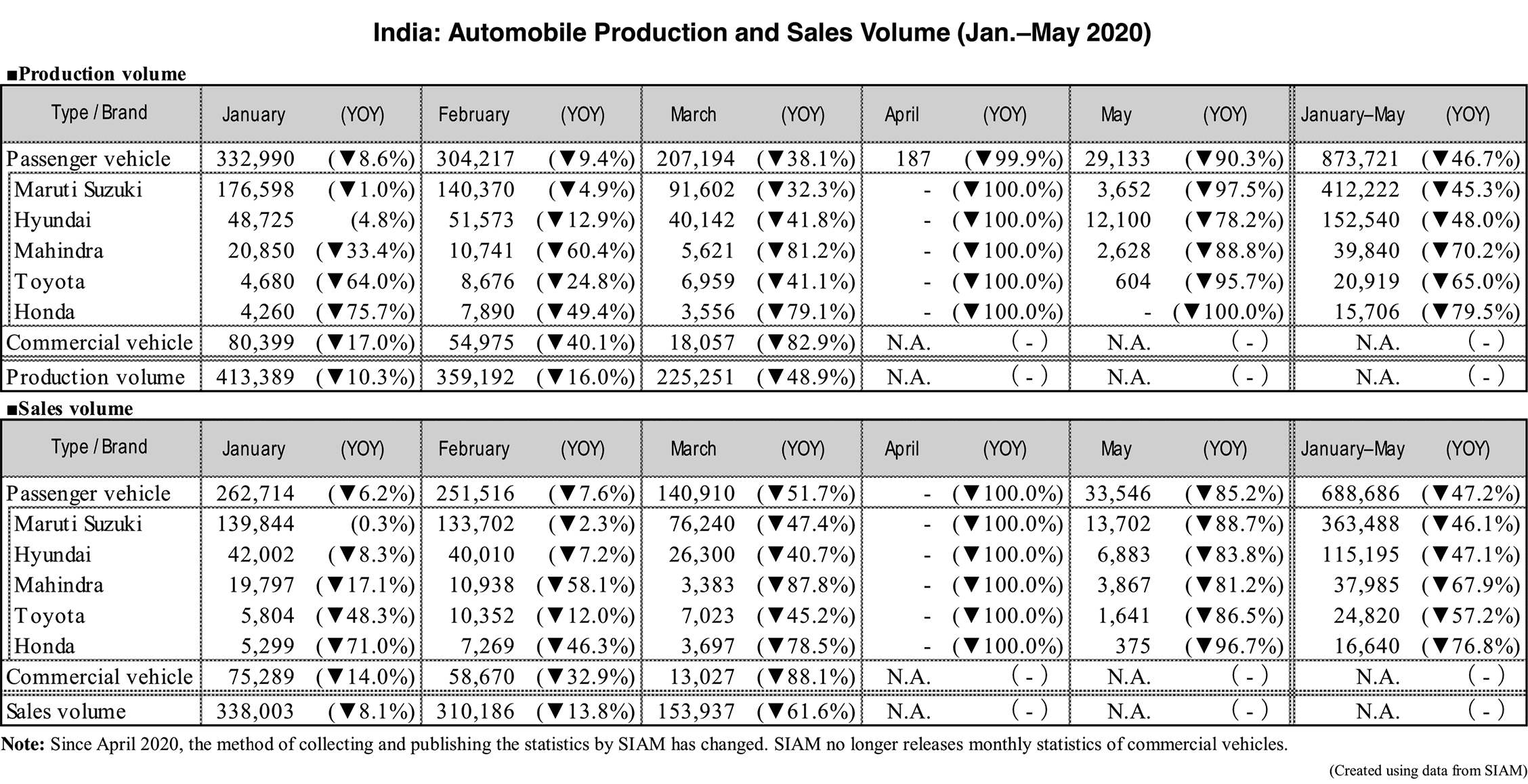 India: Overview of Economic Measures Package (Announced in May 2020)
Measure
Budget Amount
Contents of Measures
Economic measures announced in May
Phase 1
5.9455 trillion INR
Supporting SMEs (3 trillion INR unsecured loan)
Phase 2
3.1 trillion INR
Supporting the poor, such as farmers and migrant workers
Phase 3
1.5 trillion INR
Supporting agriculture (establishment of 1 trillion INR agricultural infrastructure fund)
Phase 4
481 billion INR
Deregulation in fields such as coal, mining, defense and electricity
Phase 5
(included in phase 4)
Strengthening public health, improving investment environment, reforming administration
Economic measures announced in March
1.928 trillion INR
Supplying cash and food to vulnerable groups such as the poor and individual farmers
Central Bank's support measures
8.16 trillion INR
Quantitative easing
(Created using Indian government documents)
In May 2020, the Indian government launched a large economic package with a total cost of about 20 trillion INR. However, its content is mainly emergency assistance to farmers and small and medium-sized enterprises, and measures to directly support the automobile industry are not included. For this reason, industry groups are requesting support measures such as the reduction of goods and services tax (GST) tax.
The Indian automobile market has been sluggish since the latter half of 2018, and the new coronavirus has just made it even worse. In addition, due to other adverse conditions such as the worst locust attack in 27 years and border skirmishes with China negatively affect India's economy as a whole including new vehicle sales.