AAA weekly
2020-08-10
Copyright FOURIN, Inc. 2023
Dongfeng Venucia Unveils New Platform, Reducing Dependence on Nissan's Technology
The Sino-foreign joint venture brand Venucia was first launched in 2010 under Dongfeng Nissan, a subsidiary of the Sino-Japanese automaker Dongfeng Motor (DFL). In February 2017, the brand was taken over by Dongfeng Venucia a subsidiary of DFL. Dongfeng Venucia's sales declined 10.8% year-on-year to 118,000 units in 2019. In the first five months of 2020, sales fell 44% to 26,000 units. While the sales target of Dongfeng Venucia is set at 160,000 units for 2020, the company's achievement rate stood at 16.3% as of May 2020. Despite the spread of the new coronavirus, the company aims to achieve its sales target by strengthening online sales and conducting various sales promotion campaigns.
Regarding new products, Dongfeng Venucia is launching new BEV models one after another. The automaker released the Venucia D60 EV in September 2019 followed the Renault K-ZE-based Venucia e30 in October and the Vehucia T60 EV in November. In addition, Dongfeng Venucia joined the charging service "NIO Power" of the emerging BEV maker NIO in April 2020 to improve the convenience of its own BEV users. Venucia D60 EV and Venucia T60 EV drivers can use NIO charging network. In addition, users can also call NIO Power's power supply vehicles to a designated place 24 hours a day, seven days a week to charge their car.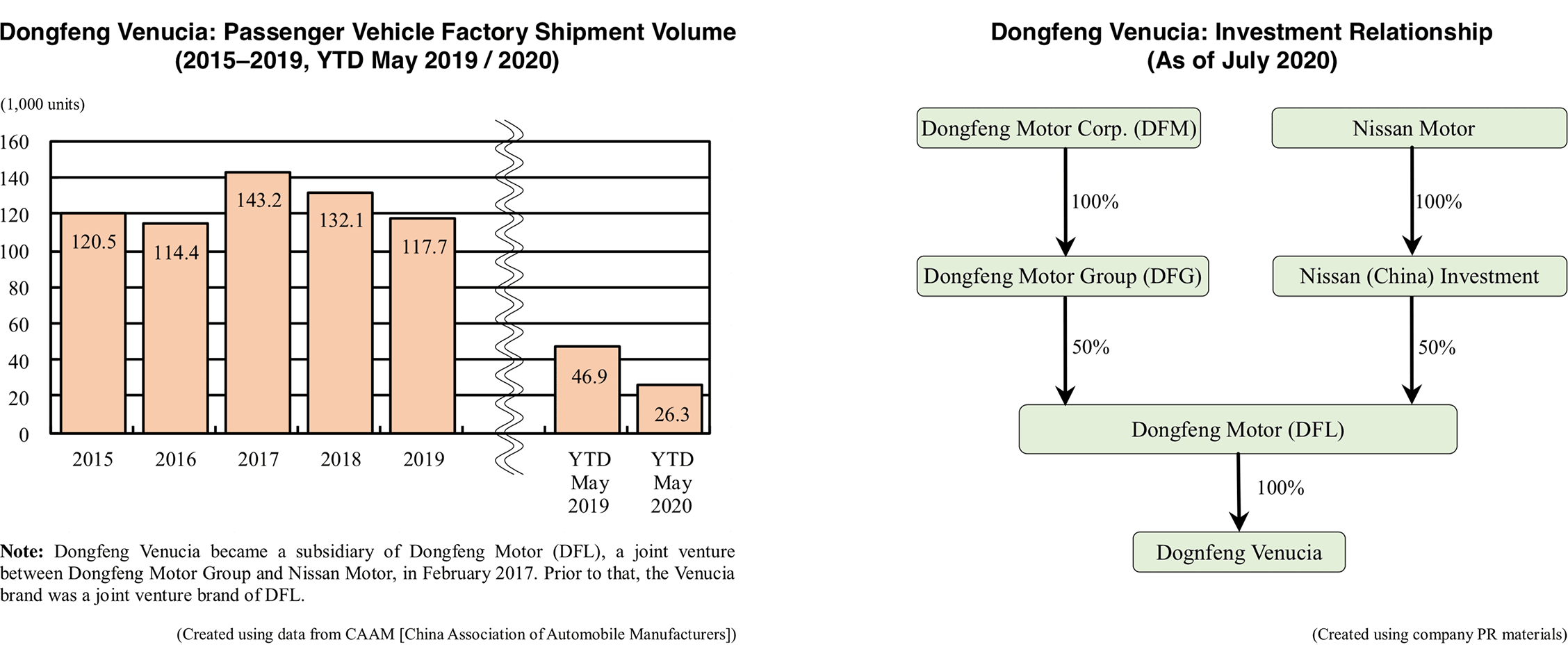 While receiving investment from Nissan, Dongfeng Venucia is aiming to strengthen its local development capabilities by reducing its dependence on Nissan's technology. In November 2019, Dongfeng Venucia unveiled the VSA (Venucia Smart Architecture) platform. This is a platform for smart cars that was independently developed by Dongfeng Venucia. The automaker's future models will be developed based on the VSA platform.
In April 2020, Dongfeng Venucia launched the Venucia Star, the automaker's first model built on the new VSA platform. The powertrain combines a Mitsubishi-made 1.5L turbocharged gasoline engine combined with a six-speed MT or seven-speed DCT. The lineup also includes a 48V system-powered version that was independently developed by the company's Chinese R&D team. The Venucia Star's sales target is set at 70,000 units for 2020, but the model sold a mere 3,439 units by the end of May 2020. While Dongfeng Venucia intends to distance itself from Nissan's technology, it remains to be seen how the company will attract new customers.
Dongfeng Venucia: Recent Business Trends (As of July 2020)
| Subject | Details |
| --- | --- |
| Sales result | ・In the first five months of 2020, Dongfeng Venucia's sales declined 44.0% year-on-year to 26,000 units. (data were released by CAAM based on factory shipment results). |
| Sales target | ・In January 2020, Dongfeng Venucia announced that it has set its sales target for 2020 at 160,000 units. – The automaker sold 123,000 units in 2019 (company announcement). – According to Deputy General Manager Xu Chuan of Dongfeng Venucia in February 2020, the sales target is not planned to be revised downward even if the new coronavirus continues to spread. The company aims to achieve the set target by strengthening online sales and implementing various sales promotion campaigns. |
| Joining NIO charging service | ・In April 2020, Dongfeng Venucia joined the charging network of emerging Chinese BEV maker NIO. Users of Venucia D60 EV and Venucia T60 EV can now use the charging service "NIO Power" provided by NIO. – Venucia owners can use NIO-maintained chargers. There were more than 200 as of March 2020. NIO Power's power supply vehicles can be called to a designated place 24 hours a day, seven days a week to charge the car. |
(Created using data from Dongfeng Venucia's PR materials and various media sources)