AAA weekly
2019-12-09
Copyright FOURIN, Inc. 2022
South Korea Aims for Level 3 Autonomous Driving in 2020
Looking at the trends in the development of ADAS / autonomous driving technologies by Korean car and component manufacturers, companies aim to commercialize SAE standard Level 3 autonomous driving system in 2020. In addition, the invest in development and form partnerships to achieve Level 4 technology by 2025 and fully automated driving technology equivalent to Level 5 by 2030. South Korea's Ministry of Trade, Industry and Energy and Ministry of Land, Infrastructure and Transport have set up an ADAS / autonomous driving development roadmap for technology development in the Korean automobile industry, aiming to commercialize Level 3 technology in 2020. South Korea is actively utilizing K-City, an unpopulated city for autonomous vehicle testing. It is world's first 5G network-based mobility technology testing site in Hwaseong city, Gyeonggi Province. Among automobile and parts manufacturers, the Hyundai Motor Group is actively promoting M&A and technical alliances to acquire Level 4 or higher autonomous driving technology. In June 2019, the company announced that it would invest 600 million US dollars in Aurora Innovation. In September 2019, Hyundai Motor Group established a 50/50 joint venture with Aptiv to develop Level 4 or higher autonomous driving technology. In the following month, Hyundai Motor Group's affiliated company Hyundai Mobis announced that it has concluded an agreement to invest 50 million US dollars in Velodyne to jointly develop Level 4 and higher technologies. Also in October 2019, Hyundai Autron, a Hyundai Group software and control system development company, and Austria's TTTech Auto announced to form a partnership to develop standard software platform for Hyundai Motor in the area of autonomous driving. Looking at other companies, Mando announced in February 2019 that it had successfully tested Level 4-equivalent autonomous driving technology. Mando's autonomous-driving model Hockey ran 2.7km at 40 km/h. Samsung Electronics strengthened its development of autonomous driving technology by acquiring Harman in 2017. In September 2018, Samsung Electronics announced that it would develop Level 5 autonomous driving technology by 2025. Unlike Waymo and other rival companies, Samsung Electronics plans not to use LiDAR, but to make it possible to comprehend location information using only a general map, utilizing camera vision technology.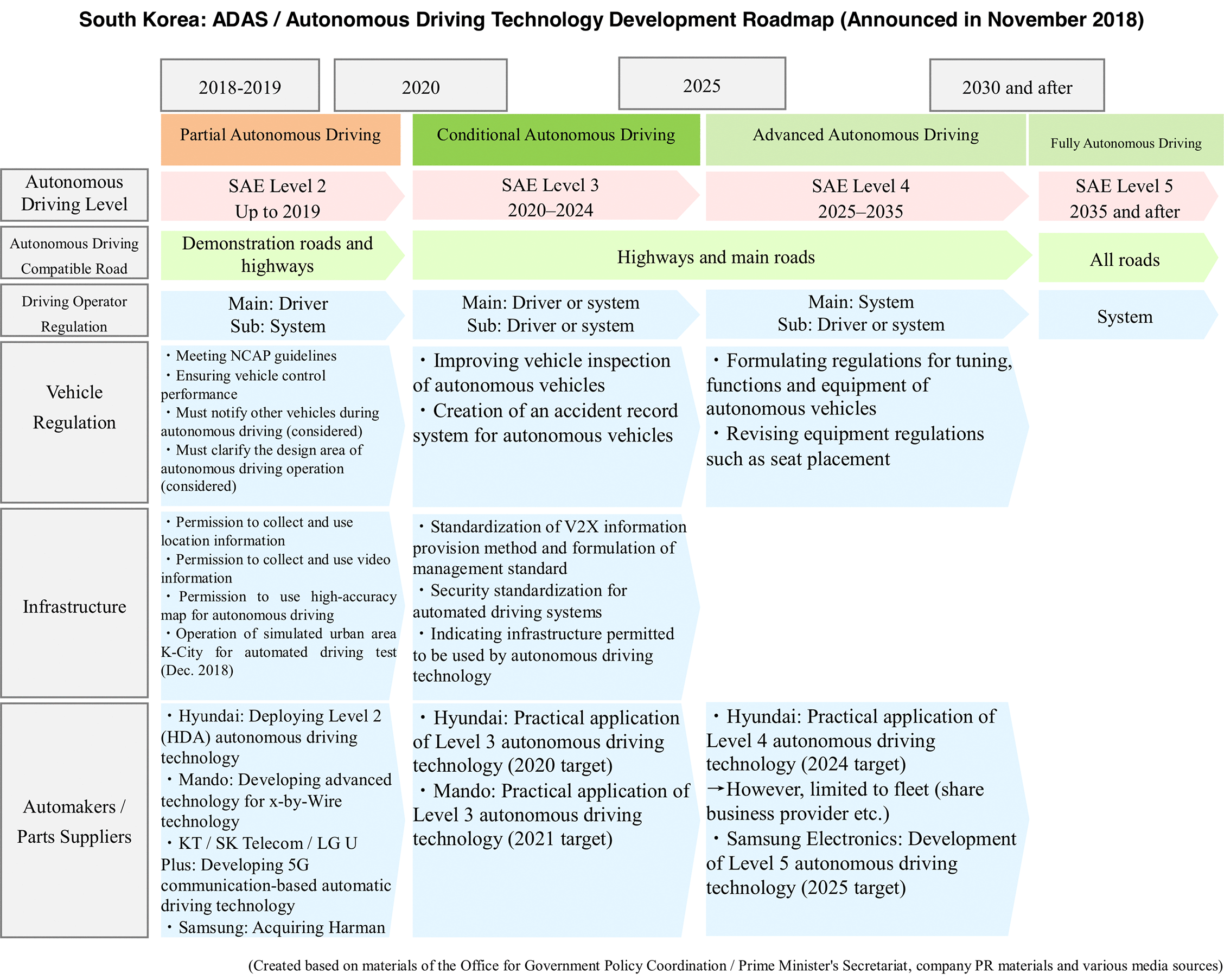 South Korea: Trends in ADAS / Autonomous Driving Technology Development by Major Automobile / Parts Manufacturers
Hyundai Motor Group
Hyundai / Kia introduces smart autonomous parking concept
・In December 2018, Hyundai / Kia announced the concept technology for smart automatic parking (valet parking). – The announced automatic parking concept is a technology in which when the driver arrives at the destination and gets out of the car, the vehicle itself enters an empty parking space installed with charging equipment and charges itself. Vehicles, drivers (users) and charging facilities (infrastructure) are connected with connected technology. – Hyundai Motor Group intends to introduce this technology around 2025.