AAA weekly
2020-07-06
Copyright FOURIN, Inc. 2023
Vietnam's Automobile Sales by Segment in 2019 Increase 13.3% to 386,000 Units
Vietnam's automobile sales increased 13.3% year-on-year to 386,000 units. The double-digit increase was driven by SUVs whose market share went up 5.5pp to 23.7%. In addition, the Mitsubishi Xpander boosted demand for small MPVs in 2019, creating competition among segments.
Passenger cars increased 4.2% to 162,000 units. Of which the segment-leader B segment rose 16.5% to 74,000 units. Vietnam's best-selling model Toyota Vios sold virtually the same number of vehicles, over 27,000 units, as the previous year. The Hyundai Accent, ranked second in the B segment, increased sales 57.3% to 20,000 units. The A segment dropped 4.8% to 39,000 units. The two core models of the segment, the Hyundai Grand i10 and Kia Morning fell 18% and 18.7% respectively. The C segment declined 5.8% to 41,000 units but the D segment increased 6.9% to 8,141 units.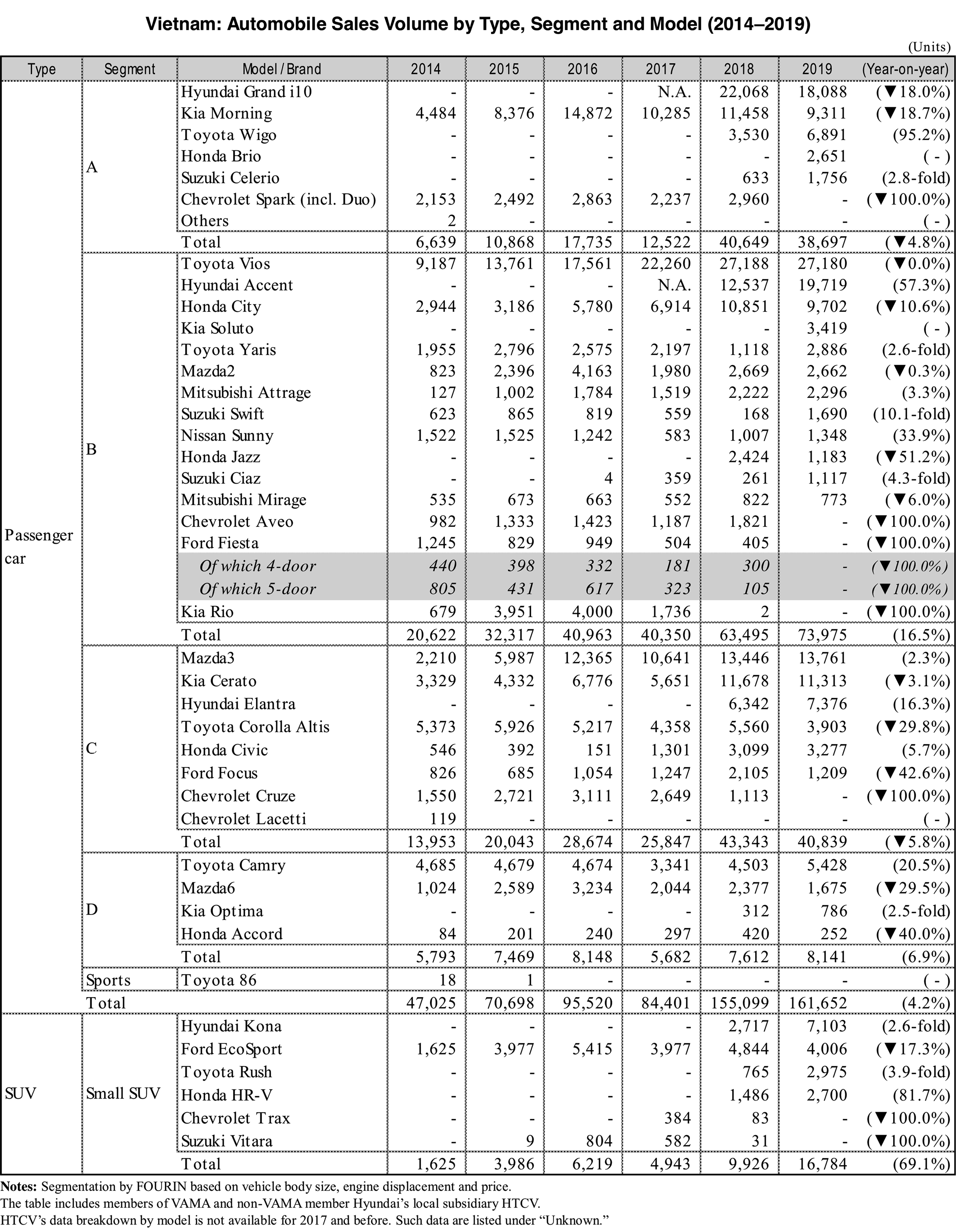 SUVs increased 47.5% to 92,000 units. Of which small SUVs ascended 69.1% to 17,000 units and medium and large SUVs rose 43.3% to 75,000 units. In the small SUV segment, the Hyundai Kona, launched in August 2018, sold 7,103 units, becoming segment leader. In the medium and large SUV segment, the previous year's segment leader Mazda CX-5 dropped 16.4%, landing on third place. The CX-5 was surpassed by the Honda CR-V and Toyota Fortuner, going up 51.2% and 2.1-fold respectively. As a result, the medium and large SUV segment overtook the B segment in 2019, becoming the largest segment in terms of sales.
MPVs increased 94.4% to 40,000 units. Of which small MPVs, which sold a mere 1,394 units in 2018, expanded to 23,000 units. The segment benefitted from the launch of the Mitsubishi Xpander. Launched in August 2018, the model sold 20,000 units in 2019. On the other hand, medium and large MPVs declined 13% to 16,000 units.