AAA weekly
2021-05-24
Copyright FOURIN, Inc. 2023
Audi's Sales in Japan Declined 7.9% in 2020, But Double-digit Rise Is Expected in 2021
Audi's automobile sales in Japan fell 7.9% from the previous year to 22,000 units in 2020. Due to the impact of the spread of the new coronavirus infection, the foreign-brand market fell 14.5% to 256,000 units, but Audi increased its market share 0.6 percentage points to 8.7% thanks to the active introduction of new models, facelift of some models, and the introduction of online business services. Sales of the A3 Series, the most popular model in Japan, were down 7.7% to 4,800 units, and those of the Q2 Series were down 10.1% to 4,118 units. On the other hand, the Q3 Series, whose fully redesigned model was released in August 2020, increased 9.3-fold to 2,378 units, partly due to a decrease in supply in 2019.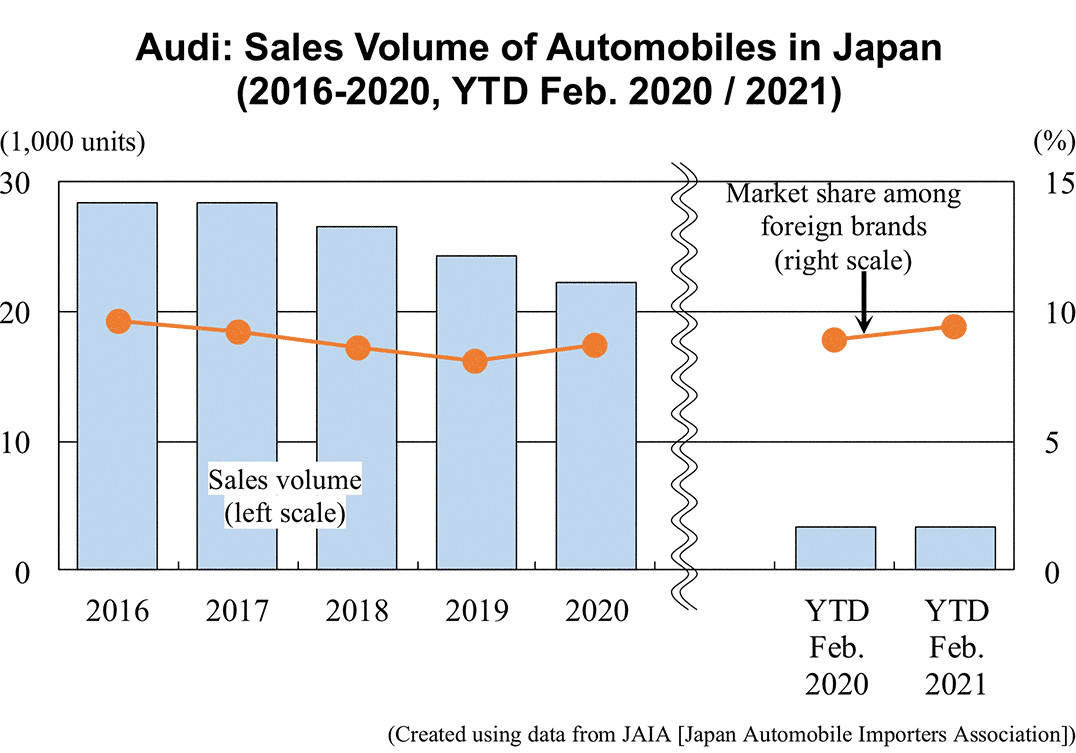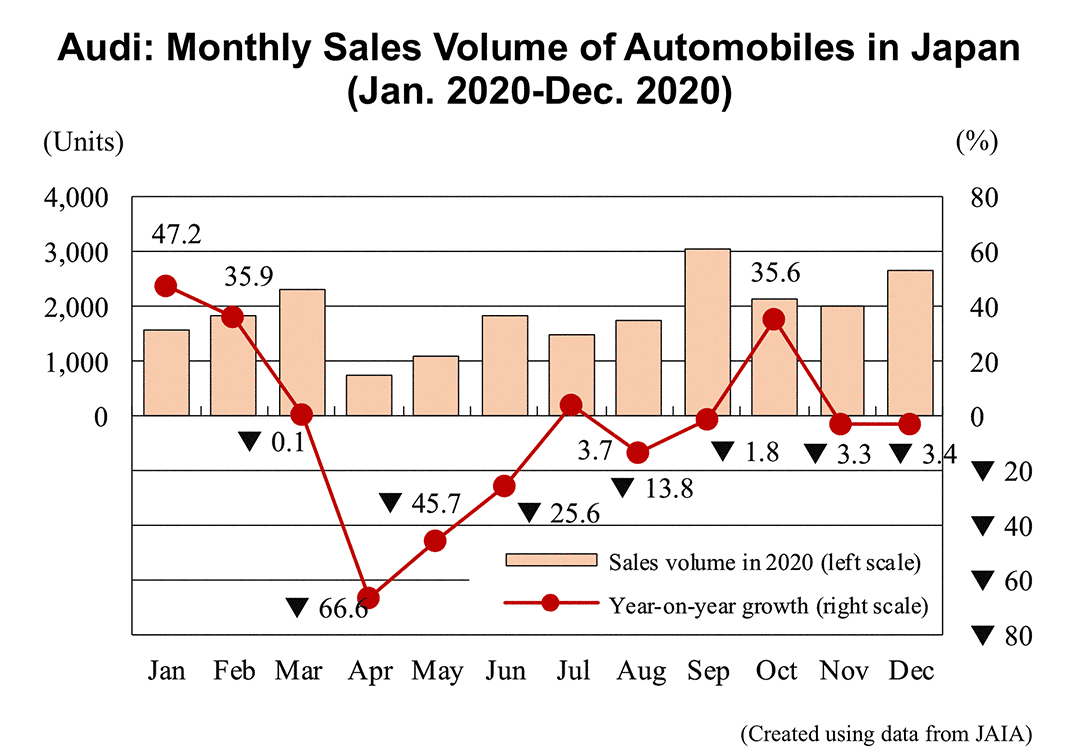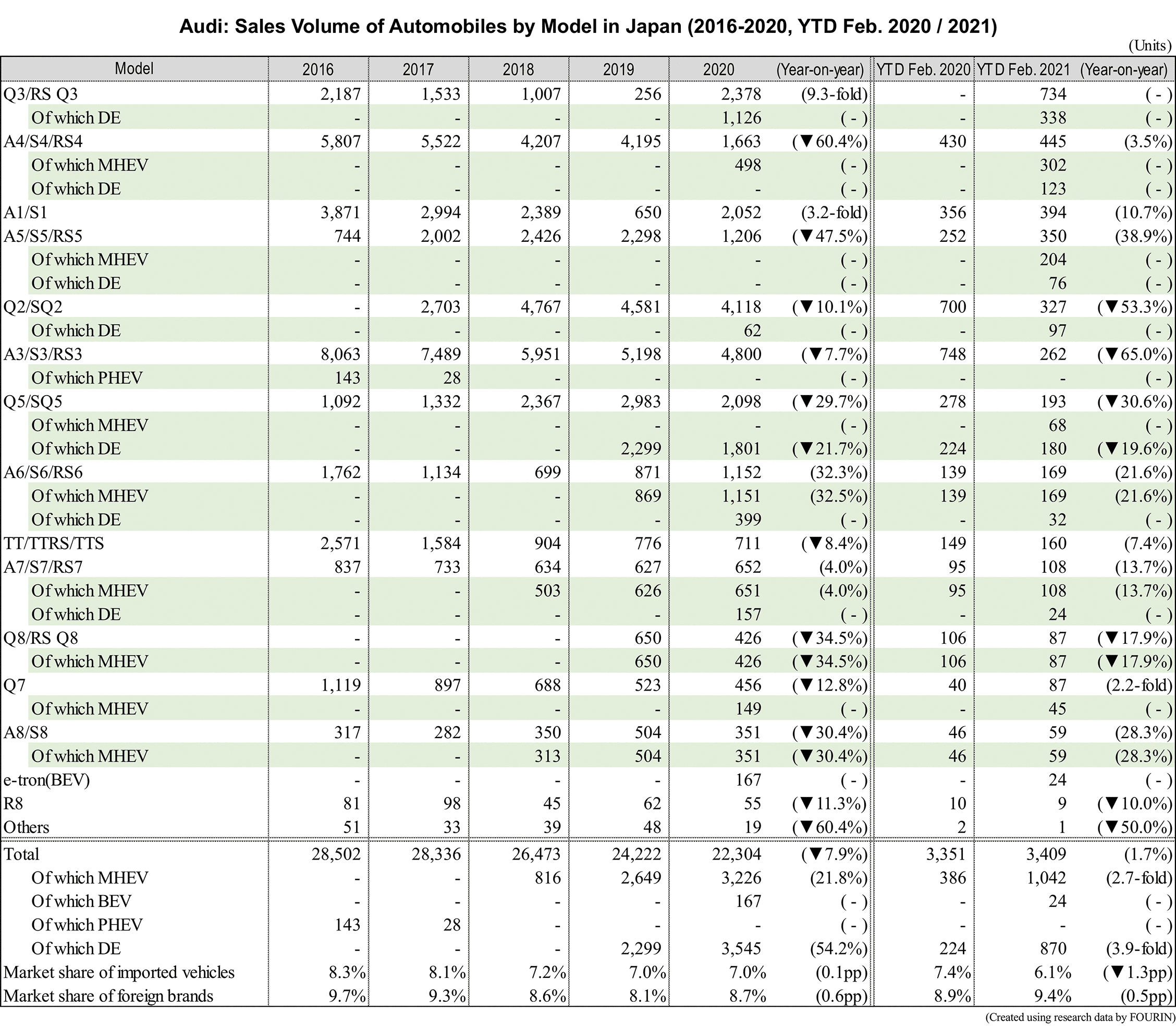 Audi intends to promote electrification based on MHEV and BEV models in Japan. In addition to gradually adding MHEV versions to existing models, Audi launched the fully electric e-tron Sportback 55 quattro in September 2020. It is Audi's first BEV model in the Japanese market. In addition, in January 2021, the e-tron and e-tron Sportback 50 quattro, which have a smaller battery than 55, were introduced to strengthen Audi's BEV lineup. With the introduction of BEVs, Audi is expanding sales by providing support to e-tron owners, launched in September 2020, and beginning lending internal-combustion-engine vehicles to e-tron buyers who are concerned about the range of BEVs in January 2021.
In addition to some improvements of the Q2 and Q5 in 2021, Audi is planning to fully redesign the A3 Series, with an aim to increase sales by more than 10% compared to 2020. Audi is planning to invest 3.1 billion JPY in dealerships in 2021 in order to strengthen the sales system. In January 2021, Audi's first next-generation brand store House of Progress opened in Tokyo. It will operate for a limited time to disseminate information.