AAA weekly
2020-10-12
Copyright FOURIN, Inc. 2023
Impact of the New Coronavirus in Pakistan: Local CDK Sales from January to June 2020 Fell by 63% Year-on-Year
In Pakistan, the sales volume of locally assembled vehicles from January to June 2020 decreased by 62.6% year-on-year (YoY) to 46,000 units. Due to the lockdown implemented by the government as a measure to prevent the infection of the new coronavirus, the production and sales of automobiles were suspended from the end of March for about 2 months, resulting in a 60% reduction in the production and sales YoY. The sales in the first half of 2020 were at a historically low level, even worse than the time of the global financial crisis (48,000 units back then).
In Pakistan, the automobile sales slump had already been chronic before the new coronavirus outbreak took place. However, the combination of the sluggish sales and the pandemic made the market slump even longer and more serious. The structural factors of the slump are mainly the rise in vehicle prices due to the rapid depreciation of Pakistan rupees (PKR) and the automobile tax increase after July 2019. The monthly sales have fallen below the same month last year for 20 consecutive months from November 2018 to June 2020. In particular, during the 12 months from July 2019 to December 2020, all months fell by more than 40% YoY.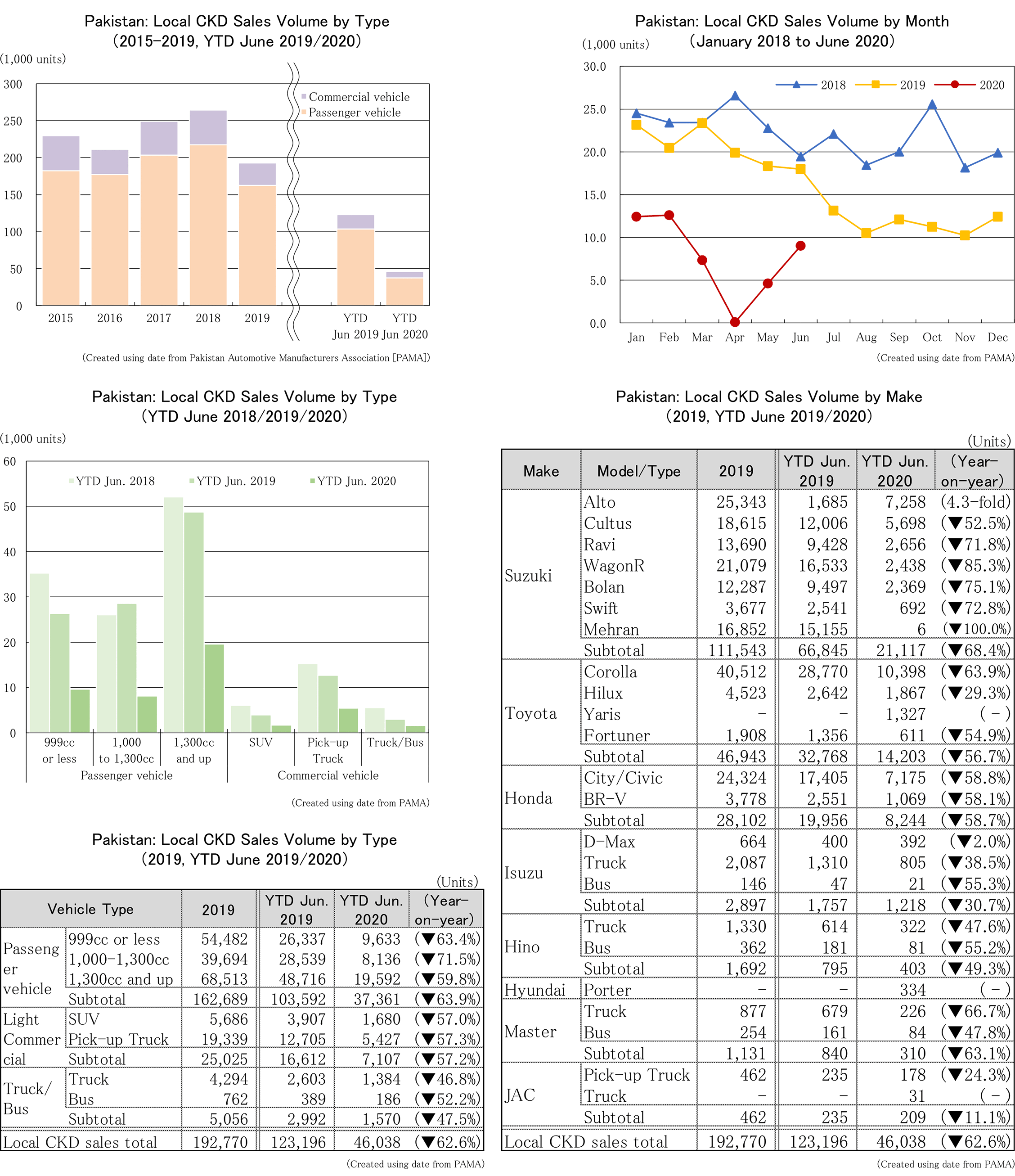 Regarding the number of vehicles sold from January to June 2020 by type, passenger cars decreased by 63.9% to 37,000 units, light commercial vehicles (SUVs and pickup trucks) decreased by 57.2% to 7,107 units, and trucks/buses decreased by 47.5%. 1,570 units. It was a significant drop of about 50 to 70% for all models.
By brand, the sales volume of Suzuki dropped by 68.4% to 21,000 units. In response to the lockdown order, Suzuki took a longer suspension period than other manufacturers, resulting in a drastic fall in the market. As for other major automakers, the sales of Toyota fell by 56.7% to 14,000 units, and that of Honda declined 58.7% to 8,244 units.
Despite the economic challenge, Toyota has started production and sales of Yaris, a B segment model, from March 2020. This is the second locally produced passenger car model next to Corolla (C segment). Offering both B and C segments is intended to cover the entry-level model demands in the Pakistan market.