AAA weekly
2020-08-24
Copyright FOURIN, Inc. 2023
Malaysia's Automobile Market by Segment in 2019: Sales Rise 1.0% to 604,000 Units
Malaysia's automobile market increased 1.0% year-on-year in 2019 to 604,000 units. The top five brands namely Perodua, Proton, Honda, Toyota and Nissan accounted for 85.4 percent of the market. Sharp increase in SUV sales in 2019 is due to the entry of the two national automakers Perodua and Proton in to the small SUV and medium / large SUV segments.
Looking at the passenger car market, sales inched up 0.2% to 357,000 units. While the compact (B) segment performed well, the small (C) and medium (D) segments, whose demand was syphoned off by SUVs, fell sharply, overall passenger car sales remaining at the same level as the previous year. The lower-compact (A / B) segment, which is Malaysia's best-selling segment, increased 5.4% to 172,000 units. Sales of the country's highest-selling model the Perodua Myvi remained virtually at the previous year's level at 82,000 units, volume dropping only 0.2%. In addition, the upgraded Proton Saga, launched in 2019, and Iris models went up 35.1% and 95.7% respectively, pushing up the overall lower compact sales. The compact (B) segment rose 13.3% to 105,000 units. Although the segment-leader Honda City fell 12.1%, the Toyota Vios and Proton Persona increased double digits and the new Toyota Yaris, launched in April 2019, added over 11,000 units to the total. Meanwhile the small (C) and medium (D) segments nosedived, going down 62.3% and 43.8% respectively.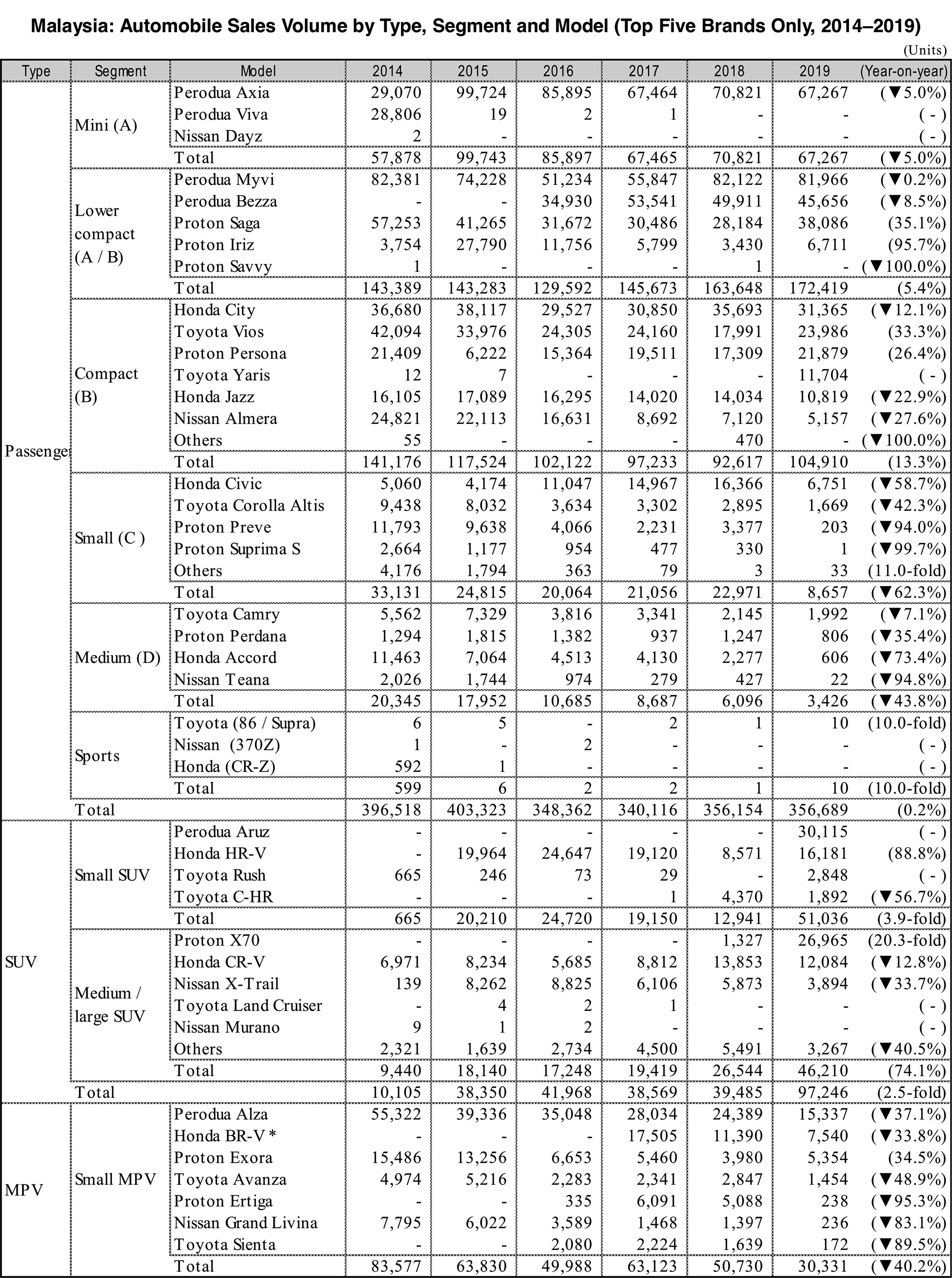 SUV sales went up 2.5-fold to 97,000 units. Of which small SUVs increased 3.9-fold to 51,000 units. The Perodua Aruz and Toyota Rush, both launched in 2019, boosted overall sales. Medium / large SUVs rose 74.1% to 46,000 units. The Proton X70, released in December 2018, took top position with 27,000 units.
MPV sales fell 36.7% to 40,000 units. Of which small MPVs dropped 40.2%, all models declining except the Proton Exora whose facelifted version was launched in 2019. Medium / large MPVs decreased 21.7%, all models dropping across the board.