AAA weekly
2022-08-03
Copyright FOURIN, Inc. 2023
Gogoro: Aiming to Build a HaaS Business Model with Swapping Batteries
Gogoro is a Taiwanese electric motorcycle startup that was established in 2011, launching production and sales in 2015. Apart from motorcycles, the company has its own battery swapping network based on its own battery swapping system. The company has already established a leading position in the Taiwanese electric motorcycle market. The core of the company's business strategy is to expand globally using the Hardware as a Service (HaaS) business model, focusing on swappable batteries and charging infrastructure, rather than on the manufacture and sales of motorcycles.
Gogoro, with an eye on global expansion, announced a plan in September 2021 to list on NASDAQ. According to the announcement, Gogoro will merge with US special purpose acquisition company (SPAC) Poema Global Holdings for listing on NASDAQ and procedure is planned to be completed by the first quarter of 2022 at the earliest. Along with the listing, Gogoro plans to raise around 250 million USD through private investment in public equity (PIPE). Major players such as Foxconn and Hero MotoCorp have already announced their participation in the PIPE deal.
Gogoro: Company Overview and History
Overview
Company name:
Gogoro Inc.

Headquarters:
Taoyuan City, Taiwan
Established:
2011
Representative:
Horace Luke (Founder and CEO) - Born in Hong Kong. Engaged in brand development for Xbox, Windows XP and Windows Mobile at Microsoft in the United States for 10 years. Appointed Chief Innovation Officer of HTC Corporation, a major smartphone company in Taiwan, in 2006. Founded Gogoro in collaboration with HTC engineer Matt Taylor.
Major investors:
- Samuel Yin (President of Ruentex Group) - Panasonic - Generation Investment Management (UK investment company. Chairman and co-founder is Al Gore, former Vice President of the United States.) - Temasek Holdings (Singaporean investment company) - ENGIE (France-based energy company) - Sumitomo Corporation
Plant location:
Taoyuan City, Taiwan
Product lineup:
Electric scooters (Gogoro 1 Series, Gogoro 2 Series, Gogoro 3 Series, Gogoro VIVA Series)
Sales volume
of BEV
motorcycles:
73,933 units (2021 / new registration data)
Sales revenue:
364.13 million USD (2021)
Employees:
1,967 (as of September 2021) - Breakdown: Development division (engineers) 342, network operators and technicians 176, manufacturing division 501, sales and aftersales service division 500, other functions 448.
History
・2011: Established. ・Oct. 2014: Implemented the first capital increase since the company was founded. Raised 100 million USD. ・Jun. 2015: Launched its first BEV motorcycle Gogoro 1 Smart Scooter, part of the Gogoro 1 Series. ・Nov. 2015: Implemented the second capital increase. Raised 30 million USD. ・May 2017: Launched the Gogoro 2 Series. ・Sep. 2017: Implemented the third capital increase. Raised 300 million USD. ・May 2019: Launched the Gogoro 3 Series. ・Sep. 2019: Launched the Gogoro VIVA Series. ・2022: Scheduled to be listed on the US stock market.
For Reference: Investment Rounds
| Round | Funding Amount | Main Participants |
| --- | --- | --- |
| Series A (2011) | 50 million USD | ・Samuel Yin (President of Ruentex Group) ・Cher Wang (Chairman of HTC) |
| Series B (2014) | 100 million USD | ・Various investors |
| Series B (2015) | 30 million USD | ・Panasonic ・Taiwan Executive Yuan National Development Fund |
| Series C (2017) | 300 million USD | ・Temasek Holdings ・Generation Investment Management ・Sumitomo Corporation ・ENGIE |
Manufacturing Base
・Location: Taoyuan City, Taiwan ・Site area: 23,000m2 ・Facilities: Head office, research laboratory, factory, distribution center ・Battery packs and drive units are made in-house. In the vicinity of the vehicle factory, there is a battery pack plant (building area: 2,900m2) and a components plant (building area: 6,600m2) which manufactures motor and powertrain parts among other components.
Gogoro's production line: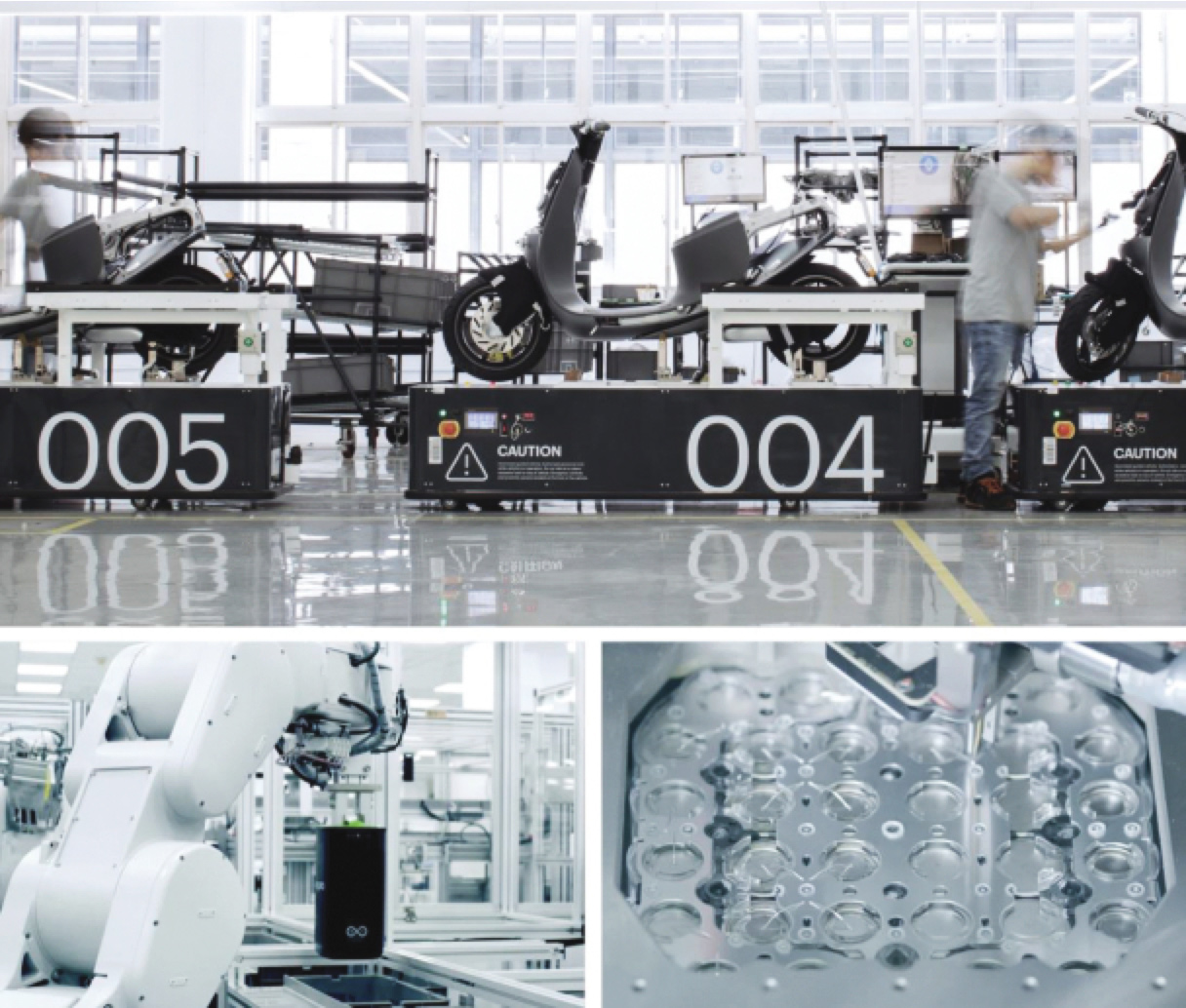 (Created using Gogoro's PR materials and various media and other sources)