AAA weekly
2020-09-21
Copyright FOURIN, Inc. 2023
Impact of the New Coronavirus in Vietnam: Stay-at-Home Order Suspended Auto Production and Sales for 3 Weeks
In Vietnam, there has been no death of the new coronavirus reported (as of confirmation on July 10, 2020), and the spread of the infection was suppressed early. Thanks to the situation, the impact on the automobile market was the smallest among the major ASEAN countries. As for production, automakers shut down production sites in response to a stay-at-home order implemented on April 1 for 3 weeks. However, they all have smoothly resumed operations thereafter. The Vietnamese government has introduced tax reduction measures for automobile registration fees, and the market is recovering earlier than in other countries.
In response to restrictions on outings (the stay-at-home order) due to the spread of the new coronavirus, many automakers closed their dealer stores in addition to their production sites. After the relaxation of the order in late April, they resumed operations at their sites and stores, and the production and sales have begun to recover from May to June.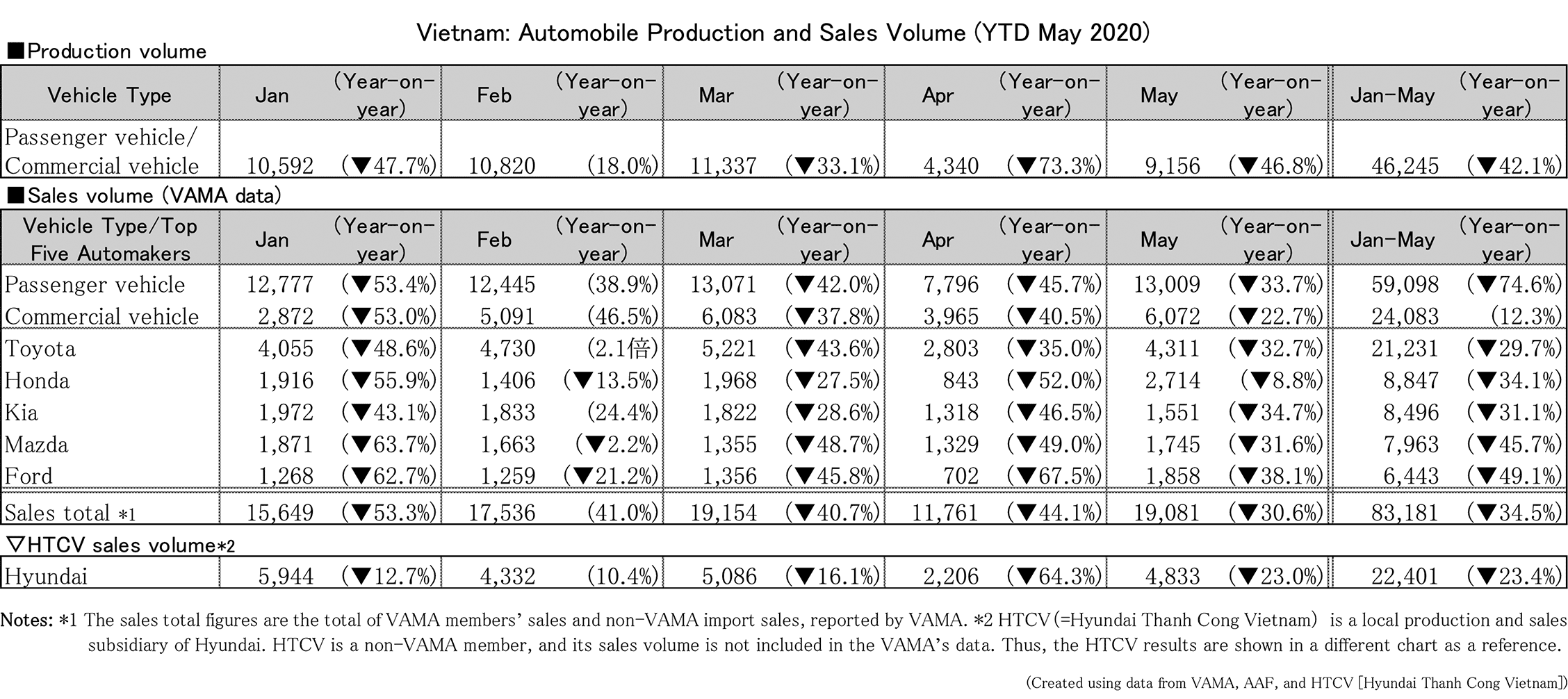 In the latter half of 2020, it is expected to see a rise in demand to some extent because of the 50% tax reduction on the registration fees, which started from June 28, 2020. This relief is only applicable for locally produced vehicles. Therefore, automakers handling imported vehicles have set special discounts to close the price gap between imported models and domestic ones.
Although Vietnam suppressed the spread of the virus, economic stalling in 2020 is inevitable due to the negative economic impact so far and a social structure that is highly dependent on foreign trades. Vietnam has been maintaining its GDP growth rate at around 7% in recent years until this pandemic took place. However, the IMF forecasted the growth rate in 2020 to be 2.7% in April, and the government predicted 4.5% in May. The government is expecting to make a recovery from the stalling economy with its economic measures and the EU-Vietnam Free Trade Agreement (EVFTA) starting from August.