AAA weekly
2020-10-05
Copyright FOURIN, Inc. 2023
India Remains Top Motorcycle Market in Asia in H1 2020
In the first half of 2020, motorcycle sales in Asia* dropped 41.8% compared to the same period of the previous year to 10.26 million units. The overall decrease was due to the spread of the new coronavirus infection, but there is a difference between countries in terms of the rate of decrease. India declined over 50% while ASEAN dropped over 30%. Meanwhile, Taiwan which succeeded in avoiding the prolonged spread of the virus increased 2.0%.
*This report covers the following nine Asian countries: India, Pakistan, Thailand, Indonesia, Malaysia, Philippines, Vietnam, Singapore, Taiwan.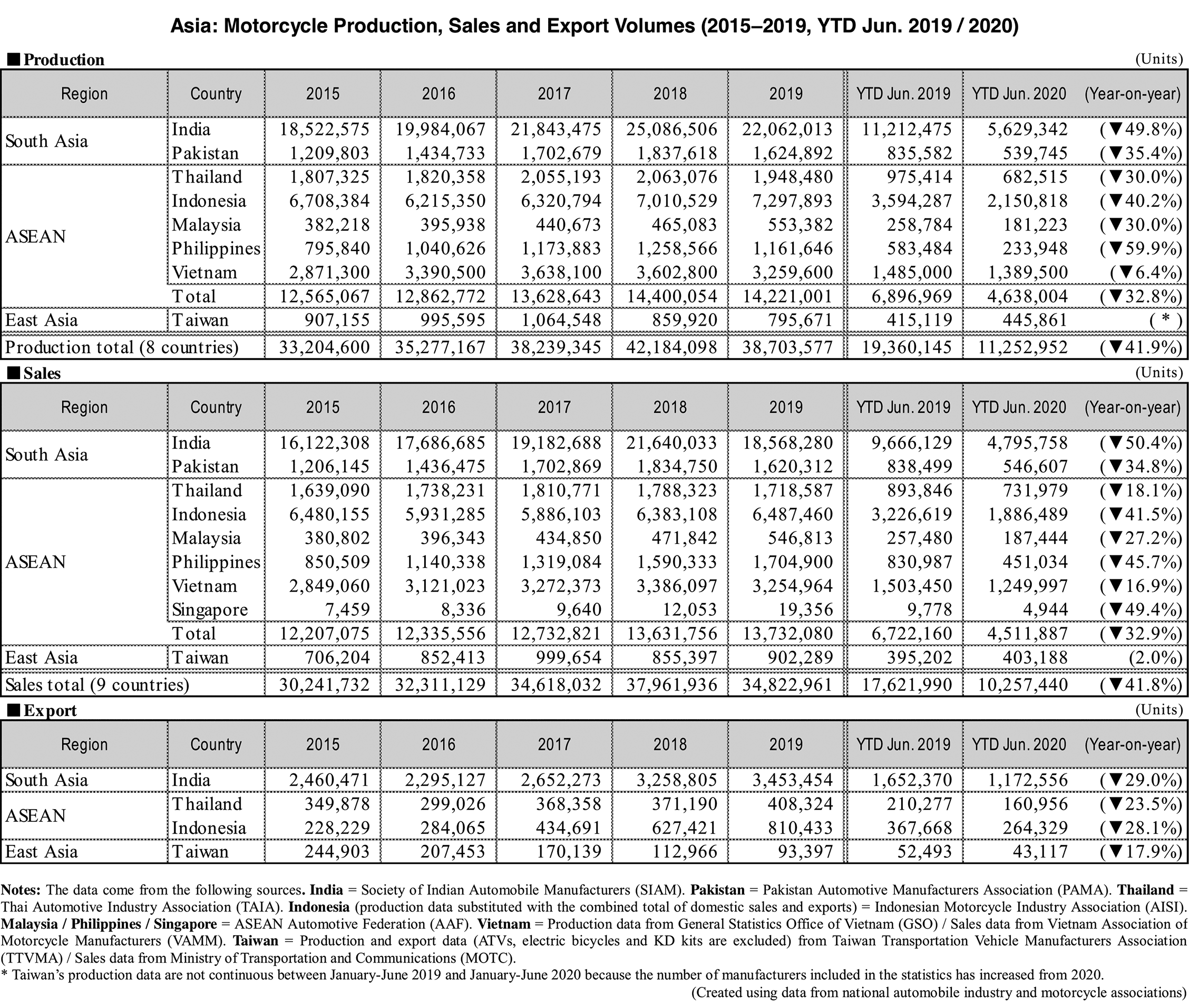 Looking at sales by region and country, Asia's largest motorcycle market India dropped 50.4% to 4.8 million units. Due to the government's lockdown measures, the production and sales of motorcycles were completely stopped from the end of March to the beginning of May, causing the biggest drop among major motorcycle markets. Motorcycle sales in India have been dull since the end of 2018, due to increase in prices triggered by the tightening of environmental and safety regulations. From December 2018 to June 2020, sales have been falling for 19 consecutive months.
In ASEAN (six countries), sales declined 32.9% to 4.51 million units. Of which the region's largest motorcycle market Indonesia fell 41.5% to 1.89 million units. The Philippines saw an over 40% decline as well, going down45.7% to 451,000 units. In these two countries, the spread of the new coronavirus has been severe which has prompted the government to restrict activities and apply quarantine measures for a long period of time, resulting in a sharp decrease in sales compared to other countries. In contrast, Vietnam dropped 16.9% to 1.25 million units and Thailand decreased 18.1% to 732,000 units, faring better than Indonesia and the Philippines. In these two countries, the drop in demand for motorcycles was also minor due to the successful early control of the spread of the virus.