AAA weekly
2021-06-07
Copyright FOURIN, Inc. 2023
Toyota Motor in India: Production, Sales and Export Dropped Double Digits in 2020
In 2020, Toyota Motor's automobile sales in India decreased 39.9% to 76,000 units, production dropped 56.5% to 51,000 units and exports declined 69.0% to 3,369 units. From March May to 2020, India implemented a nationwide lockdown due to the spread of the new coronavirus infection which called for the total suspension of production and sales. In addition, the termination of sales of mass-market models such as the Etios, which no longer complied with tightened emission regulations, also pushed down results.
Looking at the number of vehicles sold by model, Glanza, which was newly launched in June 2019, increased 15.2% to 21,000 units, Yaris went up 29.4% to 3,807 units and Vellfire rose 11.1 times to 333 units. In addition, the Urban Cruiser, newly introduced in August 2020, added 7,600 units to the total. On the other hand, Toyota's top-selling models the Innova decreased 44.8% to 34,000 units, and the Fortuner declined 40.6% to 9,204 units, showing a large decline in demand for utility vehicles.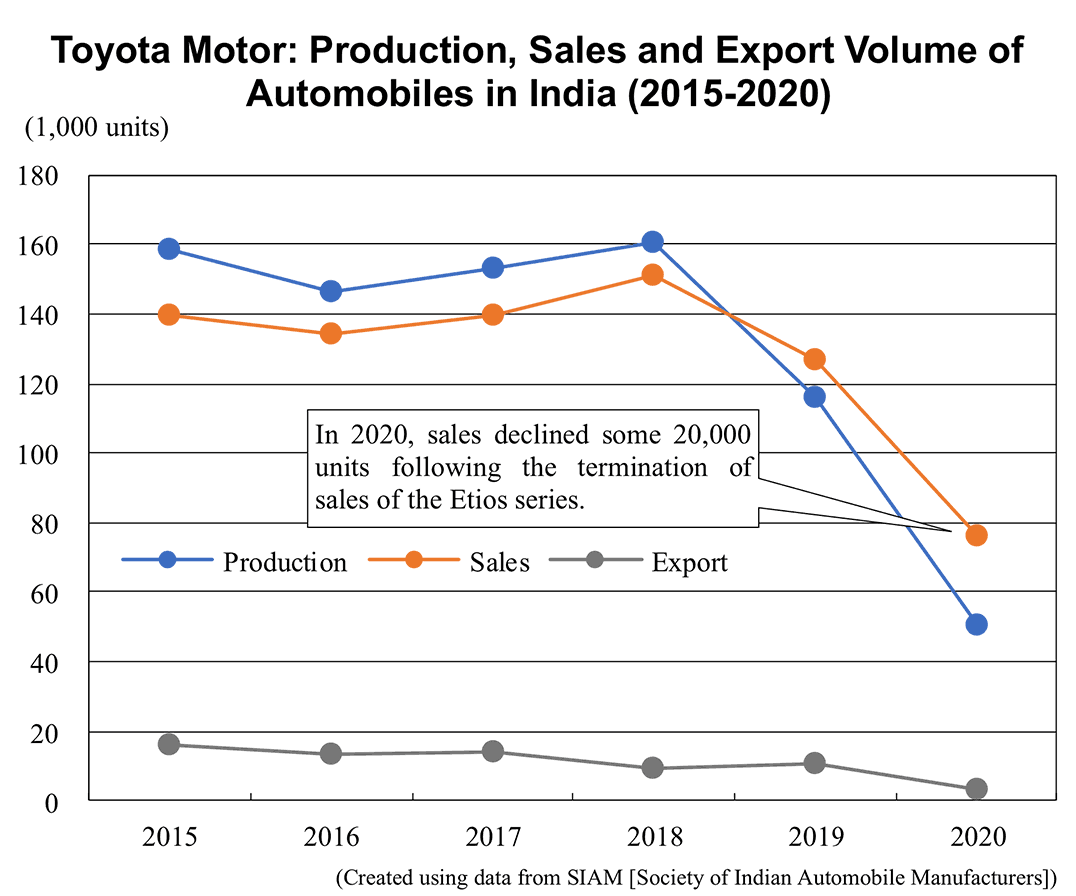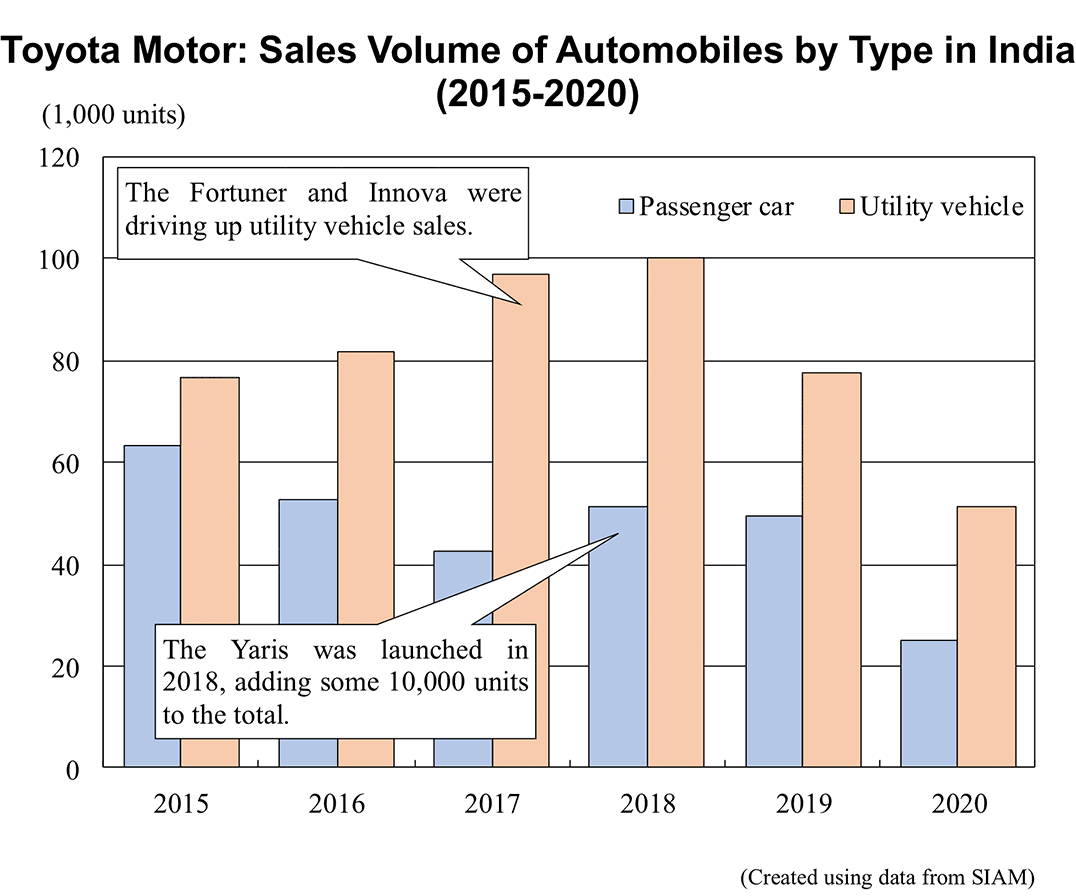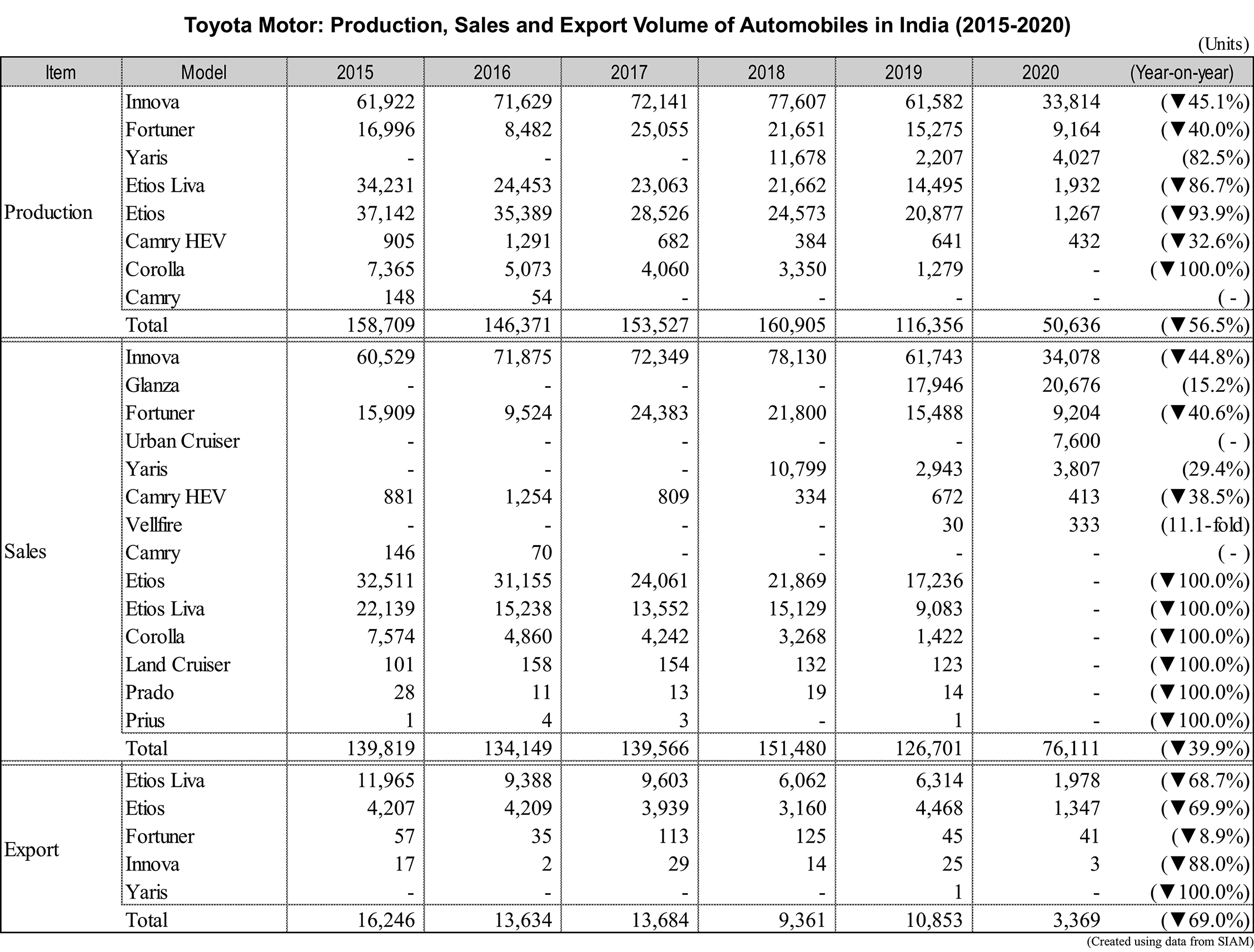 Toyota announced in March 2019 that Suzuki is considering supplying small models to Toyota on an OEM basis and Toyota is looking into the possibility of supplying MPVs to Suzuki also on an OEM basis. In recent years, an active partnership with Suzuki has been in progress. In August 2020, Toyota launched the Urban Cruiser which is the rebadged version of Suzuki's Vitara Brezza. It is the second model OEM supplied by Suzuki following the launch of the Suzuki Baleno (sold as the Glanza by Toyota) in June 2019. The cooperation is based on the alliance with Suzuki announced in March 2019. Under this alliance, Toyota has announced that it will receive small cars and small powertrains from Suzuki. The alliance between Toyota and Suzuki is moving forward with plans to introduce compact and midsize SUVs into the Indian market. Mid-size SUVs will compete with the Hyundai Creta, Kia Seltos and MG Hector. In addition, in September 2020, Toyota announced that it will sell Suzuki's Baleno under the Starlet model name in Africa. Three additional Suzuki models are planned to be sold by Toyota in Africa.