AAA weekly
2021-02-08
Copyright FOURIN, Inc. 2023
Inceptio Plans to Launch Mass Production of Level 3 Heavy Trucks in 2021
Inceptio Technology, which develops and operates self-driving trucks, was established in Shanghai in April 2018. Since then, it has been expanding its business in China. The company is focusing on highway logistics and is developing of self-driving heavy-duty trucks.
Since its founding, it has successfully raised two rounds of funding, raising 100 million USD in April 2020 and 120 million USD in November of the same year. The lead investor for the second round of financing was BEV battery manufacturer CATL, indicating that Inceptio is attracting attention in the automotive industry. In addition, 20 companies and organizations are participating in the Logistics Union Innovation Center, which was established by Inceptio to promote technology sharing and industrialization of self-driving heavy-duty trucks.
In July 2020, Inceptio unveiled the company's new long-distance 3D sensor that enables Level 3 autonomous driving and a high-performance autonomous driving computing platform called "Inceptio M51." It can be equipped with 7 millimeter-wave radars, 5 laser radars and 5 4K high-quality cameras.
Inceptio is also developing Level 3 trucks equipped with Inceptio M51 in partnership with automakers. As of December 2020, it has already produced prototypes of Level 3 heavy-duty trucks in partnership with Dongfeng Commercial Vehicles and Sinotruk, and aims to start mass production by the end of 2021. According to Inceptio's CEO Julian Ma, the company plans to produce thousands of vehicles in order to reduce the cost of the self-driving function to 25,000 USD per vehicle. In addition to considering the development of Level 4 technology in the future, Inceptio is also considering the electrification of self-driving trucks which are currently powered by diesel fuel.

Inceptio: Company Overview and Timeline (As of December 2020)
Overview
| | |
| --- | --- |
| Legal name: | Jiluo Technology (Shangai) Co., Ltd. (Conducts business under the name: Inceptio Technology) |
| Headquarters: | Yangpu district, Shanghai |
| Website: | www.inceptio.ai |
| Established: | April 2018 |
| Capital: | 60 million USD |
| Shareholders: | G7 (Chinese fleet management service provider), GLP (real estate logistics provider and investment manager based in Singapore), NIO Capital (investment firm of China's NIO) |
| Business scope: | Technology development and operation of self-driving trucks |
| Subsidiaries: | Three companies in China and one in the US (see table below for details) |
| Business expansion: | Inceptio has forged partnerships with more than 100 logistics companies. The company also has an R&D center in Silicon Valley which has set up the Logistics Joint Innovation Center. The center has 20 companies and organizations as participants. |
Timeline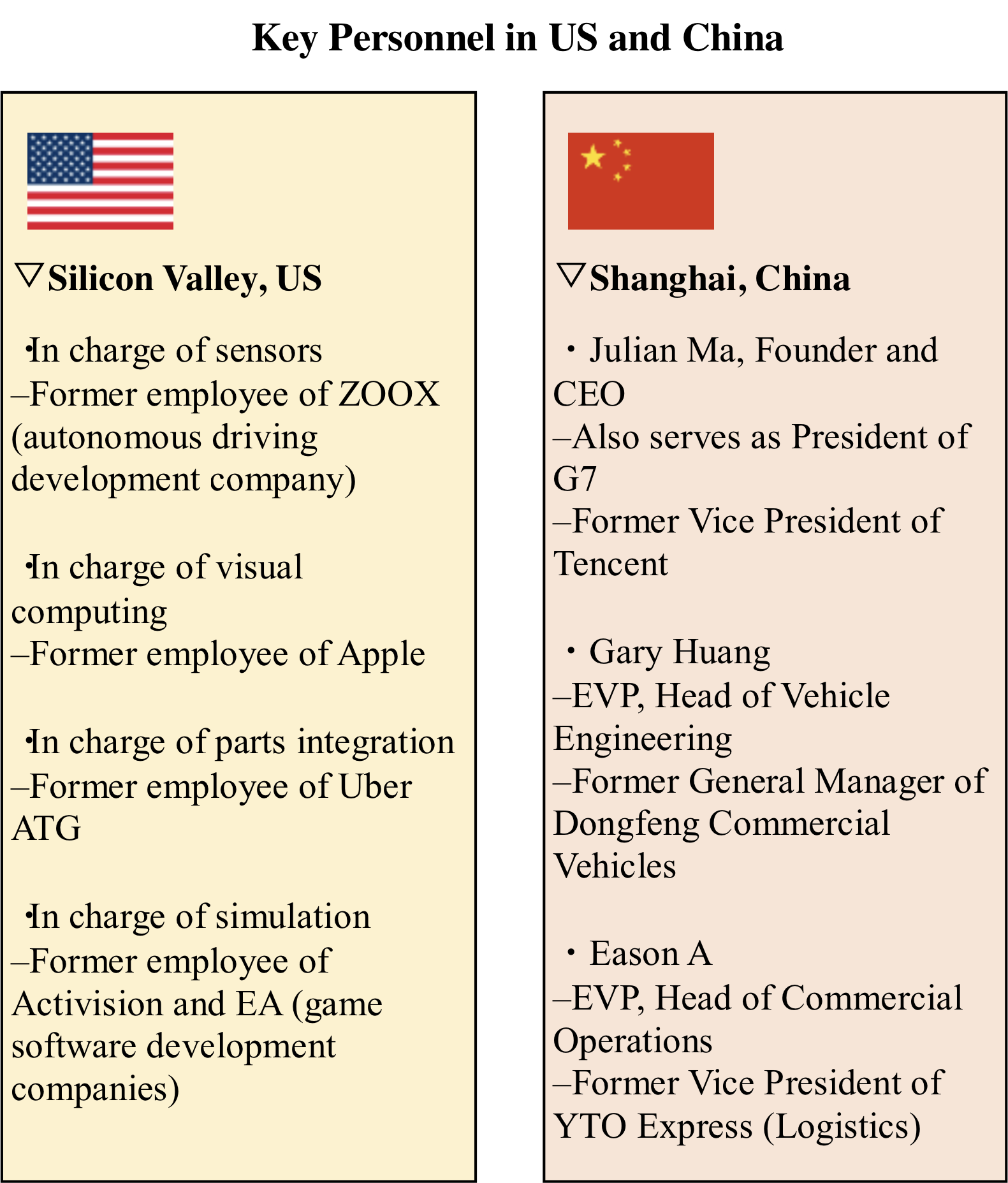 ・April 2018: Inceptio was established by G7, GLP and NIO Capital. ・October 2018: Announced the start of an autonomous driving logistics business. ・December 2018: Set up the Logistics Joint Innovation Center in China. ・December 2018: Became the member of 5G Autonomous Driving Alliance which is led by China Mobile, Tsinghua University, Dongfeng Motor and SAIC Motor among others. ・January 2019: Received an order for smart trucks from Jinxin Logistics. ・January 2019: Signed a partnership agreement with Shanghai Lingang Group regarding the construction of an autonomous driving industrial park. ・April 2019: Announced a plan to start mass production of trucks equipped with Level 3 autonomous driving system by the end of 2021. ・June 2019: Introduced the company's first Level 3 prototype at CES Asia. ・June 2019: Received an order for 100 smart trucks from Chinese logistics firm Yimidida. ・June 2019: Acquired autonomous driving test permit for logistics purposes from Changsha city. ・November 2019: Concluded an agreement with G7 and Chinese energy company ENN Group to jointly build a gas station network for natural gas-powered trucks between Shanghai and Guangzhou. ・April 2020: Started general road test driving and research of self-driving trucks in partnership with the National Intelligent Connected Vehicle (Changsha) Testing Zone. ・April 2020: The inspection of the prototype of a mass-produced Level 3 autonomous truck, developed jointly with Dongfeng Commercial Vehicles, was completed. ・April 2020: Announced that it has raised 100 million USD in financing. ・April 2020: Inceptio Technology (Zhejiang) and Yimidida formed an alliance regarding the operation of self-driving heavy-duty trucks. ・July 2020: Introduced long-distance 3D sensor technology and high-performance autonomous driving platform at the World Artificial Intelligence Conference. Exhibited a prototype Level 3 self-driving truck jointly developed with Chinese automaker Sinotruk. ・November 2020: Raised 100 million USD in financing from Chinese battery manufacturer CATL and other investors.
(Created using Inceptio's PR materials and information from China's National Enterprise Credit Information Publicity System)