AAA weekly
2020-08-10
Copyright FOURIN, Inc. 2023
Perodua expands its market share to 40% in Malaysia, plans to launch a new compact SUV in the latter half of 2020
Perodua has recorded a 39.8% market share in Malaysia in 2019. The company increased sales to 240,341 units, representing a 5.8% jump over the sales in 2018. This remarkable sales performance and a record production volume were mainly driven by Aruz, the first SUV launched in January 2019. In order to secure its strong presence, Daihatsu intends to constantly launch new models, including another compact SUV based on Daihatsu Rocky/Toyota Raize in the latter 2020.
At the beginning of 2020, Perodua has set a yearly sales target of 240,000 units and a yearly production target of 254,000 units (+3.9%). The carmaker also announced that it intends to significantly increase its capital investment by 86.2% year-on-year, to 1.06 billion MYR in 2020. Of the total investment, it plans to allocate about half of the amount for facilities (e.g. expansion, upgrade, and new model development) and the rest for customer aftercare services and proving ground expansion. These plans were formulated before the COVID-19 pandemic spread in Malaysia, though. Thus, the targets and the investment plan are likely to be revised downwards. Even if some plans are put off, however, Perodua seems to be determined to stick to the existing strategy, focusing on maintaining the highest market share and strengthening production and development, in the medium to long term.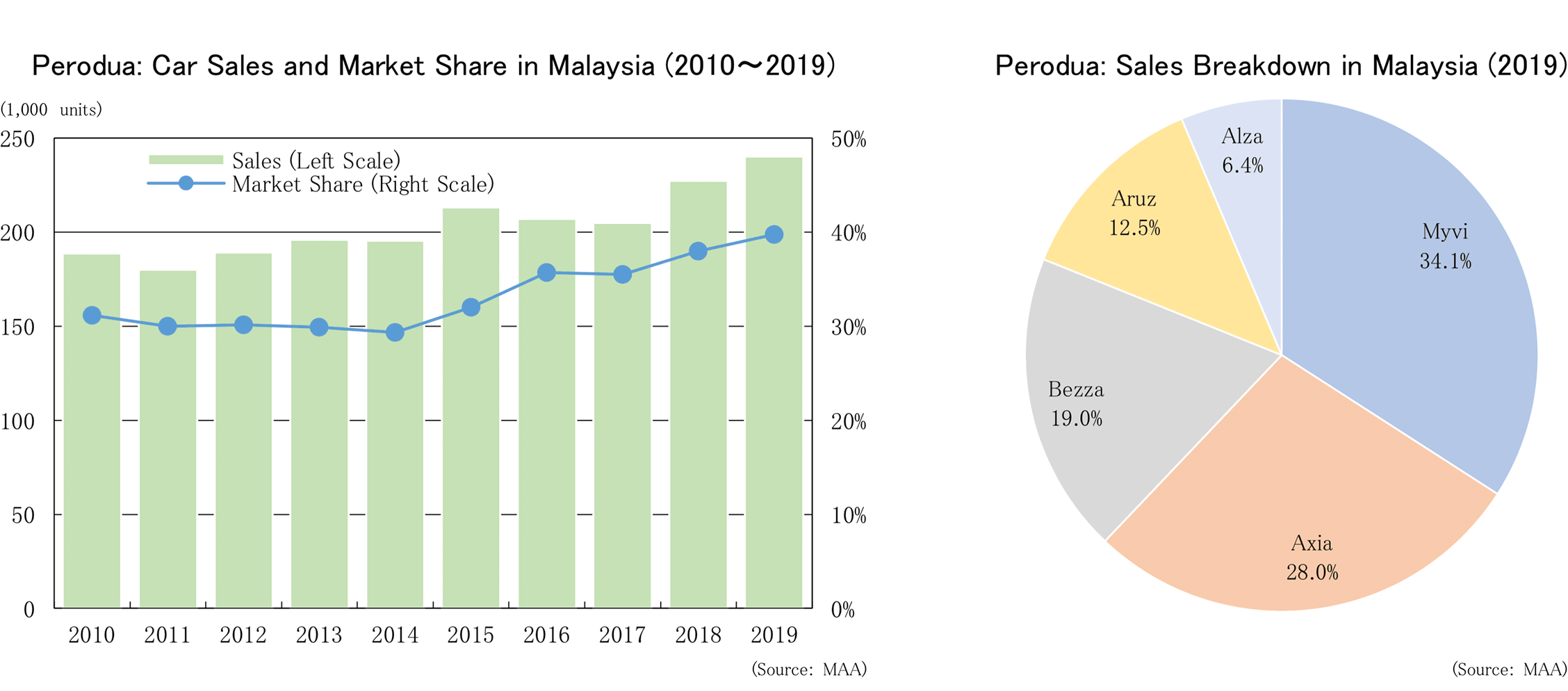 A compact SUV launched in the 4th quarter of 2020 could play a key role in the sales recovery. The new model (code name: D55L) adopts a new Daihatsu platform called DNGA and is developed based on Rocky/Raize. Perodua has launched Aruz (based on Daihatsu Terios) in early 2019, and further plans to add a smaller SUV in order to fulfill the market demand.
Perodua also plans to secure more profits by expanding the aftersales service storage and seeking to increase the number of export other than boosting domestic sales in Malaysia.