AAA weekly
2020-05-25
Copyright FOURIN, Inc. 2023
Yulon Plans to Improve Profitability by Reducing Development Costs and Expanding Contract Manufacturing Business
The Luxgen brand owned by a Taiwanese OEM, Yulon, is suffering from a sharp drop in sales. The brand sales volume in Taiwan and China has continued to decline since around 2015, and the unit sales shrank to below 5,000 in 2019. It had an impact on the consolidated financial results for the first 3 quarters of 2019; Yulon's profit from operations and net profit fell into a deficit. Although the Luxgen brand seems to be at risk, Yulon shows an intention to maintain the business, planning to rebuild the brand and establish a profit structure.
Yulon has been manufacturing and selling Nissan vehicles in Taiwan, and the maker announced a launch of its own brand Luxgen in 2008. Production and sales of Luxgen started in Taiwan in 2009 and China in 2011. However, sales have continued to decline, peaking between 2014 and 2015. In 2019, the city of Taichung had set a sales target of more than 10,000 units, but the 2019 sales in Taiwan were 4,128 units and in China were 804 units. In December 2019, Yulon decided to inject capital of 7.8 billion TWD (about 261 million USD) into Luxgen Motor, a subsidiary responsible for the Luxgen division, to maintain and restructure the business. Yet, the decline in competitiveness of the brand may not make it easy for the recovery.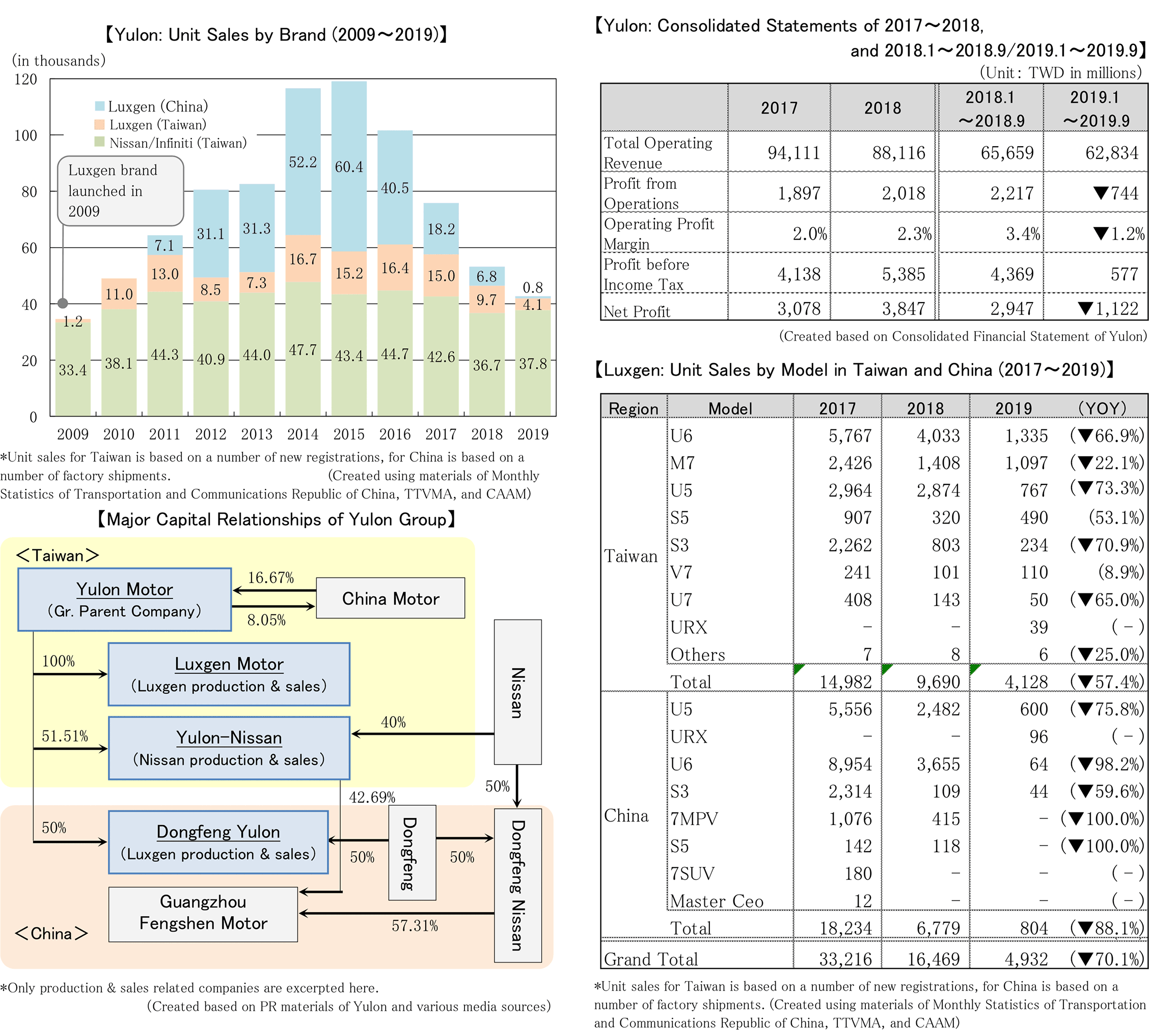 To increase business profitability, Yulon announced a management reform strategy called Automotive Value Chain Strategy Transformation in September 2019. The plan emphasizes on decreasing development and operating costs and increasing operation efficiency, including an expansion of contract manufacturing business. As one of the steps, Yulon partnered with Hon Hai Precision Industry (Taiwan) in February 2020 and plans to establish an automotive-related joint venture. The new company will share resources and focus on developing connected and autonomous driving technologies. As for production business, Yulon started assembling electric three-wheel vehicles for Adiva (Italy) in 2019 and will begin producing electric logistic vehicles named Muse for Ellectramobilys (France) in 2020.