AAA weekly
2020-12-07
Copyright FOURIN, Inc. 2023
Shenzhen Inovance Technology Strengthens Intelligent Manufacturing, Supplies NEV Products to Europe
Shenzhen Inovance Technology, a Chinese company established in April 2003, engages in the development, manufacture and sale of industrial automation, rail transportation and new-energy vehicle (NEV)-related products.
In 2019, the company's sales increased 25.8% year-on-year to 7.39 billion CNY, of which sales of new-energy vehicle and rail transportation-related operations decreased 6.2% year-on-year to 1.02 billion CNY. It is likely that sales of new-energy bus and logistics vehicle-related businesses decreased due to the reduction in new-energy vehicle subsidies. Sales in the first half of 2020 increased 76% year-on-year to 4.78 billion CNY, of which sales of the new-energy vehicle and rail transportation-related businesses decreased 7.6% to 420 million CNY. The spread of the new coronavirus and the reduction of NEV subsidies led to a decrease in sales.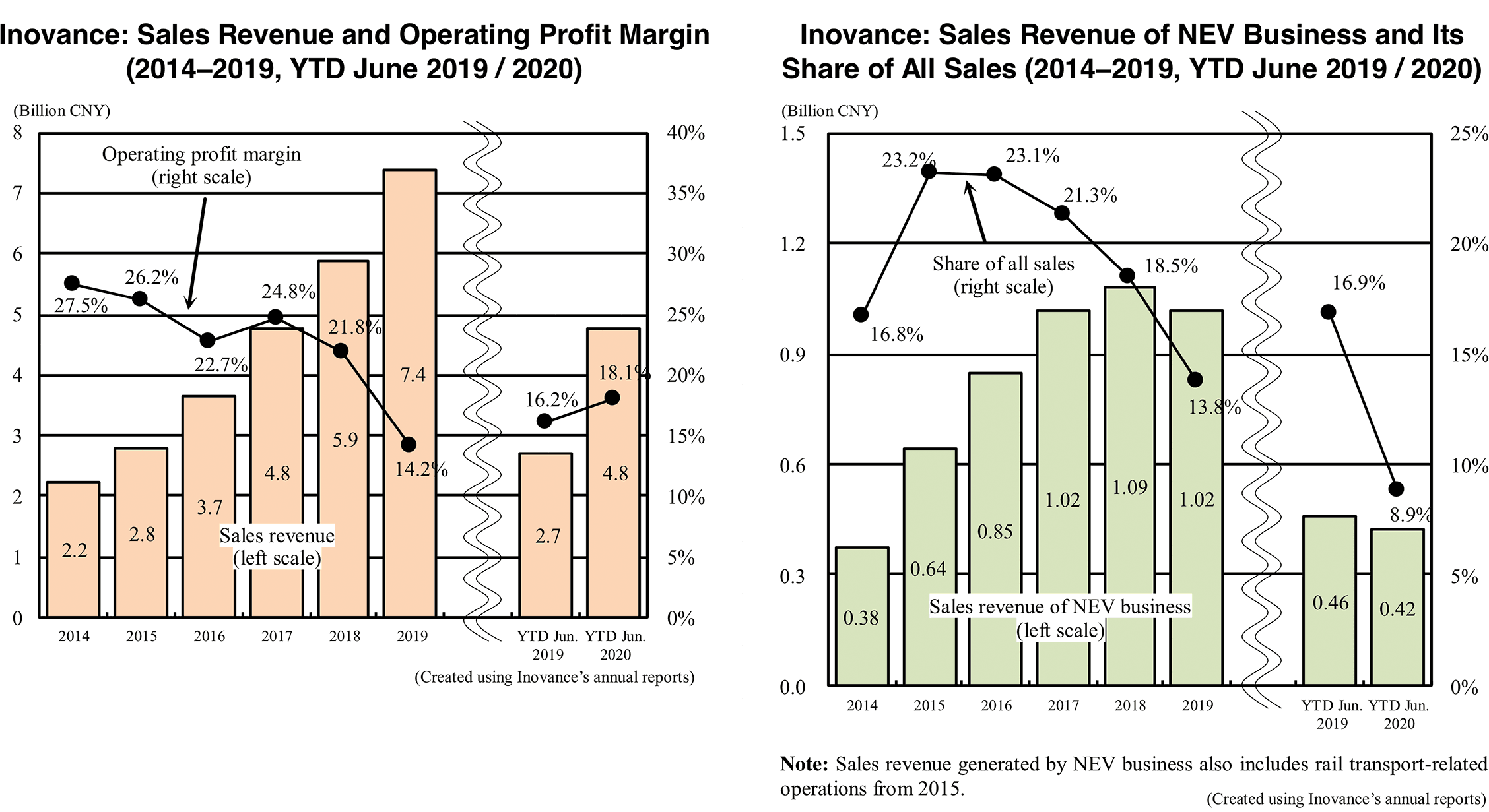 In recent years, Inovance Technology has been focusing on new-energy vehicle-related businesses. The company plans to complete the development of a 3rd-generation e-Axle system for passenger vehicles in 2020. Inovance Technology is also active in the commercial vehicle sector. The company has increased the supply of motor controllers for small vans since 2019, driven by larger deliveries to Shaanxi Automobile Group, Chery Automobile, BAIC Changhe, Jiangling Motors and Dongfeng Motor. As of October 2020, Inovance Technology has completed development of a 5-in-1 controller for new-energy buses. The 5-in-1 controller consists of a motor controller, an EPS controller, a PDU controller, a DC / DC converter and an ACM controller. The new product provides improvements in terms of size, cost, performance and safety.

Inovance Technology plans to raise up to 2.13 billion CNY through a third-party allotment by the end of 2020. The funds raised will be used for intelligent manufacturing, development of industrial software technology platforms, digitization of the construction industry, and liquid funds (material procurement costs, etc.). Of this amount, about 820 million CNY will be used to acquire a 49% stake in the company's subsidiary Shenzhen Inovance Control Technology, making it a wholly-owned subsidiary. The new acquisition is intended to strengthen Inovance Technology's intelligent manufacturing technology.