AAA weekly
2020-08-31
Copyright FOURIN, Inc. 2023
Taiwan's Motorcycle Market Sees Limited Impact of the New Coronavirus
In the first five months of 2020, the number of newly-registered motorcycles dropped 1.2% compared to the same period of the previous year to 322,000 units. Despite the worldwide spread of the new coronavirus, the rate of decline in Taiwan was low. However, looking at the breakdown of the data, there is a change in the market trend. While gasoline motorcycles increased 2.3% to 287,000 units, electric motorcycles decreased 22.8% to 35,000 units. The electric motorcycle market, which has expanded since Gogoro introduced electric motorcycles in 2015, started to decline due to a reduction of purchase subsidies provided by the government.
In December 2017, the Taiwanese government put forth a long-term goal of prohibiting the sale of gasoline motorcycles in 2035. The plan was withdrawn in August 2019 and the government switched to a policy of allowing the use of gasoline motorcycles along with electric motorcycles. A concrete measure based on this guideline is the revision of purchase subsidies from 2020 by Taiwan's Environmental Protection Administration. The Administration had previously issued a purchase subsidy for replacement of old motorcycles with electric motorcycles. Buy from 2020, not only electric motorcycles, but also gasoline motorcycles that comply with Taiwan's Stage 7 emission regulations are included in the purchase assistance scheme.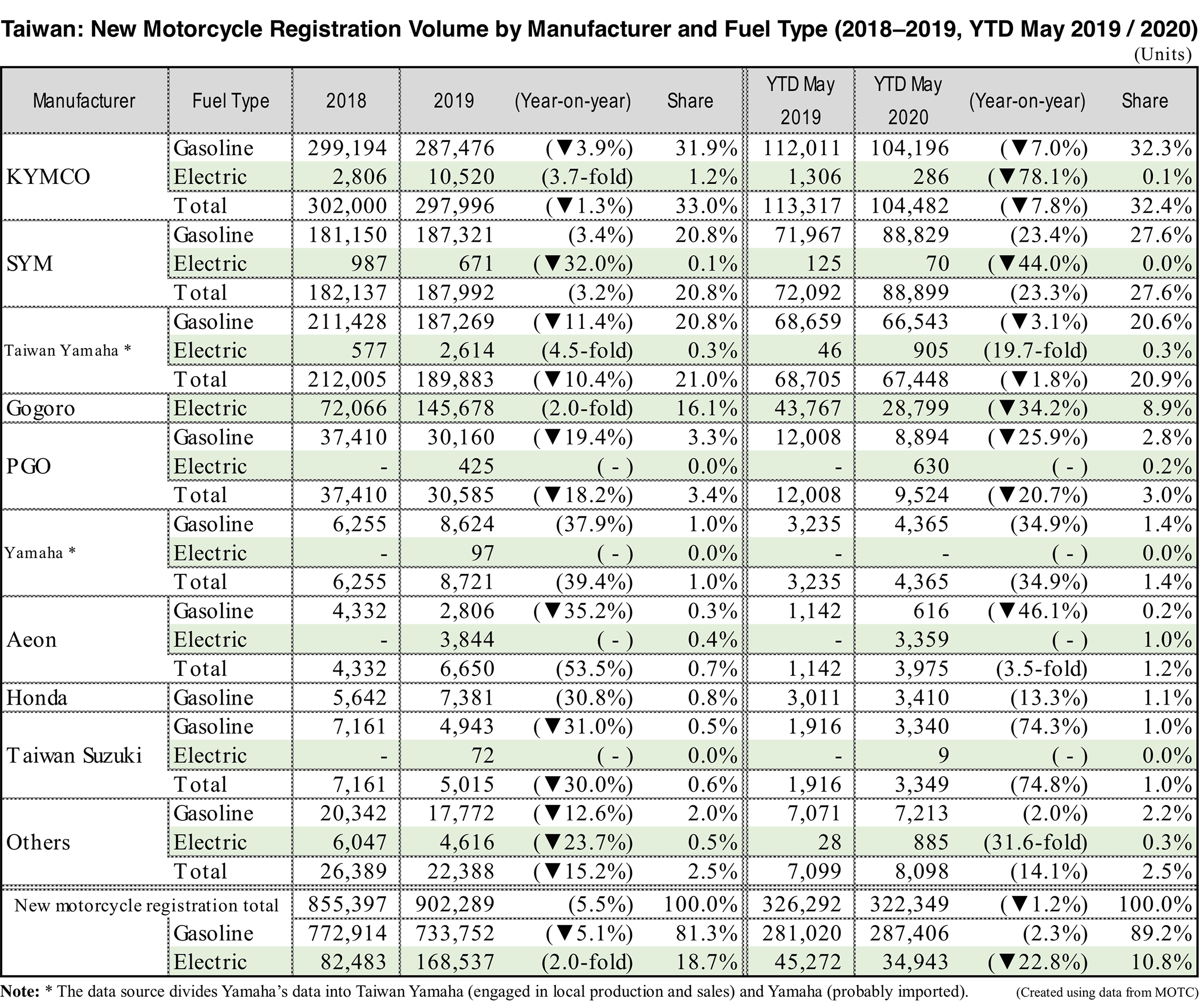 In Taiwan, apart from the above-mentioned Environmental Protection Administration, the Ministry of Economic Affairs and local governments also offer subsidies for the purchase of electric motorcycles, but the amounts offered have been decreasing. In particular, the purchase subsidy of the Ministry of Economic Affairs, which had been set at 10,000 TWD until 2019, was reduced to 7,000 TWD in 2020, having a significant impact on the market. The rush demand for electric motorcycles at the end of 2019, just before the subsidy was reduced, led to a significant decrease in electric vehicle sales from January to May 2020.
Although there seems to be a stall in sales of electric motorcycles due to the reduction in subsidies, Gogoro, the largest electric motorcycle manufacturer in Taiwan, is continuing its efforts to expand its business. Gogoro has partnered with Yamaha, Suzuki, PGO and Aeon to set up their own battery replacement system. Gogoro also plans to increase the number of battery replacement stations from 1,600 as of May 2020 to 1,900 by newly establishing 300 within the year.