AAA weekly
2020-05-25
Copyright FOURIN, Inc. 2023
China's Imported Passenger Vehicle Sales Inched Up 0.5% to 1.11 Million Units in 2019
The sales volume of imported passenger vehicles increased 0.5% year-on-year in China in 2019 to 1.11 million units. Guangdong, Zhejiang, Jiangsu, Beijing and Shanghai, which were the top five in terms of sales by administrative unit, accounted for nearly 50% of the national total with 547,000 units, indicating that the southeastern coastal region of China remains the main market for imported passenger vehicles.
Looking at sales by manufacturer origin, European brands declined 7.3% to 639,000 units due to a drop in imports of the Mercedes-Benz brand. Market share of European brands fell below 60%, the lowest level since 2011. Japanese brands increased 12.5% to 59,000 units, driven up by the Lexus brand, capturing over 30% of the market for the first time in eight years. Looking at market composition by segment, SUVs which increased 1.4% to 618,000 units, accounted for 55.2% of the market. The E1 / E2 segment improved its share from 18.9% in 2018 to 20.9%. Sales went up 11% to 233,000 units thanks to Tesla's Model 3. On the other hand, the combined total of the A, B, C, D and MPV segments decreased 20.1% to 112,000 units, combined market share falling to less than 10%.

Looking at sales by brand, the top three brands were Lexus, BMW and Mercedes-Benz, accounting for 45.6% of all sales. Lexus has been increasing since 2010 thanks to improved brand image. In 2019, Lexus sales increased 21.7% to 200,000 units, becoming the top brand for the first time. BMW went up as well, rising 3.8% to 172,000 units. In contrast, Mercedes-Benz declined 22.5% to 138,000 units. As for US brands, Tesla increased 3.3-fold to 45,000 units, while Lincoln dropped 11.4% to 49,000 units. Toyota expanded its market share in China's central-western region thanks to SUV models such as the Land Cruiser. In 2019, Toyota increased 16% to 84,000 units, maintaining the fifth largest market share by brand.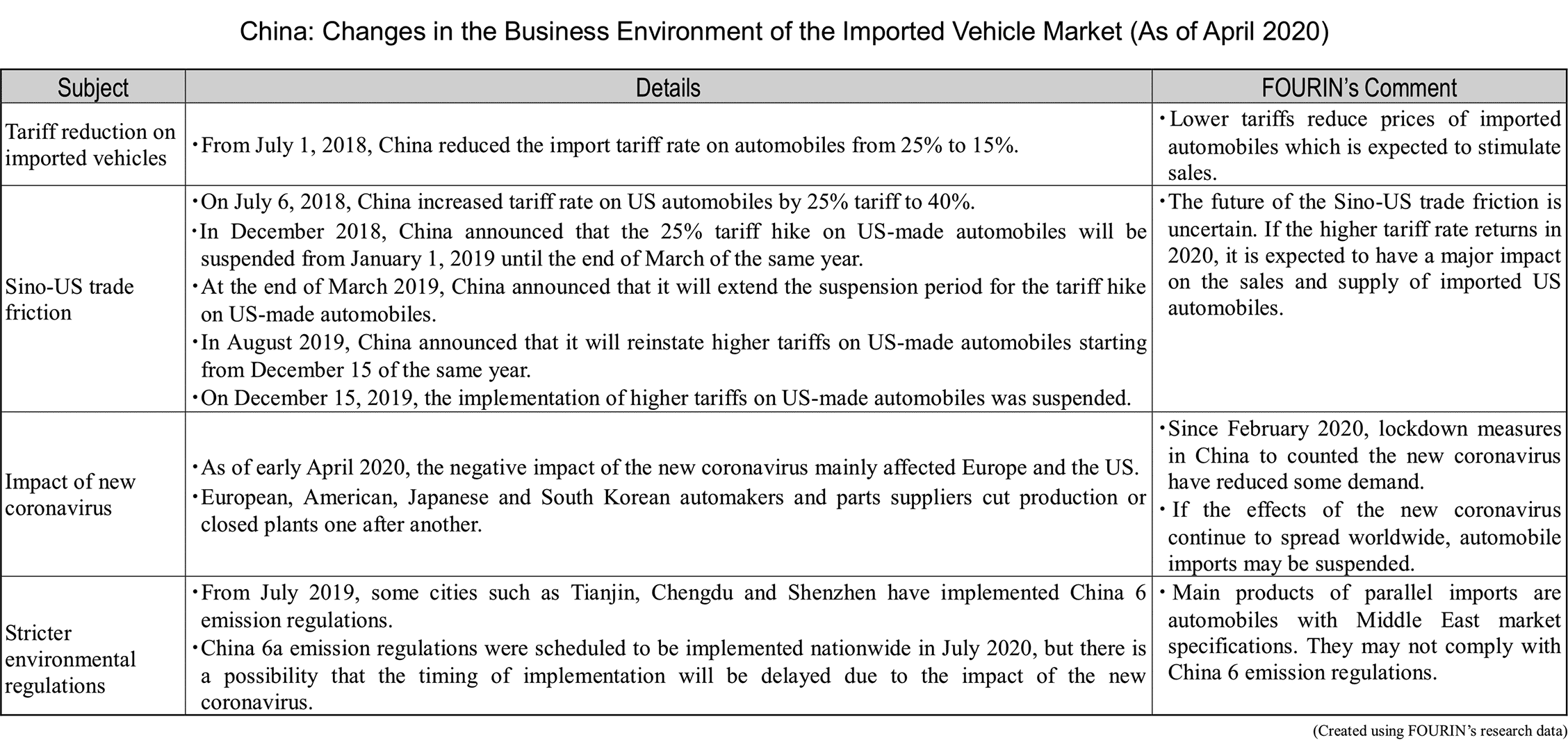 The Chinese import passenger car market in 2020 will decrease compared to 2019 due to negative factors such as the deterioration of the international trade environment due to the expansion of the global impact of the new coronavirus, the whereabouts of US-China relations, the tightening of environmental regulations, etc. It is a prospect. In 2020, China's imported passenger vehicle market is expected to decline due to the global impact of the new coronavirus, poor trade relations between China and the US, tightened environmental regulations.