AAA weekly
2022-08-12
Copyright FOURIN, Inc. 2023
Scutum Logistic (Silence): Europe's Largest BEV Motorcycle Manufacturer
Europe's Largest BEV Motorcycle Manufacturer
Scutum Logistic of Spain, which develops, manufactures and sells Silence brand BEV scooters, is the top seller in Europe among BEV motorcycle manufacturers. Established as a startup in 2012, Scutum's investors are Acciona Mobility, an electric scooter rental company under the infrastructure and energy conglomerate Acciona Group, Caixa Capital Risc, a venture capital firm of La Caixa, Spain's third largest bank, and Centre for the Development of Industrial Technology (CDTI), Spain's industrial technology development center. In January 2021, Acciona Mobility announced that it would acquire a majority stake in Scutum Logistic and make it its subsidiary. In April 2021, the National Commission of Markets and Competition (CNMC) approved the acquisition of Scutum by Acciona Mobility. According to CNMC's acquisition approval documents, Scutum has a 31.8% share of electric motorcycle sales in Spain and 9.8% in Europe. Global sales in 2020 increased 17% year-on-year to 9,028 units, of which 7,916 units were sold in Europe.
Scutum started fleet sales of the BEV scooter S02 for the sharing and delivery businesses in 2014, launched the three-wheeled BEV scooter S03 for delivery in 2018 and released the S01 for personal use in 2019. In October 2021, the two-seater four-wheeled BEV S04 was announced with sales scheduled to start within 2022.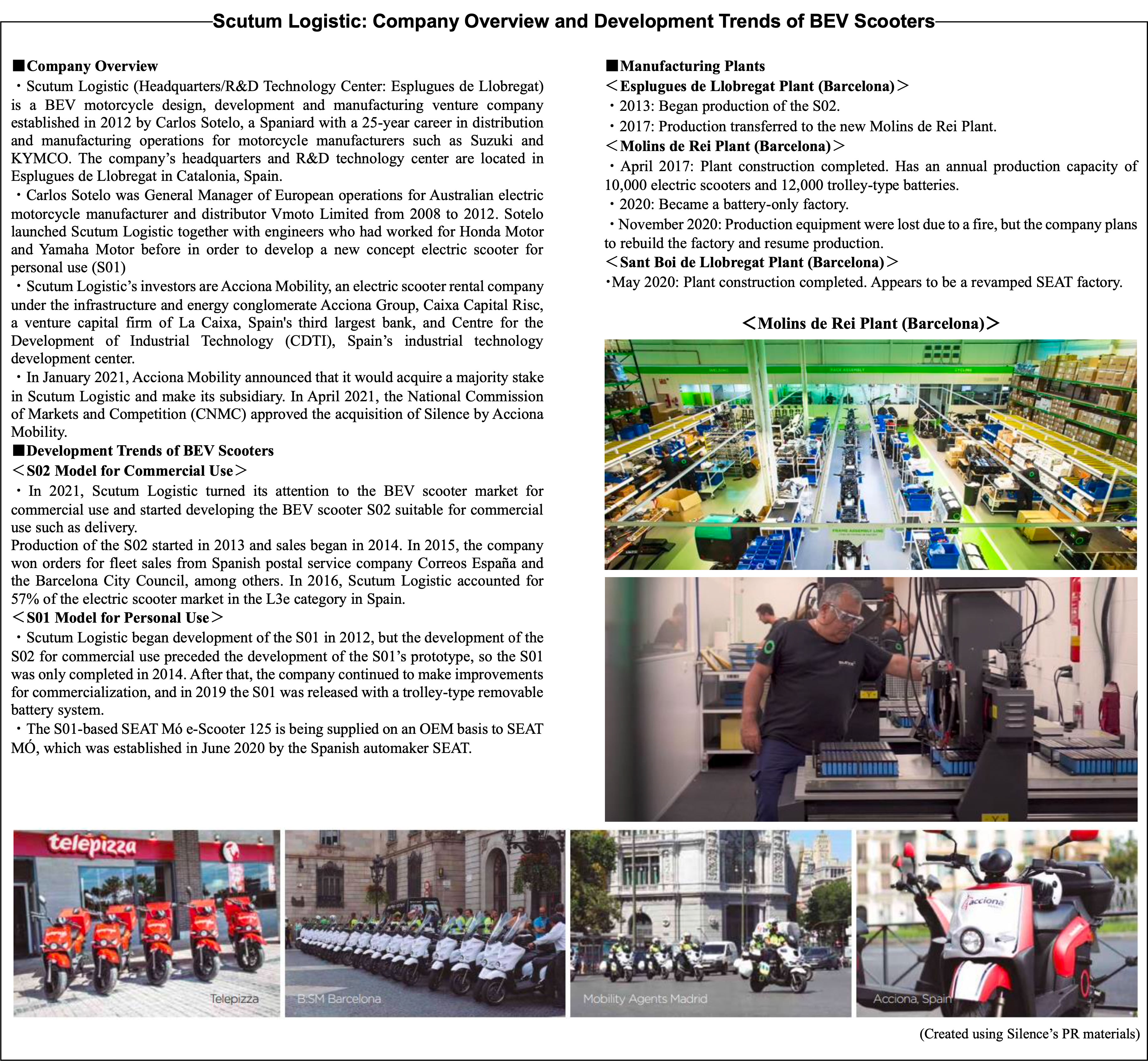 Scutum's main BEV scooters have motors with a rated output of 5-7kW, a battery capacity of 4.1-5.6kW, a maximum speed of 85-100km/h, and a cruising range of 100km or more, targeting the L3e class equivalent to 125cc engine displacement. Although Scutum's BEV scooters are pricey, 5,300 to 7,000 EUR including VAT, the unique trolley-type removable battery pack called Power Battery Pack makes it easy to handle. The Power Battery Pack can also be used for outdoor activities or as an emergency power source. In addition, according to a battery pack durability study conducted by Scutum, batteries of vehicles that have traveled more than 40,000km and have been charged more than 400 times maintained more than 95% battery capacity.
Scutum is developing a battery swapping station for Power Battery Packs and plans to begin full-scale deployment from 2022 with an aim for further business growth by improving convenience. However, the battery subscription business requires a substantial initial investment, so it will be necessary to obtain government subsidies and attract investment partners. Joint use of stations with other companies may also help achieve success.
Spain has more serious issues with traffic jams and air pollution in major cities than other European countries, so the country is working to develop a charging infrastructure for the spread of BEVs. Being Spain's largest BEV motorcycle manufacturer, Scutum's effort to build a battery swapping network appears to be supported by the government; however, there is a high possibility that such support will be limited due to the country's 15% unemployment rate, highest in Europe, and unfavorable financial conditions.