AAA weekly
2021-07-12
Copyright FOURIN, Inc. 2023
Segment Analysis of Asia's Automobile Market: Demand Continued to Shift to SUVs in 2020
This report provides analysis on the 2020 automobile market of eight Asian countries of South, Southeast and East Asia from the perspective of types and brands. Data analysis shows that there is a general trend of shifting demand from passenger cars to SUVs in all eight countries. However, growing demand for SUVs is generally more evident in India, where the popularity of compact SUVs is skyrocketing, and in South Korea and Taiwan, where the market is entering a mature stage. In ASEAN, unique mass-market segments such as pickup trucks in Thailand and minivans in Indonesia have been formed, so the rise in SUV demand is more gradual compared to other countries.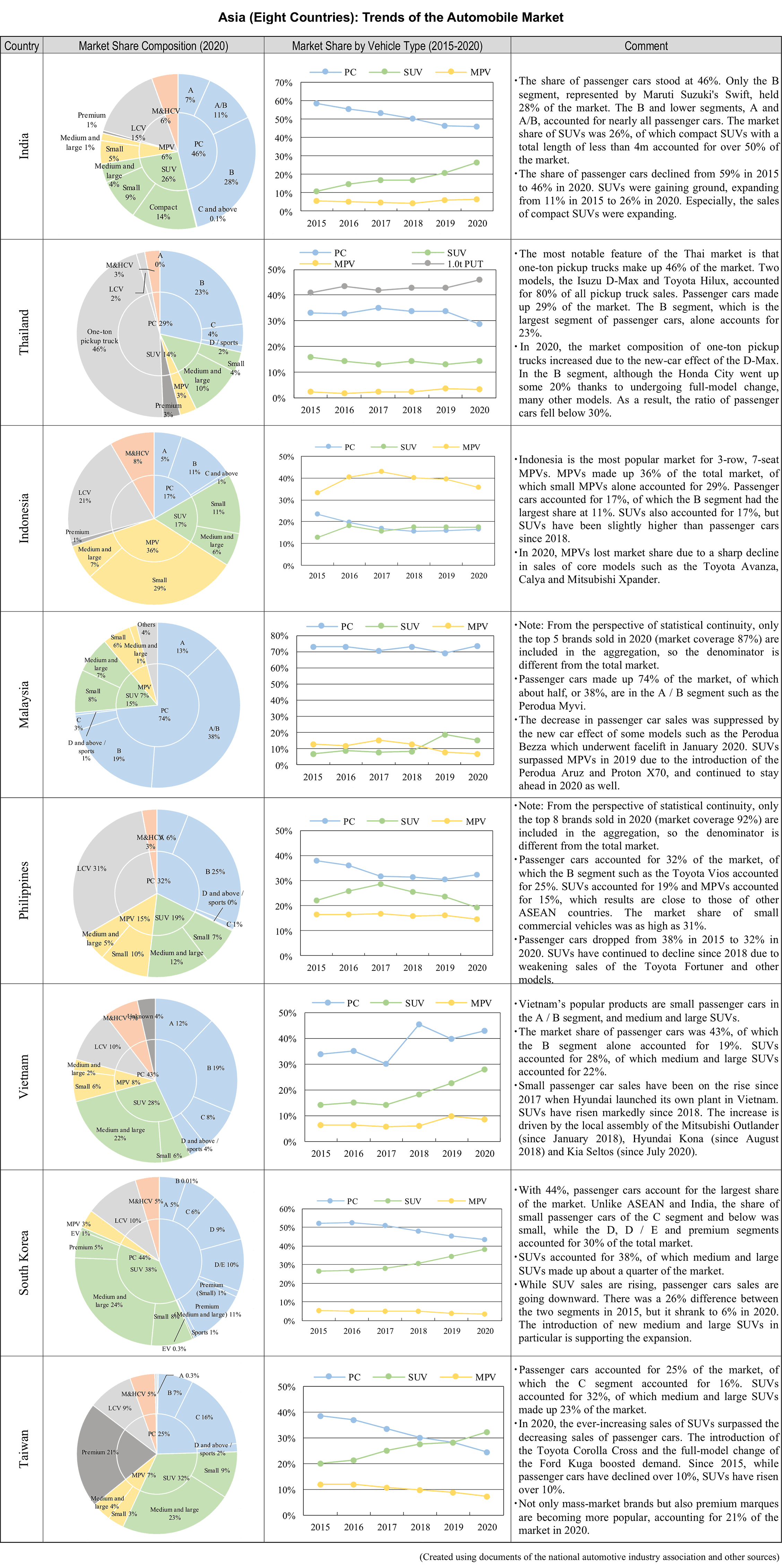 Demand shifts to SUVs in India, South Korea and Taiwan
In India, where the market fell 20% in 2020 due to the outbreak of the new coronavirus, the ratio of passenger cars to the entire market decreased 13.0pp from 2015 to 2020. On the other hand, the market share of SUVs has increased 15.0pp, indicating a clear shift in demand toward SUVs. In India, compact and small SUVs with a total length of up to around 4.4m, such as the Maruti Suzuki Vitara Brezza and Hyundai Venue, are gaining popularity. These segments continued to grow even as the total market contracted in 2020.
In ASEAN, one-ton pickup trucks make up nearly half of Thailand's total automobile market. In 2020, the Isuzu D-Max, one of the largest mass-sales models in this segment, underwent full-model change in October 2019 for the first time in eight years, boosting pickup truck share to 46.0%. In Indonesia, sales of small MPVs, which is the country's best-selling segment, fell sharply in 2020, but MPVs still make up nearly 40% of the total market. The share of both passenger cars and SUVs is around 17%, but the share of SUVs has been slightly higher compared to passenger cars since 2018. In Malaysia (top 5 brands only), the ratio of passenger cars recovered to 70% thanks to the strong performance of national car brands.