AAA weekly
2020-09-14
Copyright FOURIN, Inc. 2023
China's Motorcycle Industry in 2019: Electric, Large Displacement Models Increase Market Presence
In 2019, China's motorcycle production increased 10.5% compared to the previous year to 15.43 million units. The increase is attributed to reviving manufacturing and sales driven by the rising number of products on the market which comply with China 4 emission regulations as well as rising domestic demand for eco-friendly electric motorcycles and leisure-oriented large displacement motorcycles. In contrast, exports dropped 2.6% to 7.12 million units, going down for the third consecutive year due to intensifying competition with local and Indian products in international markets. In 2020, the motorcycle market is likely to decline due to the spread of new coronavirus infection. However growing demand for motorcycles for food and other delivery services as well as rising popularity of large displacement leisure motorcycles among consumers born in the 1990s may expand the motorcycle market. China's top 15 motorcycle manufacturers sold 12.1 million units in 2019, up 13.8% from the previous year. Their combined market share increased 3.5pp to 79.6%. Each of the top 15 manufacturers sold over 300,000 units in 2019. Although Grand River Group remained on top, it declined 10.9% compared to 2018. The competitive advantage of large companies with technological and brand power is likely to become more prominent in the coming years due to the tightening of emission regulations and increasing demand for comfort and functionality by consumers.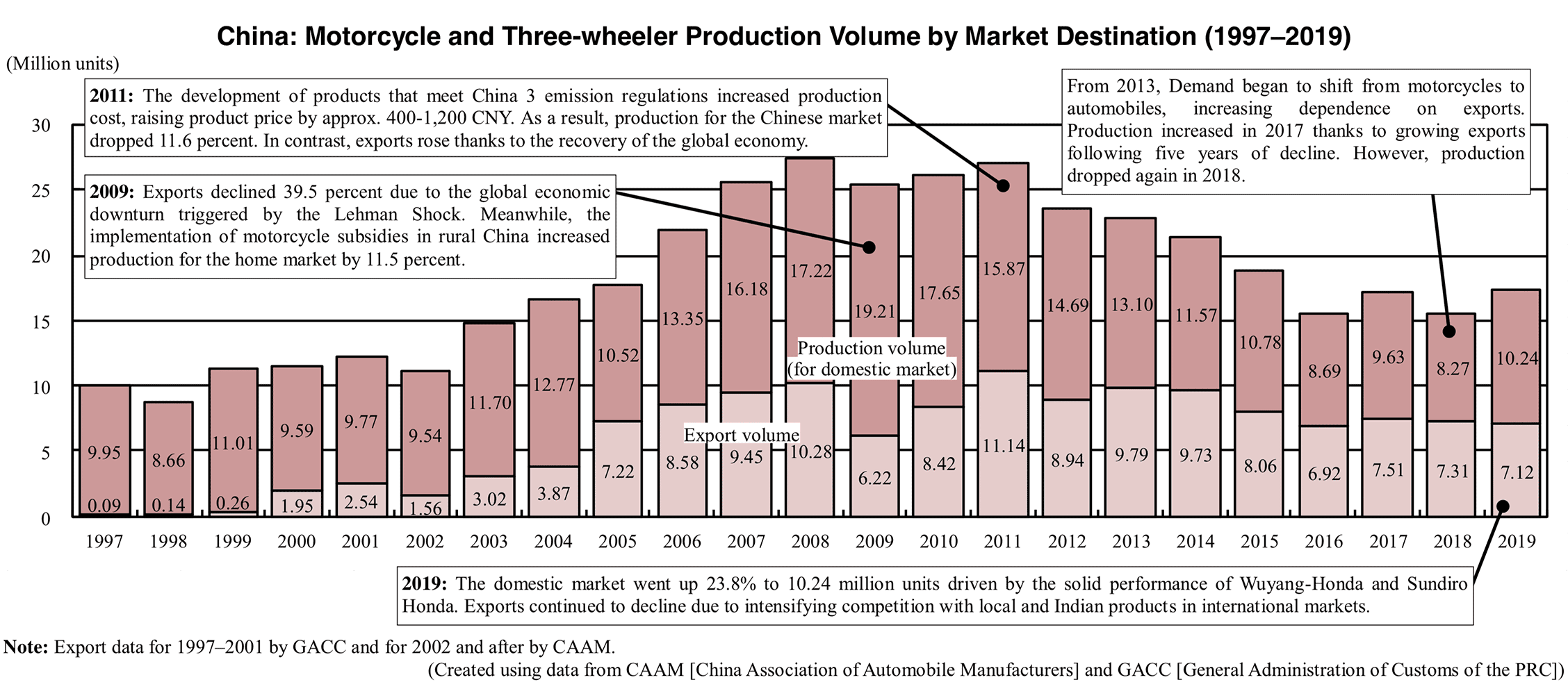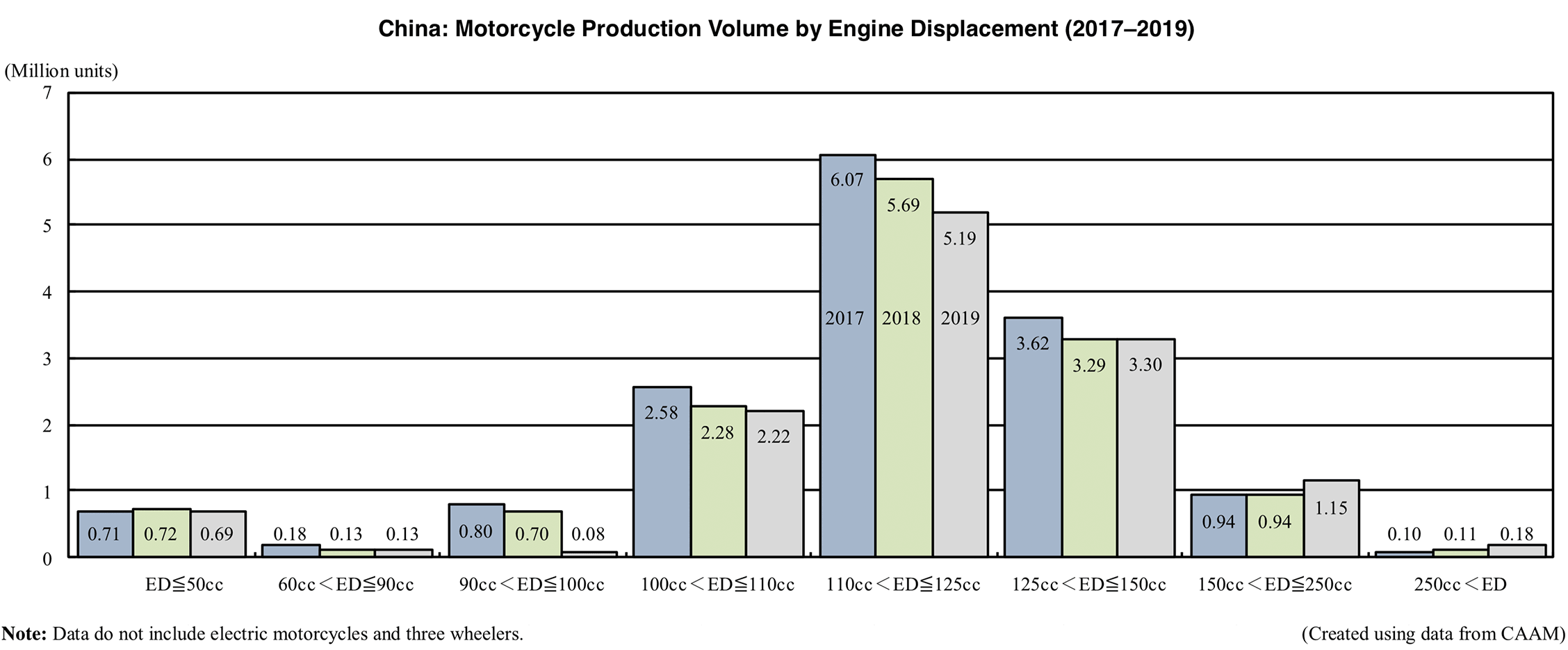 Market trends
According to data released by the China Association of Automobile Manufacturers (CAAM), motorcycle production (including electric motorcycles) increased 10.5% in 2019 from the previous year to 15.43 million units. Production was driven by medium and large motorcycles, which went up 27.1% to 1.33 million units, and electric motorcycles, which increased 18.6-fold to 1.91 million units. The introduction of China 4 emission regulations has increased replacement demand while large engine displacement motorcycles for leisure activities are enjoying growing popularity among young consumers. In the coming years, electric and large displacement motorcycles are expected to become the two major pillars of support for the growth of the motorcycle market.
In response to these trends, foreign manufacturers accelerating the introduction of compatible products. BMW introduced the R1250 large displacement motorcycle series in China in July 2019. The model is equipped with BMW's connected technology and various driving support systems such as DTC (dynamic traction control), HSC (hill-start control) and DBC (dynamic brake control) as standard equipment. Honda is also stepping up the export of large displacement motorcycles to China and accelerating the introduction of electric motorcycles through its local subsidiary Sundiro Honda.
Most Chinese companies manufacture low-price small-displacement motorcycles as their main products, but they have already begun to shift their focus to large displacement products. Loncin set up the Voge high-end brand in 2018 with a focus on the development of motorcycles with medium and large engine displacement. In July 2019, Loncin and Italian motorcycle maker MV Agusta signed a partnership agreement to cooperate in the development of motorcycles and engines with large displacement. Lifan announced in 2020 that it will continue to introduce scooters and large displacement motorcycles for leisure within the year. In May 2020, Qianjiang introduced its high-end sub-brand QJMOTOR and launched the Zhui 600 under the same brand. A number of other Chinese manufacturers are also actively promoting product improvement and are competing with foreign companies in the high-end and middle-range markets.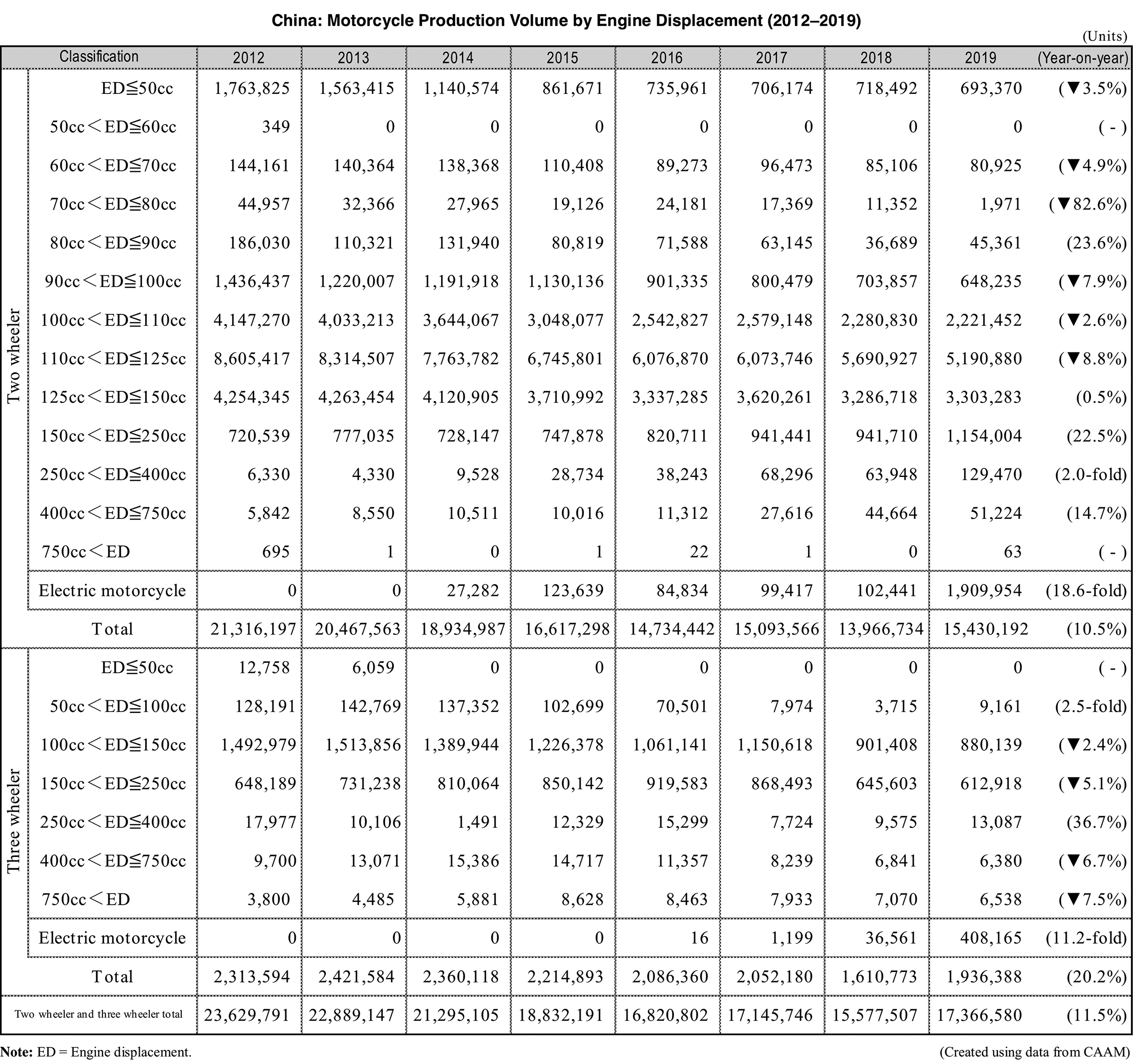 The sharp rise in electric motorcycle production is the result of China's new classification standard, implemented in April 2019, for electric bicycles and electric motorcycles. According to the new classification standard, the main products of Zhejiang Luyuan Electric Vehicle and Jiangsu Xinri E-vehicle, which were previously considered as electric bicycle companies, are now classified as electric motorcycles. As a result, while the two companies sold zero electric motorcycles in 2018, their sales results stood at 612,000 units and 524,000 units respectively in 2019, boosting overall sales of electric motorcycles.
Policy trends
The Chinese government enforces strict driving regulations for motorcycles due to the poor safety record of motorcycles, frequent traffic accidents and air pollution. According to China Chamber of Commerce for Motorcycle (CCCM), 190 cities have introduced no-motorcycle areas by July 2019. These driving restrictions are preventing the motorcycle market to further expand. For this reason, CCCM has submitted a series of requests for the relaxation of motorcycle driving restrictions in Kunming, Wuhan, Guangzhou and Shantou among other cities. At the National People's Congress held in May 2020, Geely Holding Group Chairman Li Shufu proposed the relaxation of motorcycle driving restrictions. However, as of June 2020, no city has relaxed its motorcycle driving restrictions.