AAA weekly
2020-09-28
Copyright FOURIN, Inc. 2023
Domestic Production of Japanese Passenger Vehicle Manufacturers in 2019
In 2019, domestic production volume of Japanese passenger vehicle manufacturers declined 0.2% compared to the previous year to 9.22 million units.* Out of the eight manufacturers surveyed, Toyota Motor, Mazda Motor and Daihatsu Motor saw an increase in production, while Suzuki Motor, Honda Motor, Nissan Motor, Mitsubishi Motors and Subaru declined.
Looking at production results by segment, SUVs remained Japan's largest segment in terms of production, volume going up 1.2% to 3.44 million units. From the second half of 2018 through 2019, Toyota began production of the RAV4 and Lexus UX, Mazda released the CX-30 and Daihatsu launched the Rocky and its sister model the Toyota Raize. In addition, Honda expanded the production scale of the CR-V for export from around September 2018. Since new SUVs such as the Toyota Yaris Cross and Mazda MX-30 are scheduled to be launched in 2020, it is expected that the number of SUVs produced will continue to increase. Mini cars, Japan's second largest segment in terms of production, declined slightly, going down 1.9% to 1.53 million units. Out of the four mini car manufacturers Suzuki, Daihatsu, Honda and Mitsubishi, only Mitsubishi increased production. Mass-market sedans realized the largest rate of increase. Thanks to the launch of the new Corolla and Corolla Touring in 2019, mass-market sedans went up 16.5% to 814,000 units. In contrast, compact cars, ranked fourth in 2019, dropped 15% to 695,000 units. The decline of due to Toyota and Honda's decision to launch the Yaris and the new Fit respectively in February 2020, and dull sales of the Nissan Note.
*Please note that due to different sources some data published in this report may not match data released by automakers. This report also contains some estimates.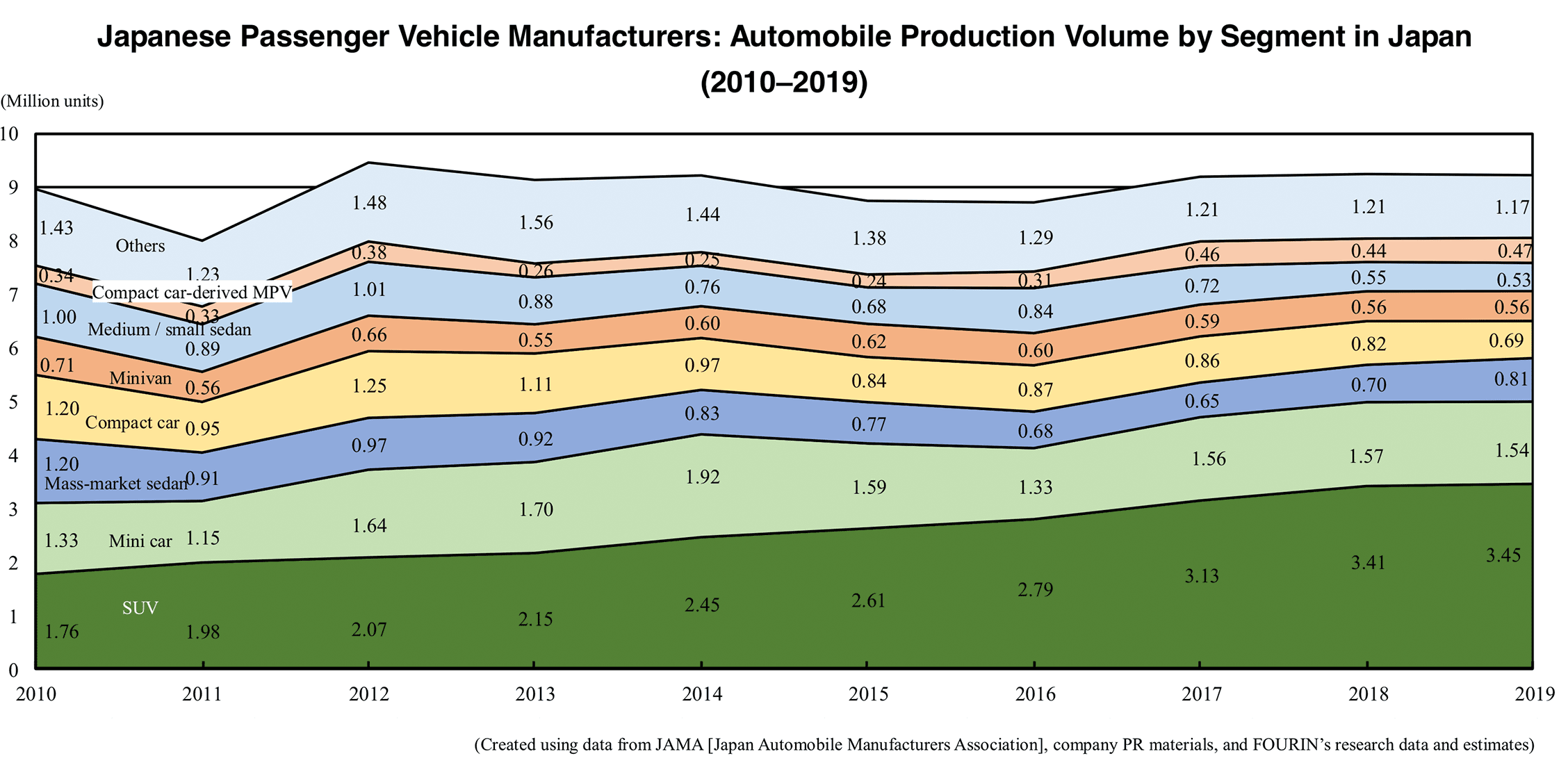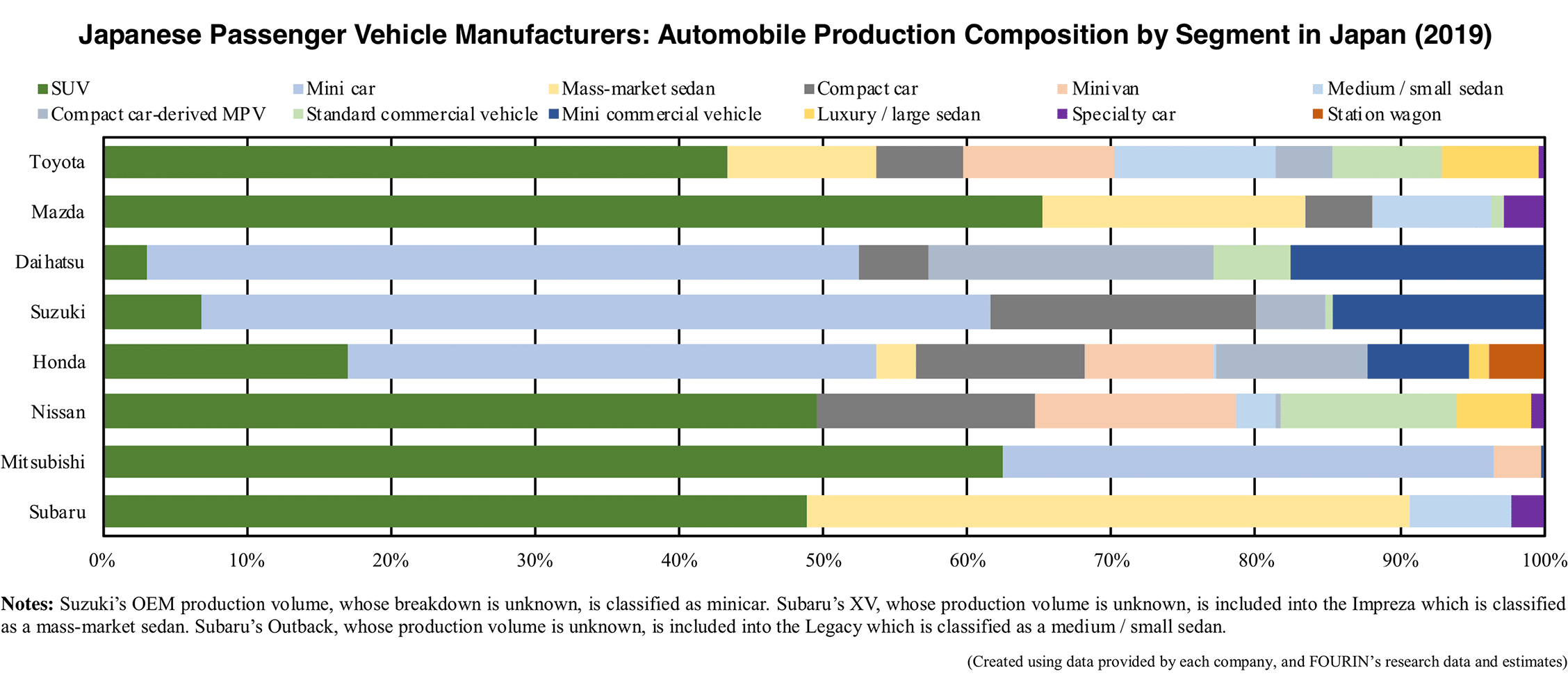 In 2019, Toyota's automobile production increased 9.1% to 3.36 million units. Production volume was pushed up by the RAV4, up 14.4% to 470,000 units and the Corolla, up 2.2-fold to 347,000 units. The Lexus ES increased 48.1% to 139,000 units thanks to increased exports to China following the reduction of tariffs on automobiles in July 2018.
Daihatsu increased 2.1% to 1 million units, reaching an historic high level. Production start of the Daihatsu Rocky and its sister model the Raize in November 2019 added 31,000 units to the total. The new Tanto built on the new DNGA platform increased 33.8% to 179,000 units. Production of DNGA-based models is expected to expand in the future. The Toyota Roomy and its sister model the Toyota Tank went up 6.2% to 170,000 units. Mazda rose 1.4% to 1.01 million units, narrowly surpassing 1 million units. In 2019, Mazda exported 850,000 units from Japan which accounted for 84.1% of all production. The Mazda3 went up 24.6% to 184,000 units and the CX-30, launched in April 2019, added 58,000 units to the total. The CX-9, manufactured exclusively for exports, increased 9.4% to 64,000 units.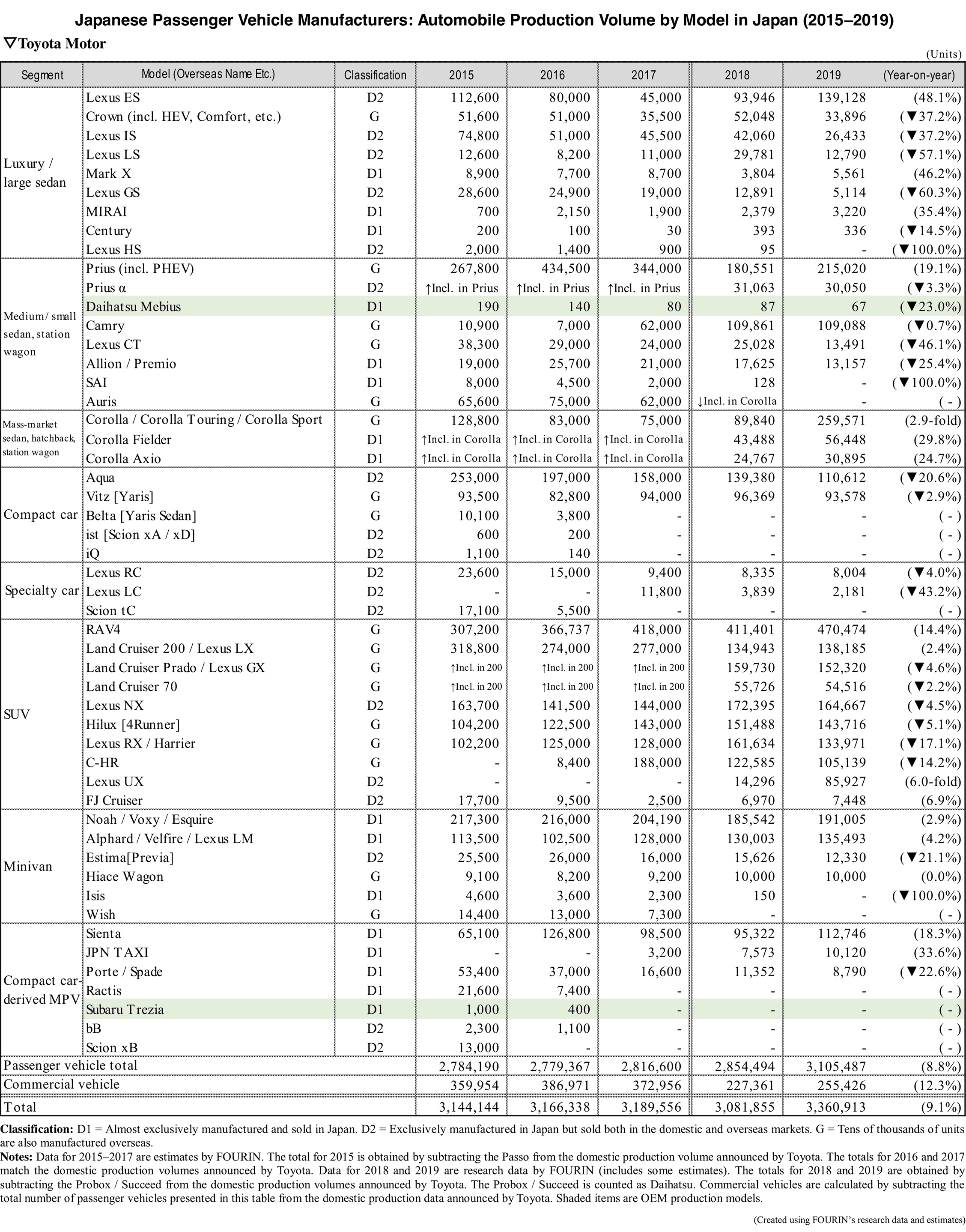 Subaru went down 6.2% to 619,000 units. Overall production declined following the automaker's inspection scandal which forced Subaru to slower production speed from November 2018 until September 2019. In addition, faulty components and severe weather conditions resulted in temporary suspension of production at the automaker's Gunma Plant. However, the Forester whose core export market is North America, increased 15.9% to 302,000 units.
Suzuki dropped 6.6% to 947,000 units. Similarly to Subaru, Suzuki reduced production speed at all of its assembly plants starting from July 2019 due to the inspection scandal. However, the fully-redesigned Jimny Sierra and Jimny increased 79.3% and 62.3% respectively.
Honda decreased 4.6% to 850,000 units. The N-BOX series performed well, going up 9.5% to 259,000 units. However, the production of the N-WGN was temporarily suspended from September 2019 until January 2020 due to faulty component of the electric parking brake. Production results were also negatively affected by postponing the launch of the new Fit from October 2019 to February 2020.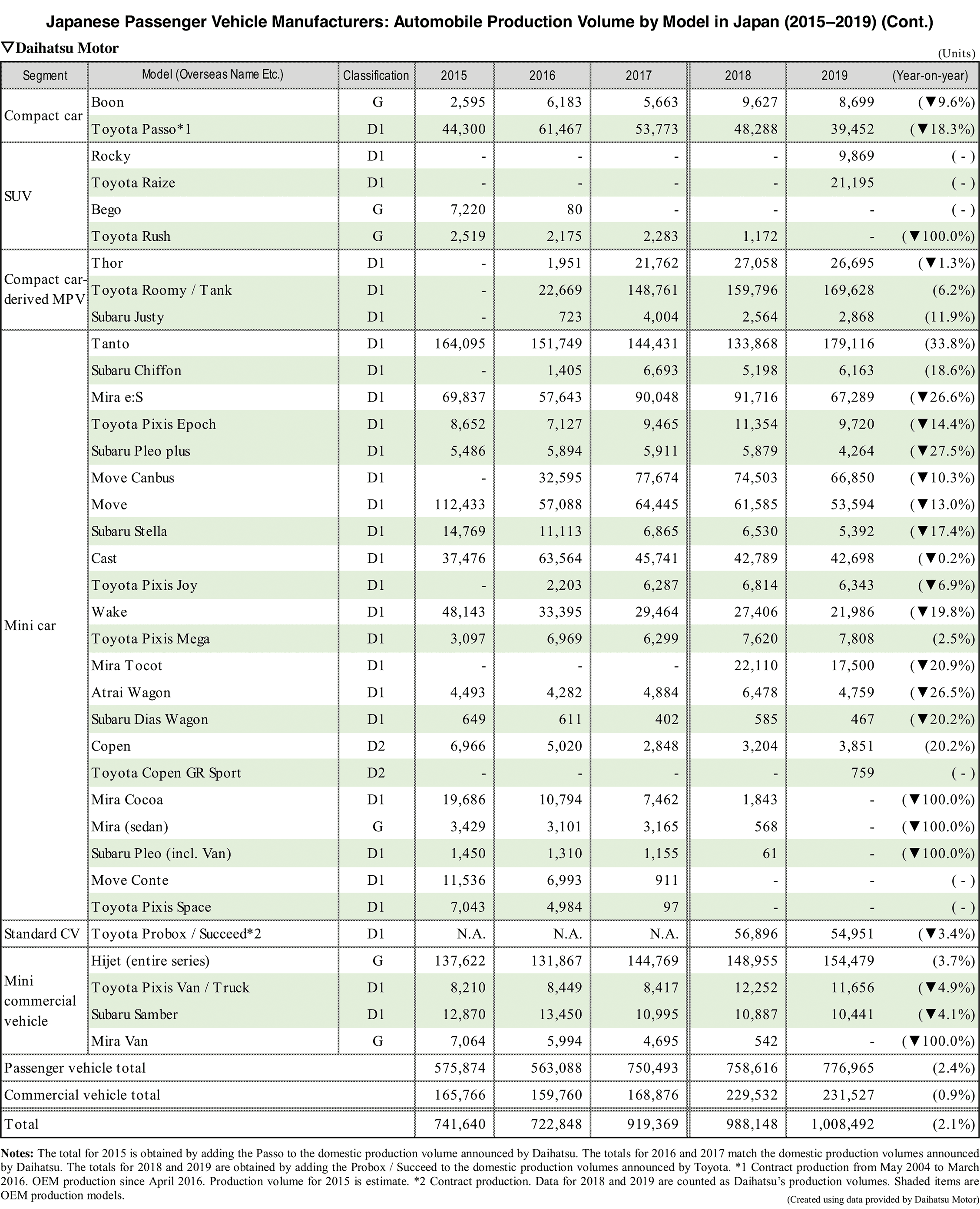 Nissan fell 13.7% to 810,000 units. Only two low-volume production models increased year-on-year, while all other models fell below the previous year's level. The decline is attributed to the lack of new models on the market which are expected to be released in 2020 and after.
Mitsubishi dropped 8.4% to 619,000 units. Although the mass-manufactured eK Wagon increased 23.6%, and the Outlander PHEV and Delica D:5 went up double digits, all other models declined.