AAA weekly
2020-09-21
Copyright FOURIN, Inc. 2023
Laos's Automobile Industry; Sales Drop 5.4% in 2019
In 2019, Laos's automobile sales decreased 5.4% compared to the previous year to 22,000 units. Sales have decreased for the fourth consecutive year since it reached a record high of 40,000 units in 2015. In 2019, the country's GDP growth rate dropped to 4.7%, falling below 5% for the first time in 20 years since 1999, due to the slump in the agricultural sector which was affected by flood damage. Declining GDP negatively affected the overall market climate which in turn may have pushed down automobile sales.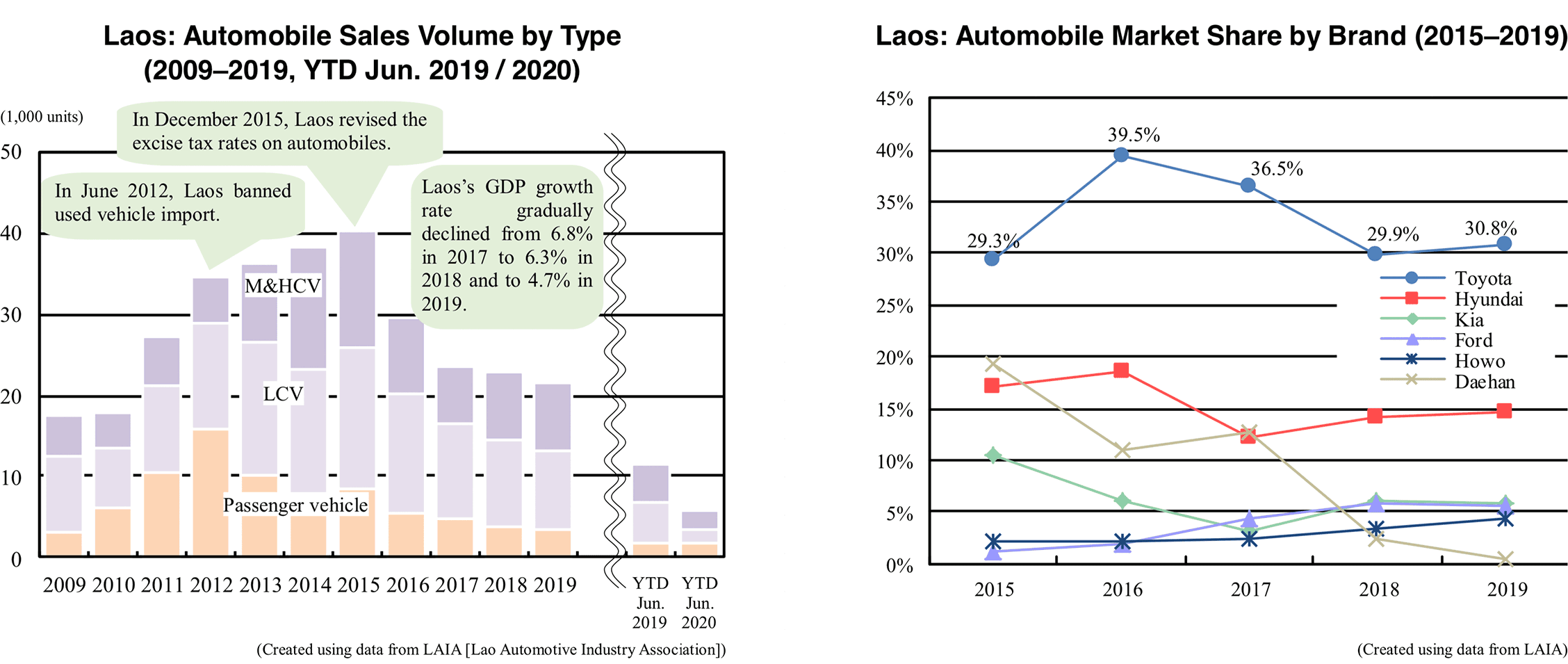 Looking at sales data by vehicle type, while passenger vehicles decreased 11.3% to 6,951 units and light commercial vehicles fell 5.3% to 6,352 units, medium and heavy commercial vehicles inched up 0.1% to 8,255 units. Although passenger vehicles declined double digits, Laos' volume-selling pickup truck segment saw a moderate drop of 3% to 5,740 units. Looking at sales data by brand, market-leader Toyota dropped 2.6% to 6,641 units. Although passenger car and SUV sales declined, pickup trucks increased 10.2% to 3,619 units. Toyota's market share rose 0.9pp to 30.8% in 2019. Hyundai, ranked second in 2019, fell 2.4% to 3,143 units. While trucks increased 38.1% to 2,957 units, all other vehicle types declined. Laos's local brand Daehan nosedived 84.7% to 84 units. Although Daehan ranked second in 2015, it fell to 32nd place in 2019.

In the first six months of 2020, automobile sales declined 49.7% to 5,841 units. In order to prevent the spread of the new coronavirus, the Lao government issued restrictions on going out throughout the country from the end of March to the beginning of May. Economic activities, including assembly production and sales of automobiles, were almost completely suspended. Consumption is expected to gradually recover over the second half of the year. However, the economic downturn in 2020 is projected to be severe by international organizations. GDP growth rate is forecast to be negative and the total number of vehicles sold is expected to fall below 20,000 units.