AAA weekly
2020-08-17
Copyright FOURIN, Inc. 2023
Toyota Motor's Production in China Increases 6.2% Thanks to New Car Effect
Despite the stagnation of the Chinese economy due to the US-China trade friction, Toyota Motor's automobile production in China increased 6.2% in 2019 (up 82,000 units) from the previous year to 1.4 million units, supported by increased production of new models. In 2020, impacted by the spread of new coronavirus infection, operations were temporarily suspended at all plants in China in February, resulting in a production drop of nearly 80%. Plant operations gradually resumed from mid-February and returned to normal by the end of March.
The biggest driver of the increase in production in 2019 was the newly introduced Avalon. Although the Avalon was a model intended exclusively for the North American market, it was launched as a successor to the Crown in China, where demand for sedans has been strong. The model sold 65,000 units in 2019. In addition, the first full-year production of the C-HR and Izoa also contributed to the increase in volume, rising by 30 thousand units and 20 thousand units respectively. The PHEV versions of the Corolla and Levin were launched in 2019 as well, adding 17,000 units to the total.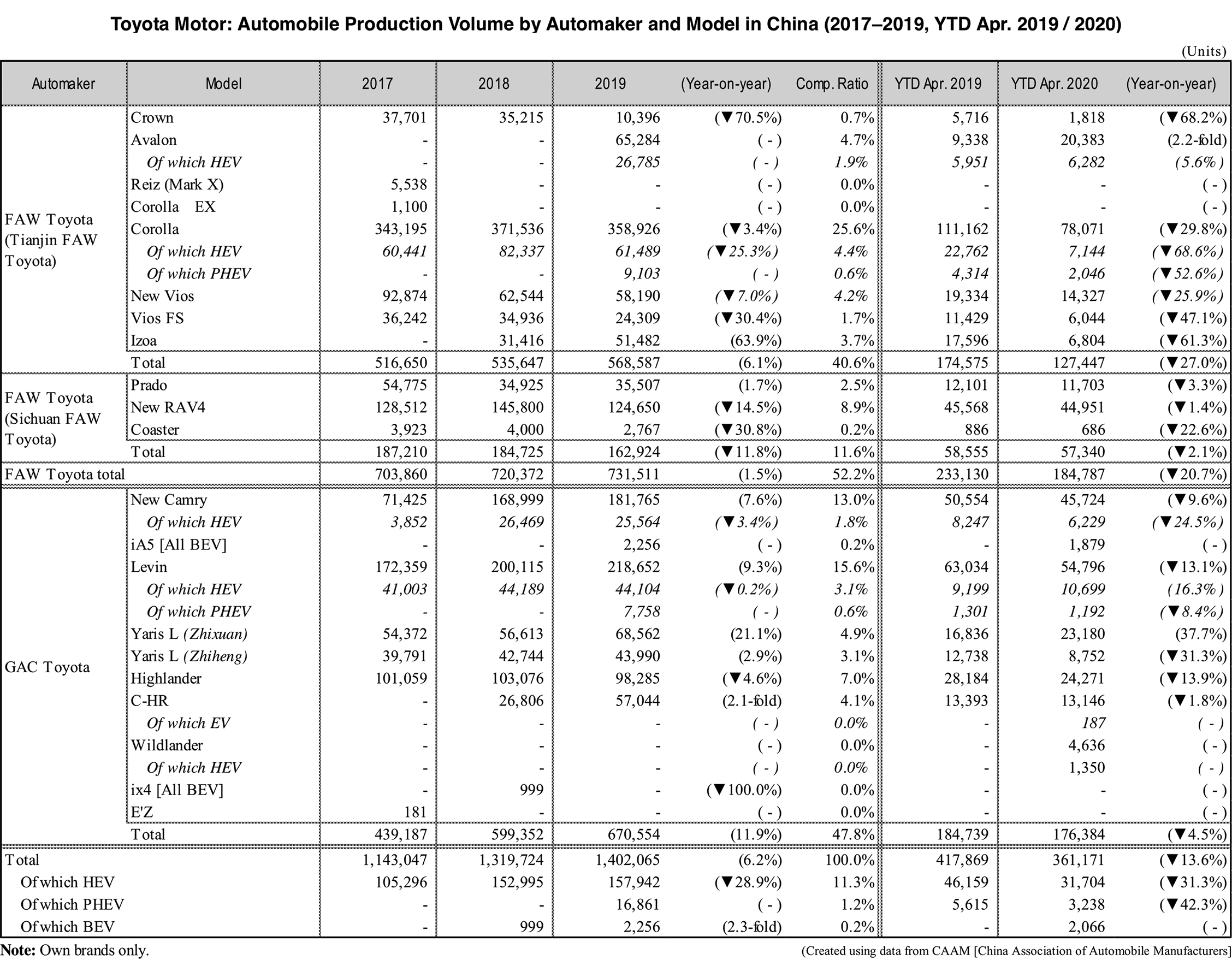 In the first four months of 2020, production declined 13.6% to 361,000 units (down 57,000 units) due to production suspension triggered by the new coronavirus. However, the automaker returned to normal operation at the end of March and if production remains normal, there is a possibility that production will increase in full-year 2020. In addition to the launch of the C-HR EV and Wildlander in April, the Avalon, RAV4, Camry, new Yaris and C-HR may see increase in production in full-year 2020.
Toyota is expected to continue its investment plan to increase production after 2020. GAC Toyota, a local joint venture with Chinese automaker GAC Group, plans to build its fourth plant in 2021 and its fifth plant in 2022. Tianjin FAW Toyota, another local joint venture with FAW Group, plans to construct its fourth plant in 2022. Each plant will have an annual production capacity of 200,000 units, raising Toyota's combined capacity in China to over 2 million units.