AAA weekly
2020-05-04
Copyright FOURIN, Inc. 2023
China's Passenger Vehicle Market in 2019: Total Volume Drops 9.6% to 21.44 Million Units
China's factory shipment of passenger vehicles declined 9.6% year-on-year in 2019 to 21.44 million units, dropping for the second consecutive year. It is believed that the main reason for the decline is cooling consumer sentiment due to slowing economic growth, in addition to rising prices of daily necessities and housing which are exerting pressure on purchasing capacity. Looking at data by segment, although the D segment increased 8.1% and the D-MPV segment went up 10.3%, all other segments declined. Demand is shifting to medium and large models. The market share of SUVs increased 1.8pp to 43.8%, SUVs maintaining popularity despite the general slowdown of the passenger vehicle market. In contrast, the saturated B-MPV market has declined by more than 20% for three consecutive years since 2017. Looking at the passenger vehicle factory shipments by group in 2019, VW, SAIC and GM remained the top three manufacturers. Honda increased by 7.2%, returning to 4th place after a year hiatus, surpassing Geely Automobile. Among Chinese manufacturers, Chery Automobile continued to grow thanks to the new Jetour and Exeed brands, but other manufacturers fell across the board. As for foreign brands, three Japanese companies, Honda, Toyota and Nissan, continued to grow and sales of German luxury brands, Mercedes-Benz and BMW, remained strong. Meanwhile other foreign marques dropped below their previous year's results. In 2020, the passenger vehicle market as a whole is expected to remain sluggish as the economic impact of the new coronavirus expands.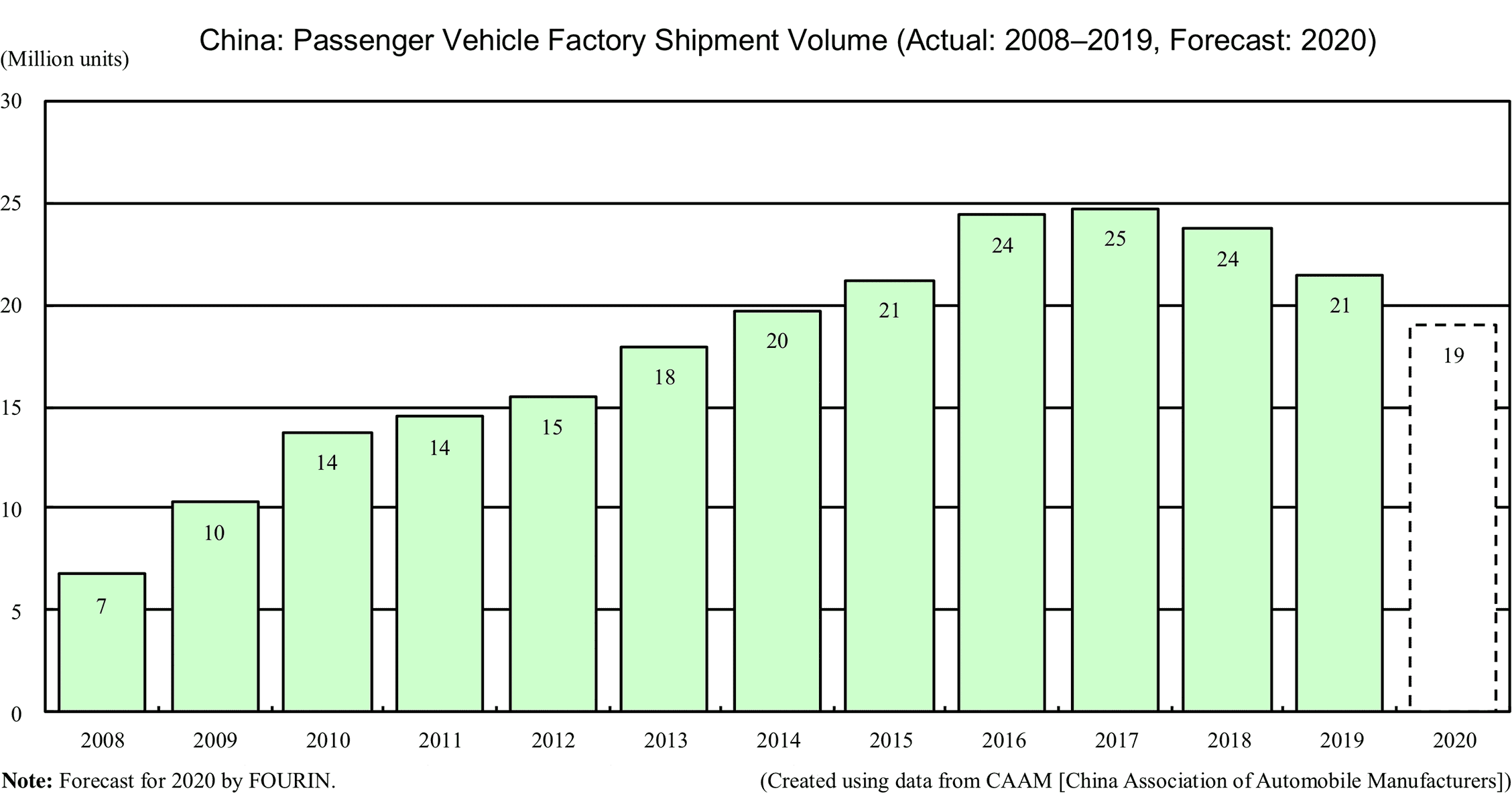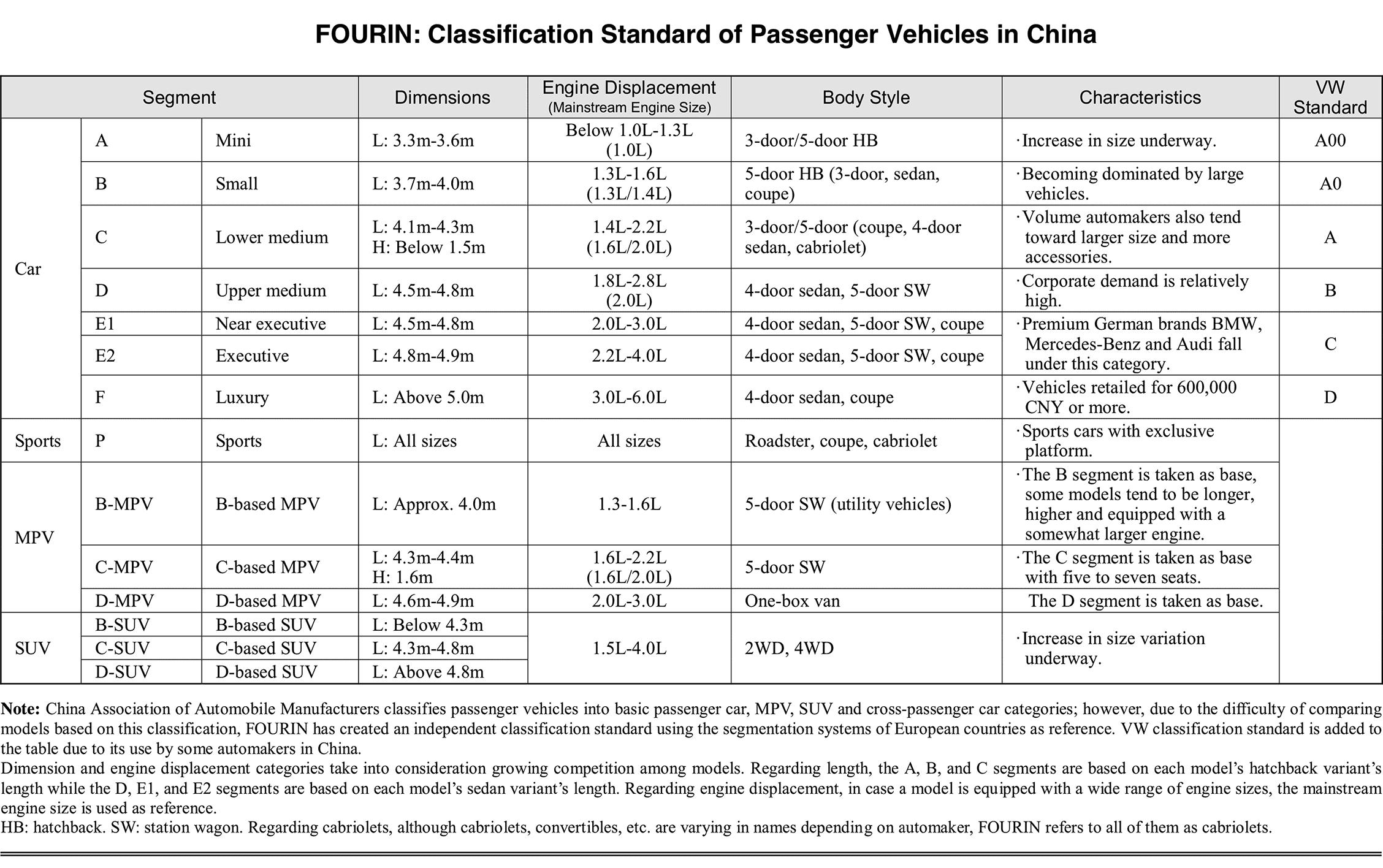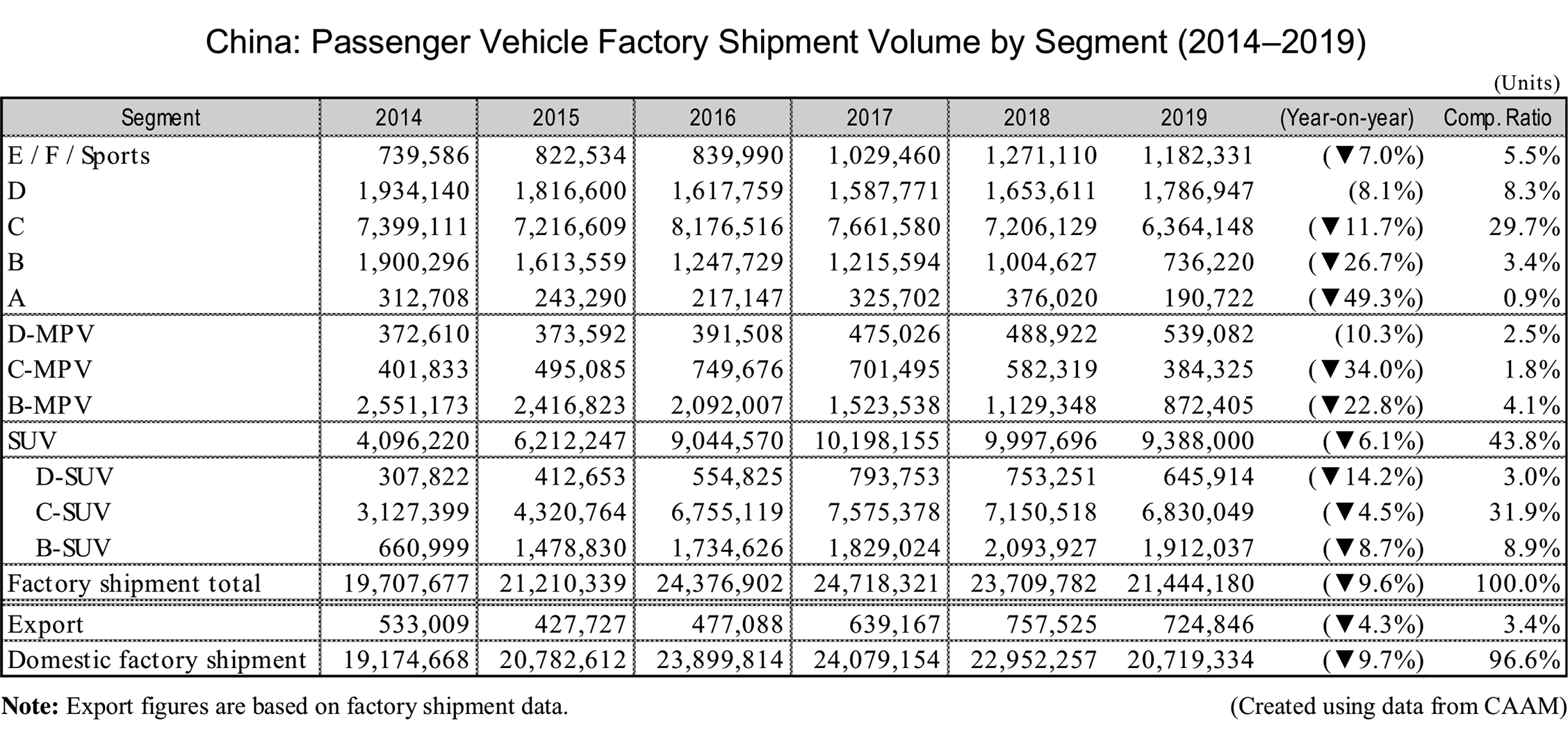 Japanese Big 3 maintained growth; apart from Chery, all Chinese brands declined
Compared with 2018, the number of manufacturers with negative growth increased in 2019, pushing down the overall passenger vehicle market. Looking at foreign-affiliated manufacturers by group, VW maintained the top market share, but the growth rate of factory shipments dropped from plus 2.0% in 2018 to minus 1.3% in 2019. The Japanese Big 3, Honda, Toyota and Nissan, increased factory shipment in 2019, going up 7.2%, 8.6% and 0.2% respectively. Honda's sales were driven by the Civic, Accord and Crider models. Toyota benefitted from the growing sales of the Avalon, Camry, Levin and other popular models. In addition, the popularity of the luxury vehicle market remained unchanged, with Mercedes-Benz increasing 16.2% and BMW going up 17.0%, achieving double-digit growth. On the other hand, Ford and PSA continued to decline. Due to the Sino-US trade friction and lack of popular products, Ford's factory shipment decreased 39.2%. PSA's rate of decline increased from 33.0% in 2018 to 55.5% in 2019. Its two local joint ventures Dongfeng Peugeot Citroën and Changan PSA declined sharply, going down 55.2% and 46.9% respectively. As a result of which PSA was forced to withdraw from Changan PSA. In addition, Hyundai decreased 14.3% due to lackluster sales.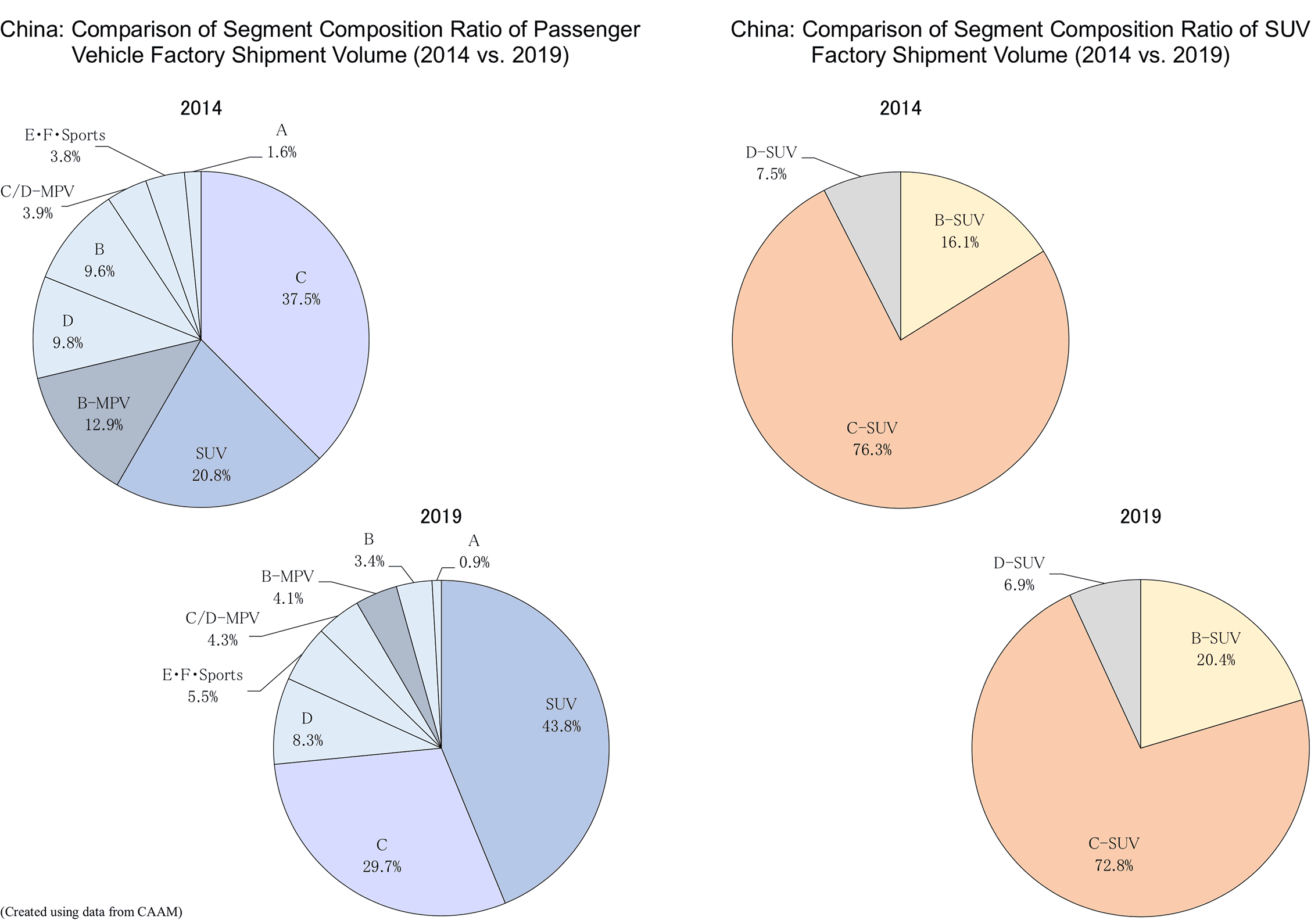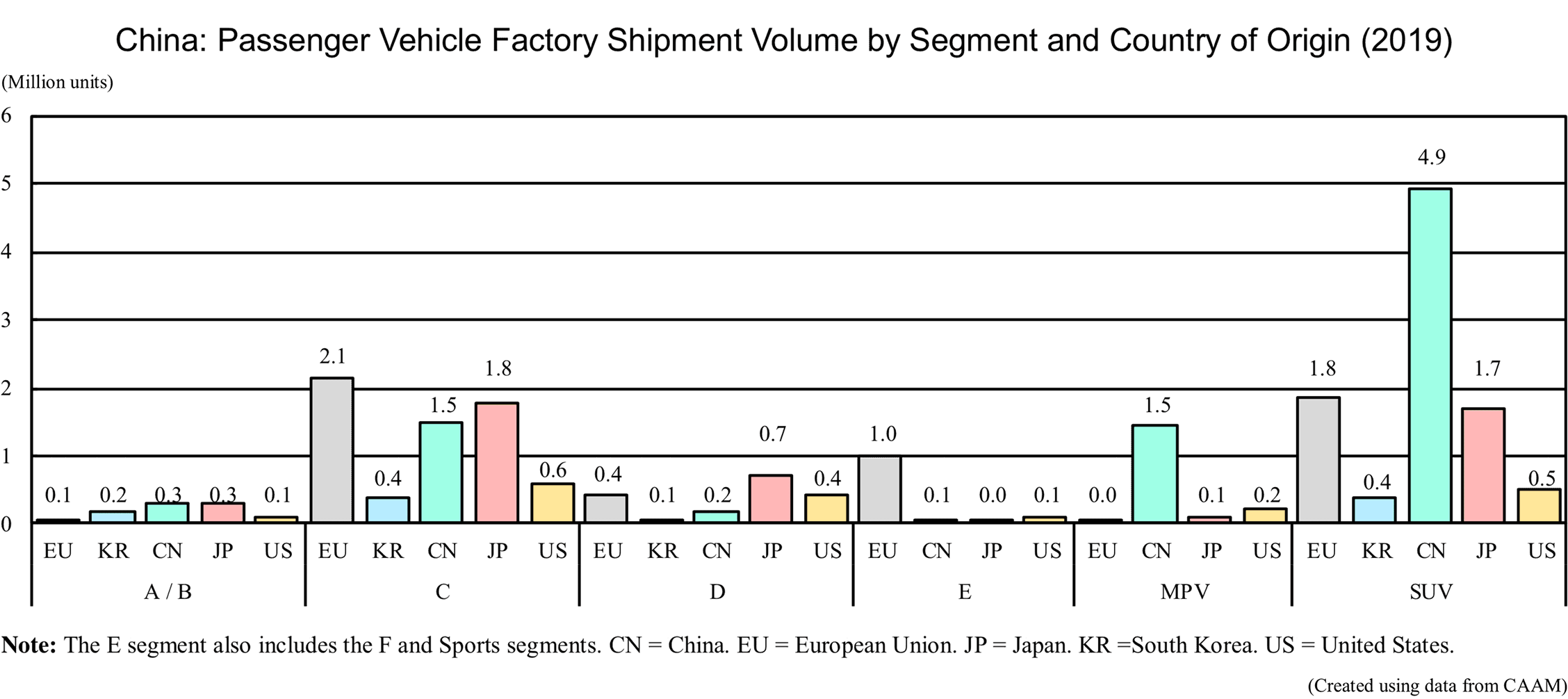 Looking at Chinese manufacturers, although the SAIC Group's own brand business remained in second place, its rate of decline expanded from minus 2.2% in 2018 to minus 17.5% in 2019. The decline is mainly due to a decrease in sales of Baojun brand vehicles under SAIC-GM-Wuling whose main products are B-MPVs. Geely Automobile, ranked 5th, dropped 9.9%. Although Geely's luxury brand Lynk & Co increased, the automaker's other three brands declined. In particular, the Zhidou brand, that handles small BEVs, fell 86.3% due to a reduction in subsidies for new-energy vehicles. Great Wall Motor's Haval brand, which is known for its strong sales of SUV products, performed well, reducing the group's overall decline to a mere 0.4%. Changan Automobile declined 11.6%, down from 22.5% in the previous year, but it still faces severe sales situation due to lack of popular products. BAIC Group's rate of decline increased from minus 23.8% in 2018 to minus 30.1% in 2019. Apart from Borgward, all other brands of the BAIC Group decreased across the board. GAC Group dropped 27.4% due to poor sales of the Trumpchi brand. Among Chinese automakers, only Chery Automobile increased thanks to solid sales of its two new brands the Jetour and Exeed.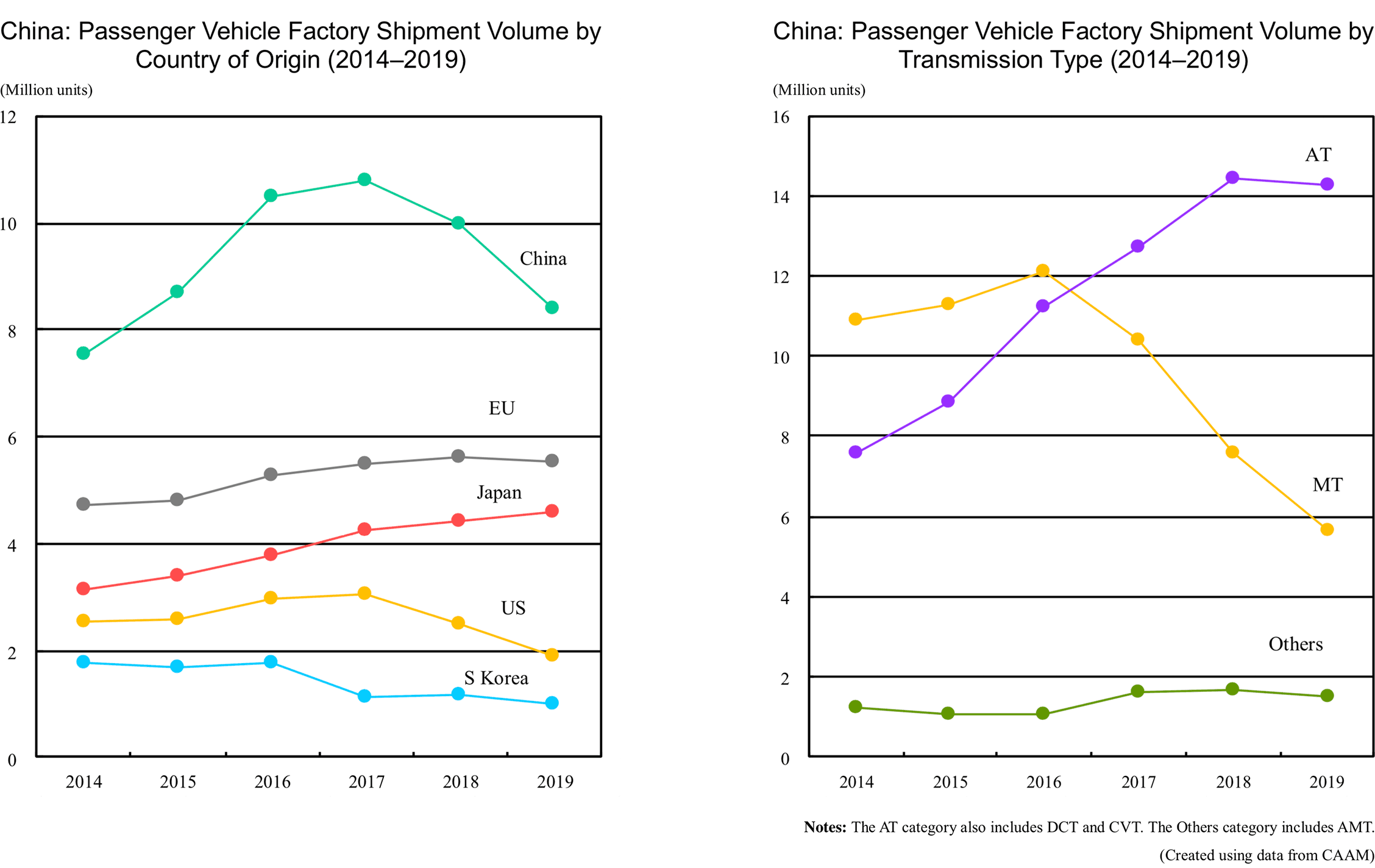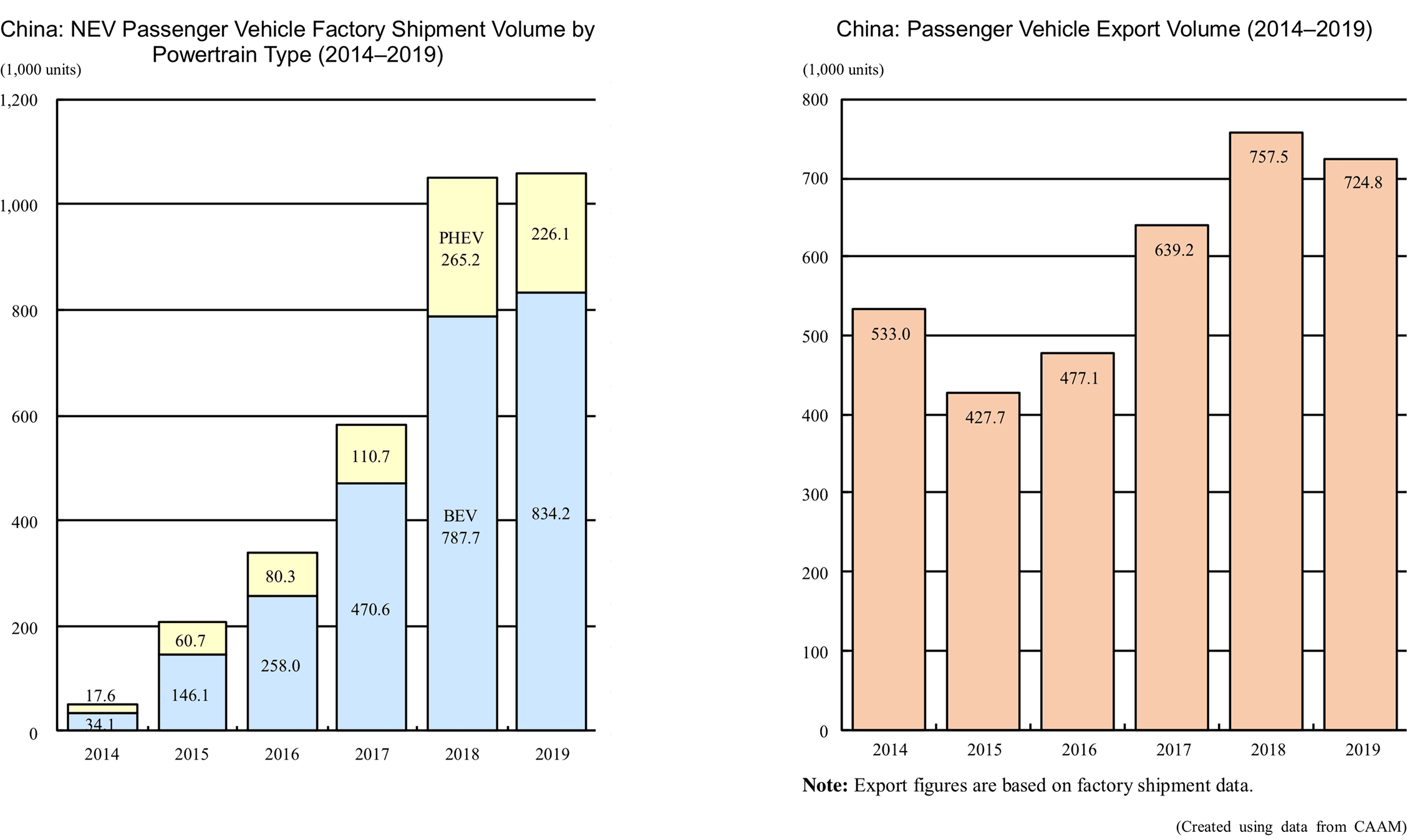 SUV remained the largest segment for the 4th consecutive year
Looking at data by segment, although the SUV segment fell 6.1% in 2019, its market share expanded from 42.0% in 2018 to 43.8%, remaining the largest segment in the passenger vehicle sector for the 4th consecutive year. Great Wall Motor's Haval H6 maintained top share in the SUV market, but factory shipment volume fell 14.6% due to the cooling of the overall passenger vehicle market. Although Geely Automobile's Boyue which was 4th in 2018 fell 9.1%, but moved up to 2nd place in 2019. Honda's CR-V increased 48.4%, going up from 14th place in 2018 to 4th place. Meanwhile, looking at the top 10 SUV models, it is apparent that foreign models are gaining ground. While only three foreign models were among the top 10 in 2017, that figure increased to five in 2018 and to six in 2019. Looking at mid-level and high-end segments (D, E, F), apart from the Hongqi, the top 10 models are foreign brands, indicating the superiority of foreign models in these segments. In the C segment, which accounts for about 30% of all passenger vehicle sales, Geely's Emgrand is the only Chinese model. On the other hand, in the already saturated B-MPV market, existing users continued to replace their B-MPVs with C-MPVs, D-MPVs or SUVs, resulting in a sharp decrease of 22.8% from the previous year.
The overall market is expected to decline in 2020
From the beginning of 2020, the economic impact of the spread of the new coronavirus has been increasing. Automobile sales are expected to continue to decline for several months due to production and shipping delays of automobile and parts manufacturers, social distancing and shortened business hours of dealerships. However, consumer sentiment could increase as well driven by the government's policy to support automobile purchases.