AAA weekly
2020-09-21
Copyright FOURIN, Inc. 2023
Increasing Presence of Chinese Automakers in India
Chinese automakers have begun to set foot in the expanding Indian market. SAIC Group started production and sales in India in 2019 and Great Wall Motor plans to do the same starting from 2021. Meanwhile BYD and Foton Motor assemble BEV buses in the country. Chinese automakers are making efforts to reduce their dependence on their home market. As part of this attempt, they are expanding their presence in India. Similarly to China, India is one of the most populous countries in the world. The country has high growth potential as the working-age population is expected to continue increasing until 2050. The automobile market is also expected to expand, becoming the third largest in the world after China and the United States in the medium to long term. In the Indian automobile market, Maruti Suzuki has solidified its leading position in the small passenger vehicle market which is India's largest sales segment; however, competition for market share in the growing SUV segment is still fluid. SAIC and Great Wall have taken notice of this business opportunity and have embarked on local production and sales. Both companies have purchased one of GM's two Indian plants, gaining a foothold in India. SAIC has invested 22 billion INR in India so far and plans to make an additional investment of 30 billion INR, while Great Wall plans to invest 1 billion USD, indicating their strong commitment in India.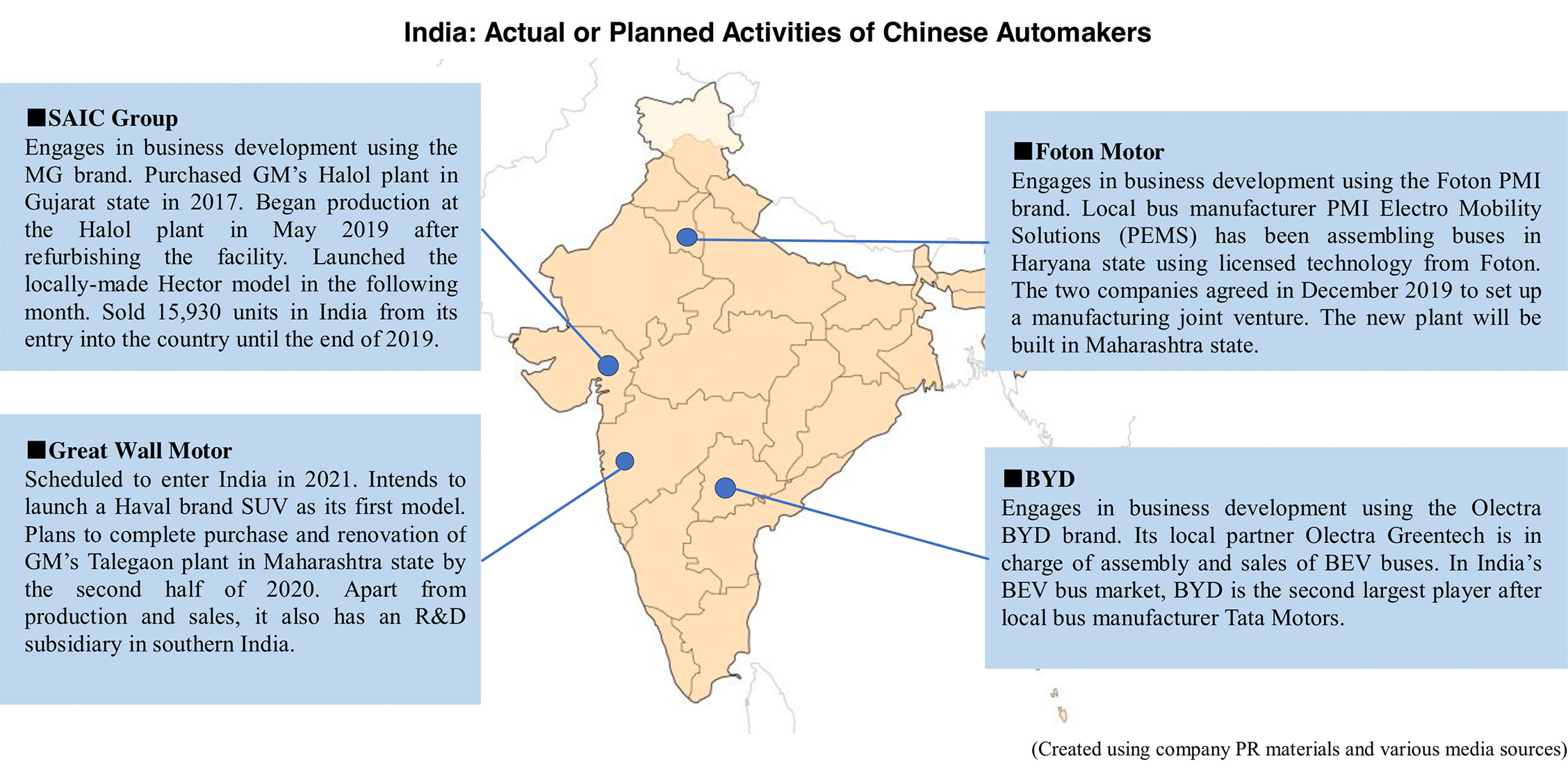 The other two Chinese automakers BYD and Foton have already secured a certain presence in the Indian BEV bus market. The Indian government plans to introduce 7,000 BEV buses for public use between April 2019 and March 2022, and both companies are participating in this bid. In anticipation of growing demand in the future, they are planning to build new BEV bus plants in the country.
However, even Japanese, European and US automakers are struggling in terms of developing products and building local sales and aftersales service networks due to Indian consumers being extremely sensitive to the balance between price and quality. Chinese manufacturers will face similar challenges in the future, and overcoming them will be the key to their success in India.
SAIC Group: Activities in India
・SAIC Group began automobile production in India in May 2019. The following month the automaker entered the Indian market. – SAIC Group's total production and sales from its entry in India until the end of 2019 were 17,009 units and 15,930 units respectively (data released by SIAM).
・Investment:
In the 18 months up until June 2019, SAIC Group invested a total of 22 billion INR in India in preparation for the launch of production. Furthermore, as of the end of 2019, SAIC Group has decided to make an additional investment of 30 billion INR from 2020. The additional investment is believed to be used for factory expansion and product development.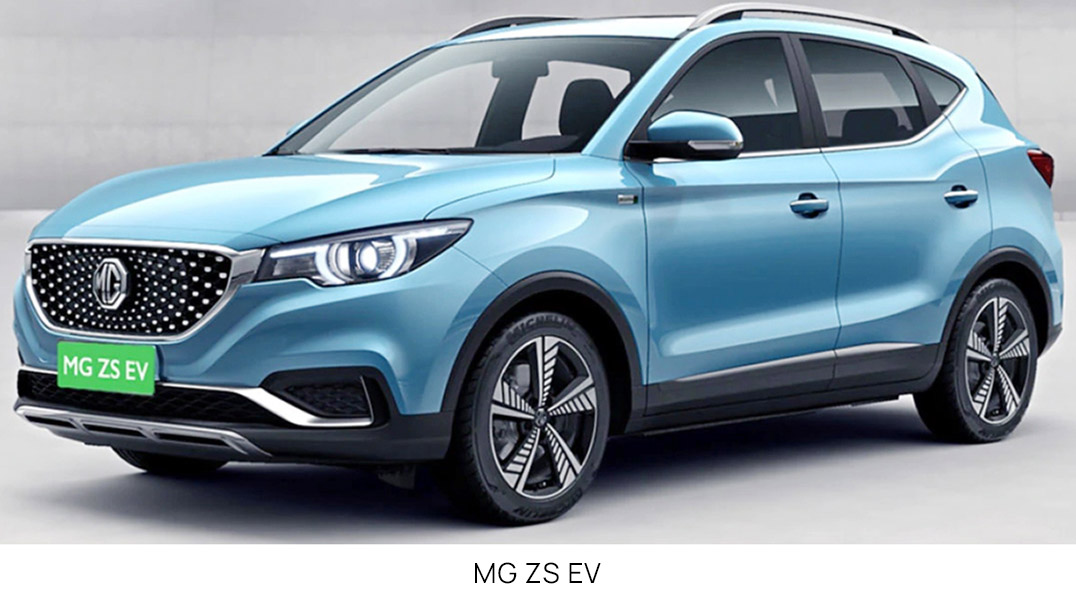 ・
Production:
Local production and sales subsidiary MG Motor India began automobile production in May 2019. – In 2017, SAIC Group purchased the Halol plant of GM's local subsidiary GM India located in Gujarat state. Following the plant's renovation, annual production capacity was set at 80,000 units. The plant has a stamping shop, body shop, assembly line, parts distribution center, test course, training facility and a supplier park.
・Sales / aftersales service:
As of June 2019, when the company began local sales, its sales and aftersales network consisted of 120 stores.
・Products:
As of February 2020, SAIC Group's local lineup consisted of the Hector and ZS EV models. Both are locally made. – By mid-2021, at least two more models are planned to be added to the lineup. SAIC Group only intends to sell SUVs and MPVs in India. The automaker wants to increase its C segment and larger product range.
For ref.: SAIC Group's product lineup in India
・Hector (C-SUV):
Launched in June 2019 as SAIC Group's first model in the Indian market. Rebadged model of SAIC-GM-Wuling's Baojun 530. – Sold for 1.21 million–1.58 million INR. First model in the Indian market to be fitted with 48V MHEV system. Also equipped with i-SMART connected system.
・ZS EV (B-SUV):
Launched in January 2020 as SAIC Group's second model in the Indian market. – Sold for 2.08 million–2.35 million INR. Only sold in Delhi NCR and four other major Indian cities. SAIC Group began taking orders in December 2019, securing orders for approx. 2,800 units in one month.
・Hector Plus (C-SUV):
Scheduled to be launched in the third quarter of 2020. Has 6-7 seats in 3 rows as opposed to the Hector which has 5 seats in 2 rows.
・Gloster (D-SUV):
Scheduled to be launched in the fourth quarter of 2020. Rebadged model of SAIC Maxus's D90.
・G10 (D-MPV):
Scheduled to be launched in the second half of 2020 or later.
(Created using SAIC Group's PR materials and various media sources)