AAA weekly
2021-12-13
Copyright FOURIN, Inc. 2023
Toyota Motor in India Launches Rebadged Suzuki Cars, Strengthens Aftersales Service
Toyota Motor is teaming up with Suzuki Motor to revamp its product lineup in India. Toyota's two flagship models the Innova MPV and the Fortuner SUV of the IMV series will remain the revenue base of the automaker. However, Toyota's compact car lineup is planned to be completely replaced with OEM-supplied models from Suzuki.
Looking at sales and aftersales service-related measures, in October 2020, a stockyard was set up in Guwahati, Assam state to shorten the delivery period in north India from nearly two weeks to a minimum of two days. In February 2021, T-Serv, a workshop for not only Toyota models but also for other brands, was set up to understand the repair needs of users who use multi-brand service shops. In June 2021, Toyota started a delivery service of original parts, providing original Toyota parts such as oil and batteries to customers.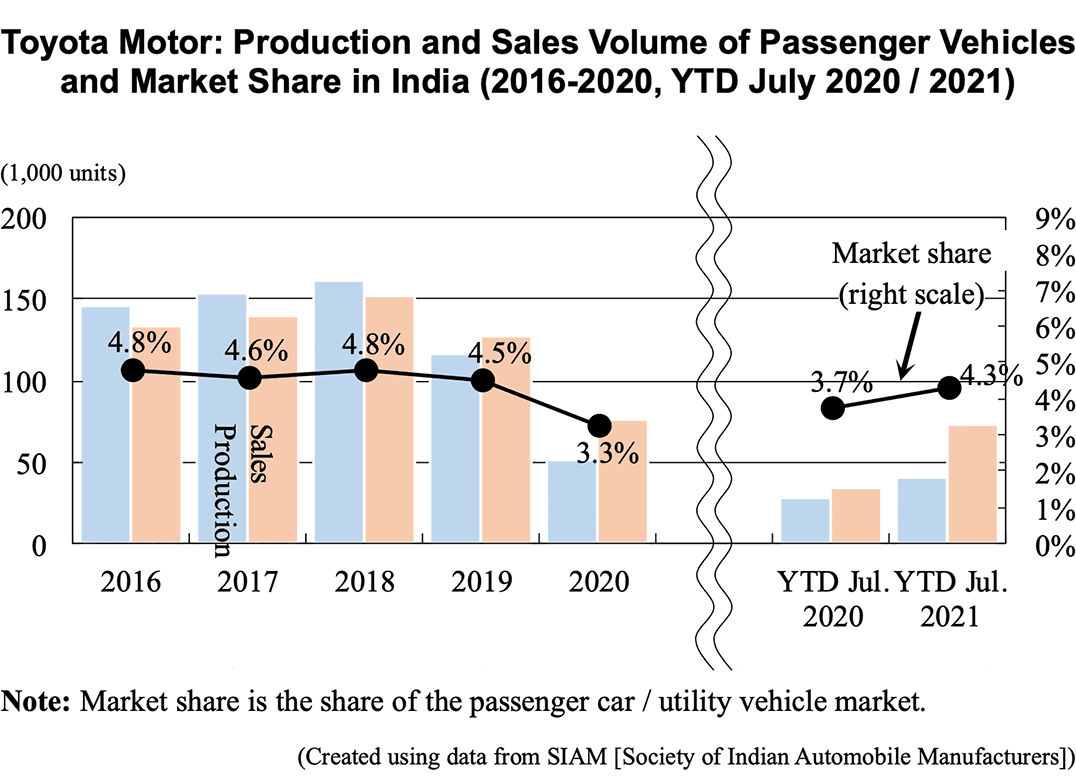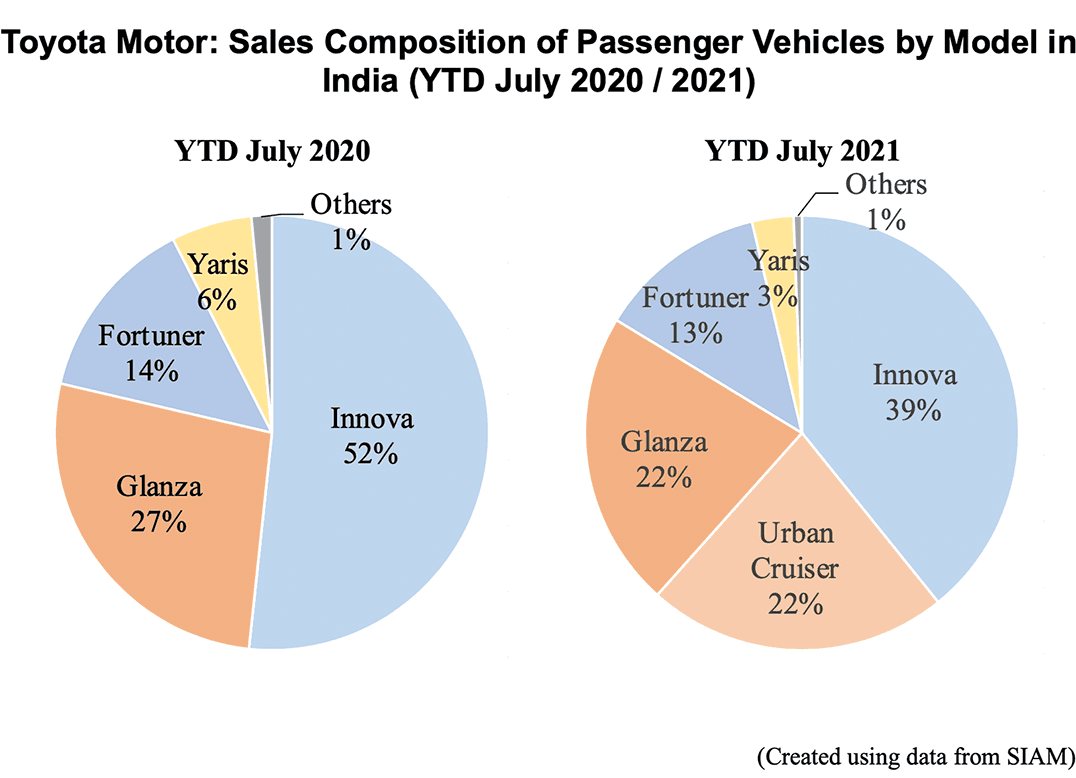 Toyota Motor: Recent Business Developments in India
Product Deployment / New Models
・In India, Toyota is developing a product lineup that mixes OEM-supplied models from Suzuki (Maruti Suzuki) with its own products. ・Small cars are mainly supplied by Maruti Suzuki on an OEM basis. As of September 2021, Maruti Suzuki supplied two models, the Glanza and the Urban Cruiser (details below). - It is said that the OEM model of the Maruti Suzuki Ciaz will be introduced by Toyota in India. According to local media reports in April 2021, the rebadged model will be launched within the year. - The Yaris is the only Toyota model that is sold in India due to the discontinuation of production and sales of the Etios series and Corolla Altis in 2020. It is likely that the Yaris will be pulled from the Indian market as well and replaced with the OEM-supplied Ciaz. - Regarding small SUVs whose demand continues to increase in India, there is a possibility that Toyota will manufacture and sell SUVs based on Daihatsu's DNGA platform. ・Regarding medium-sized vehicles, Toyota sells two IMV series models the Innova and the Fortuner. These models form the core of Toyota's business in India in terms of profitability. - Both models under minor change in 2021 (details below). ・As of September 2021, Toyota's electric vehicle lineup consisted of two strong HEVs in India, the locally-made Camry and the Vellfire imported from Japan. - Vikram Gulati, Senior Managing Director of Toyota Kirloskar Motor (TKM), Toyota's local subsidiary in India, said in July 2021 that the demand for BEVs in India is limited and local production of BEV parts is not possible for the time being so the company will focus on selling HEVs in India. - Currently Toyota has two MHEV models on the Indian market both are OEM supplied by Maruti Suzuki. - Regarding BEVs, Toyota is providing technical support to Suzuki in India to manufacture BEVs for the Indian market. In return, Suzuki will supply BEVs to Toyota. (For reference, Suzuki announced at its shareholders' meeting in June 2021 that it will launch its first EV in India by 2025. It will cost around 1 million-1.1 million INR.)
Urban Cruiser (Newly launched)
・The Urban Cruiser compact SUV was launched in September 2020. - It is based on the Vitara Brezza and is OEM supplied to Toyota by Maruti Suzuki. - The model is 3,995 mm long, 1,790 mm wide, 1,640 mm tall and has a wheelbase of 2,500 mm. The powertrain combines a 1.5L four-cylinder gasoline engine with a five-speed MT or four-speed AT. The AT model is equipped with an MHEV system that combines an Integrated Starter Generator (ISG) and a lithium-ion battery. - Safety functions include dual airbags, EBD with ABS, collision safety body, hill hold control (AT model only) that prevents the vehicle from sliding down when starting on a slope, and back monitor. ・The primary customer target is young people aged 30-35. ・The main specifications are the same as those of the Suzuki Vitara Brezza. The differences are as shown in the table below.

・The Urban Cruiser is OEM supplied to Toyota by Maruti Suzuki. - Initially, Toyota planned to switch to contract production at TKM in 2022, but the plan was changed in December 2020, and Maruti Suzuki will continue production of the Urban Cruiser.
Innova / Fortuner (Facelifted)
・The facelifted Innova (2nd generation) was launched in November 2020. - Major improvements include front design changes (thick trapezoidal grille with chrome edging and sharp bumpers) and the adoption of diamond-cut design alloy wheels. The high-end grade is equipped with a back monitor and front sonar sensor as standard equipment. - The powertrain is the same as before. The model is equipped with a BS6-compatible engine that started to be installed in January 2020. ・The facelifted Fortuner (2nd generation) was launched in January 2021. - The main improvement is the change in appearance. The front design (grille, headlights, bumpers, etc.) and the design of the wheels have been changed, and the taillights have been slimmed down. In addition, geo-fencing, real-time tracking, connected technology such as parking position, front sonar sensor, and more are newly installed. - The engines are the same as before, a 2.7L turbocharged gasoline engine and a 2.8L turbocharged diesel engine. However, the diesel engine's maximum output has been raised from 179 ps to 206 ps and maximum torque has been increased from 455 Nm to 500 Nm.