AAA weekly
2020-03-16
Copyright FOURIN, Inc. 2023
India's Automobile Market in 2019: Sales Declined 13% to 3.82 Million Units
India's vehicle sales fell 13.3% year-on-year to 3.81 million units in 2019, going down for the first time in five years. The combined effects of a drastic slowdown in economic growth due to a decline in financial liquidity and a rise in vehicle prices in response to automobile-related regulations led to a double-digit decrease in vehicle sales, falling below 4 million units. Ranking fourth in the global market until last year, India was overtaken by Germany in 2019.
The Indian market is expected to expand in the medium to long term, while a full-fledged recovery in the automotive market is likely to occur from the second half of 2020. Consumer sentiment is influenced by weak GDP growth in FY2019 (ending March 2020), which is expected to be at 5.0% – the lowest level for the first time in 11 years, – and the tightening of emission regulations in April 2020. For these reasons, automobile sales in 2020 is forecast to be on par with 2019's level or even drop below by a single digit.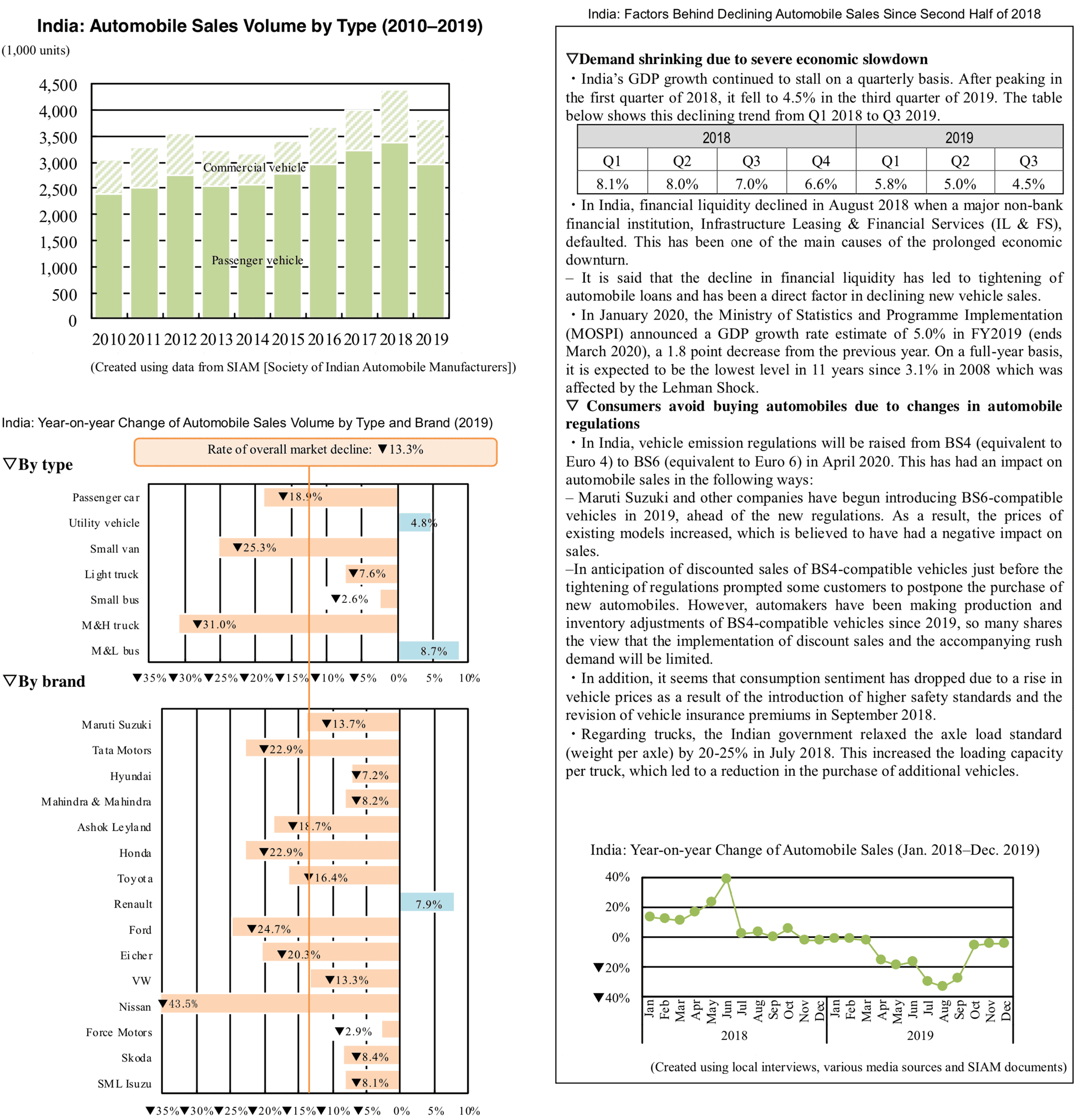 Passenger cars fell 18.9% while utility vehicles increased 4.8%
Looking at Indian automobile sales by vehicle type, passenger cars decreased by 12.7% in 2019 to 2.96 million units. Of which passenger cars (sedans, hatchbacks, etc.) fell 18.9% to 1.82 million units, but utility vehicles (SUVs, MPVs, etc.) increased 4.8% to 985,000 units, maintaining expansion amid a shrinking automobile market. The expansion of the utility vehicle sector is attributed to the successive launches of the Hyundai Venue, Kia Seltos, Tata Harrier and Mahindra XUV300 SUV models and the Renault Triber, Mahindra Marazzo and other MPV models. Commercial vehicles declined 15.0% to 855,000 units. Of which light commercial vehicles fell 7.1% to 566,000 units and medium and large commercial vehicles went down 15.0% to 289,000 units. The sharp decline in medium and heavy truck sales, down 31.0%, is attributed to the Indian government's decision to relax the axle load standard (weight per axle) by 20-25% in July 2018. This move has increased the loading capacity per truck, which led to a reduction in the purchase of additional vehicles.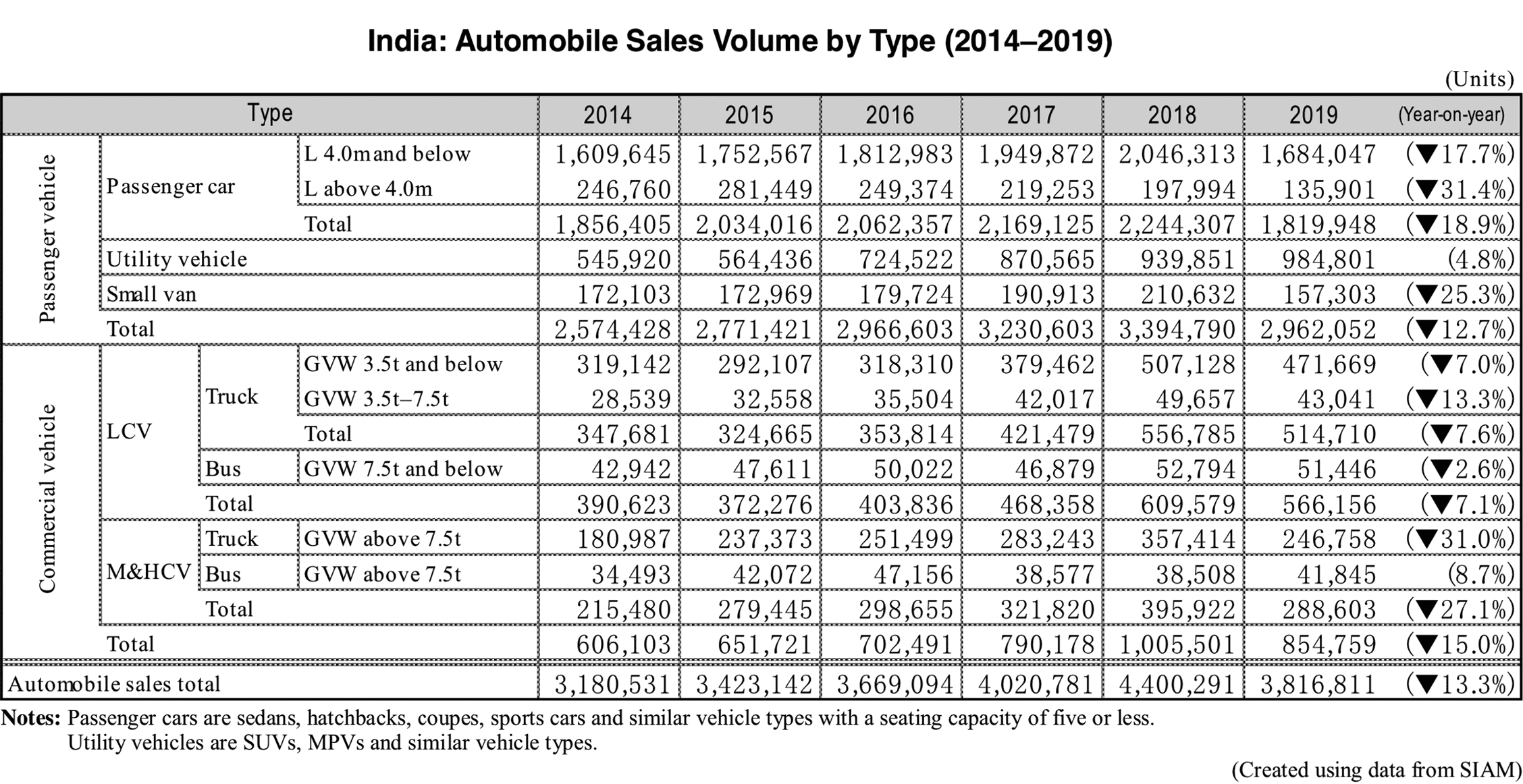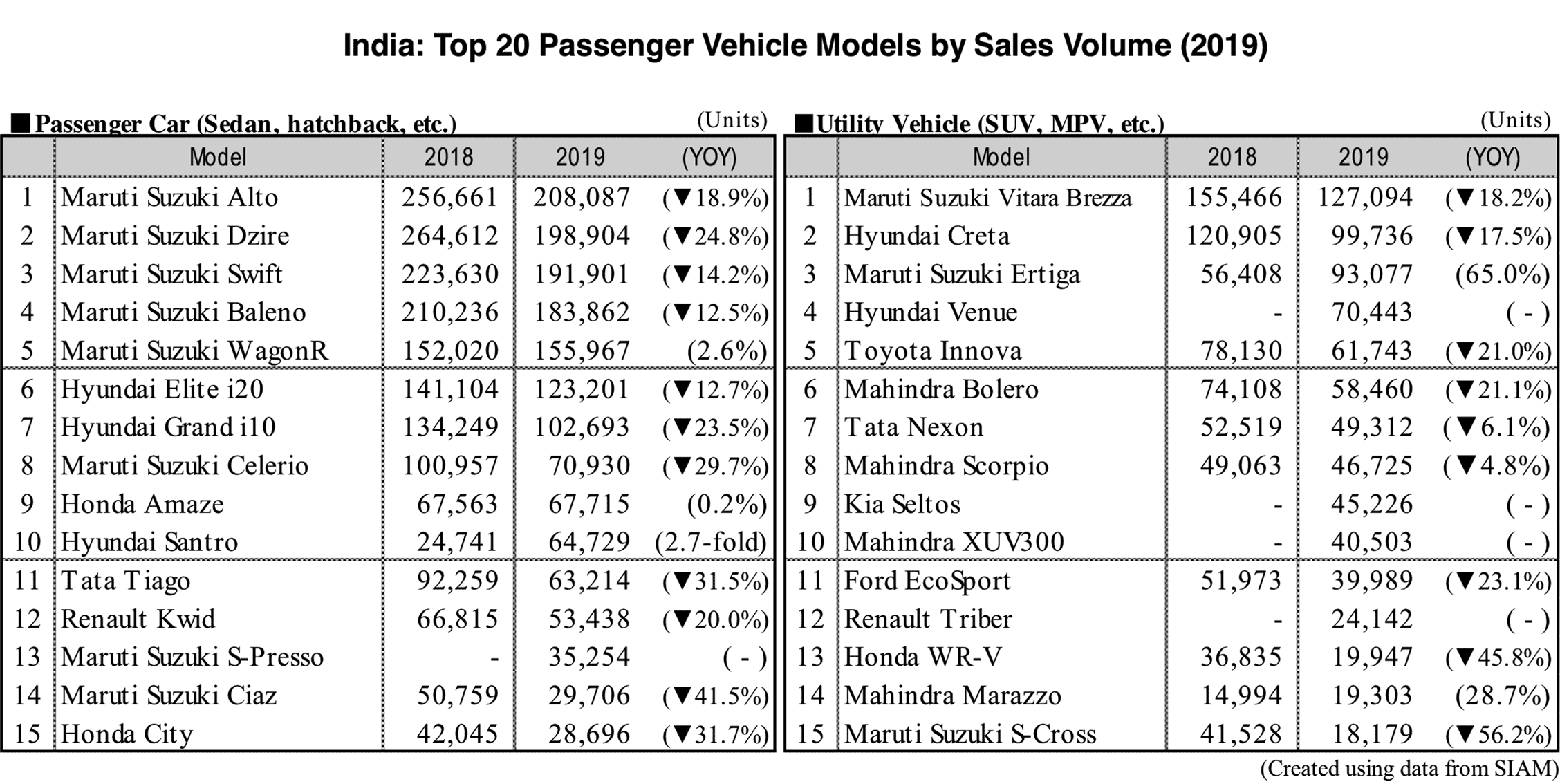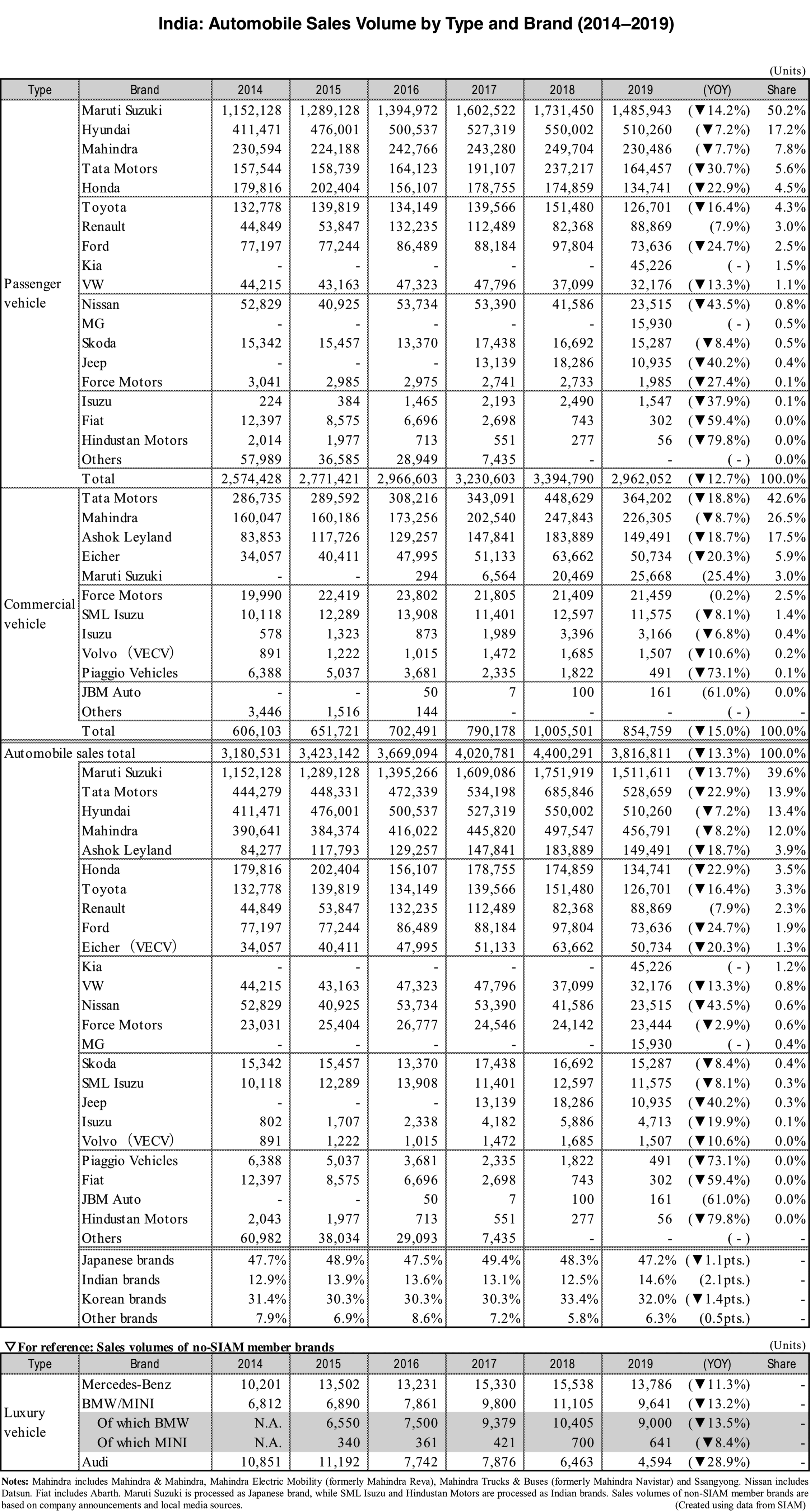 Existing brands fell while Kia and MG entered the market
The top 20 brands fell year on year. Maruti Suzuki and VW fell about 13%, the same level as that of the total market. Hyundai and Mahindra, on the other hand, increased their market share by reducing their decline by 7-8%. On the other hand, Tata Motors, Honda and Ford fell by about 20%, and Nissan dropped about 40%.
India's largest automaker Maruti Suzuki decreased 13.7% to 1.5 million units units. The Alto, Swift, Dzire and other existing mass-market passenger cars all fell by double digits. Utility vehicles fell 1.5% to 254,000 units. On the other hand, sales volume of the Carry light truck increased 25.4% to 26,000 units. The second largest passenger vehicle manufacturer Hyundai dropped 7.2% to 510,000 units. Passenger car sales declined 20.7%, but utility vehicle sales increased 39.7% due to the launch of the compact SUV Venue. So Hyundai's overall rate of decline was smaller than that of other automakers. Renault was the only top brand to increase, up 7.9%, due to a significant drop in sales in the comparable year of 2018, down 26.8%, and the launch of the Triber in August 2019.
In 2019, two new brands entered the Indian market, SAIC Motor's MG and Kia. MG released the Hector in July 2019 and Kia launched the Seltos in the following month. The two models sold 16,000 units and 45,000 units respectively by the end of the year.