AAA weekly
2020-11-02
Copyright FOURIN, Inc. 2023
Mitsuboshi Belting: Meeting Current Demands by Providing Belts for EPS & EPB and Investing on the Alternator Pulley Production Site in FY2019
Mituboshi Belting aims to provide "high performance, high precision, and high quality" products by strengthening its R&D and technological capabilities. In anticipation of an increase in demand for belts used for electrified vehicles, such as electric power steering (EPS), electric parking brake (EPS), and light-weight belts for sliding doors, Mitsuboshi dedicates to working on expanding the use of belt products.

In the 2017 Medium-Term Guidelines for FY2017-FY2019, the company set out the development and sales expansion of functional parts as one of the measures to expand sales of automobile products. Mitsuboshi launched an alternator pulley for automobiles in 2016 and has entered the field of functional metal products. It intends to develop the business as a system supplier by adding belt-related products to its line-up. The sales of the pulley in FY2018 was about 300 million JPY, but the supplier aims to reach an annual sales of 600 million JPY by FY2021. As a step, it invested 500-600 million JPY in related facilities, including its subsidiary, Mitsuboshi Belting Kohki, to establish a mass production system for this particular product.
The consolidated sales result of FY2019 declined 1.3% year-on-year to 71.1 billion JPY, and the operating income fell by 10.2% to 7.3 billion JPY. Of this, sales in the automotive belt section were 30.3 billion JPY, which increased by 0.1% year-on-year. Although there was an increase in demand for new products in Japan and motorcycles in Southeast Asia, the sales result remained about the same as the previous fiscal year due to the impact of exchange rates. The impact of the new coronavirus seemed to be minor in FY2019. However, the pandemic may have a serious effect on the fiscal year 2020 since oversea factories halted after March 2020 except China.
Mitsuboshi Belting: Recent Business/Achievements
Management Strategy and Performance
Medium- to Long-term Management Strategy
・Mitsuboshi will continue to promote the following measures in FY2020 as a medium- to long-term management strategy: - Improve asset efficiency and strengthen finance - Accumulate basic technology and speed up product development, and strengthen R&D system and technological capabilities - Enhance the production system and R&D functions and establish a new production system with unique advantages - Work to establish a global optimal production system and acquire cost competitiveness - Streamline domestic and overseas sites and strengthen production, sales and distribution systems - Actively promote year-round recruitment to secure human resources - Conduct environmental conservation activities and contribute to societies
Medium-term Guideline and Achievement Evaluation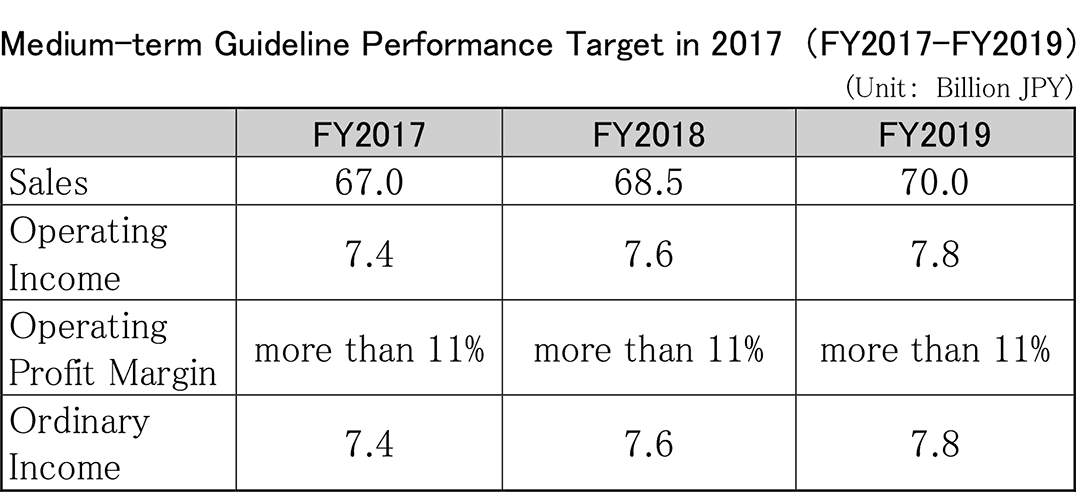 ・Mitsuboshi has set the FY2019 performance targets at sales of 70 billion JPY and operating income of 7.8 billion JPY in the 2017 medium-term guideline (2017-2019) announced in April 2017. - Development and sales expansion of V-ribbed belts and functional parts are set as measures to expand sales of automobile products. - In FY2018 (sales of 72 billion JPY, operating income of 8.1 billion JPY), the final year target was achieved ahead of schedule. - In FY2019, consolidated sales fell by 1.3% year-on-year to 71.1 billion JPY, and operating income dell by 10.2% to 7.3 billion JPY. As of June 2019, the forecast for sales was to decrease by 4.9% year-on-year to 68.5 billion JPY and operating income to decrease by 6.5% year-on-year to 7.6 billion JPY due to trade friction between the US and China. As of January 2020, overseas sales were strong and reached the sales target of 70 billion JPY, but not operating income. - Sales of automobile belts in FY2019 increased by 0.1% year-on-year to 30.3 billion JPY. Domestic demand in automobile belts grew due to increased sales of new products and adoption in new models. Sales of automobile belts for overseas markets were strong for motorcycles in Southeast Asia.
Capital Investment
Investing on the Pully Production Site in Kobe
・In 2019, the production facility for generator pulleys (alter damper pulleys) in Kobe was expanded. - Investment amount: 500-600 million JPY - Aim to double the sales of the generator pulley business to 600 million JPY in 3 years (compared to FY2018). - Mitsuboshi Belting developed the alter damper pulley in 2016. By absorbing the vibration of engine rotation with a coil spring, the noise of the belt can be suppressed. Durability and fuel economy are also improved.
Personnel Reform
Chairperson Retirement
・On June 27, 2019, Chairman NISHIKAWA Norio Nishikawa retired as representative director and was assigned to be an advisor (honorary chairman). - The retirement is to coincide with the 100th anniversary of the company's founding. The chairmanship is vacant. - The first advisory position set up since its founding.
(Created using documents of Mitsuboshi Belting and various media sources)