AAA weekly
2021-04-26
Copyright FOURIN, Inc. 2023
India's Automobile Production Declines 25 Percent to 3.39 Million Units in 2020, the Lowest Level Since 2009
In 2020, automobile production in India decreased 25.0% from the previous year to 3.39 million units. The impact of the nationwide lockdown implemented by the government in late March 2020 to fight the new coronavirus infection resulted in a significant drop in domestic sales and a 40% decline in CBU exports in the first half of the year. Automobile production fell to the lowest level since 2009 when the Lehman Shock devastated the global economy. Even before the pandemic, India's production and sales of automobiles were in a contraction phase due to the slowdown of economic growth and the rise in vehicle prices accompanying the tightening of automobile-related regulations. As a result, India experienced an extremely severe double-digit decline for two consecutive years.
However, from the second half of 2020, automobile production began to recover, driven by the recovery in domestic sales. Automobile production in India in the second quarter of 2020 (April-June) dropped sharply by 84.7% year-on-year due to the impact of the lockdown, but the rate of decline shrank to 5.1% in the third quarter (July-September) and sales increased 21.2% in the fourth quarter (October-December) to 1.23 million units. The supply chain in India, which was damaged by the pandemic, and the shortage of onboard semiconductors remain obstacles, but the scale of production is gradually recovering.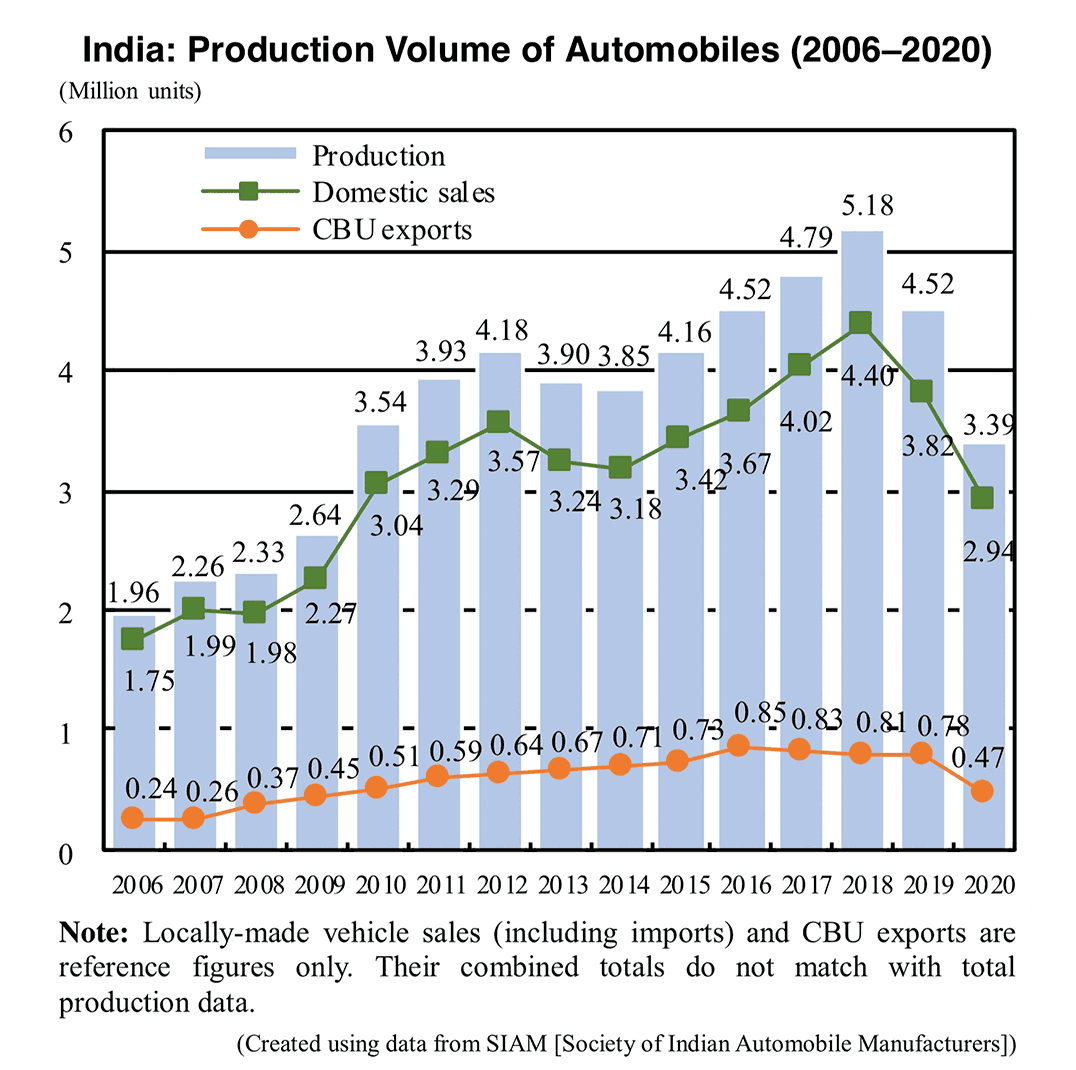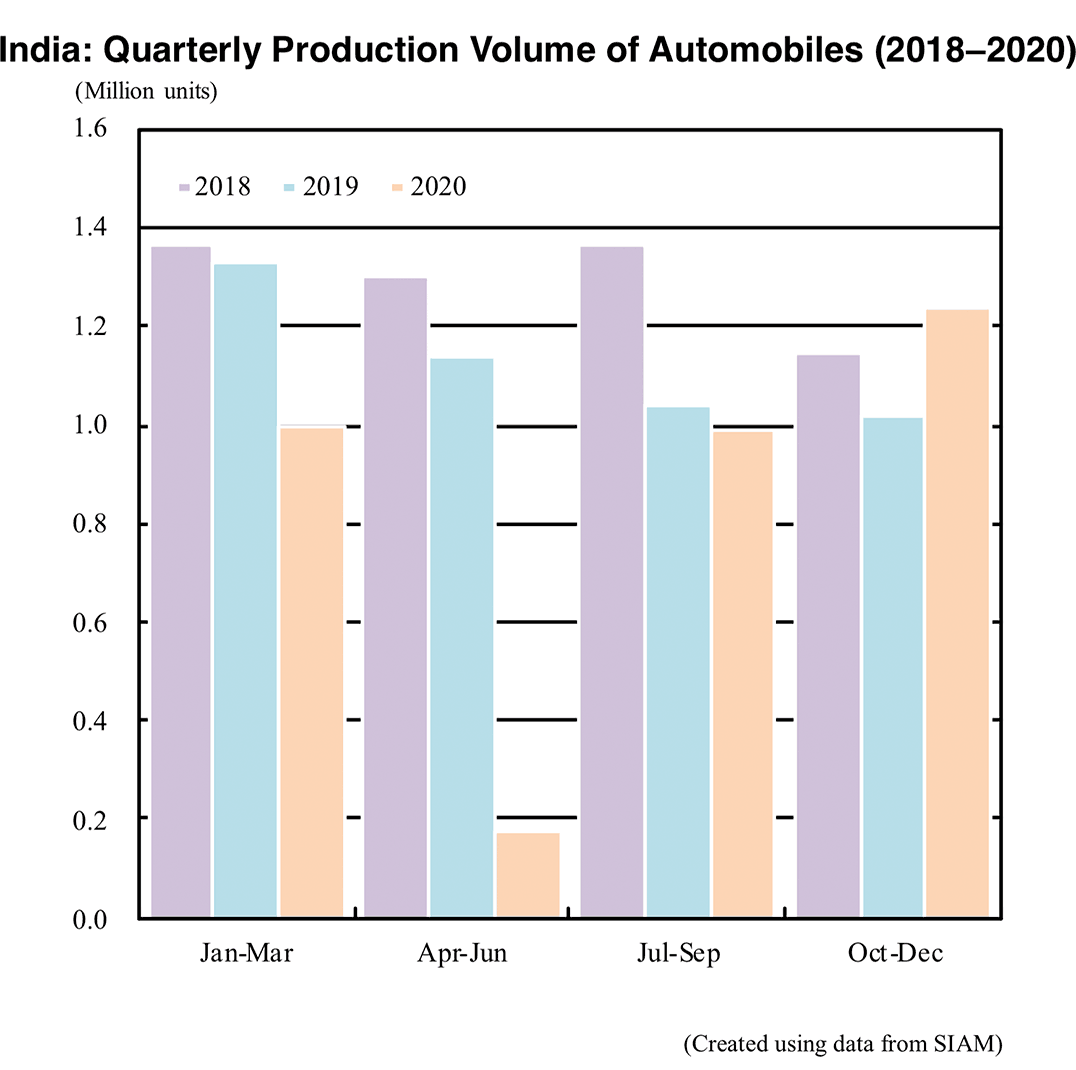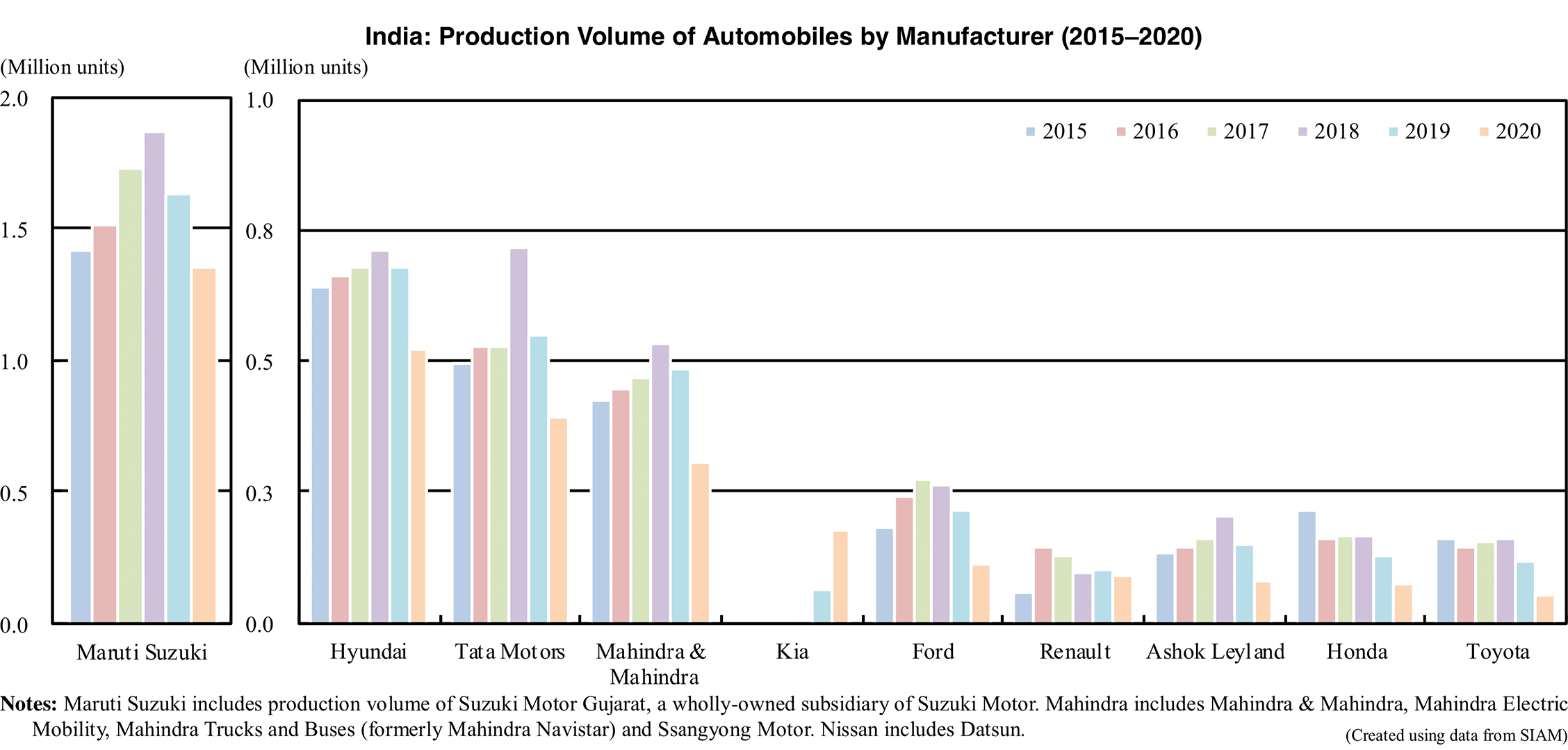 Production by Vehicle Type
Looking at automobile production by vehicle type in 2020, passenger vehicles decreased 21.5% to 2.85 million units and commercial vehicles fell 39.3% to 543,000 units, commercial vehicles falling significantly. In response to India's new emission regulation BS6 introduced in April 2020, prices of diesel vehicles increased more than those of gasoline vehicles, which may have had a strong impact on the sales of commercial vehicles, which account for the majority of diesel vehicles.
In the passenger vehicle segment, passenger cars (sedans and hatchbacks) went down 26.2% to 1.71 million units, while utility vehicles (SUVs and MPVs) dropped 10.2% to 1.04 million units. Small SUVs with a total length of 4.4m or less, the top-selling segment in India, decreased only 2.8% to 867,000 units.
Production by Manufacturer
Looking at automobile production by manufacturer, Maruti Suzuki, India's largest automaker, fell 17.2% to 1.35 million units. Domestic sales of low-priced passenger cars, such as the Swift and Alto, were relatively robust despite the pandemic, so the scale of production cuts was smaller compared to other automakers. Suzuki was followed by Hyundai (down 23.6% to 521,000 units), Tata Motors (down 28.5% to 394,000 units), and Mahindra & Mahindra (down 36.7% to 306,000 units).
It is noteworthy that Kia, which began local production in 2019, manufactured 177,000 units in 2020, ranking fifth in total automobile production and third in passenger vehicle production in India. The Seltos small SUV grew more popular than expected, establishing a strong presence in the first year of entry.