AAA weekly
2020-09-14
Copyright FOURIN, Inc. 2023
India's Automobile Sales in the First Half of 2020
In the first half of 2020, India's automobile sales fell 51.8% compared to the same period of the previous year to 987,000 units. It is the first time since 2007 that sales dropped below 1 million units in the first half of the year. The lockdown measure, which was implemented by the government to prevent the spread of new coronavirus infection, mandated automakers to temporary halt production and sales from the end of March 2020 until early May. As a result, the market nosedived in the first six months of 2020.
Looking at data on a monthly basis, sales declined for 20 consecutive months from November 2018 to June 2020. Prolonged market slump due to economic slowdown from the second half of 2018 and the introduction of stricter emission regulations in April 2020 worsened by the outbreak of the new coronavirus.
In 2020, sales are forecast to decline some 40% to around 2.35 million units. Since the nationwide lockdown measure was eased in May 2020, the decline in vehicle sales bottomed out in April 2020. However, since the infection is continuing to expand and economic growth in the fiscal year ending March 2021 is projected to drop into the red, full-year sales are expected to significantly decline.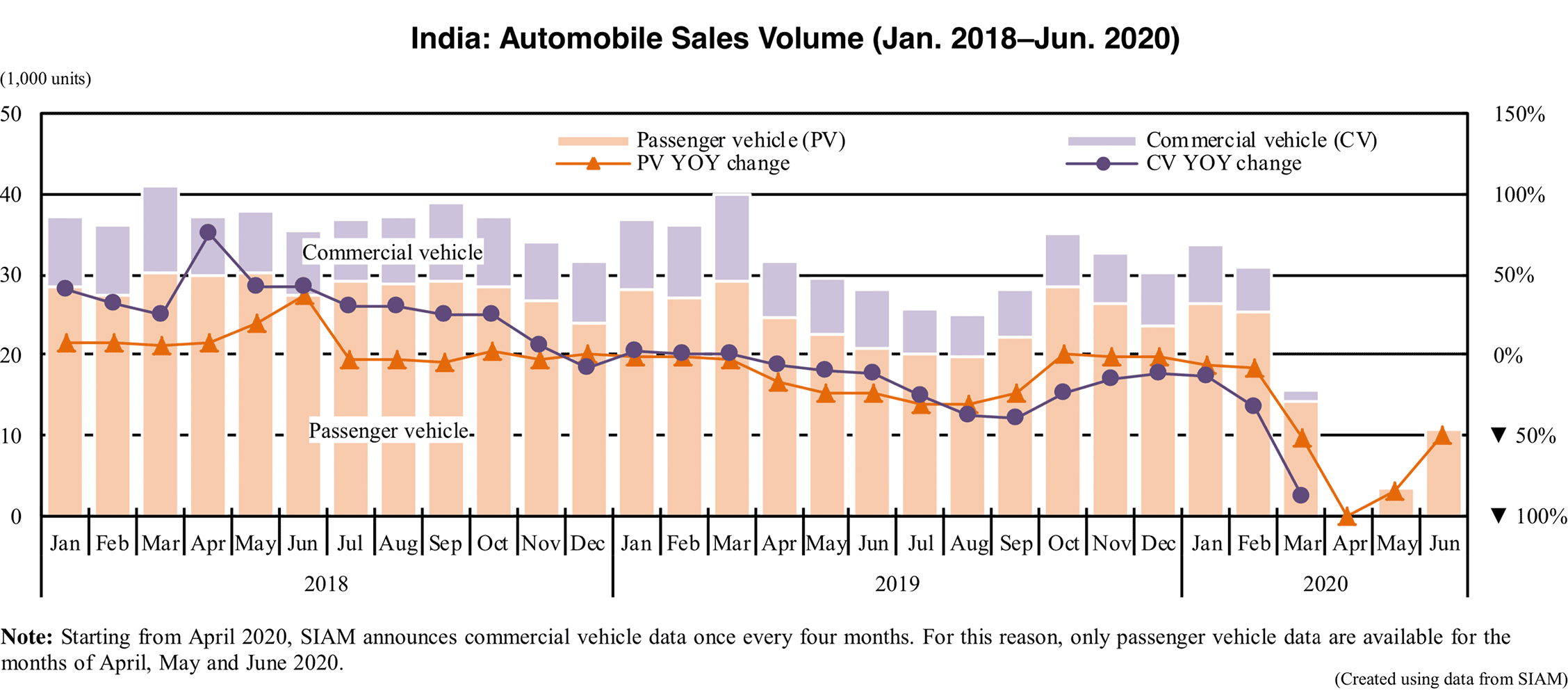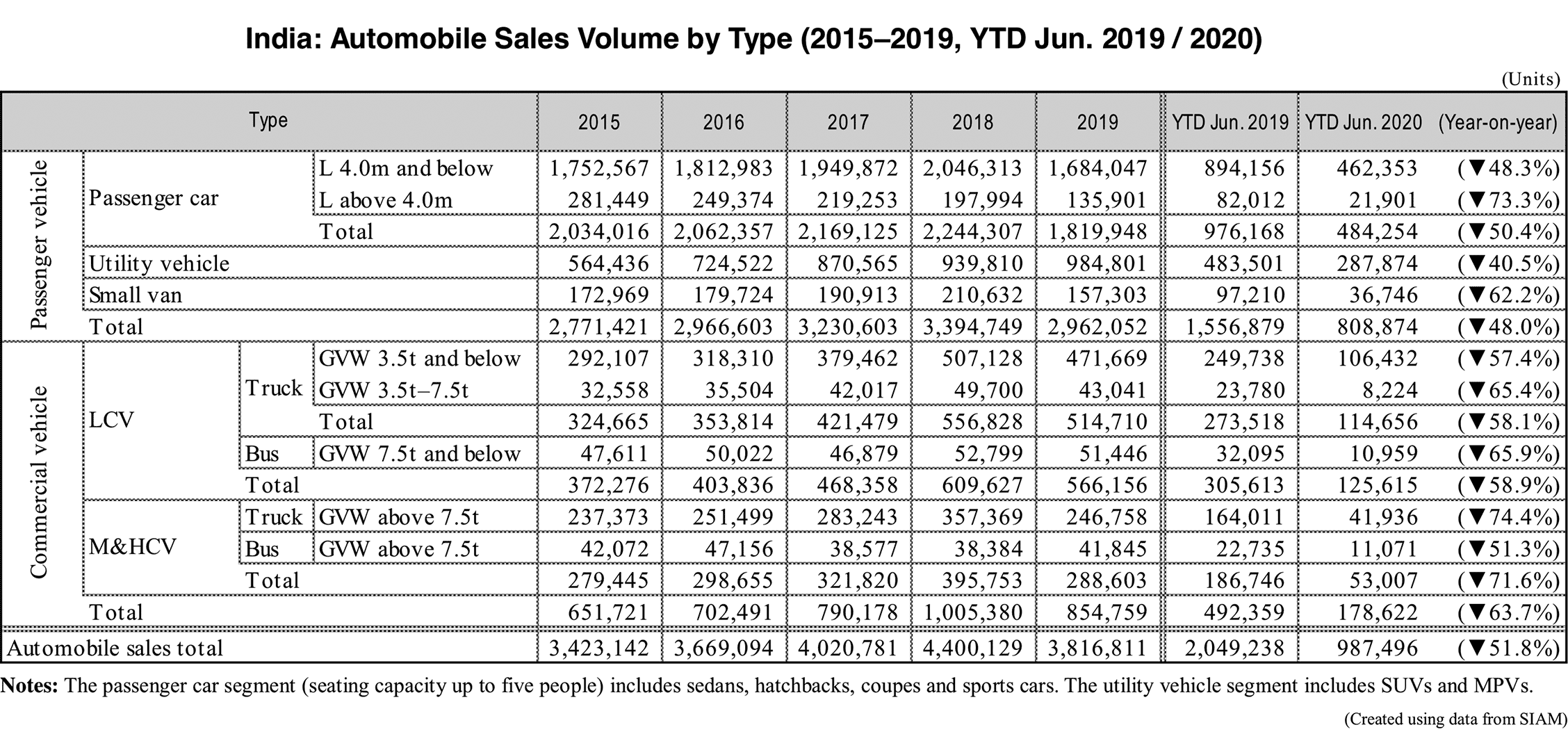 Sales results by vehicle type
Looking at sales data by vehicle type in the first six months of 2020, passenger vehicles dropped 48% to 809,000 units, of which passenger cars (sedans, hatchbacks, coupes and sports cars) fell 50.4% to 484,000 units and small vans declined 62.2% to 37,000 units. Meanwhile, the rate of decline of utility vehicles (SUVs and MPVs) was somewhat lower, going down 40.5% to 288,000 units. Within the utility vehicle segment, sales of the 4,000 to 4,400mm class, which is defined as UV1 by the Society of Indian Automobile Manufacturers (SIAM), have been steady. The rate of decline of the UV1 class, going down 24.7% to 113,000 units, was significantly lower compared to overall decrease in demand for utility vehicles.
Commercial vehicles decreased 63.7% to 179,000 units, of which light commercial vehicles (GVW 7.5t and below) fell 58.9% to 126,000 units, and medium and heavy commercial vehicles (GVW above 7.5t) dropped 71.6% to 53,000 units.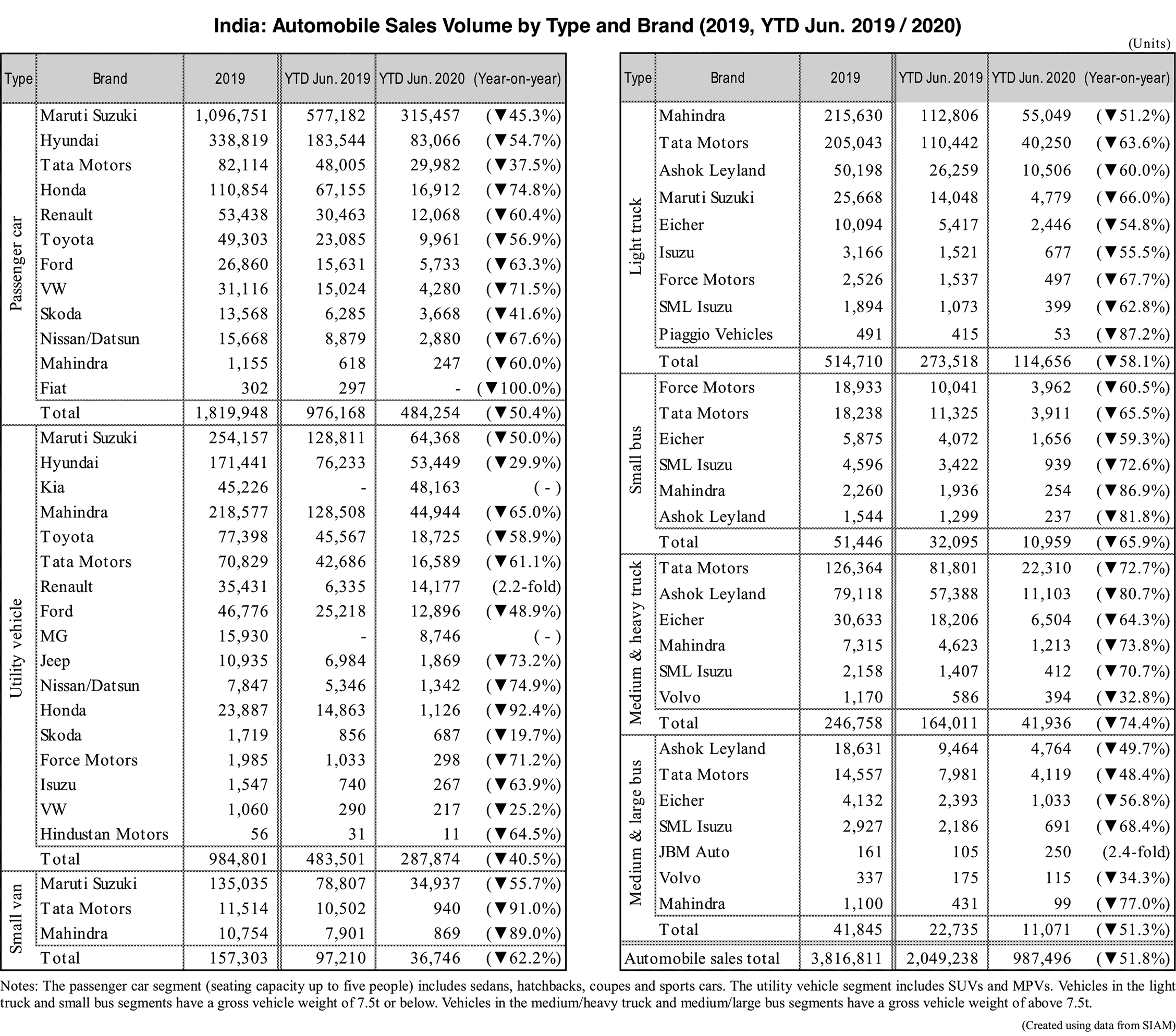 Sales results by vehicle brand
Looking at sales data by vehicle brand in the first six months of 2020, market-leader Maruti Suzuki fell 47.5% to 420,000 units. Maruti Suzuki decreased 50% in the utility vehicle segment and 55.7% in the small van segment. In the passenger car segment, the brand's rate of decline was lower compared to the drop of the overall market, enabling Maruti Suzuki to raise market share 3.5pp to 42.5%. Hyundai, ranked second, dropped 47.4% to 137,000 units. Thanks to the release of the Venue small SUV in May 2019, the brand's market share increased 1.1pp to 13.8%. Hyundai was followed by Tata (down 62.2%), Mahindra & Mahindra (down 60%) and Kia which entered the Indian market in 2019. Kia's two models the Seltos, launched in August 2019, and the Carnival, released in February 2020, performed well, selling a total in 48,000 units.