AAA weekly
2020-04-13
Copyright FOURIN, Inc. 2022
Japanese Luxury Brands in China: Lexus, Infiniti, Acura Focus on Expanding Their Product Lineup
In China, the number of new vehicle registrations of the three Japanese luxury brands, Lexus, Infiniti and Acura, increased 5.2% year-on-year in 2019 to 230,000 units. Lexus went up 8.2% to 178,000 units driven up by the ES series and NX200t among other models. Infiniti dropped 12.3% to 38,000 units, dropping below 40,000 units for the first time in four years. Although locally-made SUVs and imported sports cars increased, other models declined. Acura increased 30.7% to 13,000 units. Despite a double-digit decline in imported vehicle sales, locally-made models sold well.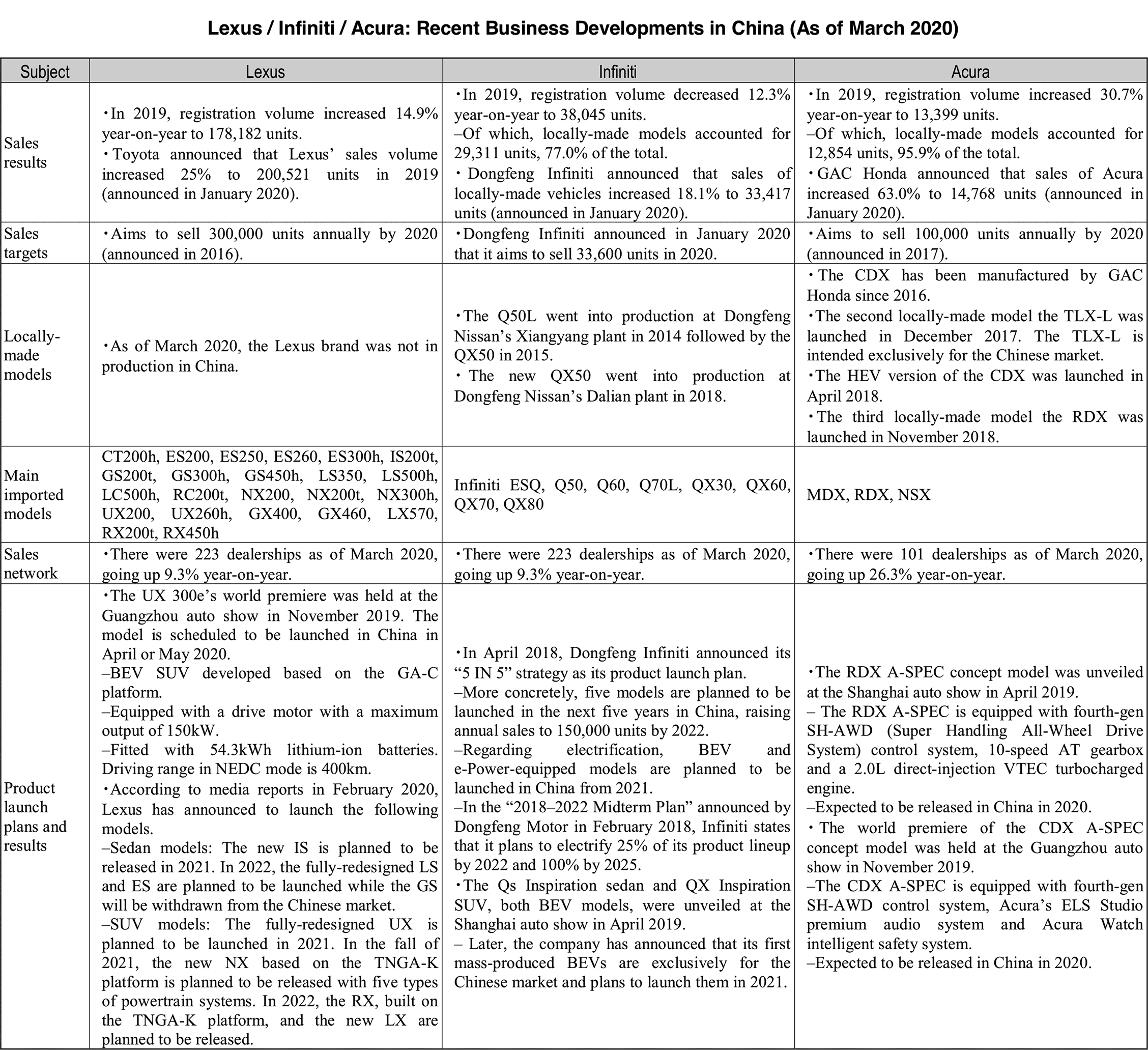 The three Japanese luxury brands are focusing on launching new products, including electric vehicles. Along with its electrification strategy, Lexus held world premiere of the UX 300e, a BEV equipped with a 150kW drive motor and 54.3kWh lithium-ion battery, at the Guangzhou auto show in November 2019. The model is planned to be released in the Chinese market in April–May 2020. The company also announced a product plan in February 2020. Lexus plans to fully redesign or upgrade sedans and SUVs including the ES and UX models in the next two years. Infiniti announced in April 2018 that it will launch five models in the Chinese market in the next five years, and will launch the first BEV in the Chinese market in 2021. In addition, the automaker will electrify 25% of its product lineup by 2022, increasingly its rate of electrification to 100% by 2025. As part of this plan, the Qs Inspiration concept BEV sedan and the QX Inspiration concept BEV SUV were unveiled at the Shanghai Motor Show in April 2019. At the Guangzhou auto show in November 2019, Acura introduced the CDX A-SPEC and RDX A-SPEC concept models which are equipped with fourth-gen SH-AWD (Super Handling All-Wheel Drive System) control system, 10-speed AT gearbox and a 2.0L direct-injection VTEC turbocharged engine.

In light of growing sales, Lexus also expanded its sales network. As of March 2020, Lexus had 223 dealerships, going up 9.3% year-on-year. As of March 2020, Infiniti had 120 stores, going down 7.0% year-on-year due to a significant drop in sales in 2019. Acura increased 26.3% year-on-year to 101 stores thanks to a significant increase in sales of locally-made models and an increase in brand recognition.