AAA weekly
2020-03-09
Copyright FOURIN, Inc. 2023
China's SUV Market: Chinese Share Declines; EU, Japanese Companies Expand Sales
The Chinese SUV market has been growing since 2010 at a rate much faster than the overall passenger vehicle market. Despite the contraction of the passenger car market in 2019, new SUV registrations from January to November rose 2.7% year-on-year to 8.34 million units, maintaining a share of more than 40% in the passenger vehicle market. Chinese SUVs, whose registration volume stood at 5.23 million units in 2017 and had a market share of 52.8%, have been shrinking ever since. From January to November 2019, Chinese SUV sales decreased 4.7% to 3.93 million units, their market share falling below 50%. On the other hand, Japanese and European companies have succeeded in strengthening the launch of products that meet local needs, both increasing registration volume and market share since 2016. SUV registrations for European brands from January to November 2019 increased 27.6% to 1.83 million units, and Japanese companies increased 11.3% to 1.74 million units.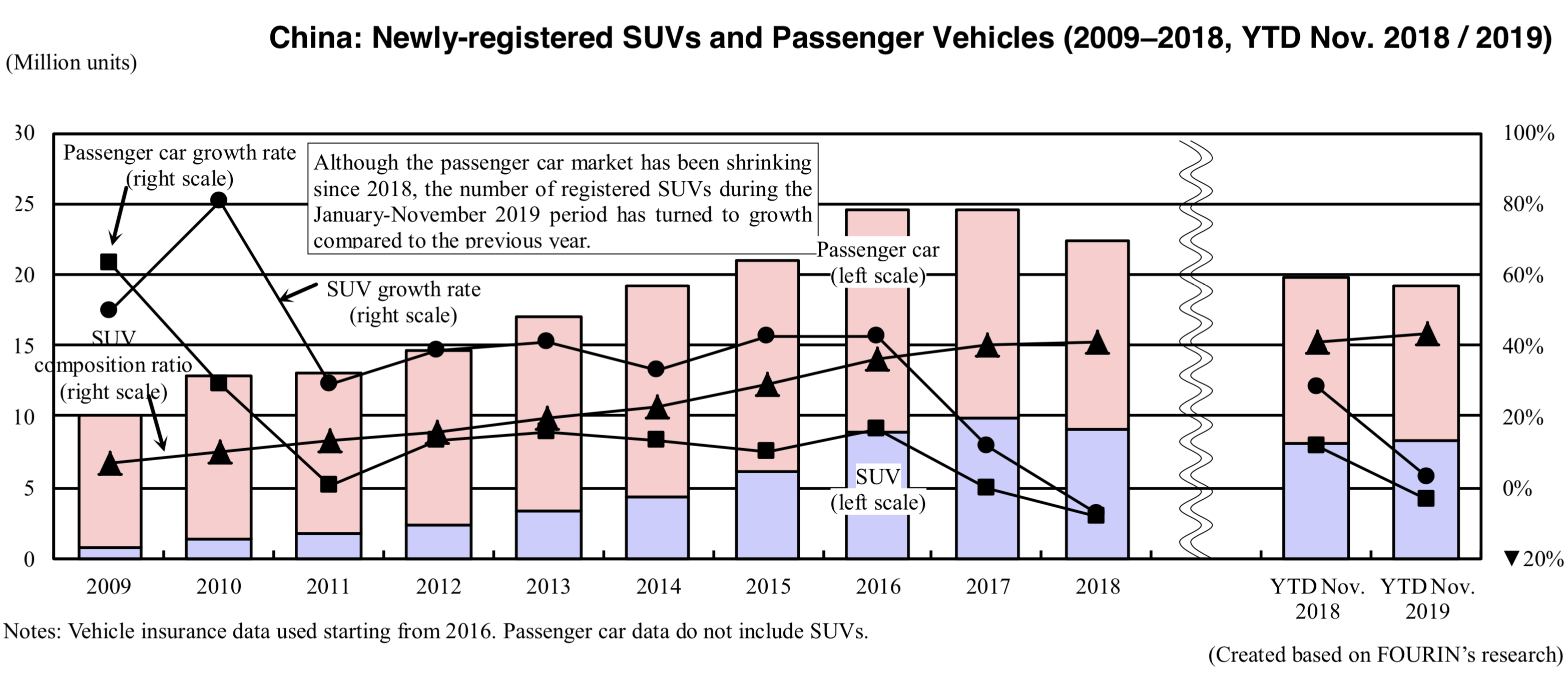 Chinese brands maintain top position in B-SUV and C-SUV segments, Japanese brands lead the D-SUV segment Looking at the number of registered SUVs by segment, C-SUVs (length: 4.3m–4.8m) dominated the SUV market, registered units increasing in the January-November 2019 period 3.4% to 5.87 million units. The market share of C-SUVs remained over 70%. B-SUVs (length: 4.3m and below) captured nearly 20% of the market. The market share of D-SUVs (length: 4.8m and above) was around 10%, showing a tendency of decline. In the B-SUV segment, Chinese companies had a market share of over 90% until 2012, but foreign brands have entered the market and expanded their share since 2013. As a result, Chinese share dropped below 50%. Looking at EU brands, VW has stepped up its presence in the segment from 2018. Brisk sales of FAW-VW's T-Roc (launched in July 2018), and SAIC VW's Tharu (launched in October 2018) and T-Cross (launched in April 2019) models pushed up VW's market share from January to November 2019 to 18%. In the C-SUV segment, Japanese and European companies maintained a combined share of more than 50% until 2013, but Chinese companies have dominated around 50% of the market by active product launches by since 2015. In the D-SUV segment, Japanese automakers have an extensive product lineup, including imported and locally-made models. The segment is driven by popular Japanese models such as the Toyota Highlander, Lexus RX200t and Honda Avancier, Japanese brands capturing top share in the segment since 2017.
Chinese share drops below 50%, while foreign brands gain momentum
In the Chinese SUV market, Chinese brands that quickly adjust to the changing preferences of local users have a market share of nearly 50%, but the growth of foreign brands is also accelerating. Out of the top 10 SUVs from January to November 2019, the number of Chinese models decreased from five in 2018 to four, while the number of foreign models increased to six. As for the Chinese brands, Great Wall's Haval H6 maintained its top position while the Geely Boyue, Changan CS75 and SAIC-GM-Wuling's Baojun 510 ranked at sixth, seventh and eighth places. Looking at foreign brands, Dongfeng Honda's CR-V, Dongfeng Nissan's X-Trail and Qashqai, and SAIC VW's Tiguan ranked second, third, fourth and fifth. FAW-VW's Tayron, launched in July 2018, took ninth place. Foreign automakers strengthen low-priced products, Chinese firms bolster high-end lineup.
The advantage of Chinese SUVs is their low price with entry prices mostly concentrated in the low price range of around 60,000 to 110,000 Chinese yuan. Conversely, the entry price of most foreign marques starts from 150,000 yuan. In recent years, however, the introduction of budget models by foreign companies and the launch of high-end products by Chinese companies has been on the rise.
FAW-VW expanded its user base by setting the entry price of its first SUV, the T-Roc, at 136,000 yuan which is lower than that of other foreign models. As a result, the registration volume of FAW-VW models increased 4.9-fold to 109,000 units from January to November 2019.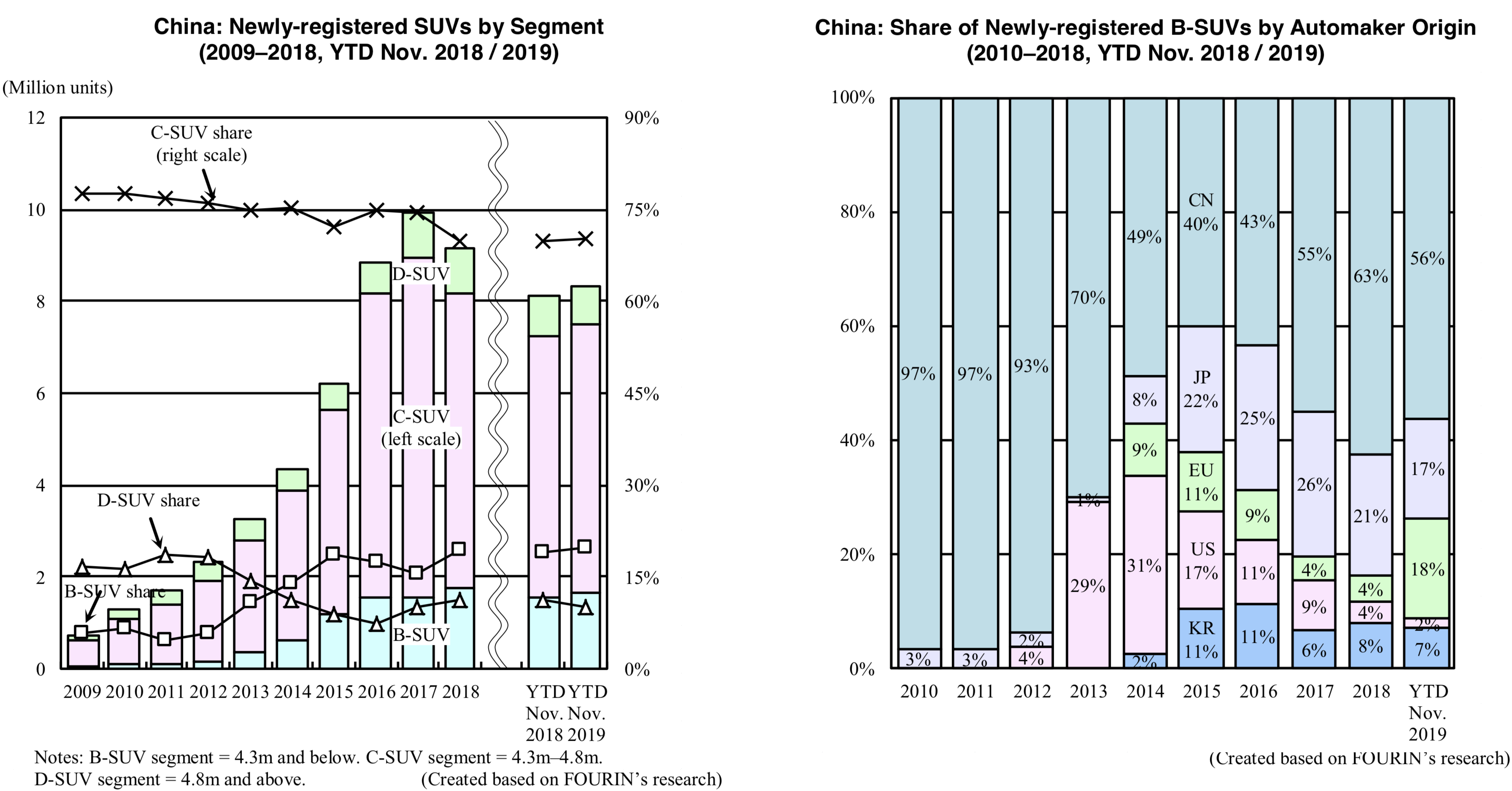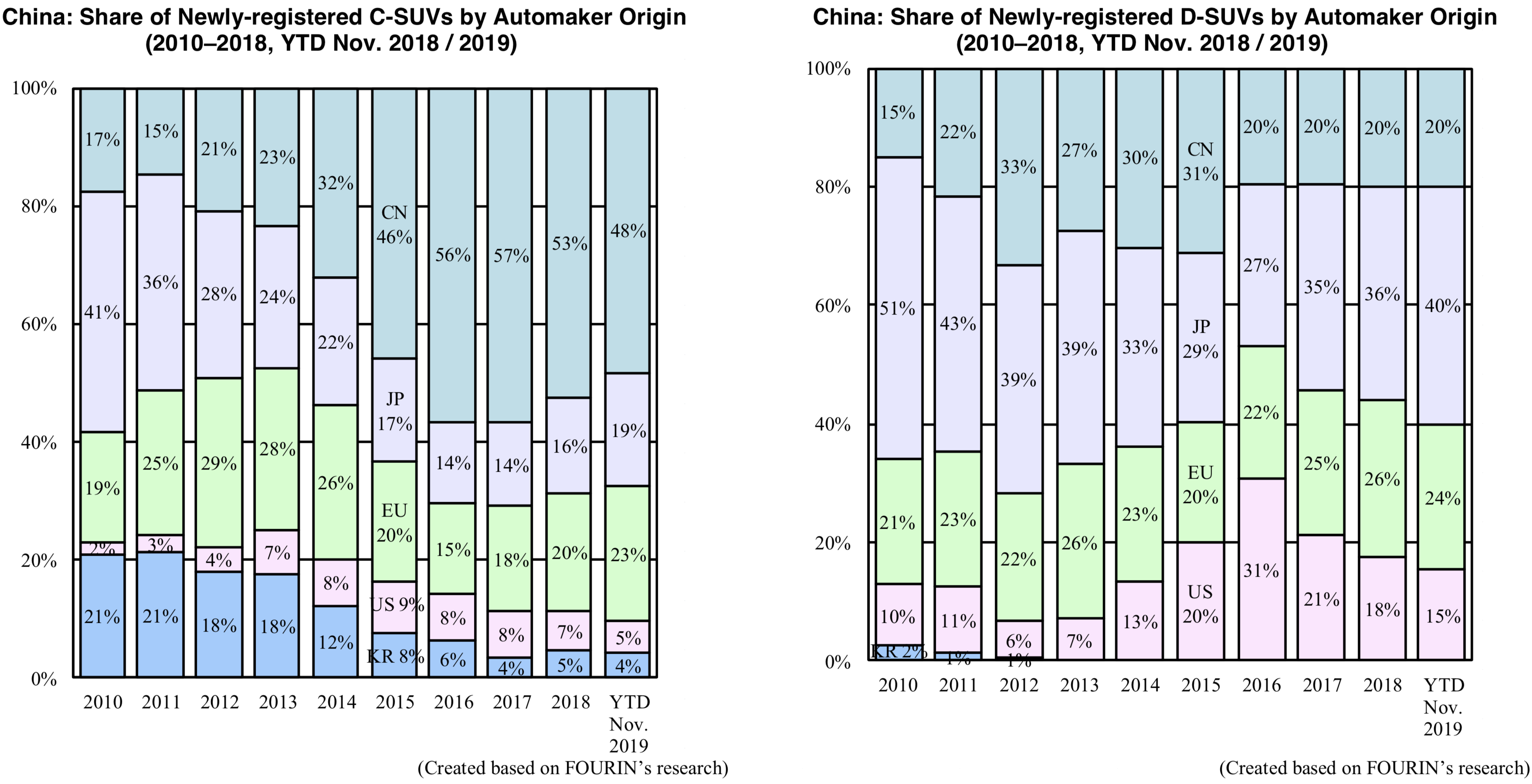 In 2019, Ford's local affiliate Jiangling Motors launched the Territory with a price ranging between 109,000 and 167,800 Chinese yuan. VW's local subsidiaries FAW-VW and SAIC VW released the Jetta VS5 and T-Cross respectively, covering the 80,000–160,000 yuan price range. On the other hand, Chinese automaker FAW launched the Red Flag HS5 in May 2019, with a selling price ranging between 183,800 and 249,800 yuan. Geely Automobile introduced the Xingyue in the same month with a sales price exceeding 130,000 yuan. Emerging BEV maker NIO launched the ES6, positioning it as a high-end BEV, setting its selling price above 358,000 yuan.
Although the overall Chinese vehicle sales are weakening, SUVs are expected to support the market with their high share in 2020. Chinese manufacturers such as Geely and Chery are rushing to launch new products in order to increase their share in the SUV market. Similarly, Toyota, VW and GM are also releasing new models in an effort to capture a larger share of the SUV market.