AAA weekly
2020-09-14
Copyright FOURIN, Inc. 2023
Japan's Automobile Sales in the First Half of 2020
Japan's automobile sales in the first six months of 2020 fell 19.8% compared to the same period in 2019 to 2.2 million units. Amid sluggish market conditions due to the introduction of higher consumption tax rates in October 2019, new-vehicle effect of the Toyota Yaris and Honda Fit, launched in February 2020, was expected to boost sales; however, the outbreak of the new coronavirus in March overshadowed new vehicle demand. Monthly decrease compared to the same month of the previous year was 9.3% in March, 28.6% in April, 44.9% in May and 22.9% in June. The rate of decrease in May was the second highest after the 47.3% decline in May 2011 recorded immediately after the Great East Japan Earthquake.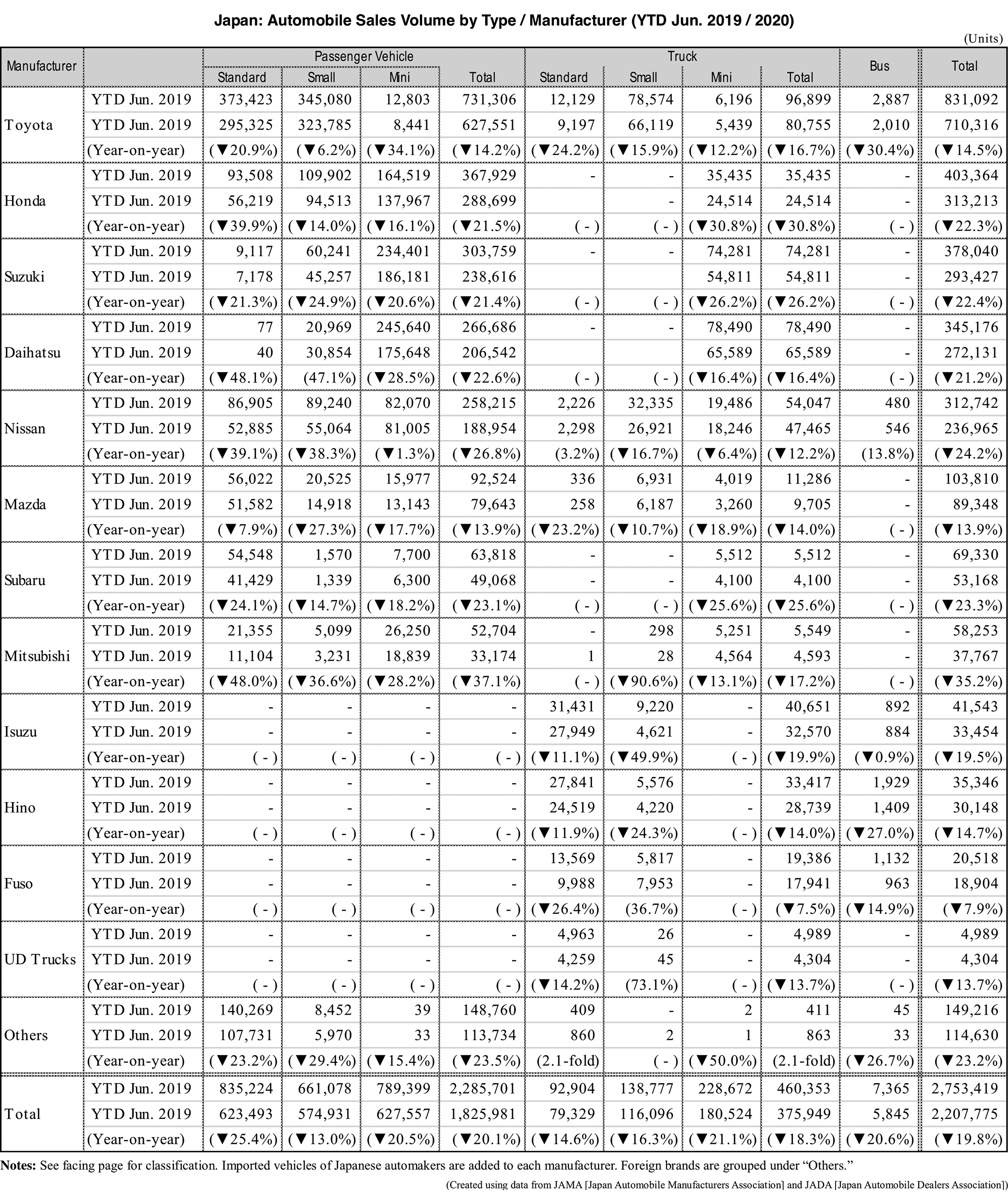 Looking at sales data by vehicle type, passenger vehicles dropped 20.1% to 1.82 million units. Of which standard vehicles (above 2,000cc) fell 25.4% to 632,000 units, small vehicles (661cc-2,000cc) declined 13% to 575,000 units and mini vehicles (660cc and below) dropped 20.5% to 628,000 units. The rate of decline of the small segment was relatively small due to the launch of the all new Toyota Raize in November 2019 and the release of fully-redesigned Honda Fit and Toyota Yaris (previously sold as the Vitz in Japan) in February 2020. The Toyota Raize was top model in the standard segment and the fifth among all passenger vehicles. Looking at sales data by manufacturer, the top three automakers Toyota, Honda and Suzuki dropped 14.5% to 710,000 units, 22.3% to 313,000 units and 22.4% to 293,000 units respectively. Suzuki's rate of decline in June was the smallest at 6.7%. The automaker tried to recover production by eliminating backorders. Suzuki was followed by Nissan (down 21.3%) and Toyota (down 22.7%). Mitsubishi suffered the highest drop in June, going down 36.7%.

The situation will remain critical in the second half of 2020 due to the rising number of new coronavirus infections in Japan. However the release of the fully-redesigned Toyota Harrier in June 2020 and Toyota's effort to actively leverage new vehicle sales by introducing incentives for a limited time may improve sales. FOURIN forecasts that demand will recover from October onward, sales declining some 10% to 4.73 million units.