AAA weekly
2022-03-09
Copyright FOURIN, Inc. 2023
India's Vehicle Sales Increased 27.9% to Around 3.76 Million Units in 2021
This report includes information on the following topics:
Key images:

India
vehicle sales
increase
units sold
year-on-year increase
wholesale data
SIAM
coronavirus pandemic
Covid-19
Delta variant
parts shortage
semiconductor shortage
pandemic lockdown
postponed vehicle purchases
rise in demand
CNG-powered vehicles
electric vehicles
EV sales
all-time high sales in 2021
new vehicle registration data
VAHAN
India's Ministry of Road Transport & Highways
HEV
MHEV
BEV
India: Sales Volume of Automobiles by Type (2012-2021)
commercial vehicles
passenger vehicels
India: Sales Volume of Automobiles (Q1 2018-Q4 2021)
developments in India's automobile market in 2021
Covid reemergence
decrease in production and sales of automobiles
interruption of business activities
electronic components
sales results by powertrain type
privately-owned automobiles
gasoline
diesel
automobile registration database
Land Transport Offices
data aggregation
MoRTH [Ministry of Road Transport and Highways]
India: Sales Volume of Automobiles by Type (2016-2021)
L below 4.0m
L 4.0m and above
utility vehicles
SUV
MPV
small vans
LCV
M&HCV
trucks
buses
GVW 3.5t and below
GVW 3.5t-7.5t
GVW above 7.5t
sedans
hatchbacks
coupes
sports cars
India: Top 15 Automobile Models by Sales Volume (2021)
Honda
Amaze
City
Hyundai
Aura
Creta
Elite i20
Grand i10
Venue
Kia
Seltos
Sonet
Mahindra & Mahindra
Bolero
Scorpio
Thar
XUV300
Maruti Suzuki
Alto
Baleno
Celerio
Dzire
Ertiga
Ignis
S-Presso
Swift
Vitara Brezza
WagonR
XL6
Nissan
Magnite
Renault
Triber
Tata Motors
Altroz
Nexon
Tiago
Toyota
Innova
India: Sales Volume of Automobiles by Type and Brand (2016-2021)
luxury vehicle brands
Audi
Mercedes-Benz
BMW
MINI
SML Isuzu
India: Market Share of Passenger Cars and Utility Vehicles by Brand (2012–2021)
India: Sales Volume of Automobiles by Segment and Brand (2020 / 2021)
segment classification
compact
super compact
mid-size
executive
premium
UVC
UV1
UV2
UV3
UV4
UV5
V1 (hard top)
V2 (soft top)
exotics
India: Market Share of LCVs and M&HCVs by Brand (2012–2021)
India's vehicle sales increased 27.9% year-on-year to 3,759,540 units in 2021 (based on wholesale data released by SIAM). Although the rapid reemergence of the new coronavirus infection caused by the outbreak of Delta strains and the shortage of automobile parts, including semiconductors, weakened sales in 2021, India's nationwide lockdown in the previous year, which forced people to postpone vehicle purchase, generated strong demand. As a result, sales recovered to the pre-corona level of around 3.8 million units.
CNG-powered and electric vehicle sales reached historic high levels in 2021. According to new vehicle registration data released by VAHAN, a website operated by India's Ministry of Road Transport & Highways, the sales of CNG-powered vehicles went up 48.5% to 202,299 units, HEV / MHEV models rose 41.9% to 121,848 units and BEVs increased 3.7-fold to 11,672 units.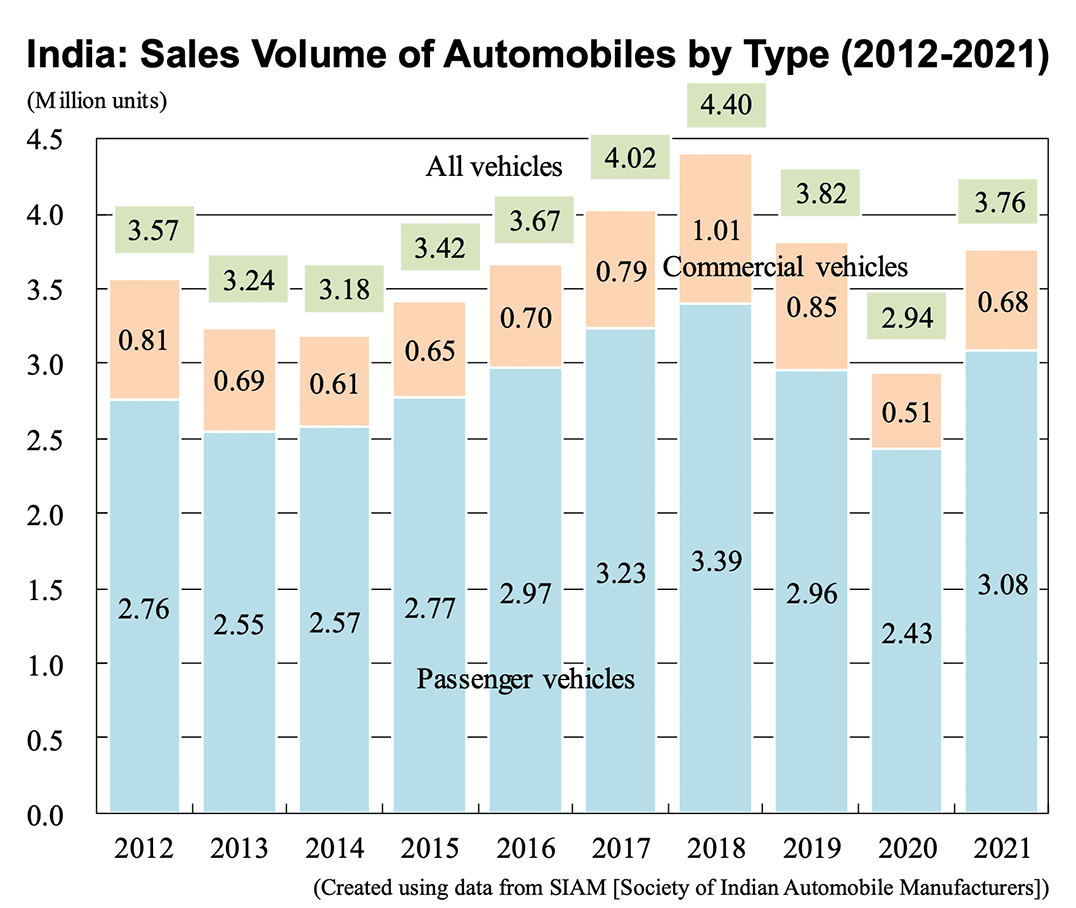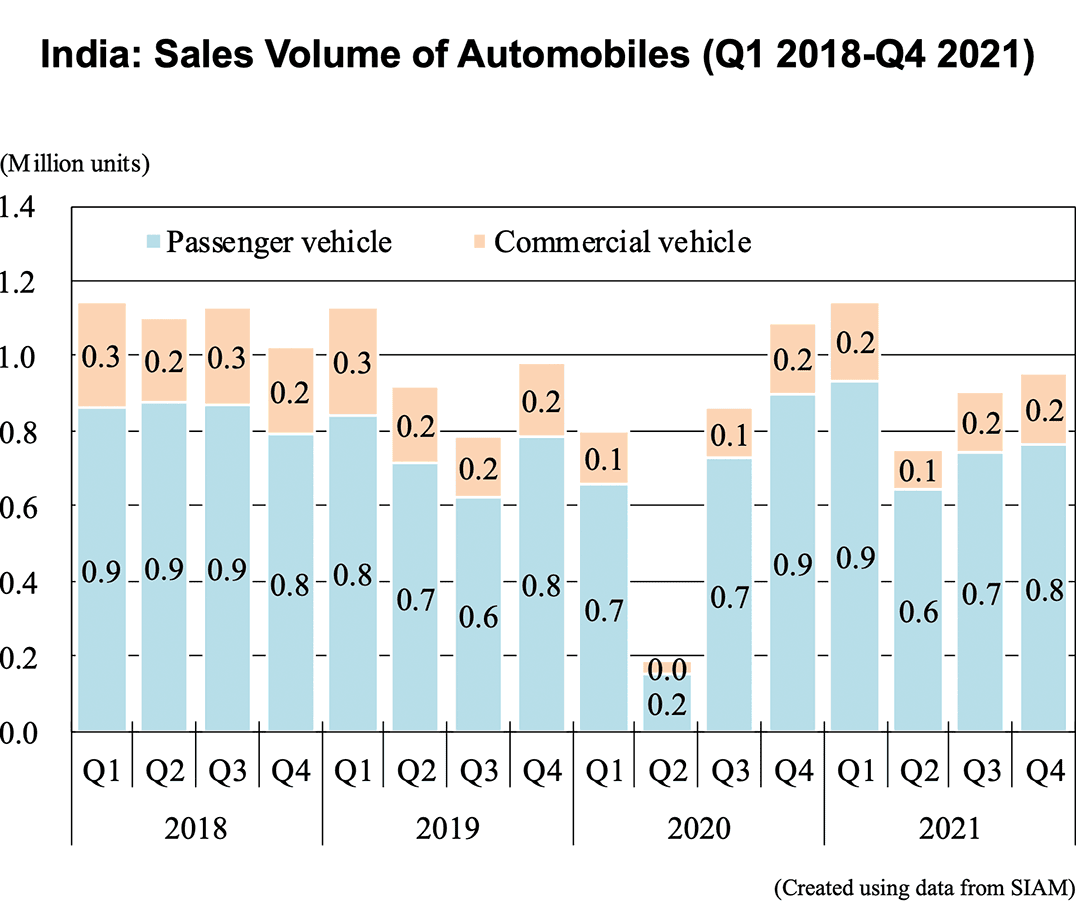 India: Recent Developments in the Automobile Market (2021)
Reemergence of the new coronavirus infection
・From late April to mid-June 2021, the production and sales of automobiles decreased due to the outbreak of the delta strain of the new coronavirus. - The suspension of production to prevent infection of employees and the partial lockdown implemented by local governments resulted in the interruption of business activities. - Automobile sales from April to June 2020 decreased by 34.3% from the previous quarter to 752,000 units (three times higher compared to the same period of the previous year when the nationwide lockdown was implemented).
Insufficient semiconductor supply
・In the latter half of 2021, the shortage of parts including semiconductors became acute in India, hampering the production and sales of automobiles. ・Maruti Suzuki, India's largest automaker, reduced production by about 200,000 units in the second half of 2021 due to the insufficient supply of electronic components including semiconductors (of which 116,000 units in the July-September period and 90,000 units in the October-December period).
Sales results by powertrain type
・Based on data released by VAHAN, new registration of privately-owned automobiles increased 22.9% year-on-year to 2.73 million units in 2021. The rate of increase of CNG-powered and electric vehicles surpassed the overall growth of new vehicle registrations. ・Sales of CNG-powered vehicles increased 48.5% to 202,299 units. Demand increased mainly for fleet use against the backdrop of soaring fuel prices and rising diesel vehicle prices due to tightening emission regulations. ・HEV / MHEV sales rose 41.9% to 121,848 units and BEV sales went up 3.7-fold to 11,672 units. ・See table below for more details.