AAA weekly
2020-03-16
Copyright FOURIN, Inc. 2023
Malaysia's Automobile Market in 2019: Overall Sales Went Up 1% to 600,000 Units
Malaysia's automobile sales rose 1.0% year-on-year to 604,000 units in 2019. Although sales have not returned to the 2013-2015 level of over 650,000 units, it has surpassed 600,000 units for the first time in four years. Looking at the breakdown by vehicle type, SUV sales excelled noticeably. In terms of brands, Perodua, Proton and Toyota increased significantly compared to the previous year.
By vehicle type, passenger vehicles increased 3.2% to 550,000 units. Of which, passenger cars dropped 2.2% to 382,000 units and MPVs declined 36.2% to 41,000 units. On the other hand, SUVs went up 64.8% to 125,000 units, surpassing 100,000 units for the first time thanks to Perodua and Proton entering the SUV segment. Commercial vehicles fell 17.4% to 54,000 units. Of which pickup trucks dropped 21.1% and trucks declined 14.7%. The market share of Malaysia's two national automakers Perodua and Proton increased noticeably. Malaysia's largest automaker Perodua went up 5.8% to 240,000 units, market share rising 1.8 points to 39.8%. Although passenger car and MPV sales declined 3.9% to 195,000 units and 37.1% to 15,000 units respectively, Perodua's first SUV model the Aruz, launched in January 2019, sold over 30,000 units, the automaker realizing record high sales and market share.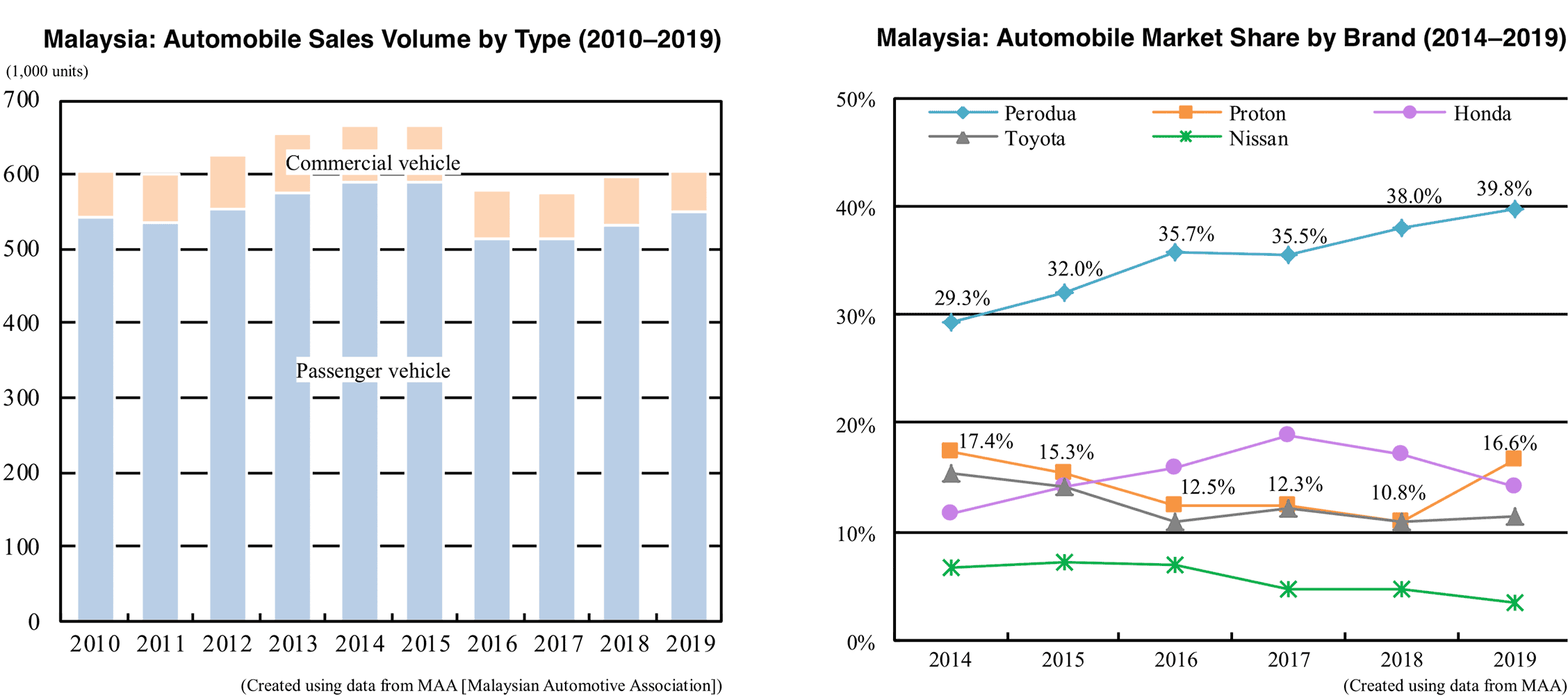 Proton increased sales 54.7% to over 100,000 units, its market share rising significantly, up 5.8 points to 16.6%. For the first time in four years, the automaker's sales surpassed 100,000 units and its market share climbed back to second place. Of which, passenger car sales increased 24.5% driven up by the Saga which underwent minor change in mid-2019. In addition, the automaker's first SUV model the X70, launched in December 2018, added nearly 27,000 units to Proton's overall sales.