AAA weekly
2020-07-06
Copyright FOURIN, Inc. 2023
India's Automobile Sales by Segment in 2019 Decrease 13.4% to 3.85 Million Units
India's automobile market fell 13.4% year-on-year in 2019 to 3.85 million units. Structural factors include the country's economic downturn and rising vehicle prices associated with compliance with stricter environmental and safety regulations. As a result, all segments declined apart from the small SUV and small MPV segments, underlining the rising popularity of small utility vehicles.
Passenger car sales dropped 20.5% to 1.78 million units. Until 2018, the share of passenger cars in the Indian market had consistently exceeded 50%, but in 2019 it was 46.4%, falling below 50% for the first time.
Looking at passenger cars by segment, the mini (A) segment dropped 29.8% to 273,000 units. Two core models, the Maruti Suzuki Alto and Renault Kwid, each declined some 20%. The lower compact (A–B) segment fell 4.3% to 394,000 units. Poor sales of the fully-redesigned Maruti Suzuki Wagon R, launched in January 2019, and double-digit decline of the Maruti Suzuki Celerio and Hyundai Grand i10 led to the decrease. In the B segment, which is the highest-selling segment in India, compact hatchbacks dropped 18.8% to 675,000 units, compact sedans declined 26% to 307,000 units and small sedans fell 34.1% to 124,000 units.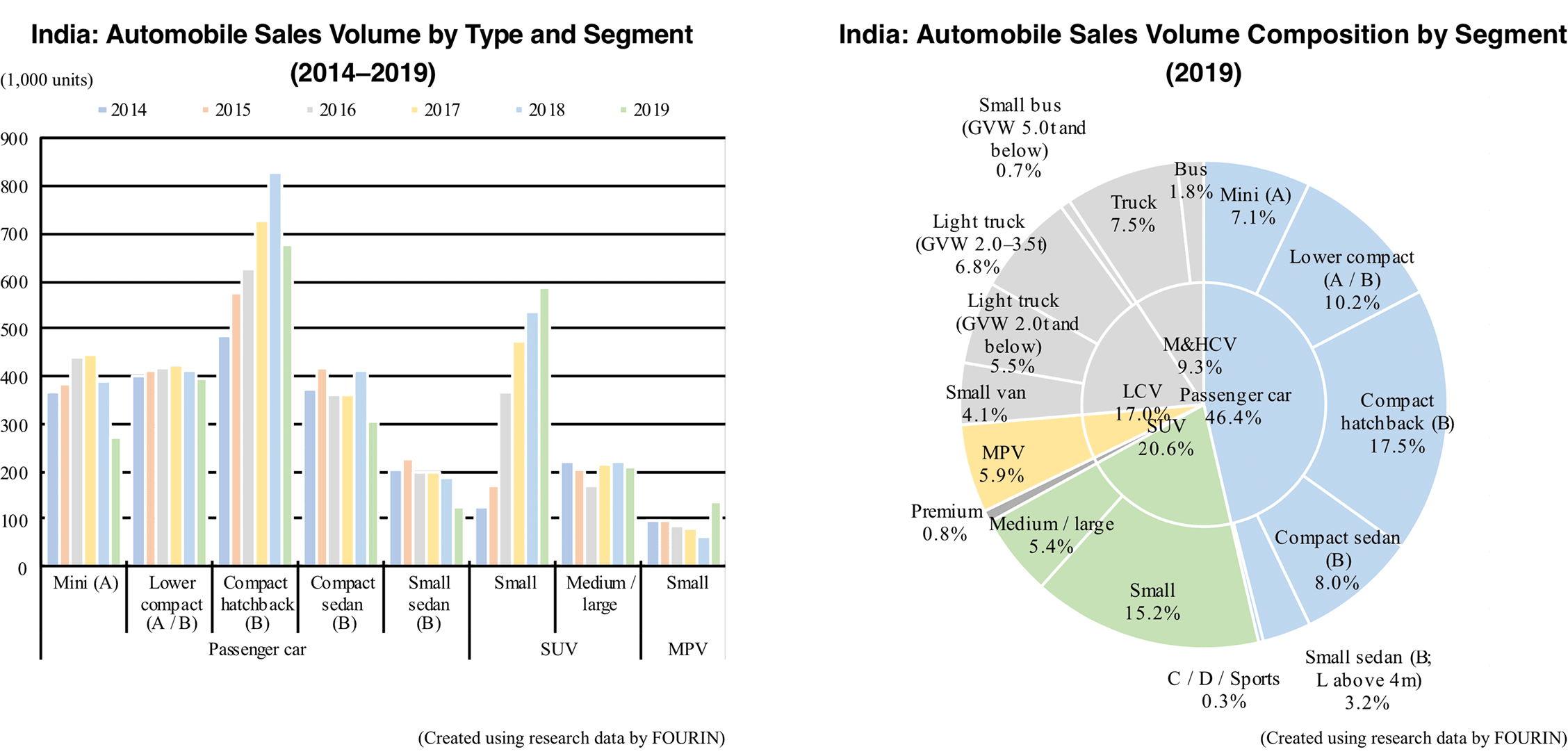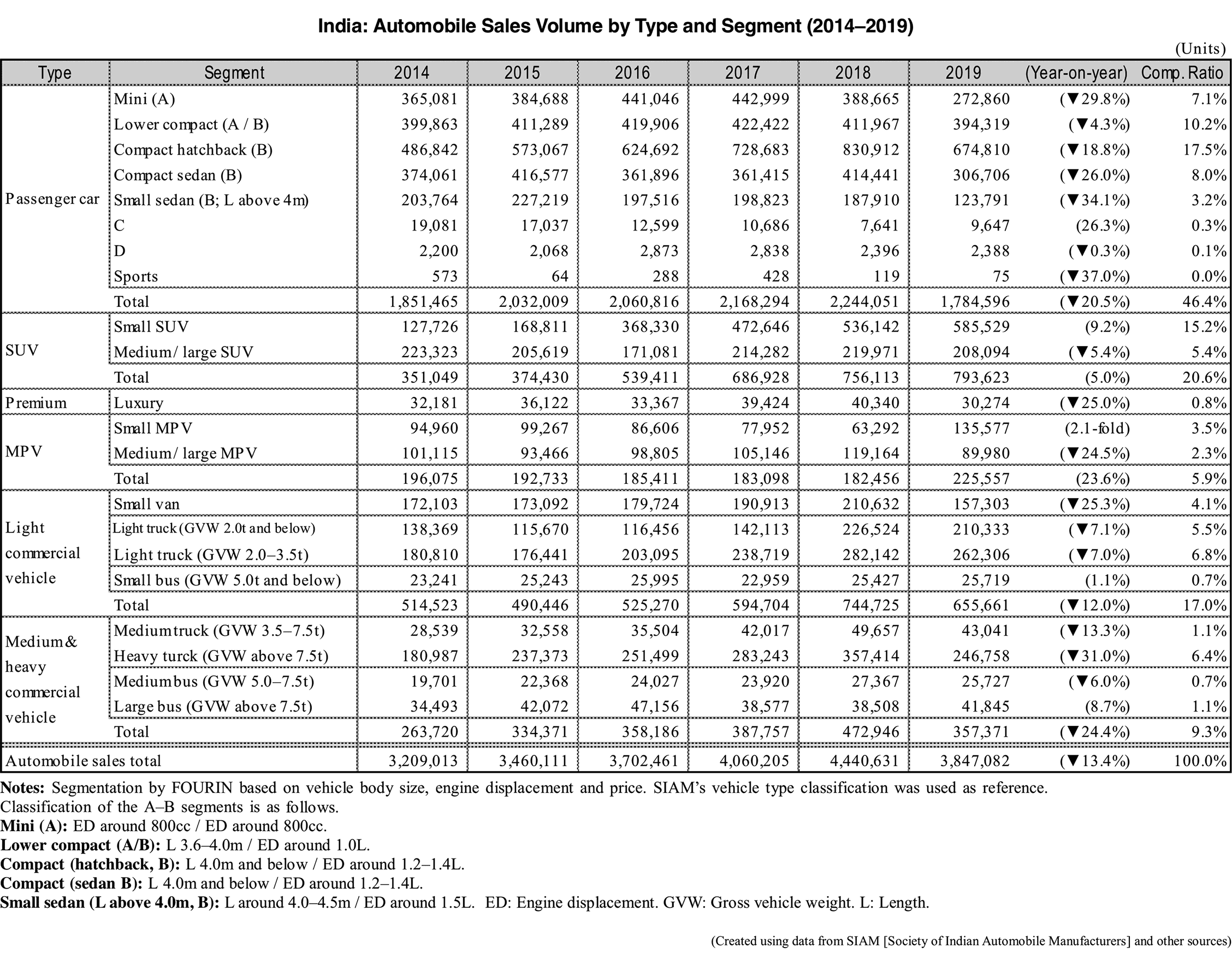 SUV sales went up 5 percent to 794,000 units. While medium and large SUVs have peaked at a level of just over 200,000 units, small SUVs continued to expand, the ratio of SUVs to the overall market increasing 3.6pp to 20.6%. Small SUVs went up 9.2% to 586,000 units in 2019. Sales were driven by the launch of new small SUV models (length 3.9–4.3m) such as the Hyundai Venue, Kia Seltos and Mahindra XUV300 and Maruti Suzuki's newly introduced SUV the S-Presso, which is the smallest in the segment (about 3.6 m). Due to the launch of several new models, products already on the market declined across the board. Even the segment-leader Maruti Suzuki Vitara Brezza fell 18.2%. Medium and large SUVs decreased 5.4% to 208,000 units. Mahindra's Bolero, Scorpio and XUV500 models, which dominate the top three positions in the segment, all fell below the previous year's level, resulting in an overall declined for the first time in three years.
MPV sales went up 23.6% to 226,000 units. Although medium and large MPVs dropped 24.5% to 90,000 units, small MPVs skyrocketed 2.1-fold to 136,000 units. Sharp increase in small MPV sales was triggered by the full-model-change of the segment's best-selling model the Maruti Suzuki Ertiga, launched in November 2018, and the release of the all-new Renault Triber and Maruti Suzuki XL6 models.