AAA weekly
2020-06-22
Copyright FOURIN, Inc. 2023
Overseas Production of Japanese Automakers Declines in All Major Markets Except China in 2019
The overseas automobile production volume of Japan's 12 major automakers dropped 6.3% year-on-year in 2019 to 18.96 million units (based on documents of national automotive industry associations and PR materials released by automakers). Due to the ailing global automobile market, overseas production fell below the previous year's results for the first time in 10 years.
Looking at overseas production by region, production declined in all five regions around the world in 2019. The largest drop occurred in Europe, down 12%, followed by South America, Africa, North America and Asia-Pacific. In China, the largest production base of Japanese automakers, volume increased slightly, up 0.8%, but all other major production bases declined across the board. The second largest production base in terms of volume was the US in 2019 followed by India, Thailand, Indonesia and Mexico. Apart from Subaru, all other Japanese automakers witnessed a drop in overseas production. The most noticeable declines were those of Nissan, which fell drastically in North America and Europe, and Suzuki, which dropped double digits in its largest market India.
In 2020, due to the outbreak of the new coronavirus worldwide, there is concern that production will decrease significantly. Production adjustments that started in China have spread to Europe, the Americas and Asia. Production is not only impacted by the breakdown of parts procurement networks and the social distancing of employees to prevent further spread of the virus, but also by sharp drop in sales due to global lockdowns and the ensuing recessions. FOURIN predicts that overseas production of Japanese automakers will drop some 20% in 2020 to less than 16 million units. Production in China resumed at all Japanese automobile manufacturers in March 2020 and operations are expected to recover in the second half of the year if parts supply remains steady. In other regions, production may decline further if the virus continues to spread.
There is concern over the global recession triggered by the new coronavirus. Prolonged production adjustments by Japanese automakers could lead to further large-scale revisions of their production systems.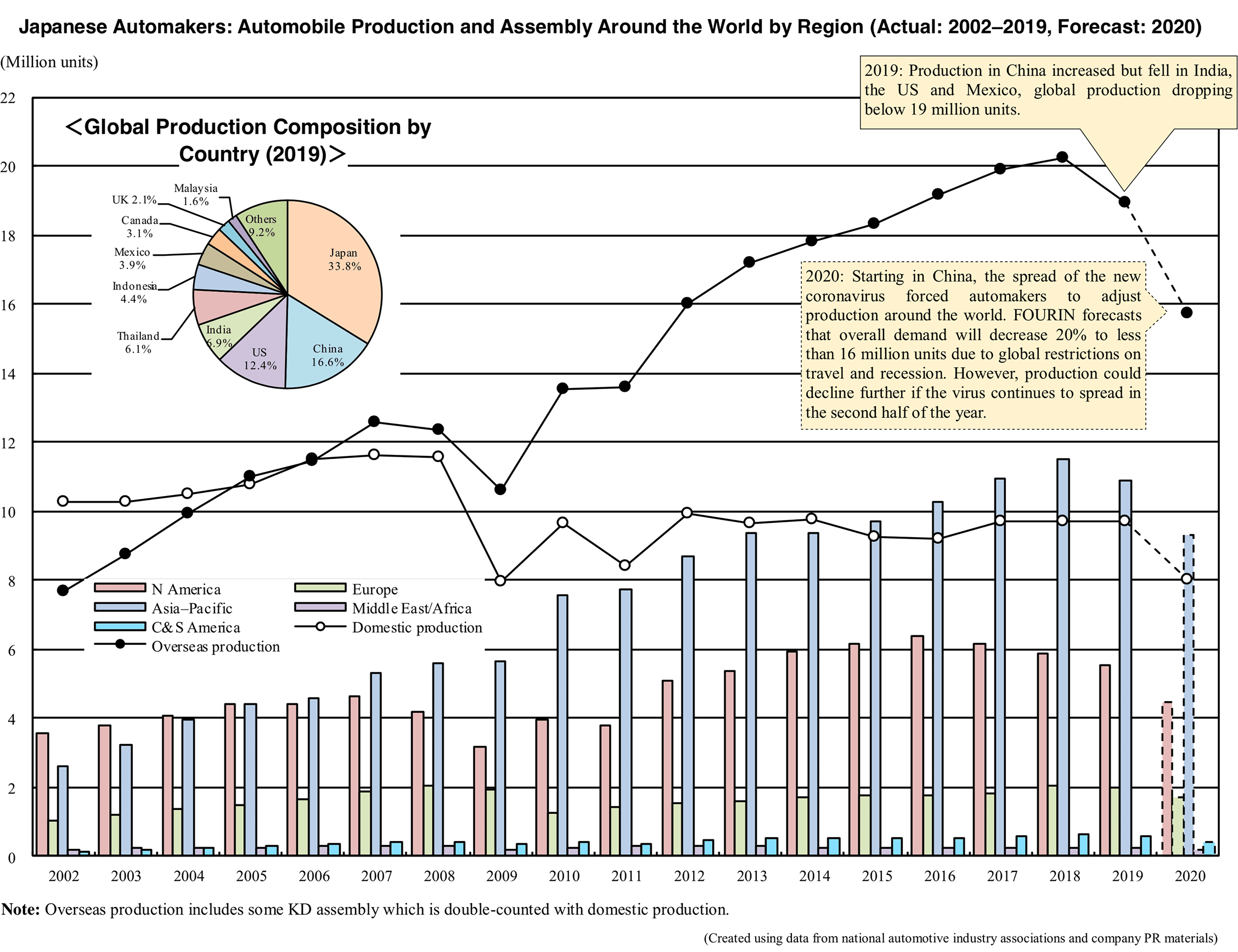 Overseas production by region
Looking at the total overseas automobile production of major Japanese manufacturers in 2019 by region, all regions declined across the board. The largest production base Asia fell 5.4% to 10.89 million units. In terms of volume Asia was followed by North America, down 5.8% to 5.54 million units, Europe, down 12% to 1.72 million units, South America, down 8.7% to 587,000 units and Africa, down 8.4% to 217,000 units.
In Asia, China, the largest production base of Japanese automakers, inched up 0.8% to 4.75 million units. Other major production bases in the region declined, India going down 14.4% to 1.98 million units, Thailand down 6.5% to 1.74 million units and Indonesia down 5.2% to 1.24 million units. In China, production of Honda and Toyota, which witnessed strong sales, increased. In contrast, production of Nissan, Mitsubishi and Mazda, which were hampered by dull sales, decreased. In India, production fell below 2 million units for the first time in four years due to a contraction in sales triggered by a significant slowdown in economic growth. Meanwhile, production went up double digits in Myanmar, going up 22% to 11,000 units. In Myanmar, Suzuki, which started a new plant in 2018, is expanding production.
In North America, the US declined 4% to 3.55 million units, Mexico dropped 11.3% to 1.1 million units and Canada fell 5.8% to 879,000 units. Total production of the region dropped below 6 million units for the second consecutive year. It appears that production decreased due to the reduction of the number of passenger vehicles on the market and the ongoing revision of production systems which focus on light trucks.
In Europe, although Hungary and Portugal increased, all other countries declined. The top three production bases the UK, Turkey and France fell 17.5%, 13.4% and 7.2% respectively. Honda has announced to end production in the UK and Turkey in 2021.
Overseas production by automaker
Looking at overseas automobile production by manufacturer, Toyota increased slightly in Asia but declined in North America, total overseas volume going down 2.7% to 5.59 million units.
Despite a drop in total overseas production, Toyota reached a record high in China, going up 6.1% to 1.4 million units thanks to the active introduction of new vehicles. Toyota has announced investment plans in the US, Brazil, Myanmar and elsewhere from the second half of 2019, but their future is uncertain due to the outbreak of the new coronavirus.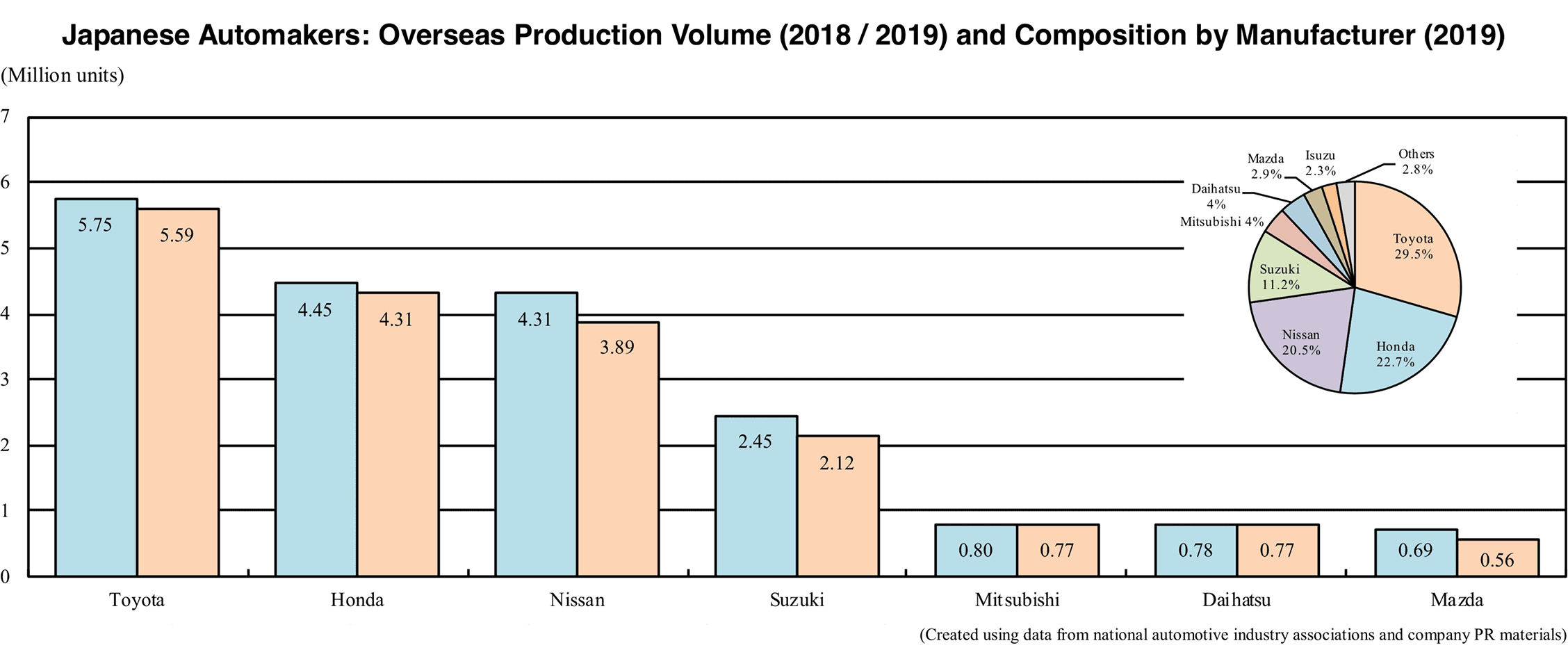 Honda's production dropped for the first time in eight years, going down 3.2% to 4.31 million units. In North America, production was on par with that of the previous year thanks to steep rise in Mexico covering decline in the US and Canada. Meanwhile, production dropped in Asia and Europe. In Asia, although production reached an historic high level in China, production declined in all other countries, total volume dropping 2.6% to 2.22 million units. Honda is restructuring its overseas production system. The automaker will end automobile production in the Philippines and Argentina in 2020, and in the UK and Turkey in 2021. Honda will also consolidate production in Mexico in 2020 and in Brazil in 2021.
Nissan's production dropped 9.9% to 3.88 million units. The automaker is revising business activities in Europe and Asia. In Europe, Nissan is scaling back operations in the UK and Spain, and ending production of the Datsun brand in Russia. In Asia, the company plans to end production in Indonesia in 2020, but it is likely that the overseas production bases will be further reorganized due to the deterioration in business performance.