AAA weekly
2022-05-03
Copyright FOURIN, Inc. 2023
India's Automobile Exports in 2021
Automobile exports from India in 2021 rose to 622,243 units, up 36.1% from the previous year. Exports significantly increased compared to 2020 when economic activities were restricted due to the pandemic; however, it failed to reach the pre-corona level of 2019 and before. In 2021, the production of automobiles was reduced due to the spread of the new coronavirus's delta strain in the spring. From fall, the impact of semiconductor shortage became an acute problem, preventing an increase in production, which in turn slowed recovery.
In 2021, passenger vehicle exports rose 30.1% to 537,264 units, and commercial vehicles increased 91.8% to 84,979 units.
In 2022, exports in the first two months of the year increased 26.8% year-on-year to around 92,000 units, showing strong recovery. However, due to Russia's invasion of Ukraine that began in late February, there is growing concern that the economy will cool down in Europe, a major export destination of India, due to rising prices.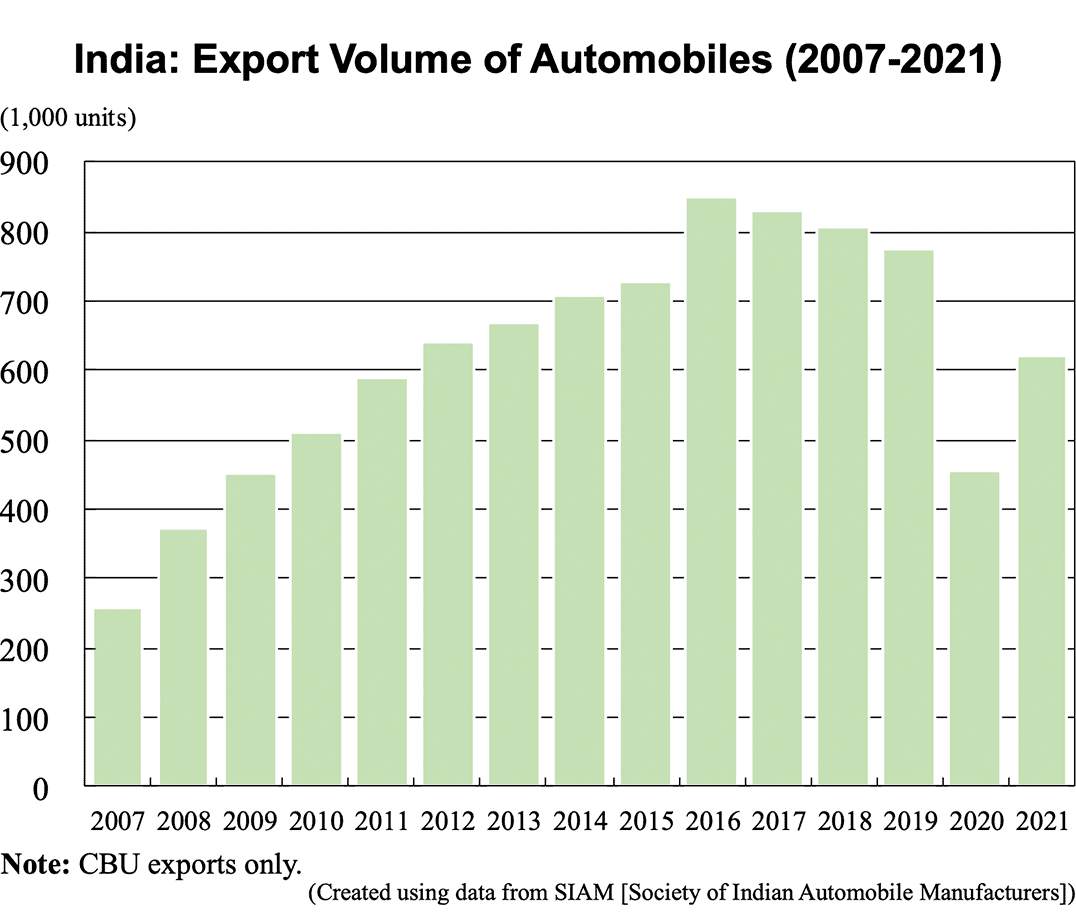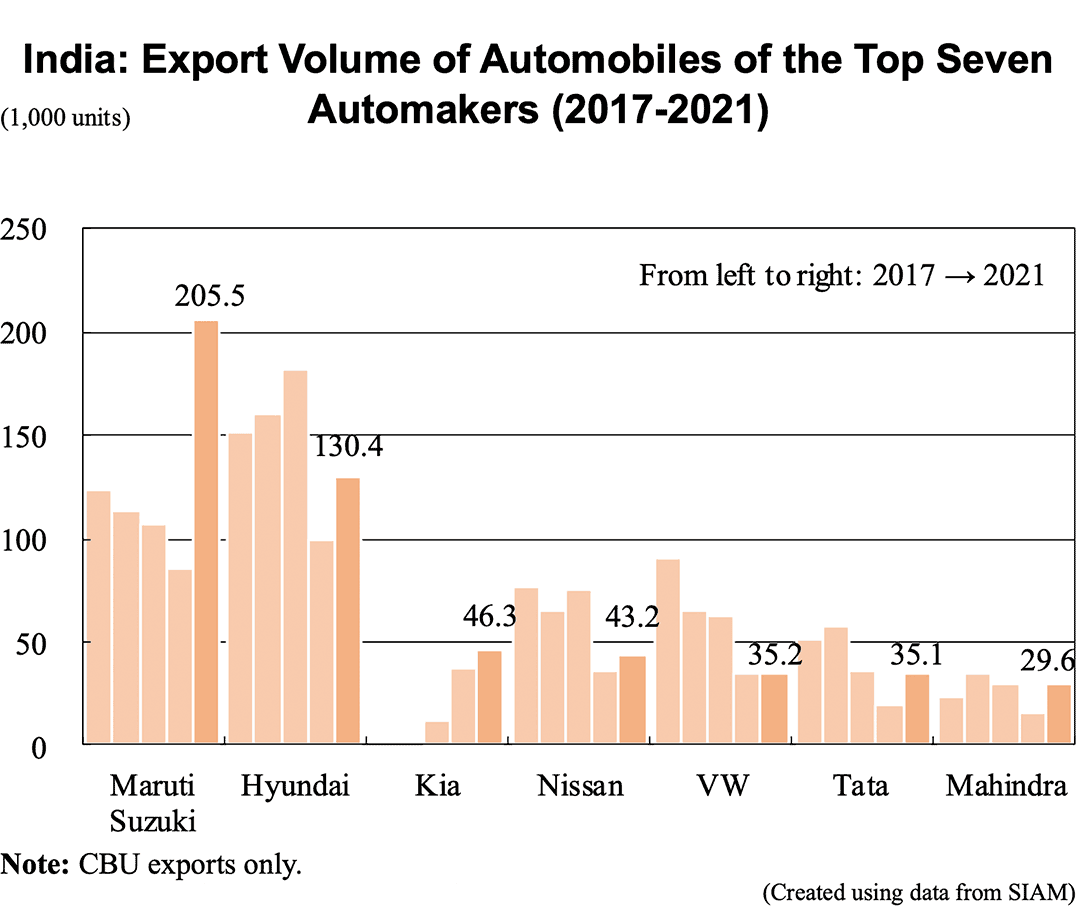 India: Recent Export Trends
Ford Motor
・Under the Production-Linked Incentive (PLI) scheme for the automobile sector announced in February 2022, the Indian government has approved Ford's proposal of possibly using the automaker's Sanand plant in India as an export base of BEVs. - Ford announced in September 2021 that it would phase out vehicle production in India. However, it appears that Ford's original plan may be revised.
Honda Motor
・In January 2021, Honda announced that it had begun exporting the 5th generation left-hand-drive City. - Is is the first time Honda manufactures a left-hand drive vehicle in India. - Initially, the left-hand-drive City was exported to the Middle East, but the number of export destinations were increased to 12 countries and regions by the end of the year. - Honda began exports of the 5th generation right-hand-drive City to South Africa, Nepal and Bhutan from August 2020.
Hyundai Motor
・In January 2021, Hyundai began vehicle exports by rail to Nepal. The first batch contained 125 units. - By using the railway transportation, transportation time has been reduced from eight days to five days.
Nissan Motor
・In January 2022, Nissan announced that it has increased the export destinations of the small SUV Magnite to 15 countries. - The Magnite is the first Nissan model exported from India, as it has been indicated in Nissan's business structural reform plan Nissan Next. - Sales of the Magnite began in India in December 2020, and exports to Indonesia and South Africa started in June 2021. Since then, Bhutan, Bangladesh, Sri Lanka, Brunei, Uganda, Kenya, Zambia and Malawi have been also added as export markets. - According to Nissan, cumulative exports by December 2021 reached 6,344 units.
Renault
・In August 2021, Renault announced that it would begin exporting the small SUV Kiger to South Africa in September 2021. - The first batch contained 760 units. Simultaneously, Renault began exports to Nepal as well. - In the future, exports to other African countries, other SAARC countries and Indonesia are planned to be launched gradually.
SAIC Motor
・In December 2021, MG Motor India, a subsidiary of Chinese automaker SAIC Motor, announced its plan to position India as an export base to neighboring countries. - MG Motor India began exporting the crossover SUV Hector to Nepal. Exports to Sri Lanka, Bangladesh and Bhutan are also under consideration. : The Hector is manufactured by MG Motor India's Halol Plant in Gujarat state. - Exports to left-hand-drive markets, such as the United Kingdom and South Africa, are also under consideration.
Suzuki Motor
・In January 2021, Maruti Suzuki announced that it had begun production and export of the Jimny. - The Jimny is position as an export-only model manufactured by Maruti Suzuki's Gurgaon Plant in Haryana state. The model's main export destinations are Latin America, the Middle East and Africa. - The first batch was exported to Colombia and Peru. - The Jimny has the same specifications as the export model produced at Suzuki's Kosai Plant in Shizuoka prefecture, Japan. The powertrain combines a 1.5L gasoline engine with a five-speed MT or a four-speed AT. ・In February 2021, Maruti Suzuki announced that cumulative exports from India has exceeded 2 million units. - Maruti Suzuki started exporting from India in 1987, reaching 2 million units in 34 years. Exports reached 1 million units in 2012. - Initially, the export destinations were mainly developed countries in Europe, but in recent years, export focus has shifted to emerging markets in Latin America, Africa and Asia.
(Created using documents of SIAM and India's MCI [Ministry of Commerce and Industry], company PR materials, and various media sources)