AAA weekly
2021-03-15
Copyright FOURIN, Inc. 2023
Philippines: The Automobile Market in 2020 Shrinks to 250,000 Units
The Philippine automobile market is expected to shrink by 40% year-on-year to around 250,000 units in 2020. In the Philippines, quarantine measures have been put in place on a city-by-city basis to prevent the new coronavirus spread. Due to the restrictions, automobile production and sales have completely stopped from the latter half of March to the first half of May 2020. The slump in the automobile market has become more acute and prolonged due to the economic stagnation associated with strict quarantine measures and a lack of measures to stimulate automobile demand.
The Philippine government predicted that the real GDP growth rate in 2020 would be 6.5 to 7.5% before the pandemic took place, but after the spread, the government revised it to minus 5.5% in July 2020 considering the impact of quarantine measures. However, due to a large drop in the second and third quarters, the Ministry of Trade and Industry (DTI) eased restrictions on business activities in October 2020. This allowed full operation of automobile manufacturing, sales and services under GCQ (General Community Quarantine) and MGCQ (Modified General Community Quarantine) guidelines, aiming for economic growth of 7% or more in the fourth quarter.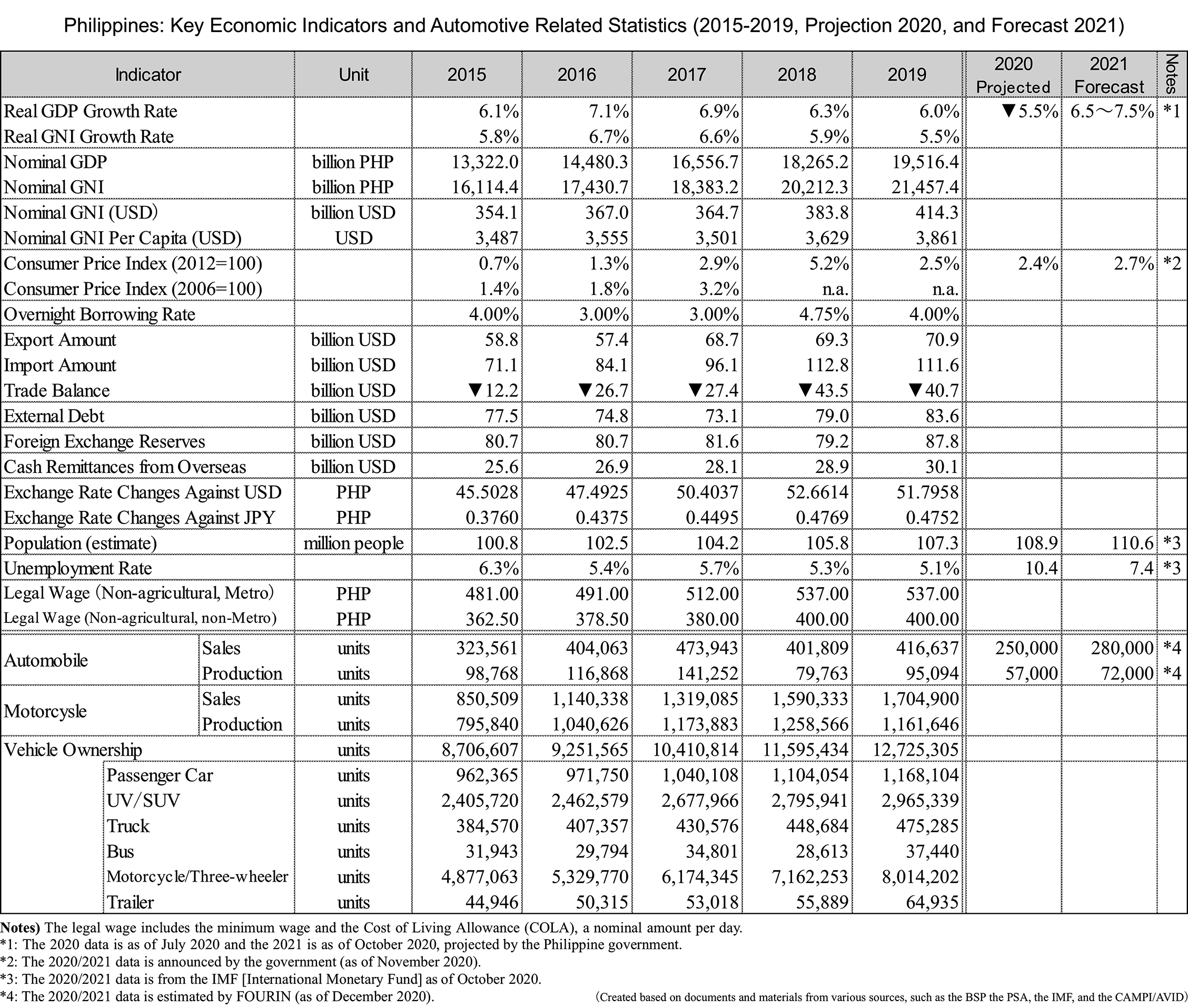 The automobile market in 2021 is expected to increase by 12% year-on-year to about 280,000 units. Although a gradual recovery in demand is expected, it will take time to recover to the same level as before the pandemic. Currently, there are only measures to support consumers' purchasing by intermittently lowering the policy interest rate and supporting unemployment, but no stimulative measures related to automobiles. Thus, it is assumed that monthly sales would not exceed the same month last year until the end of 2020.
Regarding production, the government plans to consider extending the production deadline for the Comprehensive Automotive Resurgence Strategy (CARS) program in response to the production suspensions. It is reported that Toyota Motor Philippines is up for this step. Other measures include incentives for promoting and producing electric vehicles and infrastructures. Like this, current measures for the automobile industry are mainly for manufacturers.