AAA weekly
2021-06-28
Copyright FOURIN, Inc. 2023
Thailand's Automobile Sales by Segment: Pickup Trucks Accounted for 48% of All Sales in 2020
Automobile sales in Thailand fell 21.4% to 792,000 units in 2020. Due to the decline of the overall market caused by the new coronavirus, all core models and segments saw double-digit decline. While passenger cars and MPVs in the B, C and D segments exceeded the rate of the overall market decline, the decrease of SUV, premium brand and one-ton pick-up truck sales was modest.
The sales of sedan and hatchback-type passenger cars decreased 33.1% to 226,000. In the passenger car market, the B segment, which is Thailand's core automobile segment, fell 30.0% to 183,000 units. The main models in the B segment comply with the Thai government's Eco Car policy which promotes the production of compact fuel-efficient internal combustion cars. Since the deadline for launching vehicles that comply with the second phase of the policy was the end of 2019, automakers launched improved models one after another in 2019. The fully-redesigned Honda City, launched in November 2019, went up 19.6 percent to 36,000 units and the also fully-redesigned Nissan Almera, released in the same month, rose 8.2% to 19,000 units. Sales of the City were particularly strong, becoming the Thai market's best-selling model in the B segment for the first time in three years. On the other hand, the Toyota Yaris, whose product improvement was limited to a few items, fell 29.4% to 26,000 units.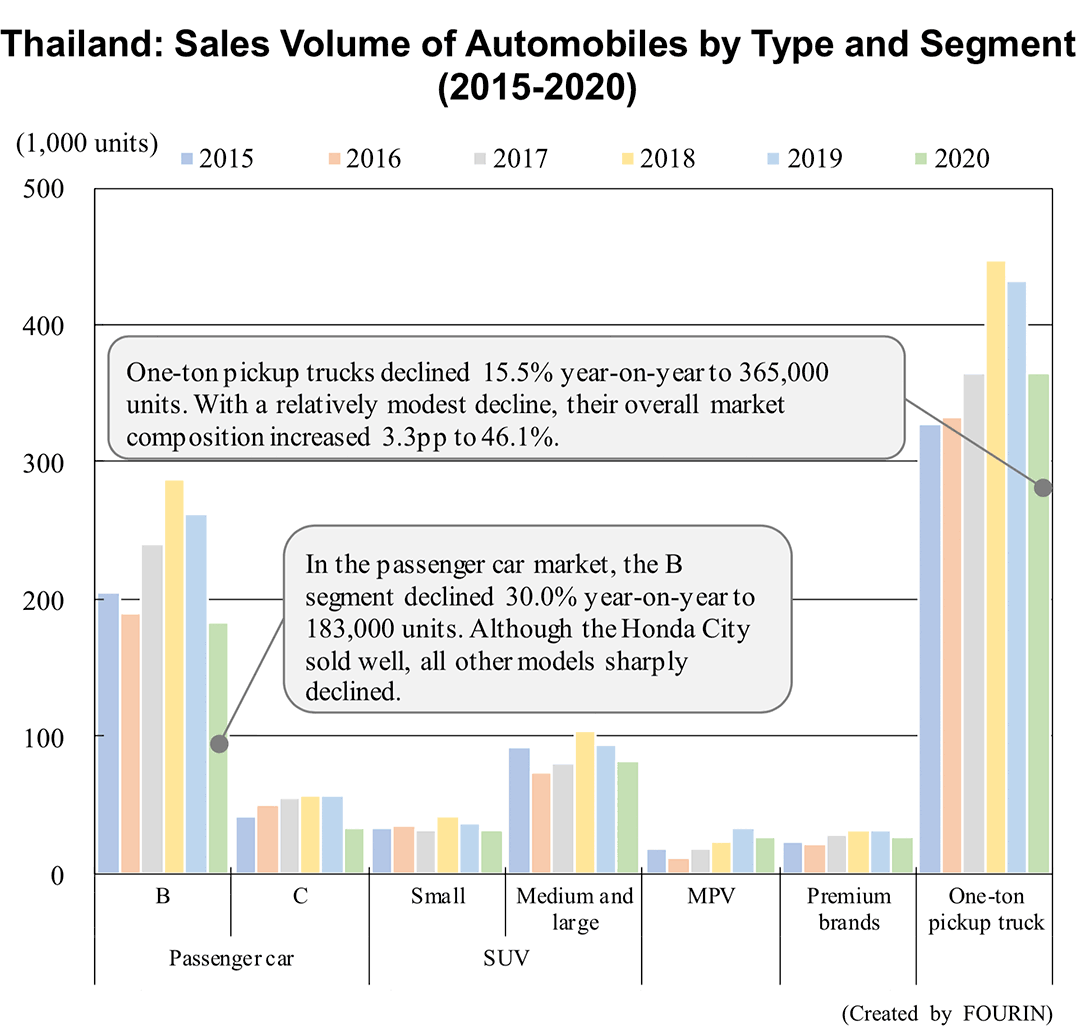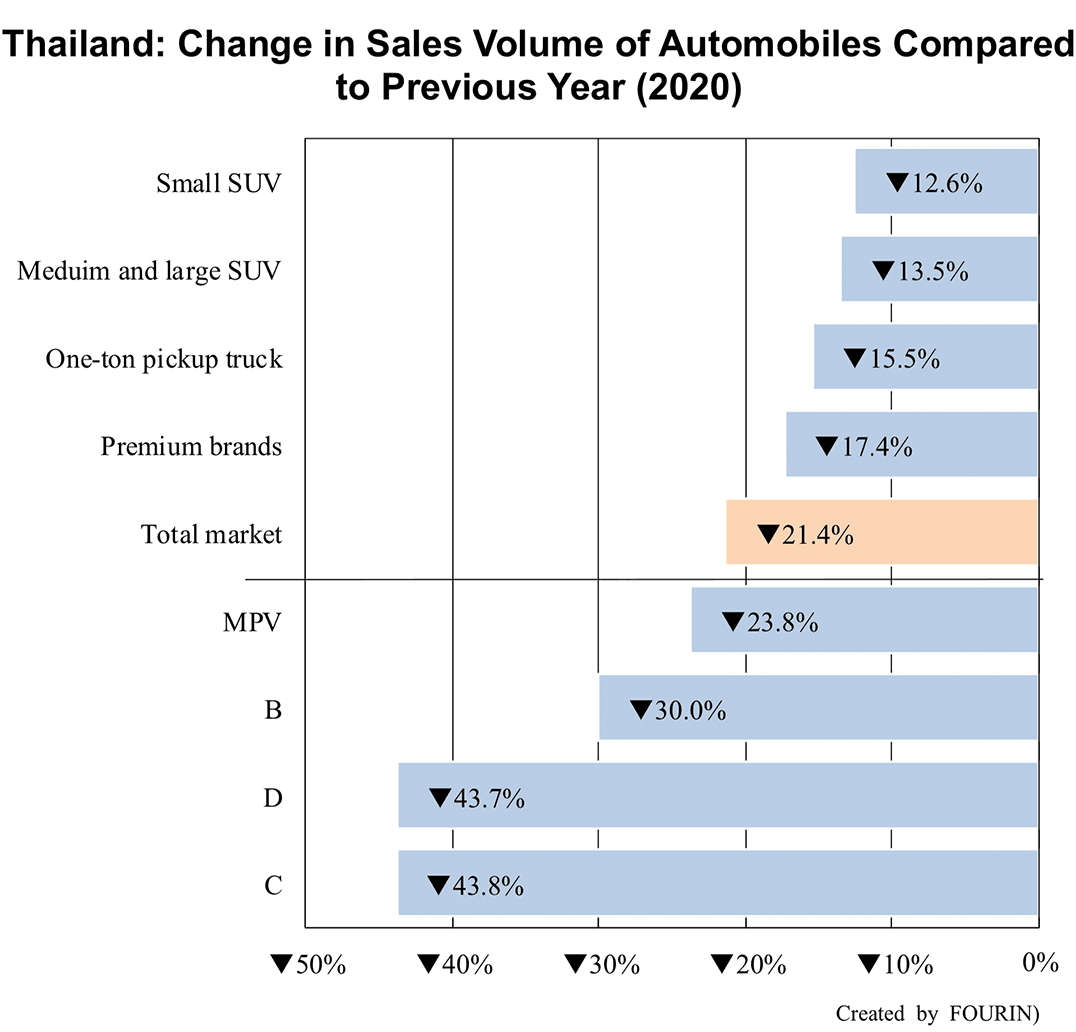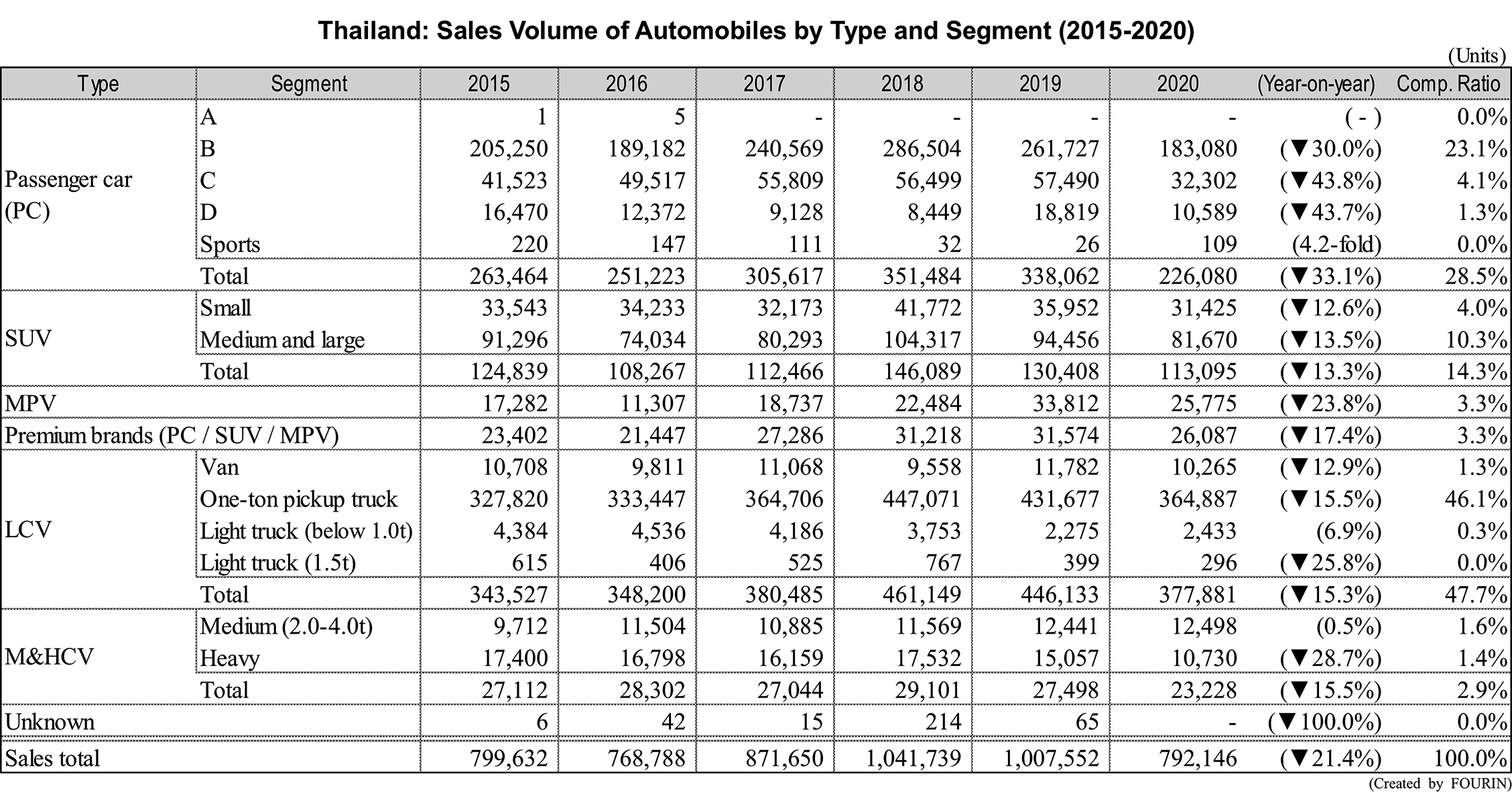 The C segment decreased 43.8% to 32,000 units. Although the segment-leader Honda Civic remained at the top, it declined 34.5% to 20,000 units. The Toyota Corolla Altis dropped to 8,902 units, down 55.9%. The D segment fell 43.7% to 11,000 units. Despite dropping 17.4% to 5,265 units, the fully-redesigned Honda Accord, launched in May 2019, took top position overtaking last year's segment-leader Toyota Camry. Honda topped the B, C and D segments in 2020.