AAA weekly
2020-12-07
Copyright FOURIN, Inc. 2023
Premium Motorcycle Manufacturers in India and Thailand
European and American premium motorcycle manufacturers are making efforts to meet increasing demand for large motorcycles in Asia, mainly in Thailand and India. In Thailand, the expansion of the large motorcycle market is ahead of other ASEAN countries. There are overlapping efforts to strengthen Thai operations in terms of both responding to growing domestic demand and positioning Thailand as an export hub. In India, while local motorcycle maker Royal Enfield dominates the over 250cc-class premium segment, other Indian manufacturers whose main products are mass-manufactured small motorcycles and European and US motorcycle makers which aim for the luxury market are forming alliances.
British company Triumph Motorcycles and Italian enterprise Ducati have been positioning Thailand as a major export base in their global production system. American maker Harley-Davidson and German manufacturer BMW Motorrad are also working on the effective use of Thai production bases. One of the factors behind these developments is that the Thai government has set up a preferential treatment system by setting motorcycles as an important item for attracting investment. In addition, in Thailand, which has a mature motorcycle market, demand for large motorcycles is currently expanding. For this reason, Austrian motorcycle maker KTM is currently making preparations to enter the market.
In India, partnerships between local motorcycle makers and Western premium manufacturers are underway. KTM and Bajaj Auto, and BMW Motorrad and TVS Motor have been working together for years in the areas of product development and licensed production. Triumph Motorcycles announced in January 2020 that it would start a comprehensive partnership with Bajaj Auto. In addition, in October 2020, Harley-Davidson, which has decided to scale down its business in India, announced that it would partner with Hero MotoCorp. The new alliances are intended to create synergies.
Asia: Recent Business Trends of European / US Premium Motorcycle Makers
Harley-Davidson
India
・In September 2020, Harley-Davidson announced that it would scale down business operations in India. – The manufacturer has decided to close the factory in Bawal, Haryana state and significantly reduce the operations of its sales office in Gurgaon, Haryana state. – In October 2020, Harley-Davidson announced that the company has forged a partnership with India's Hero MotoCorp. Sales operations in India will be taken over by Hero MotoCorp. ・In October 2020, Harley-Davidson and Hero MotoCorp announced that they would start a business alliance in India. The two companies will collaborate on the sale of Harley-brand vehicles in India and the licensing of products. – In terms of sales, Hero MotoCorp will take over the sales and service of Harley-brand products in India, which Harley-Davidson had previously handled on its own. Harley brand products are planned to be sold not only by existing Harley-Davidson dealers, but also by Hero MotoCorp dealers. Hero MotoCorp will also be responsible for selling genuine repair parts and accessories. – In terms of product licensing, it is under consideration to sell premium motorcycles developed by Hero MotoCorp under the Harley brand.
BMW Motorrad
Thailand / ASEAN
・In November 2020, BMW Motorrad Thailand announced the reorganization of its Thai and Southeast Asian operations. The company decided to consolidate operations throughout Thailand and Southeast Asia. – BMW Motorrad has operated business independently in Thailand and Malaysia. On the other hand, the regional headquarters was in charge of import and sales in 10 other countries and regions in the Asia-Pacific (Indonesia, Philippines, Vietnam, Singapore, Brunei, Taiwan, Hong Kong, New Zealand, New Caledonia, various Polynesian islands). Now, all these operations are integrated into one to improve business efficiency. – Prior to the reorganization, personnel changes were implemented. In October 2020, Miguel Llabrés-Pohl was appointed head of the motorcycle divisions in Thailand and Malaysia and head of the Southeast Asia and Pacific regions.
India
・By mid-2020, the total production of the BMW G 310 R (including the G 310 GS based on the same model) by TVS Motor reached approximately 72,000 units (announced by TVS). – BMW Motorrad concluded an agreement with TVS Motor in 2013 to jointly develop a medium-sized motorcycle with a displacement of 500cc or less. BMW led the development of the model in Germany, and TVS Motor began production of the G 310 R in 2017. According to data released by the Society of Indian Automobile Manufacturers, 18,177 units were manufactured in 2017, 26,123 units in 2018 and 17,819 units in 2019. All motorcycles manufactured in India were exported. – For reference: TVS Motor sells the TVS Apache RR 310, which is a rebadged model of the G 310 R. Seventy six units were manufactured in 2017, 6,376 units in 2018 and 3,311 units in 2019. The TVS Apache RR 310 is mainly sold in India but some are exported.
Triumph Motorcycles
India
・In January 2020, Triumph Motorcycles and Bajaj Auto announced that they have begun a comprehensive partnership. – In August 2017, Triumph Motorcycles began discussions with Bajaj Auto for a partnership on medium-size motorcycle business. – In terms of products, the two companies will jointly develop engines and platforms for medium-sized motorcycles with a displacement ranging between 200cc and 750cc. The first model is expected to be launched around 2021, and is planned to be produced at Bajaj Auto's Chakan plant in Maharashtra state. The selling price in India is planned to be kept below 200,000 INR. – In terms of sales, Bajaj Auto will undertake sales of Triumph's products in emerging markets where Triumph has not yet entered. In addition, although the timing is undecided, Bajaj Auto plans to take over Triumph's sales network in India in the future.
KTM / Husqvarna
Thailand
・KTM had plans to start regular sales of KTM and Husqvarna brand models in Thailand from the latter half of 2020. – Vroom, a motorcycle import and sales company established in 2019 as a joint venture between Japan's Sojitz and Thailand's AAPICO Hitech, will be the distributor. – Vroom began sales of the Bajaj brand in July 2020, but will add the KTM and Husqvarna brands to its lineup. KTM brand models will be imported from plants in Austria and the Philippines. – Vroom is expected to increase the number of sales and service stores to more than 30 in the next three years from mid-2020.
India
・By 2022, sales of KTM and Husqvarna brands in India are planned to be increased to 200,000 units (as of August 2020). – KTM has set a global sales target of 400,000 units in 2022, India accounting for half of all sales. – KTM sells the KTM and Husqvarna brands in India. it also outsources the production and sales of the two brands to Bajaj Auto, which has a 48% stake in KTM. – The graph below shows KTM's sales performance and the breakdown of the 2022 target in India.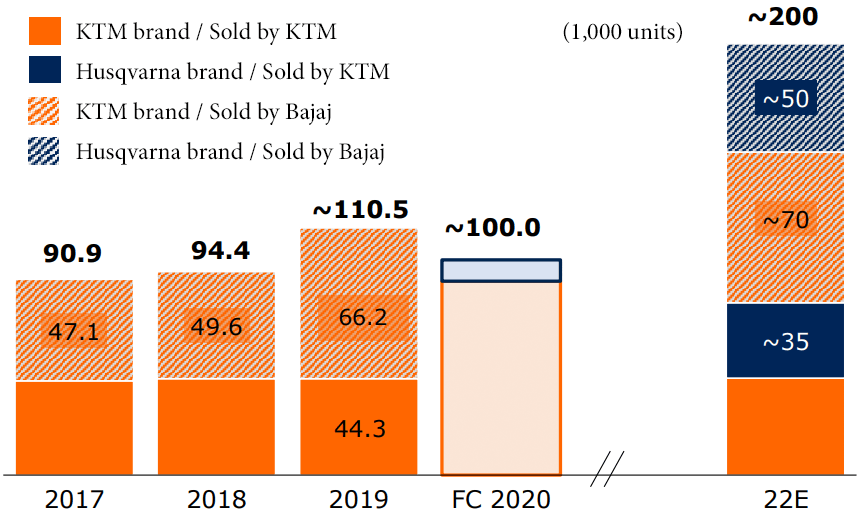 ・In 2022, KTM plans to launch the mass production of electric motorcycles jointly developed with Bajaj Auto. – KTM's parent company PIERER Mobility and Bajaj Auto have agreed in 2019 to jointly develop a platform for electric motorcycles. – With an output of 3 to 10kW and a voltage of 48V, the two companies will develop various electric scooters, motorcycles and mopeds.
(Created using company PR materials and various media sources)