AAA weekly
2020-08-17
Copyright FOURIN, Inc. 2023
Impact of the New Coronavirus in Thailand: Automakers Adjust Production Due to Shrinking Demand
In Thailand, the spread of the new coronavirus was relatively limited. For this reason, strict lockdown measures such as suspension business operations, which were introduced in other emerging countries, were not implemented. However, against the backdrop of the domestic economic downturn and the reduction of export demand, major automobile manufacturers stopped plant operations from around the beginning of April to adjust production. Reduced production is expected to continue for some time.
Regarding the domestic automobile market in 2020, the Federation of Thai Industries (FTI) forecast in 2020 that it will fall by 30–50% year-on-year. In the first five months of 2020, automobile sales declined 38.2% to 271,000 units. FTI speculated that if the new coronavirus subsides by June, annual sales will be 700,000 units, but if it lingers on until September, sales may drop to 500,000 units. The spread of the new coronavirus has weakened and its impact is expected to gradually decrease in the second half of 2020. However, since the Thai government has not provided support for the automobile industry or for automobile purchases, it may take some time for new vehicle demand to recover.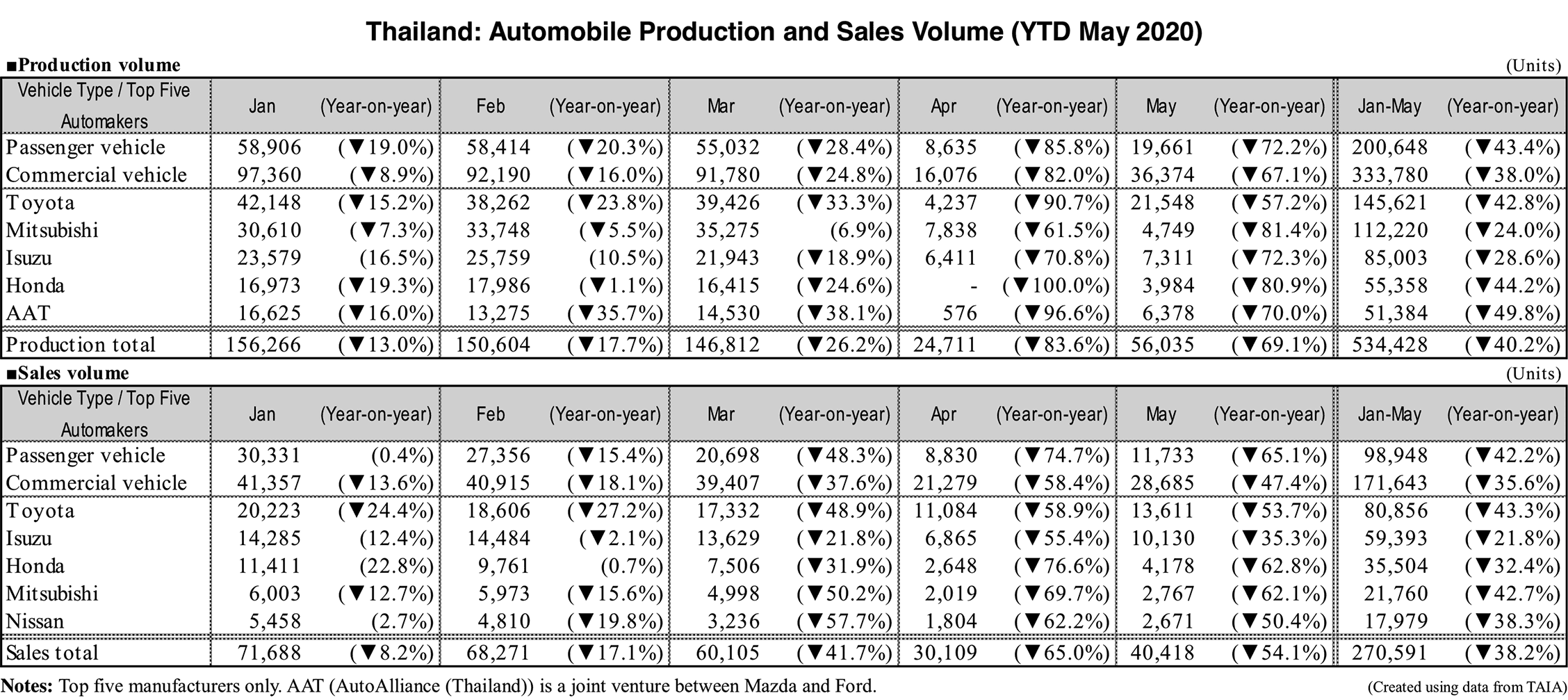 Looking at production activities of major automakers, all of them suspended production in April 2020. For this reason, production sharply declined in April and May. In the first five months of 2020, automobile production fell 40.2% to 534,000 units.
The Thai government announced three packages of economic measures in March and April 2020. The total budget of these three measures is over 2.4 trillion JPY. The main support items are cash benefits for workers who lost their job or whose workplace was temporarily closed and low-interest-rate loans for small and medium-sized enterprises. By facilitating the cash flow of domestic companies, Thailand aims to mitigate the impact of the new coronavirus and stabilize employment and people's lives.